Lunch today was at
CAV
, organized by the Stockbroker. It was actually originally just he and Keiichi, but James and I tagged along. Unfortunately, the Doc was busy so he couldn't join us. I think we all had the identical dishes, both for starters and mains.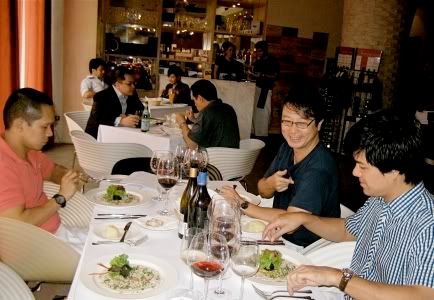 L-R: The Stockbroker, Keiichi and James.
Since nobody brought any white, we just got ours from CAV. With a nice, clean
Carpaccio of Tuna
...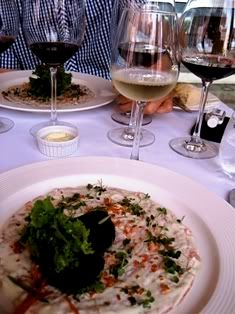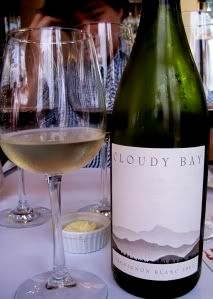 2007 Cloudy Bay Sauvignon Blanc
- I've much liked Cloudy Bay's sauv blancs ever since I first tried it at Mom-Tri's Boathouse in Phuket, February 2003 (before the tsunami hit), with my wife, Tonji, Sylvia and our host, JP. I recall it was terribly hot and humid; Tonji, I and JP were a bit dehydrated from 18 holes in Blue Canyon. The cool, crisp, clean white was a perfect apéritif. I can't remember the vintage of that first one, but I believe I've had the vintages 1999, 2000, 2001, 2002, 2004, 2005, 2006, and, today, the 2007.

This wine was typical Cloudy Bay sauv blanc, gooseberries, slight ripe grapefruit, hints of citrus, fresh cut grass and minerals. Riper, gentler, calmer than most vintages I've tried in the past, the gooseberries and grass didn't jut out like before - but well integrated and comparatively subtle. Very nice.

An no-brainer pairing for the tuna carpaccio, it had just enough acidity to cut the slightly creamy dish while refreshing the palate between bites. I was glad to know that this pride of New Zealand is readily available at Premium Wine Exchange for P1800 per bottle full retail.


With our main dishes of magret de canard
...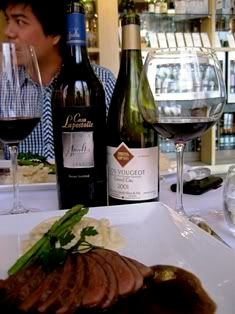 1997 Casa Lapostolle Clos Apalta - From the Stockbroker. I know nothing of this wine except that it's Chilean and that, per the Stockbroker, it has carmenère in the blend. When someone asked about that grape, I answered that it was formerly grown and used in Bordeaux long ago but is now virtually gone in that region, now used more in Chile and other South American wine producing countries. I also mentioned that I saw some in the grounds of Mouton Rothschild, but was told by our guide that they were only there for historical display and are not used for their wine-making.

The bouquet reminded me of California red - toffee, cinammon, mildly spicy/toasty new oak, ripe red fruit, ripe dark plum and cherries. In the mouth, these were mirrored over blackberry/dark fruit slightly touched with black pepper, vanilla/oak and discreet dark chocolate nuances. Lush, very extracted, generous, with buxom curves in its lowish acid, full body. Modern styled wine to be sure, and more than likely to have garnered high ratings from many US reviewers. Very generous, it holds none of its charms back.

2001 Domaine Daniel Rion Clos Vougeot Grand Cru - My bottle. Not well-known in the US, seems to have more of a following in France and the UK. I visited this domaine in early October 2007, in the late afternoon (my wife was too woozy from lunch to join me), a week when everyone in the Côte de Nuits seemed to be rushing to deliver their 2005s. I met with Pascale Rion, tasted through her
2006s
and was very impressed with her wines' consistent, understated and graceful style.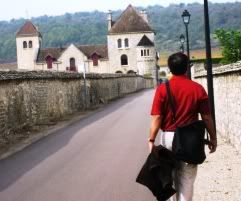 As I've stated in the past: "As its name indicates, this wine is from the grand cru vineyards of Clos Vougeot in the town of Vougeot ("clos" indicates an enclosed, walled area), a short hop to the north of Vosne-Romanée, before hitting Morey St-Denis and Gevrey-Chambertin. The picture of me is one taken by my wife as we were walking to Clos Vougeot on my left (idiot that I am, I insisted on parking down the street and the walk was longer than I anticipated)."

2001 is, to my mind, a very under-appreciated vintage for Burgundy, the US wine press extolling much more the riper, fruitier, lower acid 2002 and even 2003 (winemakers there actually told me that they had to struggle to make a "balanced wine in 2003) - let's not even begin to talk about 2005 - and, thereby, driving prices for said vintages to ridiculous levels. The 2001 Burgundies I've tried (akin to 2004s of Bordeaux) are not as super-ripe/roasted and are firmer in acid, more austere and in better balance for my taste. To my mind, these are wines more in the classic style.

In any event, this relatively young wine, after around half an hour's breathing in my glass, readily displayed a perfume of dried cranberries, ripe black cherry, pressed violets, whispers of damp earth, all bringing to the fore the wistful romance of Burgundy decay. In the mouth, it was just shy a notch of legitimate full-body. Neither austere nor lavish, the wine readily rewarded the palate with a smooth, supple blend of dried cranberry, ripe cherry, raspberry over red beet, touches of plum and violets. Slight chocolate notes emerge discreetly just past mid-mouth and join in the finish. The dried cranberry/cherry/cranberry/ceps notes form the firm backbone of this wine. Admirable focus and grace, good typicity.

I liked this a lot and ordered more the moment I got home. I also read up on it on the net (what would we do without google?), and found out that in the first quarter of 2003, Allen Meadows' Burghound rated this wine 89-92. While I am no big fan of assigning scores to wine (something I have absolutely refused to do), I do have great respect for Meadows' evaluations of Burgundy's wines. Happily, I got it at a very reasonable price.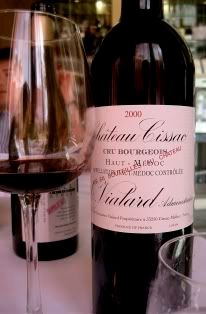 2000 Château Cissac - This caught my eye in CAV's wine dispensing machine, having met Eric Holsteins of Cissac during a cigarette break at the
Commanderie dinner in Hong Kong
this past 27th May 2008. Very interesting and friendly fellow, we discussed in depth the 1986 Mouton Rothschild served at said dinner. It turned out he was an old friend of the Vigneron as well - the world is indeed very small.

The wine was medium-bodied, clearly cabernet sauvignon dominant, with refined, mildly herbaceous cassis, blackberry, slight plum underneath, touches of tobacco, gravel, smoky cedar, very discreet and well-integrated oak (likely a small percentage of new oak). Just past mid-mouth, cherry and raspberry notes gently emerge, joined by a mere whisper of anise towards the back and finish.

Properly austere and refined, this shows good balance and poise. At its price, it's a definite buy for those who like old school Bordeaux. A wine you can drink and serve to guests anytime.

I must note that service by Paco was impeccable: crisp, efficient, precise, friendly but not familiar. He immediately knew the proper stemware to bring for my red Burgundy - that did not escape my attention. He does CAV proud. Great lunch. Very casual and most enjoyable for it.