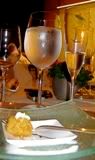 20 March 2009, Old Manila, the Grand Crew's Blind Bordeaux Challenge XII. The Doc was running late and a bit under the weather, so, while waiting, we ordered our appetizers and mains, starting with a chilled bottle of Old Manila's house champagne by Deutz.
This simple, fresh, linear, apple, white grapefruit and citrus slanted bubbly was enjoyed with an
amuse bouche
of lobster croquette. Doc and Mrs. Doc arrived very soon thereafter.
Upon the Vigneron's suggestion, we agreed to have the tasting and voting of the four competing reds before the main courses arrived so as to judge the wines in themselves and to avoid their pairing with food affecting our analysis. And so we did, right after we had our traditional "pre-hostilities" photo. The reason we always take a shot of us four before the competition is because there's no telling if we'll still be friends after.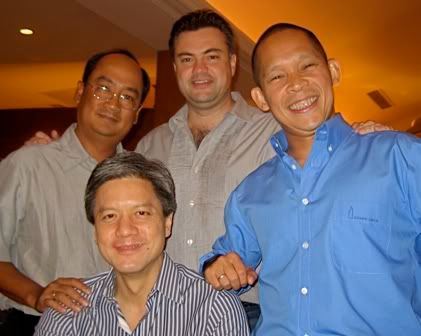 The reds were then served and the battle was joined.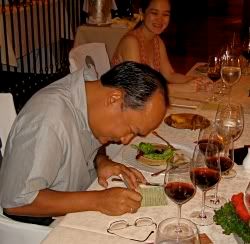 Wine # 1
: Initially, this exploded from the glass with a vigorous aged bouquet of truffles, cedar, leather, herbaceaous dark fruit and cassis. In the mouth, it was very broad, expansive, masculine, earthy with mushrooms lacing the cassis and dark fruit. There was, as well, an underlying herbaceaousness, with classic touches of leather, tobacco and cedar. Obviously an aged Médoc. Nice heft and body (like a light-heavyweight), with good push.
However, after several passes, the alluring bouquet, flavors and body just seemed to fall apart, becoming a bit diffuse. I simply had to rate it down materially as a consequence, though, early on, it was a strong contender for 1st place. I finally rated it 4th place.
Mrs. Vingeron guessed this to be the oldest wine, the Stockbroker identified it as a left bank from 1990, and the Vigneron identified it as his wine. It turned out to be the Vigneron's 1988 Château Calon Ségur, a very reliable 3rd Growth from St-Estèphe.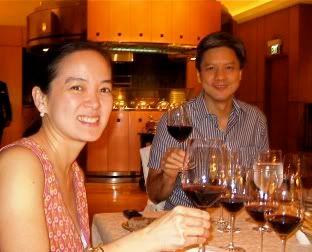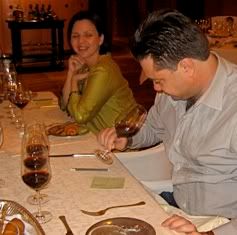 Wine # 2:
With its dignified deep brick-red with red-orange highlights and a dark violet-red core, it was, by sight, the oldest wine of the four. The initial sniff yielded a slightly less bold bouquet of roast meat, violets, cooked plums, a notable touch of animal (which subsided later on).
These notes were mirrored on the palate on a body more streamlined and less hefty in body than Wine # 1. The fruit seemed a bit riper with plums and red fruit on the surface of the dark. Silkier with good elegance. Very nice.

The Doc pegged it as a right bank and guessed it to be a 1982 Figeac, while the Stockbroker, in his notes, identified it as his wine.

I eventually rated it 3rd place. It turned out to be the Stockbroker's 1985 Château La Conseillante, one of Pomerol's old guard top growths.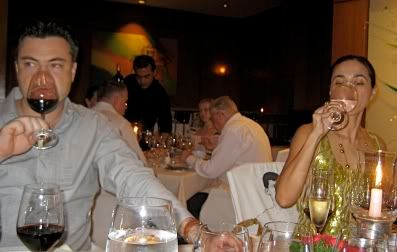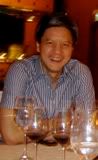 Wine # 3:
The bouquet was more subdued than the two previous wines' - with cedar, pencil shavings, cassis, whisper of licorice and leather. As regards the palate, it had very deep and subtly complex graphite, tobacco, cedar and "tar" infused dark fruit, cassis, as well as slight plum and licorice nuances. Beautiful mouthfeel - very masculine, expressive, yet proper and understated. Difficult to guess its age though it was undoubtedly mature and in incredible shape - consistent throughout the evening.
The Stockbroker pegged it as a left bank, guessing it to be from the mid 1990s. I rated it 2nd place. It turned out to be the Doc's 1989 Château Lynch Bages, an over-performing 5th growth Pauillac that the group favors.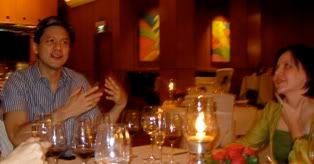 Wine # 4:
Comparatively (with Wines # 1 & 3) a subdued nose of ripe plum, cherry, bit of cedar, some chocolate and creamy/toasty vanilla/oak with the merest topnote of herbaceousness. Can't really call it a bouquet as there isn't much complexity or maturity in it - easily the youngest wine in the bunch (as I, Mrs. Vigneron and the Stockbroker noted), and just as easy to identify it as my own. A powerful, well-rounded, full-bodied wine with lush, ripe plum, kirsch, chocolate, underlying violets and vanilla infused cassis, smoky cedar trailed at the end. Broad, long and powerful.
Though this group obviously is Médoc-and-Pessac-Léognan-centric, I gambled on this wine's power and plush rounded body for it to stand out in a blind tasting. I rated it 1st place. It was, in fact, my 1998 Château L'Evangile, another top Pomerol owned and run by the Rothschild family (of Lafite Rothschild, not Mouton).

Finally, the tasting done and votes submitted, I relaxed to enjoy my meal with the rest of the wine.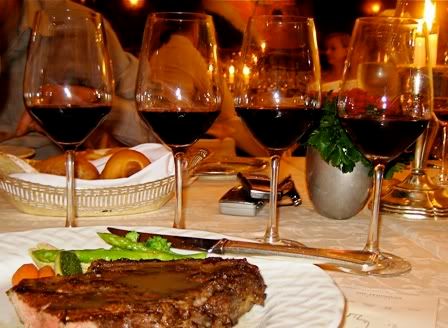 As usual, Mrs. Vigneron (whose rankings, yet again, matched mine exactly) tallied the scores and announced the winners. It was a very close fight.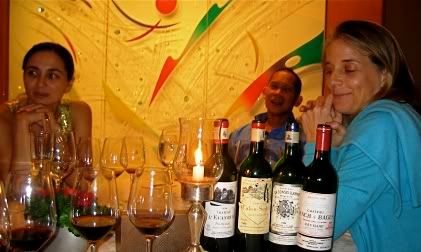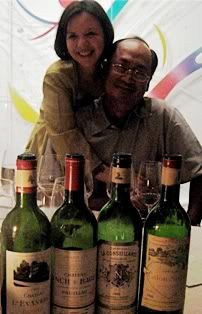 1st Place - My 1998 L'Evangile, with a total of 23 points (4 votes for 1st place, 1 vote for 2nd place, 1 vote for 3rd place and 2 votes for 4th place).
2nd Place - The Doc's 1989 Lynch Bages, with a total of 21 points (1 vote for 1st place, 4 votes for 2nd place, 2 votes for 3rd place and 1 vote for 4th place).
3rd Place - The Stockbroker's 1985 La Conseillante, with a total of 20 points (2 votes for 1st place, 1 vote for 2nd place, 2 votes for 3rd place and 2 votes for 4th place).
4th Place - The Vigneron's 1988 Calon Ségur, with a total of 16 points (1 vote for 1st place, 1 vote for 2nd place, 3 votes for 3rd place and 3 votes for 4th place). Incidentally, he later told me that had intended to enter the 1985 vintage of Calon Ségur but realized only on the night itself that he had left only the 1988.
It was a great evening yet again, full of fun, good food (the new, young Chef de Cuisine of Old Manila will surely receive this group's support), great wine and excellent company. A post-hostilities shot shows that we are all good sports and still all good friends - no matter how our little competitions turn out...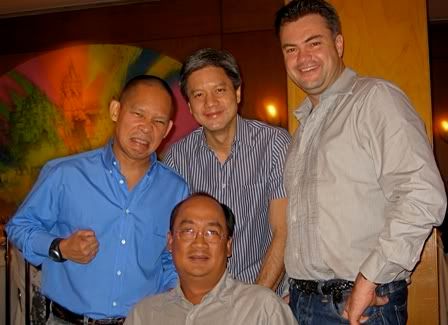 ...I guess.