It's been over a week since I last posted. It's not that I haven't been drinking or eating out, though. There was a birthday dinner at
Choi Garden
on Saturday Feb 28th; the IWFS annual members' meeting at
Alliance Française
that saw several wines ('99 Siran, '94 Pontet Canet, '95 Beaucastel Châteauneuf du Pape, etc., with the traditional IWFS AGM couscous dinner) Monday the 2nd March; Lunch at
Je Suis Gourmand
on Friday the 6th ('06 Domaine du Colombier Crôzes Hermitage Blanc, '01 Daniel Rion Clos Vougeot); couscous dinner with the wife and kids again at
Je Suis Gourmand
the next day, Saturday the 7th, with some nice Rhône rosé (the name and vintage of which escapes me); and, a healthy dinner at my dad's place nearby on Monday the 9th with fresh salad, mediterranean vegetable spaghetti, grilled giant prawns, etc., washed down with a fresh '07 Marqués de Riscal Verdejo.
It's just that, sometimes, I just need a break from concentrating on the wines, food and pairings, taking down notes and transcribing them, editing the pictures and everything else. Besides, I've already written about most of the wines I've had recently. Well, over a week is time enough, and I am now refreshed for blogging anew - and just in time, due to yesterday's lunch (10th March) at
Toki
, a very good and very reasonably priced Japanese restaurant located at the 2nd Floor of the 32nd and 5th Building, 5th Avenue cor. 32nd Street, Fort Bonifacio (same building and floor as Aubergine).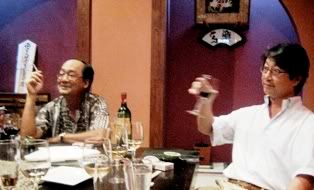 The theme of the lunch, curiously enough was "over-the-hill", i.e., bring wines that may be over the hill. Strange - like Oliver Twist asking for more gruel. I had told Bernd and J-Lab much earlier that I'd just bring bubbly or white (not over the hill) considering we'd be having Japanese cuisine. I just couldn't bear the thought of opening an aged red for pairing with the sushi, tempura and cold udon I intended on eating (I generally don't eat chicken at all, and don't really order any beef in Japanese restaurants unless I'm with my children - in which case, steak teppanyaki is a forgone conclusion).
I arrived late due to the traffic and was welcomed by a chilled glass of...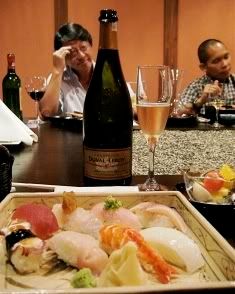 Duval-Leroy Champagne Rosé de Saignée Brut NV
- from Bernd, which I also had with my starter of assorted nigiri sushi (I can't remember the price of this item, but it was very affordable, good and quite generous in size, as one can see). This was quite a visually attractive rosé bubbly, with exuberant frothiness in the mouth and a discreet strawberry and raspberry dominance over red beet, currant, with ever-so-slight nuances of rhubarb and caraway seed (especially towards the back). Very pleasant, pleasingly straightforward. Definitely a nice start for lunch.
As regards the pairing, the red fruit, I felt, interfered with the flavors of the fresh fish. Better off with a dry white bubbly, in my opinion. No problem, though, I just drank it before continuing with my sushi.

With my main course of Ebi Tempura with Cold Udon (it is summer after all), though reds already started pouring, I mainly had...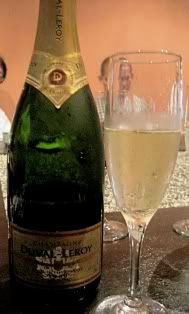 1999 Duval-Leroy Champagne Blanc de Chardonnay
- My bottle. I first tried this 100% chardonnay-based bubbly as
an apéritif on the 10th December 2008 at home
, the bottle then from Bernd. My notes on that bottle were as follows:
This bubbly was open, generous and particularly lively, with a fine, persistent mousse and delightfully pronounced toasty brioche to its whitely floral, ripe apple, slight apricot profiles. Whispers of candied fruit, white minerality and oak as well. In a fuller style than most blanc de blancs I've had, I could have
sworn it wasn't pure chardonnay, but, then, no champagne expert am I. An excellent way to start the evening, in any event, it was wonderful with the terrine of foie gras.
The bottle at the subject lunch, however, seemed more typically
blanc de blancs
, dominated by apple, bread, yeast, bit of grapefruit, showing toastiness and brioche mainly past mid-mouth, encouraged with a bit of a "gargle". Notably tight (as also noted by J-Lab) compared to my previous taste of it. Nicely dry with good edge and cut. A subsequent pour that was allowed to sit for a while showed marginally more openness, depth and complexity and a finish touched with hints of spiced dark fruitcake.
~oOo ~
The Reds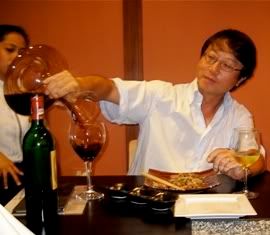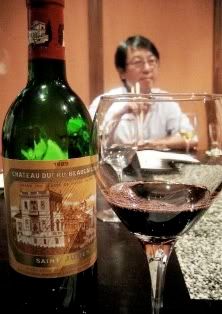 1989 Château Ducru Beaucaillou
- Keiichi's bottle, from a château and
appellation
he personally favors. Ducru Beaucaillou is a 2nd Growth from St-Julien, a town I've both visited and driven through quite a few times. 1989, in my opinion, is a very good vintage, more classically austere and masculine than the ripely sweetish and materially more fruit-driven, approachable and hyped 1990 (which I also like, make no mistake, I'm just making general vintage comparisons here).
I've stated before that
I'm no big fan of the wines of this château
, considering that in those of its bretheren 2nd Growth St-Juliens I find more contemplation and depth (Léoville las Cases) and more over-all pleasure at a lower price range (Léoville Poyferré and Gruaud Larose). That said, I readily recognize the marked harmony, silkiness, quiet dark-gravelly depth of Ducru Beaucaillou's
terroir
-driven wines.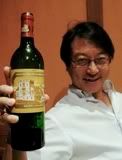 This wine had a reticent bouquet, grudgingly giving up slight whiffs of Spanish cedar, dark fruit and tobacco leaf. In the mouth, however, it was much more expressive. Typical Ducru Beaucaillou on a silky, medium body, with somber dark fruit infused with dark minerals, gravel, light touches of tar, tobacco and hint of spice box. Very reserved and proper, if a bit faded. Despite a barely medium finish that ended a bit abruptly, the admirable harmony and depth in its flavors made for quite a pleasurable drink.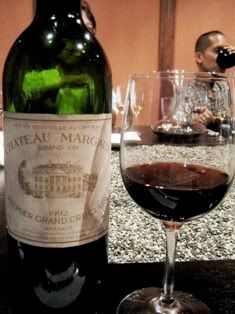 1992 Château Margaux
- The Stockbroker's bottle. An 1855 1st Growth from an appellation of the same name and, quite possibly, Bordeaux's very worst vintage of the 1990s (ignominously rivaled only by 1991). The only other 1992 that I can recall ever having tried was a
slightly
TCA-infected
'92 La Fleur Pétrus
, which is a Pomerol, not from the Médoc, so I can make no fair, first-hand generalization of the vintage.
This wine had an alluringly perfumed, feminine bouquet (which Margaux wines are known for) of aged cedar, dark and exotically sweetish spices, bit of old-pressed violets (but none of decay) and a hint of pruniness in its molten dark fruit. The bouquet, however, was the best the wine had (left?) to give, as it was sadly thin and diffuse on the palate - giving up more drying cedar than any fruit or ghosts thereof.
Truly over the hill, in line with the lunch's theme. Good to be able to try it, though. The opportunity was much appreciated.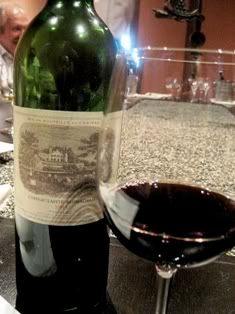 1983 Château Lafite Rothschild
- Again, from the Stockbroker, another 1855 1st Growth, this time from Pauillac. Very mature, and just a shade over the hill - hands down, the best red of the lunch.
What this wine gave up in perfumed allure to the '92 Margaux (a refined, suavely masculine Pauillac bouquet), the former more than made up for in the mouth with elegant balance and texture, deeply-veined, layered dark fruit, cassis, mere whispers of licorice, violets, tobacco and intricately woven sweet cedar. Not somber like the Ducru Beaucaillou, and not as earthy, though still expressive of its
terroir
. More living fruit in this.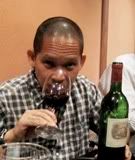 Much, much nicer than than the '83 Lynch Bages and '83 Latour, in my opinion. Very likely the best '83 I've ever had, just edging out, to me, the '83 Palmer (though this comparison, I recognize, is tenuous at best since the '83 Palmer is a delicately feminine Margaux as opposed to this decidedly masculine Pauillac, however refined and suave the latter may be). Beautiful wine.
~ oOo ~
The reds done, J-Lab ensured we ended on a sweet note with a...
2006 Dr. Loosen Riesling Beerenauslese
- J-Lab's bottle, one he shared during a mid-September 2008 lunch at Je Suis Gourmand. My notes then were as follows:
2006 Dr. Loosen Riesling Beerenauslese (Mosel-Saar-Ruwer) - Medium-sweet with healthy balancing acidity that rejuventated my palate. Fresh, bright, friendly notes of cling peach, orange rind, honeysuckle, white mineral and a honeyed, vaguely melony/grapey theme that reminded me a lot of a sweet muscat-based dessert wine from Mondavi that I tried there in May 2006 - go figure. This was much better though.

Playfully entertaining wine with a lot of charm. Very easy to drink.
Honest, no pretenses to contemplative depth or complexity - it does its job as a dessert wine, and plenty well enough. The botrytis tang/spice is there, but very delicate. Nicely crafted wine.
I only add now that there seemed to be just the slightest hint of playful spritz in this that added yet another bright and happy dimension to the wine. Very nice indeed.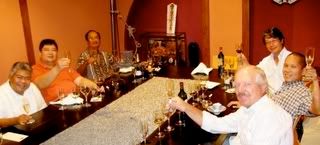 Again, many thanks to all who generously shared their wines, and, more importantly, their company, which, hopefully, will never go over the hill.