As summer rolls in, I've been drinking more whites and rosés than usual - mostly my favorite crisp Galician albariño and crunchy Navarra rosé. A couple of weeks ago, at one of our wine lunches, I asked J-Lab if he could organize a riesling pairing dinner at
Lemuria
(he's the wine pairing consultant, I understand) as I'd been much enjoying the German rieslings the Doc has been opening lately, and, especially, the
2007 Weingut Hermann Dönnhoff Niederhäuser Hermannshöhle Riesling Spätlese
that Rocky and Apple gave me for Christmas. Other than those, the rieslings I usually have are from Alsace.
I'd never been to Lemuria (mainly because of the distance), but had heard very good things about it from fellow foodies. I figured it would be the best place to have a riesling pairing since the proprietress, Marina Schroeder, also owns Brumms, the German wine importing company. I left all the dishes and pairings to J-Lab, naturally, and, on the evening of the 24th March 2009, my wife, I and several friends trekked to Lemuria for our feast.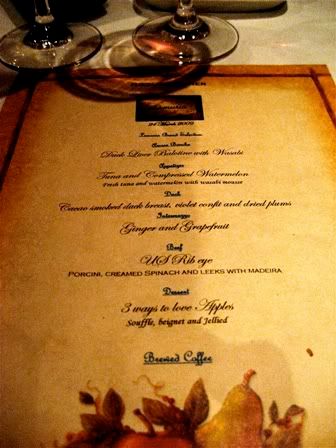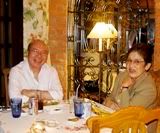 We were 12 in all: Marina, J-Lab, chef-
restaurateur
Colin Mackay,
Miguel
, Rene Fuentes, Jr., Robert Burroughes, Lawrie Martin, James du Vivier, Apa & Ana Ongpin and my wife & I. At a nearby table, I saw Gentleman Joe having a quiet dinner as well, but, surprisingly,
sans
fine wine. Apa, true to form, was late (but we were happy that he and Ana made it at all since they came all the way from Manila).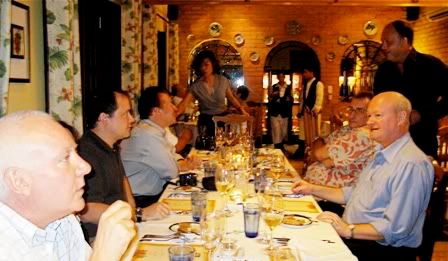 J-Lab, Marina, Robert and James were there when we arrived while Rene, Colin and Lawrie followed shortly after.
Unless otherwise stated, all rieslings served that night were from Lemuria/Brumms
. To start things off as the others trickled in, we enjoyed chilled glasses of: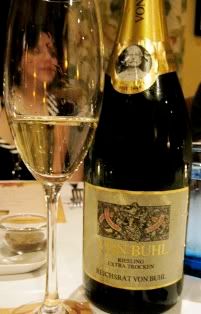 2002 Reichsrat Von Buhl Riesling Sekt Extra Trocken
- This may very well be the first bubbly riesling I have ever had. Lean, taut and bone-dry, this is a crisp, edgy, tense, dry bubbly that exhibited strong citrus, white grapefruit, just a touch of green apple, lime and underlying orange peel, with an over-all bright white mineral lift to it.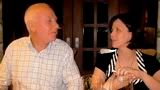 Very pleasing and light, yet there is a seemingly nonchalant depth to its fruit. Tastes fresh with lots of bracing acidity - zippy, with a dryness you could cut your cheek on. Nice first experience with a bubbly riesling. Will wake you up and nice for the summer's heat.
~ oOo ~
James (proprietor of Futuretrade, a major importer of many well-known wines from Australia, New Zealand, South Africa and the USA) then had served his bottles of: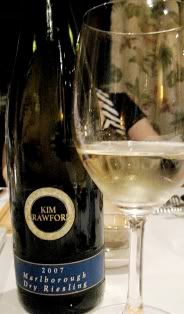 2007 Kim Crawford Marlborough (New Zealand) Dry Riesling
- This seemed to be an evening of "firsts" for me, as this is, undoubtedly, the very first riesling I have had from New Zealand. I'm much more familiar with their sauvignon blancs.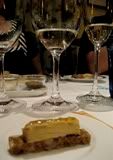 This was a nicely rounded, moderately ripe-fruited New World riesling that exhibited slightly honeyed apple and white peach. There are mild ripe lemon-citrus, orange rind nuances underneath as well.
Comes off a bit tropical to me, with a seeming ripely-sweetish slant to its fruit. Its mildly honeyed fruit character and sufficient acidity made it a very nice match with the excellently rich Duck Liver Ballotine with Wasabi amuse bouche.

Relatively forward and readily pleasing - I'd say this would be very approachable to very many people, as well as those new to rieslings. Me, I liked it a lot. Straightforward, honest and very friendly.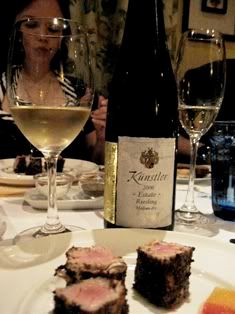 2006 Künstler Estate Riesling Medium Dry
- Served with the appetizer course of
Tuna and Compressed Watermelon with Wasabi Mousse
.
A nicely dry, minerally riesling for the fish, with notable freshness and focus to its clean and lean streamlined white apple, stone fruit, comparatively less ripe (a good thing for me), drier and not forwardly citrusy.
There was also more depth, minerality and underlying orange rind, with an alluring, subtle cold stone character. Merest whispers of petrol and small white flowers surface towards the back and in the finish. A precise and correct wine.


With the seared/crusted tuna, it was an unsurprisingly good match, cleansing and refreshing the palate of the salty spice of the tuna's crust.
~ oOo ~
With the outstanding
Cacao Smoked Duck Breast with Violet Confit and Dried Plums
, we had two rieslings: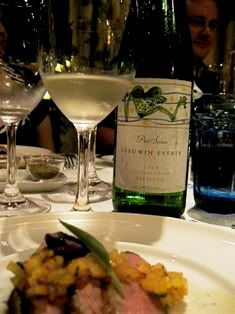 2006 Leewin Estate Art Series Margaret River Riesling
- Another New World riesling thoughtfully donated by the Stockbroker who, unfortunately, couldn't join us that evening. Another first for me, as I do not recall ever having tried a riesling from Australia. I've had, however, a vintage or two of Leewin's Art Series Chardonnays and found them quite good.
Distinctive concentration and ripeness of white fruit make it come off plumper (especially mid-mouth), marginally heftier and noticeably less dry in comparison to the leaner, less fruit-driven, edgier and more minerally German rieslings, this is a more forward and eager to please style of riesling.
Like the Kim Crawford riesling above-discussed, I would say that this would likely be more approachable to those just "getting their feet wet" with riesling. Pleasant enough and more than just a little charming; very easy to drink.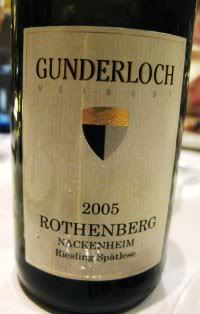 2005 Gunderloch Rothenberg Nackenheim Riesling Spätlese
- A mouthful of a name, as well as a wine, indeed. Not that I am at all well-versed in the heirarchies of German wines, but, as far as I know, spätleses are next in line in sweetness to auslese, the latter being the equivalent to Alsace's vendanges tardives or late harvest wines. Thus, one should expect a natural touch of sweetness in spätleses.
Perfumed aromas of sweetly spiced white peach, honeyed baked apple, candied lemon, small white flowers and a slight breath of eucalyptus. Quite alluring. On the palate, the aromas are mirrored in a viscous, barely-medium body. Its heft and viscosity is very apparent, perhaps amplified by the string of preceding, drier rieslings. Lowish on acid, but still in good balance, with supple curves.
I must mention that the duck course was my favorite of the evening, with its delicate smokiness and entertaining sweet-and-savory interplay. The spätlese was an excellent match, its sweet fruitiness jumping in with the interplay of the plums' fruit-sweetness and the smoky/savory duck.
~ oOo ~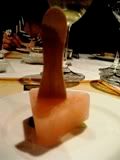 Thereafter, Miguel and I took a quick cigarette break outside, on a small balcony overlooking the compound's nicely lit driveway, main house and gardens. In a few minutes, my wife waived us in as the delightfully cool and refreshing intermezzo of Ginger and Grapefruit Ice (in the form of a small, triangular popsicle) was served.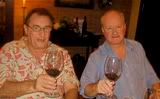 As the main course of US Rib-Eye Steak with Porcini, Creamed Spinach and Leeks with Madeira made its way to the table, the evening's reds, brought by us, were served. Marina kindly waived the corkage for those of us who opened our bottles to share.
Not all of us had the steak for the main course, Lawrie and Robert avoid eating red meat as much as possible, so J-Lab arranged for their main courses to be Halibut Baked in Vine Leaves with Spices and Aromatics. I didn't taste it, but the halibut looked succulent and Lawrie confirmed it to be delicious.
If I'm not mistaken, we started off with a pleasantly light, young, cherry and raspberry dominant quaffer of a Bourgogne shared by Colin that helped "acclimatize" and prime our palates for the transition from white to red. I recall (correct me someone if I am wrong) that it was a 2006 Domaine des Terres Dorées Jean-Paul Brun Pinot Noir. J-Lab decided the order of the reds, so I am sure he meant this for a smooth transition to the next, heavier Burgundy. Excellent call.
Unfortunately, I forgot to take a picture of Colin's bottle, since Apa (sporting a Wolfman-like beard) and Ana had arrived and I had to talk to the waitstaff to make sure they served the late-comers their first courses and whites (or whatever was left of the whites anyway). Since Ana is expecting, she limited herself to just one glass of red.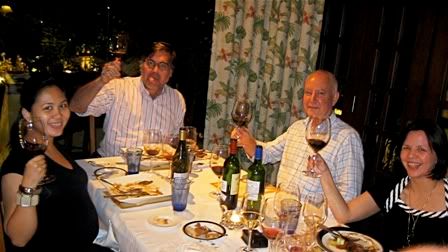 Next served was...
2001 Domaine Daniel Rion et Fils Clos Vougeot Grand Cru
- My bottle, the one that was not opened Monday night at Pepato. My last notes on this (though I've had it another time since then I think), were made after a
12th February 2009 lunch at CAV
with the Stockboker, James and Keiichi, wherein I did not decant the wine, to wit:
...this relatively young wine, after around half an hour's breathing in my glass, readily displayed a perfume of dried cranberries, ripe black cherry, pressed violets, whispers of damp earth, all bringing to the fore the wistful romance of Burgundy decay. In the mouth, it was just shy a notch of legitimate full-body. Neither austere nor lavish, the wine readily rewarded the palate with a smooth, supple blend of dried cranberry, ripe cherry, raspberry over red beet, touches of plum and violets. Slight chocolate notes emerge discreetly just past mid-mouth and join in the finish. The dried cranberry/cherry/cranberry/ceps notes form the firm backbone of this wine. Admirable focus and grace, good typicity.

I liked this a lot and ordered more the moment I got home. I also read up
on it on the net (what would we do without google?), and found out that in the
first quarter of 2003, Allen Meadows' Burghound rated this wine 89-92. While I
am no big fan of assigning scores to wine (something I have absolutely refused
to do), I do have great respect for Meadows' evaluations of Burgundy's wines.
Happily, I got it at a very reasonable price.
This time, I decanted the wine before dinner started, so it was breathing for around 1-½ to 2 hours before it was served. Since it is a grand cru, it is still quite young at point, so material decanting does help it release its charms. This bottle was noticeably more complex, heftier and richer than before - Burgundy decay was not apparent in its bolder fruit infused with violets, touch of Asian spice, moderate dark chocolate and well-integrated vanilla/oak. Nice body, not quite chewy, but showing its grand cru girth.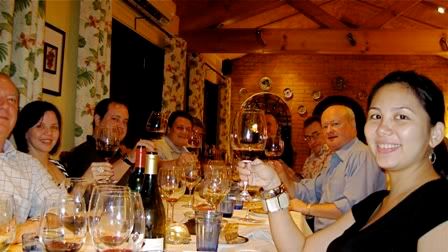 Then came...
1997 Clos du Marquis
- Rene's bottle, the 2nd wine of St-Julien's "super second growth" powerhouse, Château Léoville las Cases. 1997 is an under-appreciated vintage, in my humble opinion, due, mostly, to a certain influential critic's vintage assessment and his apparent preference for heavier, very ripe, fruit-driven wines. I have had some very enjoyable '97s (e.g., from Léoville las Cases, Cos d'Estournel, Léoville Barton, La Mondotte, Lascombes, etc.), thankfully, at very affordable prices due to the public's coolness to the vintage.
Sure, they may not be as long-lived as those from better years, but, who cares? That just means I can enjoy them sooner rather than later.
In any event, this wine is medium-bodied, earthy and dry, rendering gravel and earth touched cassis, cedar, slight roasted herbs, violets, licorice and underlying tobacco. Very food friendly, properly reserved and, though not very complex, it is comfortingly familiar and undeniably a pleasure to drink. Good to go now and within the next two years, I'd say.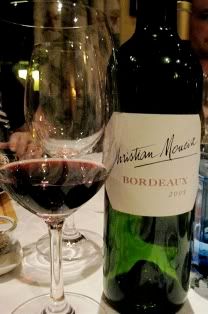 2005 Christian Moueix Bordeaux
- Shared by Marina, this is the basic Bordeaux of Château Petrus' Chrisitian Moueix from the much hyped, hot, ripely-roasted 2005 vintage. Simple, though somewhat charming, warm, round dark plum and dark fruit, bit of cherry and some cedar. Probably merlot-dominated. Not bad, though, for a basic Bordeaux. Good as a house claret and for large parties.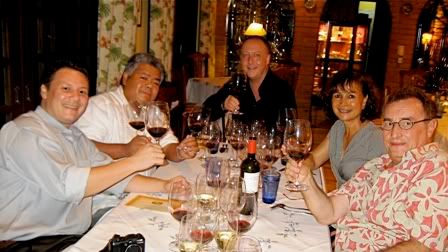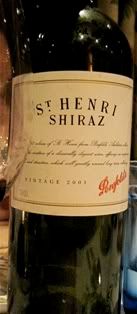 2001 Penfolds St. Henri Shiraz
- Shared by Lawrie, one of the several Penfolds lines that James's company distributes. This was chilled down and decanted near the start of the dinner, so it had been breathing for around 2 hours or so by the time it was served.
Bigger, warmer, riper, more extracted, forward and concentrated than any of the previous reds, yet calm and collected. Viscous and round, a bit dense, plush with exceedingly ripe raspberry, blackberry, black cherry, confited dark plum, bit of pepper and a hefty dose of mildly creamy oak/vanilla nicely knit in. Hints of toffee and cinnamon, licorice. The red berries/fruit had a touch of candy to them.
I'm quite surprised how much I liked this, given that I don't particularly favor shiraz - there are always exceptions. Good with barbecued ribs and very hearty roast or grilled red meat with robust sauces. Make sure to decant for around 2 hours before serving like we did.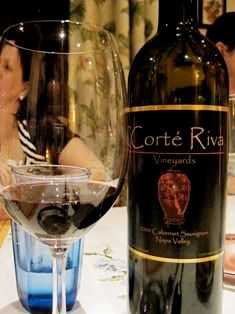 2004 Corté Riva Vineyards Napa Valley Cabernet Sauvignon
- J-Lab shared this bottle, a label he distributes. As I understand, the winery that produces is Corté Riva wines is owned and operated (including the wine-making itself) by 2 Filipino-Americans Lawrence Cortez and Romel Rivera, formerly cellar master and assistant winemaker, respectively, of Pride Mountain Vineyards.
2004, like 2001, is a highly acclaimed recent Napa vintage. Since the wine is quite young, J-Lab had it decanted for aeration but I don't know for how long, but I'd guess at least 1-½ hours by the time it was served.
This is unmistakably Napa cabernet sauvignon, with dense, yet pliant ripe dark fruit, cassis, licorice, oak, dash of kirsch, with topnotes of slight cedar and mint leaf. Though still quite primary and, basically fruit-driven, it will, with aeration, surely please Napa lovers and fill nationalists with pride.
Though I'm neither a chest-thumping flag-waiver nor a Napa-head, in all objectivity, I say that this is a very well-made wine, displaying more craftsmanship, balance, self-control and structure at this early stage than many, many over-blown, syrupy Napa cabs I have tried. Yes, I did like this wine, I honestly did. Well done.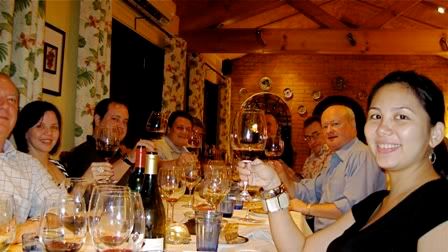 Dessert, then was finally served, a delightfully light three-part play on apples called "
3 Ways to Love Apples
", namely, as tasting portions of soufflé, beignet and jellied apple. This was precisely paired with...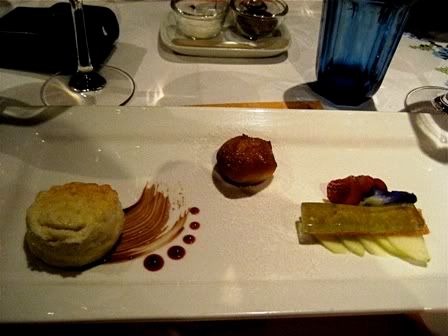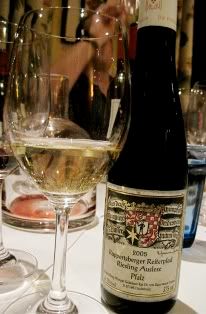 2005 Bassermann-Jordan Ruppertberger Reiterpfad Riesling Auslese
- Another tongue-twister of a name, Marina's last bottles from Brumms' inventory. As mentioned above, in the note on the 2005 Gunderloch spätlese, "auslese" indicates that a wine is a late harvest, equivalent to a
vendanges tardives
.
This means that the grapes are picked very late, at times already lightly touched by botrytis cinerea, but not to the extent of a beerenauslese (the equivalent of a sélection de grains nobles) or
trockenbeerenauslese. Thus, ausleses should inherently be sweeter than spätleses.
This wine had a lot of bright, refreshing mineral lift and a bit of youthful spritz in its display of sweet crunchy pear, peach, green apple and hints of orange peel. The acidity balances off the sweetness very nicely, cleansing and resuscitating the palate as one enjoys its playful sweetness. Notably good purity in the fruit as well. Still quite young, but already very enjoyable.
Thankfully, Marina said Brumms expects be getting a new stock of this within a month or two.
~ oOo ~
After a round of brewed coffee and double espressos, several diners took their leave. For those of us who lingered, J-Lab offered to open another red and we happily agreed to help him drink it.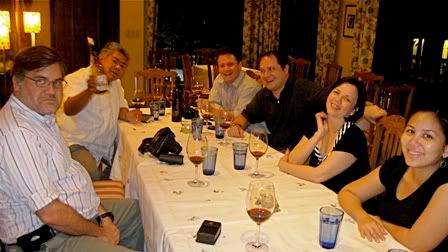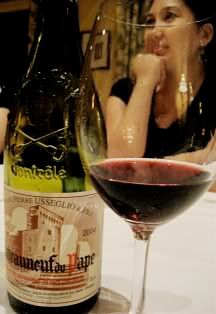 2004 Pierre Usseglio Châteauneuf-du-Pape
- As stated, this was J-Lab's bottle, a young Southern Rhône from a very highly reputed maker, from a strong, recent Rhône vintage.
The wine was not decanted, and, young as it is, was understandably tightly-wound and a bit unyielding at first. Thus, we let it aerate in the glass while chatting with one another, while checking every so often to see how it was coming along.
After around half an hour or so, I noted that it had loosened up a bit, giving up more of its spicy, dried herb-infused, roasted-ripe red fruit, black cherry, tobacco, slight anise and pepper. The fruit is still shy, however, but there seems to be a lot of it hiding below the surface. There is a bit of heat as well, but, then, it is a young wine. Structure was very firm; there is a sturdy acid backbone to this that would suggest a long life ahead.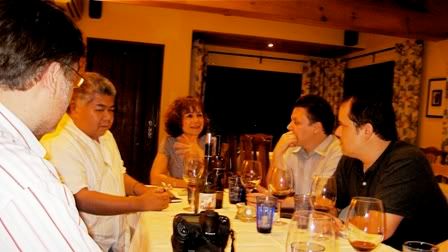 Marina sat with us stragglers and entertained us until past midnight when the last of us took out leave. After profuse thanks, we made our way back home, very happy with our first wine-and-dining experience at Lemuria. We'll surely be back for more. Many thanks to J-Lab and Marina for organizing this event and accommodating us so graciously. Until next time,
auf wiedersehen
!