Within a couple of days after the our
Kokotxas a La Tienda dinner
, the Stockbroker requested a repeat performance of chef Javi's menu since he enjoyed it so much (since that night, the former has been on a Spanish wine roll). I, thus, requested
Miguel
to arrange for the requested dinner for Saturday the 14th of March, which he immediately did though he was on a business and eating binge in Las Vegas. Unfortunately, Miguel was at the beach over the weekend and my wife was at a family meeting, so both were unable to join us. That left 10 of us to enjoy Javi's creations with a whole lot of (mostly) Spanish wines.
In addition to perennial favorites escalivadas, fresh boquerónes and pulpo a la Gallega, Doc also ordered some angulas, while Mrs. Doc added some gambas al ajillo - all of which were quickly wiped out con much gusto. With these appetizers, we had...

2002 Fritz Haag Brauneberger Juffer-Sonnenuhr Riesling- Spätlese
(Magnum)
- The Doc's first magnum of the evening. White flowers and minerals infused sweet white peach, pear and apple on the nose, laced with a whisper of petrol. Doc opened it as our apéritif, much to everyone's obvious delight. I know Mrs. Doc specially favors Haag's rieslings, and Eric, Keiichi and Bernd expressed their great appreciation for it as well. The magnum disappeared virtually in a trice, with requests for more. What better compliment could there be?
The aromas were freshly and brightly mirrored on the palate on a clean, light body. Great purity, focus and definition. A touch sweet, but well balanced by its minerality and acidity. Lip-smackingly juicy wine indeed with nice playfulness.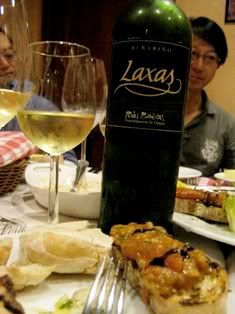 2007 Laxas Albariño
- My bottle, I simply cannot have Javi's
pulpo a la Gallega
,
boquerónes
and
escalivadas
without some good Rias Baixas (Galicia) albariño - they just wouldn't be the same without it (especially the pulpo since it is a typical/regional Galician pairing). I've written about this recently, comparing it to the 2006 version. My notes, still applicable, are as follows:
Fresh, bright, crisp, vibrant mineral/flint touched, slightly grassy green apple, guava, grapefruit, gooseberry and a bit of ripe lemon. Healthy acidity lends good lift despite the apparent ripeness of the fruit. Lively and dryly refreshing wine. As a match with the fresh boquerónes, it was perfect.

I add now, that the 2007 seems just ever so slightly bigger yet gentler in fruit than the 2006 and has an added nuance of almond infused into the fruit -
very enjoyable albariño and great money-for-value. I will make sure to purchase
more of this for the house (available at Terry's at P750 per bottle retail) to
pair with seafood meals.
I also opened a 2007 Condado Laxas, also available at Terry's at P975 full retail. Made up of a blend of albariño, loureira and treixadura, this wine is supposed to be an older style of Galician white. I over chilled it at first, so my first few sips were a bit muted, particularly compared to the previous, pure albariño. After a bit of warming down and breathing, it opened up with subtle white grapefruit, straw, waxy apple, citrus and a touch of white minerality.

Less fruit-driven than the albariño, seemingly less balancing acidity, comparatively less edgy, nervous but more relaxed and plush in mouthfeel. I would enjoy this more alone as an apéritif or as a casual mid-afternoon sip; but would prefer to eat with the albariño.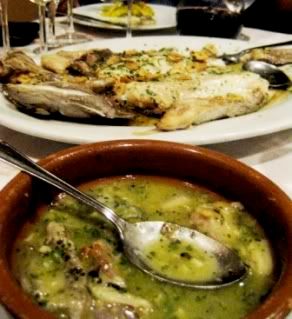 Kokotxas and Besugo al Horno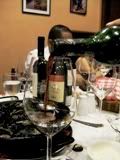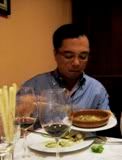 As the 2 paellas (Squid Ink and Verduras), excellently medium-rare
chuleton
and a bowlful of spicy red peppers in olive oil made their way to the table, the reds started to pour.
Noteworthy as well were the fries accompanying the chuleton, which drew compliments (as well as several helpings) from Keiichi. I recall the Vigneron also mentioned that the fries were particularly good last time we were at La Tienda together.
I was enjoying myself so much, I forgot to take pictures of all the dishes.
1973 Berberana Rioja Reserva
- Bernd's bottle, one he had to take great care in opening as Spanish corks, in my experience, do not age very well over decades.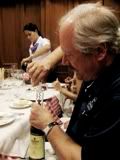 Though the cork was a bit soaked and dangerously crumbling, Bernd managed to slowly coax around 4/5s of it out before the last fifth broke off inside. Fortunately, La Tienda's Jojie deftly pulled the rest of it out, without any cork bits falling into the wine.
The wine wore it's aged mahogany tinged red with a quiet dignity. A couple of deep sniffs revealed it to be still in form given its over 35 years in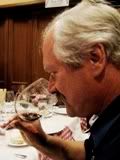 age.
I used to buy this very same wine from Säntis in the late '90s and correctly guessed that Bernd did as well - the difference being that he kept some bottles to age even more. Pervasive pruney touch to old strawberry, plum, cedar, violets and mere whispers of tobacco and licorice would sum up this wine fairly. Medium-bodied, smoothly mellow, more than fully mature - to be enjoyed now and soonest. A good, old Rioja. I greatly enjoyed this and was very happy to be able to drink it again. Nostalgia in a glass.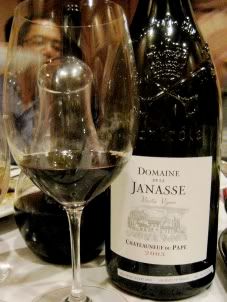 2003 Domaine de la Janasse Châteauneuf du Pape Vieilles Vignes (Magnum)
- The Doc's second magnum for the evening, frome Southern Rhône, one of two none-Spanish reds that evening. It had been poured early on, but, given my initial sip, I waited for the chuleton to continue drinking this.
From the heavily influential 2003 vintage, this tasted to me like a very modern CdP: high alcohol, very ripe, extracted and concentrated with spicy black cherry, kirsch, blackberry, blueberry and minor notes of raspberry, underbrush, slight anise and lavender.
It hit me pretty hard at the initial sip so I let it aerate in my glass for quite a while to let it subside a bit. I noted this morning, while looking at the picture of the bottle that it discloses 14%-16% abv and is, consequently, properly (and somewhat ironically) labeled as a dessert wine.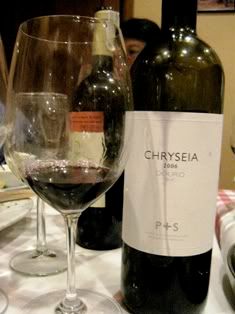 2006 Chryseia Douro P+S
- The Stockbroker's bottle, from the Douro area of Portugal, a joint venture involving the Prats family of Cos d'Estournel fame. In all honesty, I really didn't know what to make of this wine. The youthfully alcoholic nose reminded me of that of a young dornfelder I tried a few years ago.
For lack of better terms, I describe the aromas as somewhat "plasticene" plums, dark red fruit, metal, lots of dark spice and minerals, licorice notes and generous oak/wood. Very primary, but that's hardly surprising considering its youth.
In the mouth, it was incredibly penetrating, bold, extracted and concentrated with grapey fresh, ripe plum, dark fruit and spice - the plasticene and hefty mineral character following on the palate but a bit subsided past mid-mouth. Still exceedingly young, fresh and a bit disjointed at present - a very curious wine for me indeed.
This would surely please those that go for the pedal-to-the-metal, no-holds-barred style of wine. I'd like to try this after several years to see how it goes.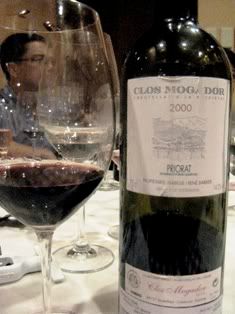 2000 Clos Mogador
- Eric's bottle, from one of the 5 makers who, along with Alvaro Palacios et al., put Priorat on the world's wine map.
Deeply veined, quietly intense, mellowly warm. Big, smoothly muscled, calmly self-assured. It presents a melange of softly ripe, molten black and dark red fruit with minerals, licorice, black asphalt and slight cedar notes on a well-structured, hefty 14.5% abv frame. The high alcohol content, however, is not very apparent - in any event, the wine carries it off quite well. Despite its average focus and complexity, I found it quite pleasing.
There is also a general earthiness here that I found comforting after the previous young wine. Good balance despite being slightly top-heavy. Good Priorat, not one that is over-the-top or clumsily big and blocky like many I've tried.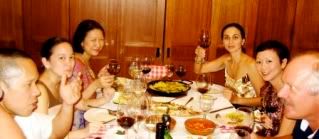 2001 Mayor de Ondarre Reserva Rioja
- Keiichi's bottle. From familiar Rioja and a very good vintage at that. After Bernd's old, nostalgic Rioja, I initially thought I would find this difficult to drink, but I was mistaken.
This seemed quite ready to drink at this point, and, if I were asked to sum up this wine in a single word, I would have to say that it is a "correct" wine: good typicity, precise balance of fruit, wood and acidity. The base flavor is dark berry/fruit, with topnotes of strawberry, Spanish cedar and a hint of mint. There is also a discreet, underlying tobacco leaf nuance to the dark fruit base and a general, but well-integrated, spicy woodiness to this as a whole.
There are no fireworks or parade to see here; rather, a readily pleasing, competent and correct Rioja reserva.
Sometime in the midst of tasting the latter three reds, Mrs. Doc asked that the Stockbroker's bottle of
Cerdon de Bugey Caveau du Mont St-July
be chilled and opened. As I drink much, much slower than all the other guys and had yet to finish getting acquainted with the reds, I passed on this fresh and simply joyful poulsard and gamay based rosé bubbly from France's Jura region (near the Swiss Alps). I've written repeatedly about this very affordable yet pleasure-filled, dangerously drinkable, fresh strawberry flavored bubbly. Everyone loves this stuff and it is always fun to drink.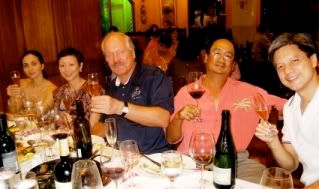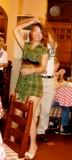 Breaking out this fun bubbly was, actually, more timely than one would have imagined since I'm sure many needed some palate cleansing and refreshing by this time, and, it was more in the spirit of things as the resident "Trio los Panchos" started striking up lively songs that brought some expat-diners to their feet for a bit of alcohol-induced dancing and some good-natured silliness...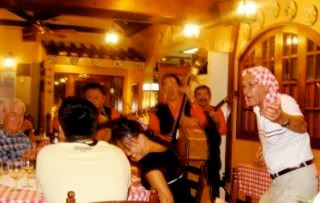 ...much to everyone's delight.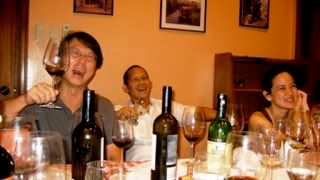 Come to think of it, of the five times I've been to La Tienda in the past five months, I've found myself enjoying myself greatly every single time. Not only do I love Javi's well-executed Spanish favorites and some hard-to-come-by typical dishes from the Catalan, Galician and Basque regions, but also because the general atmosphere of La Tienda never fails to bring a festive feeling to us all.
All these, surely, will keep us coming back for more. I'm most grateful to Miguel for re-introducing us to the many pleasures La Tienda has to offer, as well as arranging all our fun-filled dinners there. ¡Salud!