Last night was dinner with the Doc and James at Pepato - just a white and a red, both Doc's bottles. James brought a 1991 Dominus and I brought a 2001 Daniel Rion Clos Vougeot, but those bottles were handed down a suspended sentense since it was just us three.
Luckily, Pepato had
diwal
(angel wing clams) available, so we started off with 2 orders of them simply grilled. With these, we paired...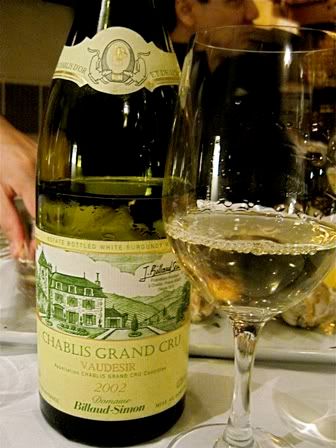 2002 Domaine Billaud-Simon Chablis Grand Cru Vaudésir
- Vaudesir is one of the largest (around 32 acres) of the 7 grand crus of Chablis, steeply sloped and situated between fellow grand crus Les Preuses and Grenouilles. Chablis are made of chardonnay and are, typically/ideally minerally, flinty, stony and tense. Certain wine "authorities" have referred to it as the "purest expression of the chardannoy grape". Me, I love them.
2002 was generally a Burgundy vintage touted by a few very influential professional wine reviewers. Those I've tried have been pretty good and undeniably charming, if a touch ripe and less tense and lowish in acid. These vintage characteristics, however, would make them more approachable to more people, especially those not very familiar with true Chablis. I've not before tried any of this maker's wine, and, so, was very particularly glad to try something new.
For my initial sips and whiffs, I let my glass warm up a bit to be able to let the wine release as much as possible. Firm attack, pleasant, vaguely tropical notes of ripe apple, white peach, hints of lemon/citrus mid-mouth, with an over-all "cold stoniness" to the fruit. Towards the back and to the finish, its white minerality and oyster shell notes emerge to say their piece. Good heft, concentration of deeply veined fruit (vines are probably old) - it is a grand cru after all - and decent acidity. Very nice, one of the better 2002 Chablis I've had.
With our usual, old favorites of
Steak alla Fiorentina
with side orders
Spaghetti Pepato
...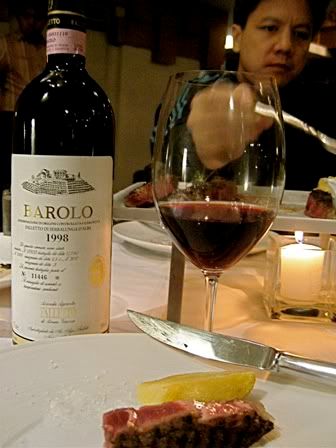 1998 Bruno Giacosa Barolo Falletto di Serralunga d'Alba (Bottle#11446)
- One of the lighter colored 1998 Barolos I've had (though I'm very far from being well-versed in Barolo), but with notably good clarity. Doc said it looked pretty advanced for its age. No decanting, I let it breathe in my glass for around 30minutes before trying it out.
Its nose seemed typical with mild cedar, violets, bit of asphalt, hint of rose hovering over the warm black cherry. In the mouth, the dark cherry flavors were initially a bit tight and tart, but it fleshed out a bit after a while. Very firmly structured, stern, with a strong grip in its medium body. The dark cherry are joined by minor raspberry, touch of black olive, asphalt, violets and an earthy nuance of fresh button mushrooms. There was a touch of stem/green to the fruit, and the acidity was definitive, bold and bright - making it an excellent foil to the rich, steak.
I have favored pairing steaks and other grilled red meat with Italian reds over Bordeaux, Burgundy and even Napa reds, ever since
Oscar's Italian Night at L'Opera
. Tonight's Barolo served to strengthen such favor - a superb way to have dinner on a Monday. All Monday dinners should be like this. Thanks much, Doc.