Friday and Saturday of this year's Holy Week were primarily about spending time with family rather than wine and food (as well they should be). I managed to squeeze in a few rounds of golf since Monday, so I spent the day at home on Good Friday and played only 11 holes on Saturday. We usually spend Holy Week at our dad's beach house cooking, eating, drinking and playing mahjong, but, this year, we stayed home...and did all the same things.
My youngest sis, busy as ever with
her reading clinic
, just dropped by for dinner on Friday . She's recently acquired her own office space, so
my sis-in-law, a designer
, together with my wife, who studied interior
design, spent a few hours going over the new office's layout. I, personally, can't understand this stuff, so, when they were busy, I worked on my Good Friday-compliant
spaghetti pomodoro sauce
, while my brother got the grill going for his
blackened pork ribs
(not quite as compliant, but really good) and played with the dogs.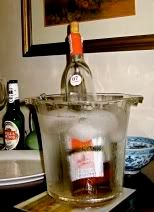 Though the aircon was at full blast during the day, still, it being summer, we drank rosé - naturally, some
2007 Homenaje Rosado
with
Parma Ham
,
Salami Milano
and some kind of
farmer's ham
from Säntis that my wife bought. Perhaps it's because of the sweetish plonk rosés that used to be sold everywhere in Manila during the '70s, rosés/rosados got a bad rap. Quite understandable, really.
However, these days, there are very good rosados locally available, and they are, by nature, very affordably priced. This old, reliable, crunchy red fruited
2007 Homenaje
, one of my go-to rosados, is around only P400 at Terry's. Other favorites are the
Rosé de Pavie-Macquin
(P750 at Premium Wine Exchange), and, of course, the pricier and unbelievably delicious
Tempier Bandol Rosé
(P2050 at Sommelier Selection).
My brother was a bit puzzled as he felt slightly buzzed after the rosé. I said it was probably the heat and the fact that the rosado was 13% abv (which is pretty much the same as a claret). The bottle of Stella Artois he had right before the wine couldn't have helped either.
Luck was with me on Friday, so I was the big winner in mahjong, with my sis-in-law not far behind. Dinner that night was very simple.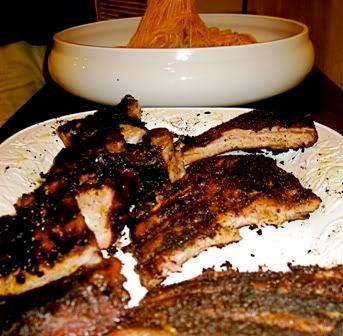 My brother's Grilled Blackened Pork Ribs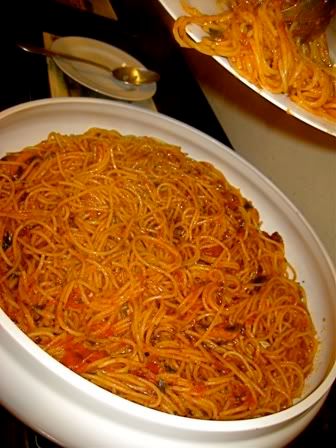 1996 Château La Fleur Saint Georges
- This wine is from Lalande de Pomerol, a satellite of the more famous right-bank Pomerol appellation wherefrom hail the sticker shock Pétrus, Le Pin, and, to a materially less frightening degree, La Conseillante, L'Evangile, Trotanoy and Vieux Château Certan, among others. Lalande de Pomerol lies just a few kilometers north-northwest of Pomerol itself, and is likewise dominated by merlot.
This wine is, naturally, mostly merlot with a bit of cabernet franc. Powerful, rich and warm - a lot of power, warmth and push than one would expect from its 13%abv (same as the Homenaje Rosado). Buckets of well-extracted dark plum, black cherry, anise, minerality and cedar, with a mild hint of dark chocolate. There is medicinal character to this; it's noticeably top-heavy as well, but with a nice, chewy mouthfeel. The balance could be better.
In all, at its level, however, it is good enough or what it is. My sis-in-law, though, found it too strong, heavy and, consequently, "a little hard to drink". With the pork ribs, it was much, much better than alone.
~ oOo ~
Saturday, I cut my golf game short as my brother and sis-in-law got to my place a little past 3pm. More mahjong and kids in the house as my wife's nephews are here from HK for the holidays. Since they are still quite young, they stayed upstairs playing video games and watching tv while my 2 older sons joined us for a few tile-clacking rounds downstairs.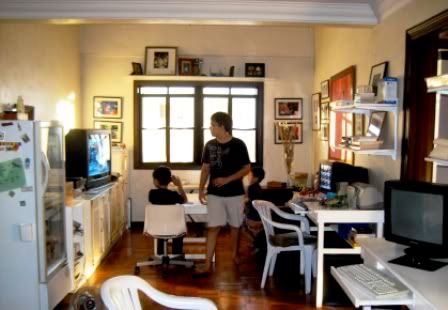 Dinner was, again, simple and straighforward, but very good. With
Swiss Raclette, Boiled Baby Potatoes, Cornichons and Pickled Pearl Onions
and some thinly sliced
Jamón Serrano
...
2003 Oremus Mandolás Tokaji Dry
- A dry white from Vega Sicilia's early 1990s investment in Hungary, this is made up of the juice of furmint grapes. Furmint is naturally more susceptible to
botrytis cinerea
infection and is the main grape used in Hungary's famous sweet Tokaji Aszú. To my knowledge, it has only relatively recently been used to make single variety wine. I was introduced to this wine a year or two ago by JC de Terry and have enjoyed several bottles of earlier vintages with spicy tapas.
This is a deeply colored, handsome wine as you can see in the picture on the right. Its minerally, herbaceous and white flower forward aromas/flavors also call to mind yellow apricot, melon and just a hint of ripe lemon. A hefty (13.5% abv), broad and round shouldered white, it is both quite ripe, yet quite dry, with a sturdy balancing acidity. Strong presence on the palate - which we needed for the raclette - cutting the cheese's richness while simultaneously lifting it with fruit.
We all thought it was a pretty good match. Available at Terry's, which is the distributor of Vega Sicilia's wines.
Thereafter, we enjoyed my sis-in-law's
Sautéed Mushroom Salad
and my
Roasted, Herbed Racks of Lamb
with...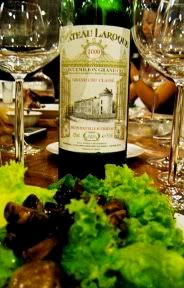 2000 Château Laroque
- From St-Émilion, a
grand cru classé
since 1996. We visited this estate, among others, and toured the winery with some friends in July 2006 courtesy of the Vigneron's friend, Sebastian Bardinet. I understand Sebastian's family owns Château Laroque, and I know that his wife, Annabelle Cruse-Bardinet (a cousin of d'Issan's Emmanuel Cruse), owns and runs Château Corbin, likewise in St-Émilion. I vividly recall that their vats are of concrete. Sebastian is a fine fellow. I recall that in the LD Vins dinner party the evening before the official start of Vinexpo 2007, we were seated at the same table and he made the effort to entertain and speak to me in English.
As most everyone familiar with Bordeaux knows, 2000 was an excellent vintage - so much so that the Vigneron once jokingly said that "one had to
try
to produce bad wine in 2000."
Much better balance compared to the '96 La Fleur St-Georges, this slightly over medium-bodied wine is obviously also highly dominated by merlot, but with a lot more refinement and finesse than the former - the ripe dark plum, cherry, raspberry fruit flavors (over black currant) were much fresher and purer as well - nicely laced with a touch of anise, cedar and properly reserved, well-integrated oak notes. Very good show. Excellent with the roast lamb.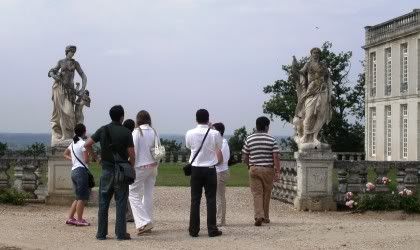 At the grounds of Château Laroque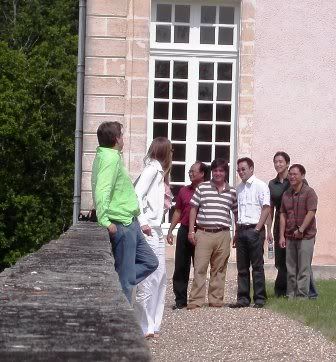 I'm in the red shirt, partially hidden by Santi
I also tried out a bottle of
'00 L. Latour Marsannay
(a simple, value-priced, everyday red Burgundy) with the lamb, but it just paled too much in comparison, so I stopped after just a glass. Nobody else seemed interested in it, so I just re-corked it for our cook to use next she makes
boeuf bourguignon
. My other in-laws (my wife's side) passed by for a while and we chatted outside, listening to the disc of campy, old pinoy disco songs that my brother gave me. Thereafter, our mahjong game resumed and lasted way past midnight. Great fun, a nice, relaxing way to spend the Holy Weekend.