The Vigneron called early last week for dinner at his new home, in honor of his best friend from Paris who is currently in Manila on vacation. I offered to help cook dinner (yes, I can cook), and he requested for my roast rack of lamb which he likes. How can anyone who cooks refuse such a request? We were only 9 persons as my wife was very tired that day.
I arrived at around 6pm and immediately started. Fortunately, their kitchen is air-conditioned and their ever trusty Edna was there to help me make my way around their kitchen. The menu was simple:
Gazpacho
(prepared by their staff), my
Spaghetti Pomodoro
(I had a batch of sauce already made at home - no problem),
Roast Rack of Lamb
with sides of
Baby Rosemary Potatoes
and lightly sautéed
Cherry Tomatoes
,
Fresh Button Mushrooms
and
Basil
. It took me around 1-½ hours to prep, cook and finish these dishes, but we had to wait a few more minutes for the lamb to rest properly.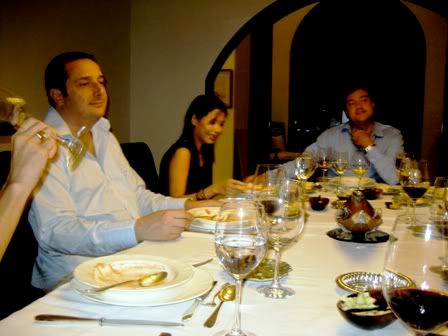 After the soup (a cool gazpacho is simply perfect for summer) and pasta courses were served, I returned to the kitchen to carve the lamb but left the plating to Edna (I plate like a greasy spoon short-order cook - I just slap food on a plate).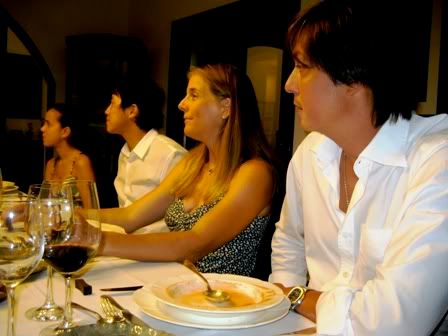 Within a few minutes, the lamb was served.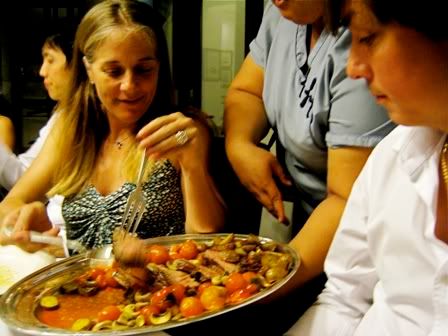 With this we had...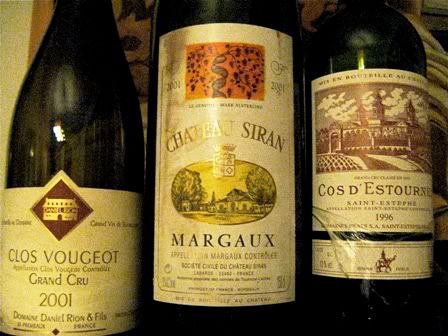 2001 Château Siran (Magnum)
- Obviously the Vigneron's bottle, from his family's château in Labarde/Margaux. Though I've had this many times, I haven't had this for over a year. My last notes (handwritten, not on the net) were taken during the 22 February 2008 dinner of the Manila Gentlemen's Club at the Tower Club - likewise from magnum, donated by the Vigneron, to wit:
Decanted from magnum for 1 hour, it was typically masculine Siran with the hallmark leather, iron, earthy nuances to expansive dark fruit/cassis, cedar, laced with small, spicy red berries. Good length. Still very young, a bit hard, lots of youthful grip, this should be able to age for at least 20 more years.
The magnum this past Wednesday night was over a year older and subjected to extended aeration - much longer than the hour in a decanter I gave it over a year ago. It was materially more subtle, comparatively graceful, displaying more spicy red berry on the surface than dark fruit. The cassis is laced with a nuance of violets, the cedar more subtle and finely woven in, the leather and iron notes have taken their seats far in the back. Definitely feminine in character compared to the mentioned previous magnum. Very nice. I was impressed.
2001 Domaine Daniel Rion Clos Vougeot Grand Cru
- My bottle, one of many I've opened in the past few months. I believe I've mentioned before that I visited this domaine in early October 2007, barrel-tasted through their '06 premier and grand crus and was very impressed. This bottle received only a few minutes aeration in a decanter (don't look at me, I was cooking, the Vigneron was in charge of the wines). My
notes from a bottle opened on the 3rd April 2009
are as follows:
2001 Domaine Daniel Rion Clos Vougeot Grand Cru - Yes, another of my bottles of this wine. I know I've been opening this in succession, but yesterday was a mistake. I intended to bring aged Volnay, but, I hurriedly pulled the wrong bottle and stuffed it in my wine bag without making sure it was the right one (not the first time this has happened to me - which makes it even more embarrassing). My complete notes from
a 12 February lunch at CAV
contain a more complete dicussion of the Clos Vougeot grand cru vineyards, while my more recent notes from a
24th March dinner at Lemuria
add:
This time, I decanted the wine before dinner started, so it was breathing for around 1-½ to 2 hours before it was served. Since it is a grand cru, it is still quite young at point, so material decanting does help it release its charms. This bottle was noticeably more complex, heftier and richer than before - Burgundy decay was not apparent in its bolder fruit infused with violets, touch of Asian spice, moderate dark chocolate and well-integrated vanilla/oak. Nice body, not quite chewy, but showing its grand cru girth.
Now, also with material decanting for aeration, I add that I detected some sweetish dried fig and mild/subtle spiced new oak/vanilla notes to the mix. Also quite young at this stage, with very good ageing potential as well.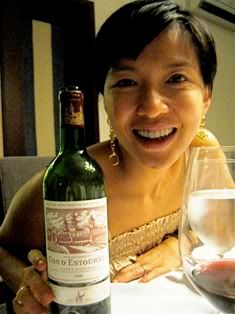 1996 Château Cos d'Estournel
- Felicia's bottle. This is a wine I've had several times from the Doc, in magnum and in regular 750ml format. The most recent one I had before Felicia's bottle was a magnum served by the Doc at
Mrs. Doc's birthday dinner in early January 2009
. My notes then are as follows:
1996 Château Cos d'Estournel (Magnum) - x x x I think this is the 3rd I've had this wine from him since he won with it by a landslide in our Blind
Bordeaux Challenge VIII
a little over a year ago (I believe it still holds the record of the widest winning margin). My notes then were:
Wine # 1 - Best nose of the night, an exotically spiced, delicately sweet jasmine tea/plum/raspberry liqueur perfume. I immediately guessed it to be a Cos d'Estournel. In the mouth, it was definitive all the way from the confident attack to the long finish. Rich and generous in the mouth, leaving virtually nothing for analysis or the imagination.
In the Doc's and Sevrine's notes, they indicated that the mouth did not fulfill the bouquet's promise, commenting that it was even a bit short. Edouard liked it best and easily pegged it as a left bank. The Stockbroker commented that it tasted quite fresh. I identified it as a Cos...
The Doc had told me what he was bringing, but not the Stockbroker. With one whiff, however, of the rich, exotic spice laced (vaguely Asian/Indian) bouquet, he immediately nailed it as a Cos d'Estournel despite the Doc's attempts to mislead him.I had just a few sips of this graceful red with the beef with peppers, but drank most of my share after dinner proper, before dessert. This '96 Cos had the most breathing time compared to the others I've had - at least a couple of hours worth. Tonight's performance was the most refined so far, with an almost ethereal display of its warm, dark spice and jasmine tea leaf notes intricately woven into its barely full-bodied cassis, cedar, dark plum, whisper of raspberry, slight mocha and barest hint of vanilla.
The wine from Felicia's bottle needed to be coaxed to release its charms. I don't know how long it was decanted. However, after additional aerating time in my glass, it showed very finely indeed.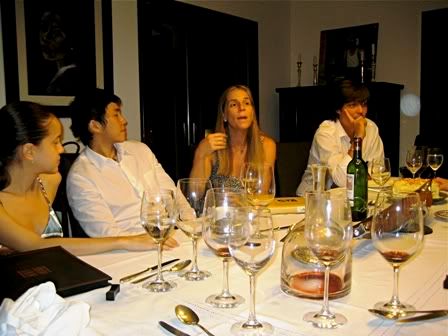 Assorted cheeses and hams were served, and, thereafter, an assortment of cakes, rounded off by coffee while the subject of politics livened up the conversation. I left relatively early (i.e., before midnight) - it was a fun dinner, but I was a bit tired and had to work the next day.