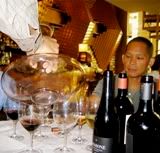 During
our last Burgundy Lunch at Je Suis Gourmand
, we set aside the 14th April 2009 (Tuesday) for our next. It eventually turned into an Italian wine lunch at, of course,
Pepato
. We use any excuse to get together for wine lunches, but, his most convenient one the past couple of months is that he has to cull his maddeningly huge wine collection - to make space for more. It just so happened that, this time, The Stockbroker chose Italian wines.
We were 6 for lunch (the Stockbroker, Laraine, Rene Jr., Rene Sr.,
Miguel
and I); unfortunately, J-Lab had a dental appointment, so couldn't join us. Santi already had a lunch but passed by afterwards for a few glasses of reds.
I was the first to arrive as the others were running late. After consulting the Stockbroker over the phone about breathing time for the wine I brought, I immediately had it opened and poured in my decanter.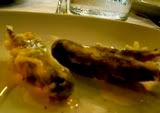 Since there was no
diwal
currently available (apparently, they are no longer in season), we started off with the usual appetizers of
Tempura Squash Flowers
(right),
Roasted Bone Marrow
, and
Squid Ink Crostoni
(immediately below). The Doc, Stockbroker and I dine in Pepato frequently with our respective wives, and I don't recall ever a time we didn't order these, among other, appetizers.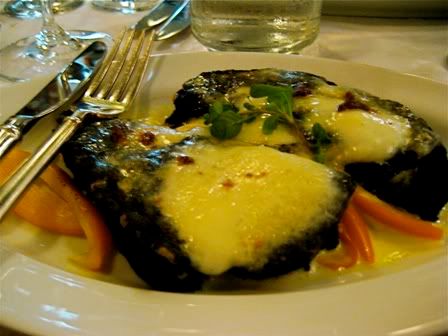 Squid Ink Crostoni with Mozzarella, Anchovy atop Sliced Peppers.
With these, we enjoyed...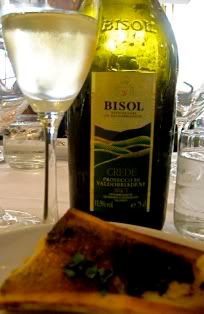 Bisol Crede Prosecco di Valdobbiadene Brut
- From Miguel. Rene, Sr. and I remembered that this same bubbly was served at the beginning of
Oscar Ong's IWFS Board Dinner at L'Opera
(I'm not a member of the board, I was just Oscar's guest) mid-June of last year. I mentioned then that it was dangerously drinkable, and, almost a year later, my assessment remains the same.
This is a totally different animal from champagne, the method (e.g., fermented in tank, as opposed to in bottle), grapes (mostly, if not all, prosecco grapes), etc. One shouldn't try prosecco expecting champagne, as the former has its own identity and merits.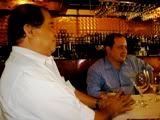 This playfully light, simple and dry bubbly a most welcome starter for a hot summer's day. Fresh green apple, bit of Korean pear dominate with mere hints of straw and unripe white grapefruit. There is a mild undertone of almond skin bitterness surfaces a bit more towards the back and finish - the slight, appetite-enhancing bitterness that Italians favor in their apéritifs.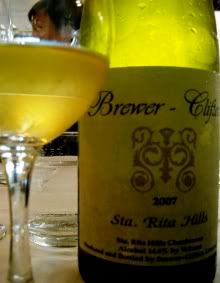 2007 Brewer-Clifton Sta. Rita Hills Chardonnay
- Brought by Laraine, the only non-Italian wine of the lunch. Premium Wine Exchange will have this in stock soon, the selling price is yet to be determined. I generally don't go for typical big, ultra ripe, super oaky style of most California chardonnay makers - but this is different.
Immediately when I tasted it, it was obviously cut from a better cloth altogether. The chardonnay fruitiness is there, with slightly minerally green apple, touches of lemon and other citrus, but properly restrained - not loud or shouting out ripeness or slathered in new oak. Very good acidity gives it good structure, lift and contributes to its admirable balance. Excellent with the tempura squash flowers.
This is the type of Cali chardonnay that I like, with a nice, crisp acidity, subtle minerality and discerning use of new oak. Other California makers whose (somewhat similar) styles of chardonnay I also like are Grgich Hills and Château Montelena.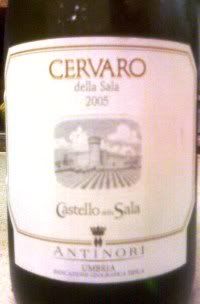 2005 Castello della Sala Antinori Cervaro della Sala
- Rene's bottle, I believe, an IGT from Umbria, composed of chardonnay mainly said he. It certainly tastes like it is.
If served blind (which it wasn't, nothing was served blind that lunch), I would almost have surely guessed it to be a Napa chardonnay. Hefty, wide-open, expansive; its ripe apple, pear, melon, white flower notes generously slathered with butter and toasted oak. There is a baked aspect to the rich, ripely fat fruit, a bit of oily viscosity in the mouthfeel as well. Comes off as low on acid.
This presented a huge contrast in chardonnay styles - those who go for big, fat, buttery, oaky Napa chardonnays (like my wife) would probably like this a lot.
After our pasta course of
Spaghetti Pepato
, two platters of medium-rare
"Double Prime" Steak alla Fiorentina
made their way to our table...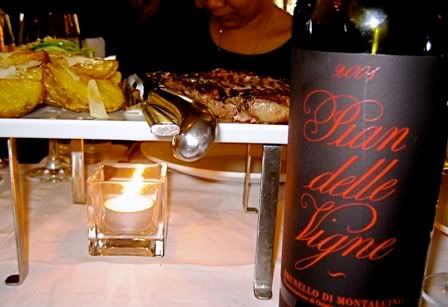 ...and the afternoon's reds were then served in earnest (I had a tiny bit of my bottle with the pasta course).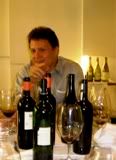 I was remiss at taking pictures of everything - the food, and even the bottles of wine. The picture above doesn't include the Stockbroker's bottle of
1988 Castello dei Rampolla Sammarco
or the
Spaghetti Pepato
. Truth to tell, some of the pictures I'm using in this entry were taken by Miguel (the Sammarco, Grattamacco Bolgheri and Squid Ink Crostoni) and Rene (the Cervaro della Sala).
A complete (and better) set of pictures of the food and bottles may be viewed at
Miguel's blog
.
2001 Antinori Pian delle Vigne Brunello di Montalcino
- My bottle, 100% sangiovese (called "brunello di Montalcino" in the Montalcino area). I've had this wine a few times before (as well as a few of other vintages of it). The Doc was the one who introduced me to this wine many several years ago. I last had this from the Stockbroker during
his 2008 birthday lunch
, side-by-side the more modern 2001 Casanova di Neri Brunello Montalcino. My notes then were as follows:
2001 Antinori Pian delle Vigne Brunello di Montalcino - Off the bat, from the aromas, I opined that this one was closer to the classic/traditional style: More of sweet cedar, touch of camphor, ripe strawberry, raspberry, cherry, cassis, underlying espresso, light touch of licorice, tobacco, minerals, violets, a whisper of leather. The fruit was not as sweet, but well-ripened as well, and earthier in character.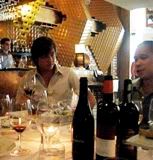 Clearly more earth-driven (rather than fruit-driven) compared to the other wine - less polished, rounded and sleek as well; but firmer in structure, much better focus and definition. Much more properly reserved. I liked them both, but much preferred this wine as a match for the steak. This is more of an eating wine, it needs food to show its beauty, where the other wine I enjoyed more alone. I accepted a second pour of this one and drained every drop. Excellent match. Loved it with the steak.
This bottle was, as earlier mentioned, decanted and aerated since 12:15 - so over an hour before serving. I like the firm but flexible, somewhat lean but sturdy structure of this wine. Showed more apparent leather notes than last time. Definitely masculine brunello, if not particularly complex, but a no-brainer pairing with the steak.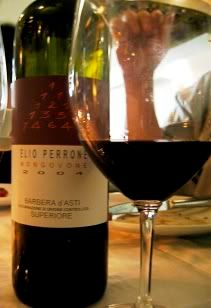 2004 Elio Perrone Mongovone Barbera d'Asti Superiore
- The Stockbroker's botle from the northwestern Italian Piedmont region wherefrom also hails the better known Barolo. Barbera is a grape; "Barbera d'Asti (Superiore)" is a DOC and may also be used for the grape or wine from this particular area in Piedmont, the latter meant to be consumed relatively much younger than Barolos.
100% barbera, medium-bodied, good purity of fruit, not as firm as all the other reds, nice focus, easy to drink; its dominant dry black cherry, blackberry and violets go down easily. The dominant fruit is touched with dried herbs and wood, the finish is moderate displaying more violets and drying woodiness.
I made a mistake of having this after the 2001 Pian delle Vigne. I also should have, in hindsight, tried a bit of this with the Spaghetti Pepato as well. In all, quite nice, I certainly should have had it before the Pian and the steak.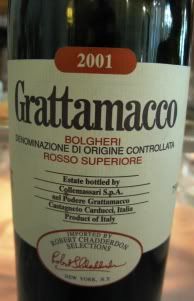 2001 Grattamacco Bolgheri Rosso Superiore
- The Stockbroker's bottle. I'm not familiar with the wines of this relatively new Tuscan DOC. All I knew at the lunch was that I found the flavors familiar and comforting. A bit of reading discloses that this is an IGT composed of 65% cabernet sauvignon, 20% merlot and 15% sangiovese - the cab sauv/merlot blend explaining to me why I found it more familiar.
I find it difficult to describe, however, likely because of the 15% sangiovese thrown in - as I have limited exposure to "super Tuscan" blends and they have almost always thrown me off.
Very nice balance of rounded, sweetish cassis, ripe blackcurrant, plum, bit of tobacco, with topnotes of strawberry. Lush, comparatively a bit lowish on acid and less firm/stern/structured, but very approachable for it. This should be more of a crowd pleaser.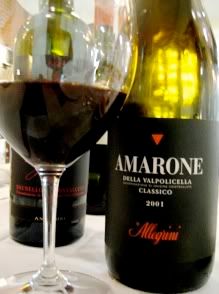 2001 Allegrini Amarone della Valpolicella Clàssico
- The Stockbroker's bottle. Amarone della Valpolicella is a DOC located in Valpolicella in the northeastern Veneto region of Italy. The grapes used are typical of the area are corvina (75%), rondinella (20%) and molinara (5%) that are, after picking, air dried for 3-4 months berfore fermentation (
appassimento
). This yields a wine with an "over-ripe", raisiny character with a lush, curvy body and elevated alcohol. There is a sweet wine is also produced in the area called "Recioto della Valpolicella".
This particular Amarone openly/eagerly displays
extremely
ripe-roasted, jammily sweet, dark fruit, cherry and berry compote with nuances of dried fig, date, bit of tobacco and underlying vanilla/oak. There is a lot of "glycerin" roundness and heft on the palate and low acidity.
This is definitely the most modern, sweetest, most user-friendly Amarone I have ever had with none of the typical slight bitterness in the dried, raisiny fruit, especiallytowards the back. Despite its elevated 15.4% abv, however, I didn't feel the heat. Openly pleasing, it is, in different ways, both typical (in its dominant raisiny flavors) yet modern (in its lushness and lack of the usual bitterness. Those who like big, bold, rounded, lush, low acid reds will like this a lot, I'd expect. It carries its alcoholic punch very well and, perforce, naturally promotes a convivial atmosphere.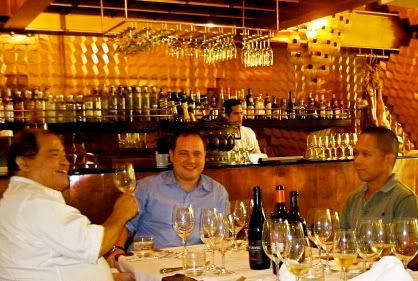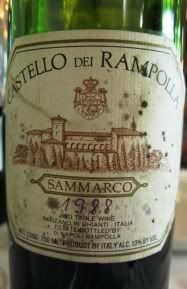 1988 Castello dei Rampolla Sammarco
- The Stockbroker's bottle. In all honesty, I do not recall having tried a glass of this during the subject lunch. I know there was a bottle opened because I recalled that the Stockbroker had opened one of these before during
one our lunches at Old Manila where I opened one of my 1988 Léoville las Cases
. However, because of too much chatting, going outside to smoke and, surely, the effects of so many strong Italian reds, I don't remember a thing about this wine. Thus, my old notes from 24 August 2005 will have to, somehow, suffice:
Castello dei Rampolla Sammarco 1988
Brought by the Stockbroker, a "Super Tuscan", 90% cabernet sauvignon and 10% sangiovese, according to him.A handsome wine, dark red with a mahogany blush, darkening to a deep violet-red core, lightening to a slim red-orange to the rim. Fairly reflective disc, good clarity.
In the nose, an earthy bouquet of cassis, dried herbs, tobacco and cedar with mild, yet distinctive sweet soy sauce and dark spice underpinnings. The aromas held true in the mouth sans the soy sauce, more wood and added cherry/red fruit notes and just a whisper of gaminess.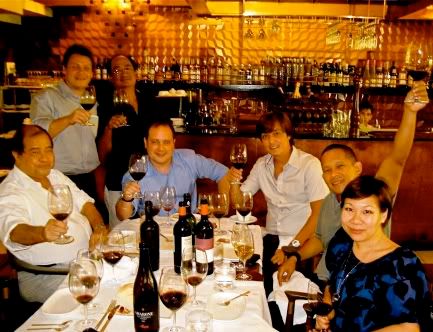 L-R: (Seated) Rene Sr., Rene Jr., Santi, the Stockbroker, Laraine (Standing) Miguel and myself.
It was an excellent lunch with good friends, great food and superb Italian wines. Many thanks to everyone for sharing their time, company and bottles (especially the Stockbroker).
Magnifico!