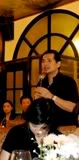 Last night's dinner, 31 March 2009, was at the fine dining section of
Café Ysabel
. This was the first event for the year of the
Wine and Spirits Club, Philippines
("WSCP"), the first and only broad based Filipino wine-centric web community board/club, a brainchild of chef-restaurateur
Gene Gonzalez
.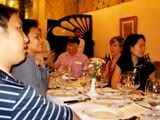 This was the first WSCP event I have been able to attend, and it was great fun. The dinner featured a tasting of
Frico
of Holland
's cheeses. Frico is an internationally-known producer of a wide range of natural Dutch cheeses - from traditional/every day to premium/artisan. Gene kicked things off welcoming new attendees and enlightening us on Frico and its cheeses.
Thereafter, Gene introduced the cheese tasting's sponsor, Willy Lambengco, president of Wilmington Imex, the Philippine distributor of Frico cheeses. Mr. Lambengco gave us a brief talk on the various cheeses and assured us that all that we would be sampling that night would be available now and soon.
A buffet table was set up, groaning under the weight of partial wheels of various Dutch cheeses such as Maasdammer, Chevrette (goat cheese), with assorted Goudas, Edams, some cheeses with mustard, herbs and some smoked as well.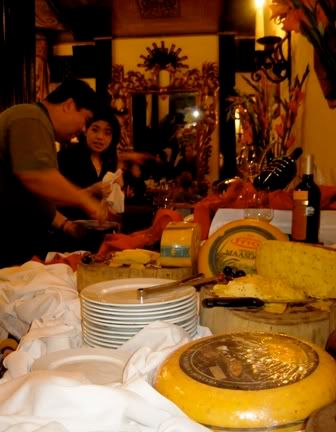 Accompanying the cheeses were assorted nuts (pistachios included), grapes, dried apricots, dates, etc. My favorites were the sweetish, nutty maasdammer (excellent with some pistachios)and the one that I think had little dark seeds (cumin?) in it. The chevrette was also quite nice - semi-hard, mildly piquant and, with a slight creaminess that emerges mid-palate and towards the back of the mouth.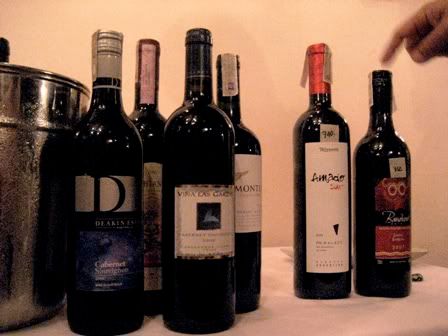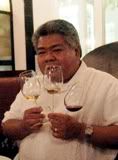 Everyone brought bottles to share, so many that trying to taste them all would have been too dangerous as I had to drive home that night. There were wines from all over: Chile, Burgundy, Washington, Alsace (Arnie brought a gewürztraminer by Trimbach - very good with some cheeses, I'm sure), Spain, etc. "Tito" J-Lab had mentioned to my wife that, coming from a wine lunch of the Stockbroker (that I wasn't able to attend), his palate seemed a bit "off" that night. Sure, sure. That certainly didn't appear to stop him from enjoying himself though.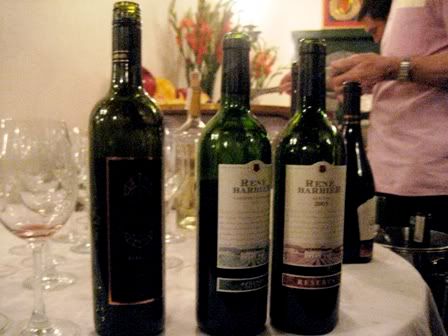 With my cheeses, I had some
2007 Condado Laxas -
My bottle. A blend of albariño, loureira and treixadura, this wine is supposed to be a traditional style of Galician white, moreso than the more well-known single grape albariños. I noted floral white grapefruit, straw, green apple, citrus and a touch of white minerality. Gene noted a general floral character and nuances of peach-pits towards the rear and in the finish.
I continued with this white, and some
2007 Homenaje Rosado
with the precisely executed, light and healthy first course of
Harvest Minestrone with Carta Musica
. I've written so many times about this inexpensive, readily pleasing, crunchy red-fruited, grenache-based Navarra rosado, I need not say more.
2005 L'Ostal Cazes Minervois Estibals
- Greg Clavano's bottle, a venture of Château Lynch Bages' JM Cazes in the Languedoc-Roussillon region. I had corresponded with Greg a few times on the club's website, but hadn't met him face-to-face until last night. It was certainly nice to finally put a face to the name - one of the benefits of the club - getting to meet new, wine-minded friends.
Big wine, dense, viscous, broad, forward, very ripe, rich, concentrated, spicy, with a touch of roasted herbs/
garrigue
. Tasted somewhat similar to a (modern styled) Rhône blend to me - the pepper notes indicated the presence/dominance of syrah. Heavily extracted cherry and dark berries dominate with a hefty dose of dark spice and oak/wood as well. The herbs and underbrush notes are there, but virtually hidden behind the primary fruit.
I told Greg and Ivo that, in a conversation I had with JM Cazes, even he said that this forward, powerful kind of wine is meant to be served with food - hearty red meat dishes in particular. I drank the rest of my generous pour with the main course.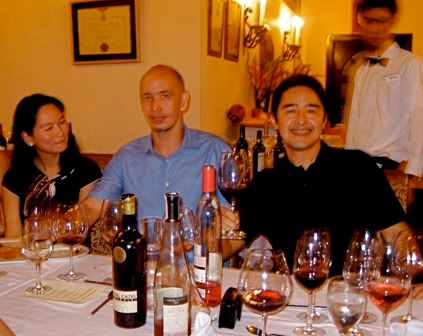 I also managed to snag the last pour of J-Lab's...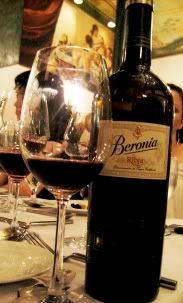 2001 Beronia Gran Reserva
- Had this first, courtesy of Johnny R, at the
24th February 2009 Kokotxas Night at La Tienda
. I've not had it since then because, though I tried to buy some, I mistakenly got the
2001 Beronia Reserva
instead of the Gran Reserva (the bottles look almost identical). Though the Reserva is very nice in itself, the Gran Reserva is notably fuller and deeper in comparison. Then, as now, my notes are:
"Youthful, but in stride and very enjoyable now. The nicely rounded dark fruit is subtly laced with tobacco, cedar and spice box. The topnotes are typical strawberry and red berry. A few shades over medium-bodied, the wood is judicious and in good harmony. Wonderful, a definite buy for me.

"I've only tried 2 vintages from this maker (both good Rioja vintages: 1996 and 2001) and I'm already a sucker for their style. A touch lower in acid than the '96 but nicer fruit and a more pronounced middle at this point, this is dangerously more immediately pleasing."
The deliciously juicy, red wine friendly main course of
Pan fried Riblets with Goatcheese Potatoes & Green Peppercorn Demiglace
was then served.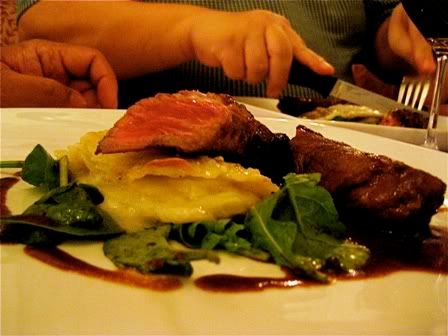 As I was about to devour my serving, Gene had his, my, Greg's and Ivo's potatoes replaced as he said they weren't cooked enough. I sneaked a little bite from mine before surrendering them to the staff, and, though the middle portion was, true enough, just slightly underdone, to me, it wasn't a big deal. Gene wouldn't have any of it though (who am I to argue with him about his food) and had our potatoes whisked away and promptly replaced. Loved this riblet dish - honest, hearty, earthy and flavorful. I could've eaten a whole other serving.
With my main course, I had, among others, a half glass of my
2001 Domaine Daniel Rion Clos Vougeot
, a nice, deeply-veined grand cru from Vougeot in Burgundy's Côte de Nuits. I've written about this at least twice recently, so please just refer to my
12 February 2009 notes
for this wine. The other two reds I had with the riblets were:
2001 Château Ste-Michelle Canoe Ridge Estate Columbia Valley Cabernet Sauvignon
- Arnie's bottle, from Washington. Forward, powerful, hot nose on this with pine needles, cedar, over mildly herbaceous dark berry and kirsch aromas. The heat on the nose made me expect a big, ponderous, densely heavy-handed, blowsy Napa-esque cab as I sipped it.
Surprisingly, however, though there was definite heat, the wine was quite light-footed on the palate, unlike what the nose suggested. Not at all cumbersome, dense or heavy-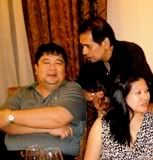 handed (like many of its Californian cousins), there was a pleasant, gliding mouth-feel to the fresh dark berries, cassis, dark red cherry, cedar with nuances of orange peel and pine needles. Arnie and, I think, Gene, said they smelled blueberries as well.
I'd certainly like to try this again in around 3-5 years' time to see how/if it smoothens out even more.
I had to take a couple of smoking breaks throughout the evening, and, thankfully, there were some other fellows who did as well. Fellow lawyer, Krisces, and wine distributor, Aaron Palileo, among others, kept me company outside as we indulged in our nasty habits and talked about Bordeaux and Priorat wines.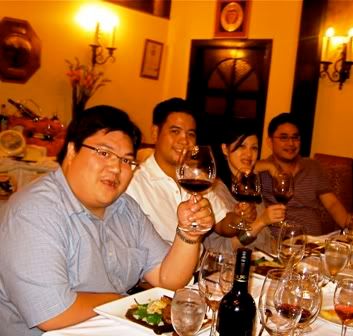 Realizing that I didn't get to try one of his favored Torres wines during his 50th birthday bash, Gene made it a point to share with me some...
2002 Miguel Torres Conde de Superunda
- A longtime investment by Spain's famed winemaking Torres family in Chile. Given my negligible experience with, and even less knowledge of, Chilean wines, I couldn't quite get a handle on this as the combination of flavors confused me. It seemed like a modern-styled, stylish, cabernet sauvignon, but materially leaner and tauter in body and with apparent, cab-sauv-uncharacteristic strawberry topnotes and pepper nuances. There was material dark cherry in the mix with undertones of dark chocolate, leather and dark spice. The fruit seemed very deeply-veined, possibly indicating older than usual vines.
There was a good deal of moderately toasty oak as well, but quite well-integrated. Probably sensing my confusion, Gene told me that this was an unusual mix of cabernet sauvignon, tempranillo, carménère and monastrell. I did not get the proportions of the grape varieties though.
Dessert, then, was served - a deliciously indulgent
Trio of Sorbets with Warm Flourless Chocolate Cake
.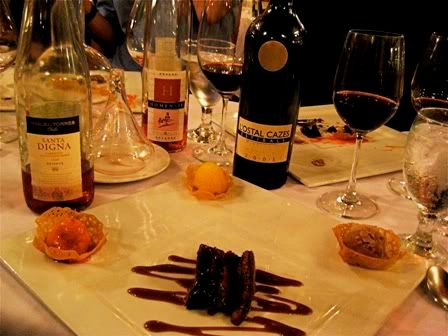 I dove into my plate immediately - enjoying most the raspberry sorbet's interplay with the decadently rich flourless chocolate cake - before realizing that I forgot to take a picture of it. Fortunately, Gene summoned another, freshly assembled plate for me to photograph. Of course, we couldn't let it go to waste, so Greg, Ivo and I divvied it up amongst ourselves. We, then, started winding down the evening with J-Lab's bottle of exceedingly fine...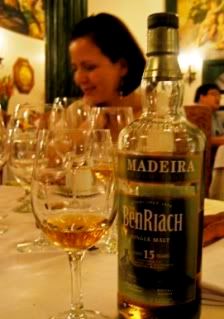 The BenRiach 15 Years Aged Madeira Single Malt Whisky
- I hardly ever drink anything alcoholic except wine. I used to have cognac once in a while, usually very late at night, but stopped many years ago. Needless to state, I have very little experience with single malts, though , in my late teens until my mid-20s I used to drink the ubiquitous Johnny Black and Chivas Regal every so often. The only single malts I remember having tried previously are some from Glenfiddich, Laphroaig and, from my dad, assorted old Macallans.
That said, this was probably the most ethereal single malt whisky I have ever had - both in the nose and in the mouth. The aromas are incredibly difficult for me to describe as I lack the vocabulary therefor; but, I will try.
Let me begin by saying that my wife, who never drinks scotch, whisky, or pretty much anything by way of spirits or hard drinks, liked it a lot.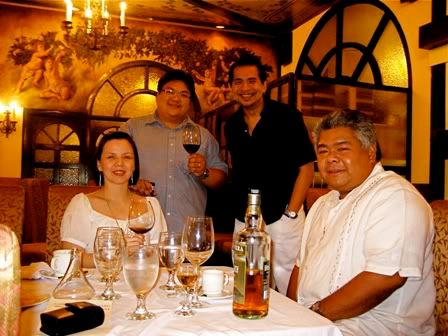 Pure, refined, gossamer scents of fresh fallen rain in Baguio, new pine wood, pine needles, anise seed, nuance of sweet Spanish cedar over yellow watermelon. Strange? Those are what came to my mind. On the palate, it was incredibly graceful, dancing on ethereal, pure, fleetingly sweetish woody/cocoa tinged whisky feet. Absolutely beautiful. Its finish was both definite and ghostly haunting...I guess one had to have been there to decipher that.
Wonderful night, seeing old friends, reconnecting with long-lost ones, meeting new ones, all in a fine wine and dining setting. Great fun, I'm sure we all look forward to the next.