Early this week, the Stockbroker called for a Friday lunch (the 3rd April 2009) in an attempt to make a dent in his huge wine collection (storage space issues, as I understand). The wine theme was eventually decided to be red Burgundy, so, naturally,
Je Suis Gourmand
was our chosen venue. I, thus, informed Chef Marc Aubry about the date, time and theme, and left the pairing menu in his more than capable hands.
We were 6 in all: the Stockbroker,
Miguel
, Rene, J-Lab, Larraine and myself. J-Lab was running late, so the rest of us went ahead with some of Rene's chilled bottle of
Sieur d'Arques
Aimery Cremant de Limoux Grande Cuvee 1531 Brut
.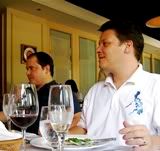 This is a good-value-for-money bubbly from the Languedoc-Roussillon area of France - a blend of 60% chardonnay, 20% chenin blanc and 20% mauzac. Bright, fresh, well-focused and somewhat linear, this lively, dry bubbly carries dominant flavors of crisp green apples and forward lemon/citrus, with hints of grapefruit and a slight nuance of
chaume
(available at
Premium Wine Exchange
for only around P750/bottle).
Our first course of
Salad with Magret de Canard and Pan-Seared Foie Gras
was then served.
This dish was absolutely wonderful - as can easily be seen in the picture above - the thin slices of magret so moist and flavorful, the salad greens shaving off a bit of guilt from the perfectly seared, rich foie. With this, the Stockbroker opted to go straight to a light red, thereby, handing down a suspended sentence to Miguel's bottle of
2006 Domaine Raimbault-Pineau Pouilly-Fumé
. Thus, with this luxurious salad, we enjoyed...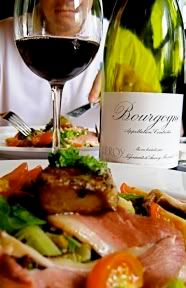 2004 Maison Leroy Bourgogne
- The Stockbroker's bottle. For those not familiar with the maker, Maison Leroy (pronounced "luhr-wah") is a
négoçiant
firm owned and run by Burgundy's queen, Madame Lalou Bize-Leroy. Aside from Maison Leroy, she owns and runs, amongst others, Domaine Leroy, whose wines are the only real rivals, in terms of price, to those of the legendary Domaine Romanée Conti - the latter being partly-owned by Madame Bize-Leroy.
Typical of Burgundy reds, this is 100% pinot noir, and being from her
négoçiant
firm, the grapes were carefully selected and sourced from assorted growers/vineyards other than those owned by Domaine Leroy itself. This wine, after aerating in my glass for around 25 minutes or so, is light and lean, but with flavors that bely its body.
Somewhat straightforward raspberry, black cherry, touches of sour cherry, bit of wood, with a touch of dark spice and a faint, intriguing underlying nuance that vaguely reminds me of red champoy and haw flakes. Very entertaining and quite nice for a basic bourgogne (also available at Premium Wine Exchange for around P4000 more-or-less).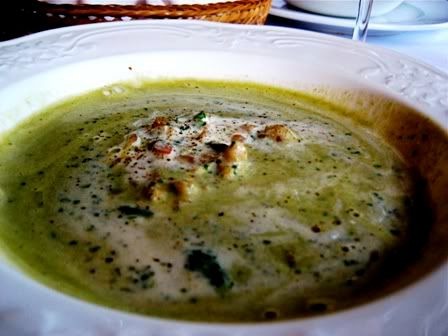 Next came our course of
Cream of Watercress and Frogs' Legs Soup
, with which I had no wine. The soup was nicely hefty and definitely pleasing. I recall thinking to myself that Miguel's Pouilly-Fumé may have been good with this to balance off the moderate creaminess and provide a bit of cut.
~ oOo ~
Then came our main course, Duo of Roasted Veal Kidney and Veal Loin, which we enjoyed with: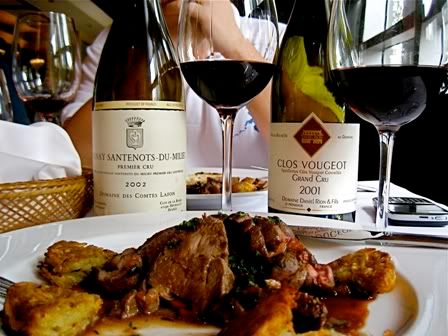 2002 Domaine des Comtes Lafon Volany Santenots du Milieu Premier Cru
- The Stockbroker's bottle. I believe this is the first Santenots du Milieu I've had. Because of the somewhat riper 2002 Burgundy vintage (but not to the extent of 2003), I did expect this to be more robust in the fruit department - and I wasn't wrong.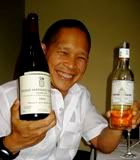 Nowhere near over-the-top, but definitely sensuously ripe (but not roasted-ripe) and readily pleasing. Notably more black/dark berry/fruit-forward than red (the cherry/raspberry/kirsch/violet notes well embedded), masculine in structure. Its good concentration and depth to the fruit possibly indicate well-matured vines or greater vine stress. Personally, I'd guess both, but more of the latter. Sturdy structure, fair acidity - in all, pretty darn good balance. Still primary (since young) but already quite enjoyable.
Very good potential, this will surely improve. I'd love to try this, say, 5-7 years from now to see how/if it develops more complexity and, very possibly, the haunting, sweetly-sad Burgundy decay.
2001 Domaine Daniel Rion Clos Vougeot Grand Cru
- Yes, another of my bottles of this wine. I know I've been opening this in succession, but yesterday was a mistake. I intended to bring aged Volnay, but, I hurriedly pulled the wrong bottle and stuffed it in my wine bag without making sure it was the right one (not the first time this has happened to me - which makes it even more embarrassing). My complete notes from
a 12 February lunch at CAV
contain a more complete dicussion of the Clos Vougeot grand cru vineyards, while my more recent notes from a
24th March dinner at Lemuria
add:
This time, I decanted the wine before dinner started, so it was breathing for around 1-½ to 2 hours before it was served. Since it is a grand cru, it is still quite young at point, so material decanting does help it release its charms. This bottle was noticeably more complex, heftier and richer than before - Burgundy decay was not apparent in its bolder fruit infused with violets, touch of Asian spice, moderate dark chocolate and well-integrated vanilla/oak. Nice body, not quite chewy, but showing its grand cru girth.
Now, also with material decanting for aeration, I add that I detected some sweetish dried fig and mild/subtle spiced new oak/vanilla notes to the mix. Also quite young at this stage, with very good ageing potential as well.
~ oOo ~
At the tail end of the main course, segueing into the Cheese Platter, we had...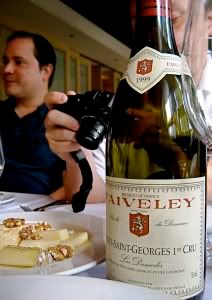 1999 Domaine Faiveley Nuits St Georges Premier Cru Les Damodes
- J-Lab's bottle. I'm pretty familiar with the wines of Nuits St Georges appellation, and have spent a bit of time in the town proper as well - shopping and looking around, and, of course eating. I think one of the last dinners I had in the Côte de Nuits in 2007 was in Nuits St Georges - my wife and I were so terribly full from lunch at Ma Cuisine (Beaune) that we had a very late dinner in the very last restaurant in town that would still serve us a hot meal.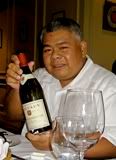 In any event, firm, sturdy and fullish - this, similar to the above discussed Santenots du Milieu, is also more black fruit than red and well-concentrated. Marginally less ripe and fruit-forward; more austere/backward and with healthier balancing acid and a more apparent tannic backbone (which, I hazard, will make it capable of ageing more gracefully if the fruit can keep up). I've generally favored the '99 vintage for red Côte de Nuits, and this is a good example why. Would like to check on this again in 3-4 years and onwards.
Next was dessert of an absolutely deliciously cool, sweet, creamy, yet refreshing
Strawberry Mille-Feuille
which we enjoyed with...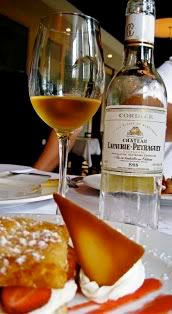 1988 Château Lafaurie-Peyraguey
- The Stockbroker's bottle, a very good Sauternes vintage from a very reliable (and under-appreciated/valued) premier cru producer. Its beautiful, mature reddish gold, amber-tinged visage would easily lead one to expect a viscous, top-heavy, bombshell of a Sauternes. I know I expected that, anyway.
However, in the mouth, it was surprisingly light on its feet; its dried apricot, ripe pineapple, lemon custard, canned cling peach, minor candied orange rind and slight vanilla bean flavors possessing a fresh, clean, white mineral character, well buttressed with lively acidity and botrytis tang. A relatively lean, tightly-packed cruiserweight of a Sauternes, I found it delightful - needing some palate upliftment after the veal and reds - which this, indeed, delivered.
As a pairing, it was most precise - with the sweetly macerated strawberries and cream - excellent.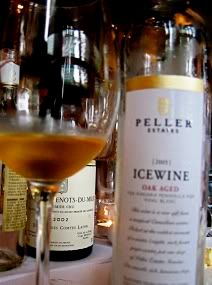 2005 Peller Estates Oak Aged Icewine
- Rene's bottle, one of the
very
few ice wines I've tried that wasn't made by Inniskillin. Icewine, as I understand, is sweet because the grapes are harvested in winter, and
not
because of the effect of botrytis cinerea (like in the cases of Sauternes, Monbazillac, TBA, SGN, etc.). Personally, I see the difference in the absence of the extravagantly luscious, opulent body and super-ripe/candied fruit aspect of botrytis-shrivelled fruit.
If the Lafaurie-Peyraguey is a cruiserweight, this would fall a couple or so weight classes below. Also quite bright, light-footed and lively, this had more of a sugary sweetness and, to me, was clearly dominated by pineapple, with touches of Mexican mango, apricot, barely ripe peach and white minerality. The sugar sweetness is given lift and brightness by healthy acidity. Charming and entertaining if not complex.
The Stockbroker and Larraine took their leave first, while the rest of us lingered over double espressos, and, thereafter, complimentary glasses of green Chartreuse.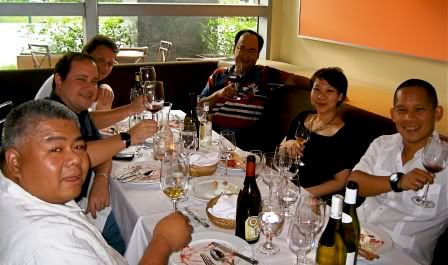 Yet another fine, fine close to a work week and an excellent way to start a 3-day weekend. Many thanks to Marc, as usual, for preparing such a well-thought pairing meal, and, of course to the generous friends who shared their fine wines and precious company. Until the next!