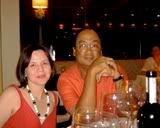 Dinner this past Thursday (16th April 2009) was at
Sala
to celebrate my eldest son's birthday. He invited two of his closest cousins to join us. While we did have a white and a red which I will discuss, wine wasn't the focal point of the evening.
This post is more about the kids having a fun dinner - we adults were just there for the ride. It was great fun watching them enjoy themselves. It isn't always all about wine.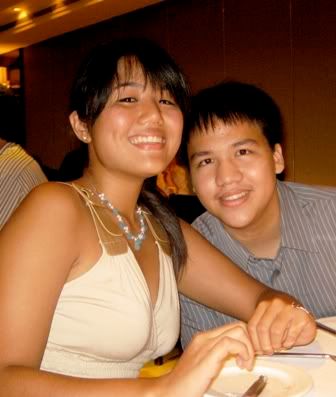 The celebrant and his de facto elder sister.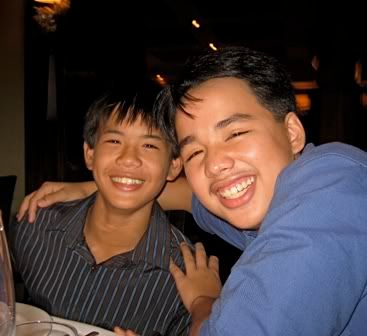 My second son with his younger cousin. My youngest son, tired from the afternoon's celebration, opted to stay at my in-laws' with his cousins closer to him in age.
Though the kids all had their preferred starters, we had them put everything in the middle (whatever could fit in the middle anyway) so that everyone could have a taste of everything. We ordered many starters, those I recall are the
Twice Baked Prawn and Goat Cheese Soufflé
(2 orders as I like this as well),
Wagyu Beef Carpaccio
,
Seared Foie Gras
and a kind of
Prawn Salad
. If there were any more, I don't remember them. The kids attacked them so fast, I couldn't take pictures of them all.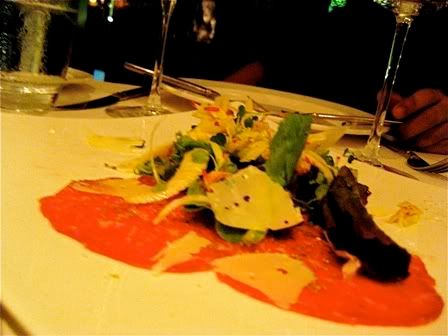 With these appetizers, I opened a
2001 Domaine Trimbach Gewürztraminer Cuvée des Seigneurs de Ribeaupierre
- Purchased at Wine Depot on sale at around P2200. I forgot to take a picture of the bottle; we shared some with the children, but mostly with the 2 older ones. Gewürztraminers display a distinctive lychee dominant aroma and flavor which makes them almost impossible to mis-identify. My wife loves these wines. Trimbach is one of the old guard traditionalists in Alsace (another is Léon Beyer) who eschew modern exaggerated ripeness in fruit and too much residual sugar in their wines - that's why I like them.
The wine's aromas included typical faint spicy lychee, slight rose petals and ripe peach and apricot. All these were mirrored off-dry on the palate in a plumpish body. Readily and easily pleasing, no doubt, very approachable as well. I would have liked it with better acidic lift/ and purity/brightness of fruit though. My wife and I couldn't help but compare it with the
2006 Domaine Bott-Geyl Gewürztraminer
(Sommelier Selection) which possesses all the traits we were looking for and at a lower price at that (approximately P1800).
We all had our own individual main courses but passed around small plates so the others could have a little taste of everything. My wife and I went for the
Magret de Canard with Roasted Pear
while the celebrant with
Roasted Veal Loin
. My second son and niece went for the two specials of the night: respectively,
Roast Lamb Rump
and
Fresh Salmon
just flown in earlier in the day. Our nephew/godson opted for
Rosemary Grilled Angus Beef Filet
.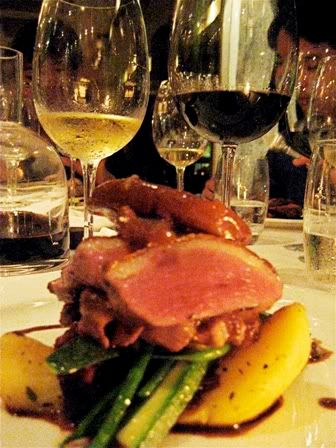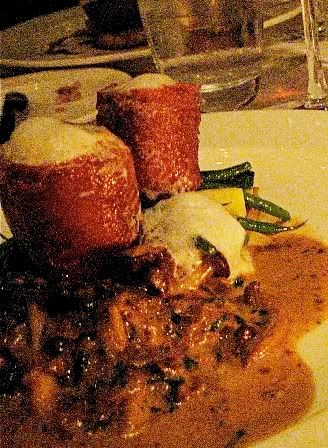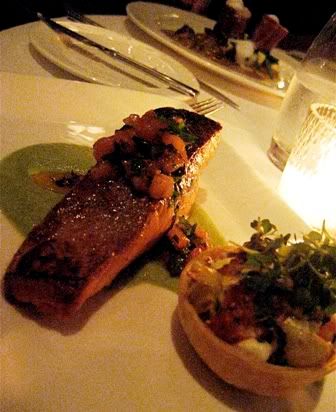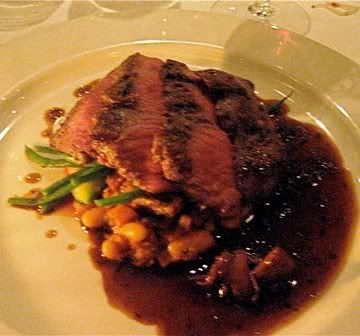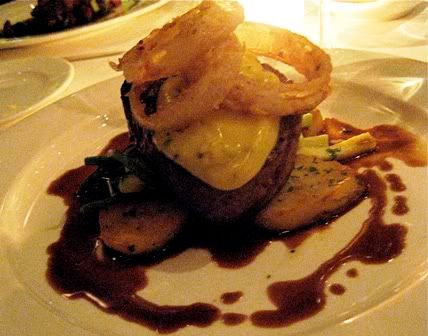 Rosemary Roasted Angus Beef Filet
I've never had a disappointing meal in Sala, but Chef Carl Miguel, an old and good friend of mine, was in the kitchen that night which made our meal even better than it already usually is. Another most memorable dinner there was when
both
Colin Mackay and Carl were personally in the kitchen for the
150th year dinner of Château Siran
.
With our excellent main courses, I had much earlier opened and decanted a bottle of...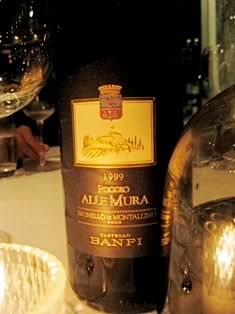 1999 Castello Banfi Poggio Alle Mura Brunello di Montalcino
- Decanted for aeration for around 1-¼ hours by the time we got to it. Brunello di Montalcino is a DOCG located in Tuscany, "brunello" is Montalcino's version of sangiovese (a clone actually) - the dominant red grape of the Tuscan region. 1999 is an excellent Tuscan vintage; and Castello Banfi is a big, modern US-owned winery.
I've loved good Brunello di Montalcinos after having a bottle of
1997 Castelgiocondo Brunello di Montalcino
(by Frescobaldi) around 5 years ago with roast lamb in Caffé Caruso.
This BdM was obviously modern, crammed with big, opulent, mouth-filling, very round, smoothly rich dark cherry, molten dark fruit, kirsch, underlying dark chocolate, very apparent but well-integrated vanilla/oak, underlying dark chocolate, clove and a bit of licorice. Full-bodied, with a chewy mouth-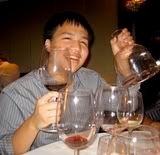 feel. Lowish acid, but, in all, acceptably good balance. Big but very gentle, velvety tannin.
Easily enjoyable, quite approachable despite its size - and apparently designed to be just that. Neither traditional by a long shot nor deeply complex, but still very pleasing. This is a wine to be enjoyed for enjoyment's sake (apt for the night's celebration), if not one to contemplate life's mysteries over.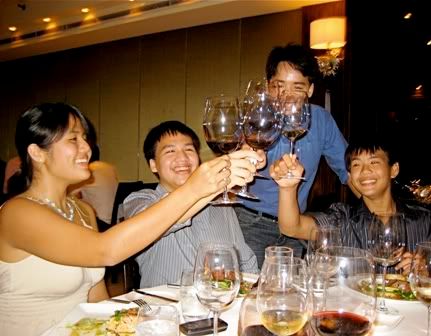 Though the children are now teen-agers and no longer little - far from it, my eldest is taller than I am already and the youngest there, our nephew, is already several inches taller than my wife - they are not too old to go wild over dessert, so we ordered around seven of them. I recall two orders of
Affogato al Café
with Sala Biscotti
,
Mango & Passion Fruit Pavlova
and a special
Berry Soufflé
.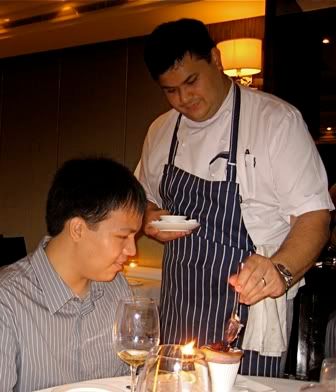 I can't recall the others, but I think there was something that involved chocolate as well. The children dove into the desserts and destroyed them all within a few minutes so I couldn't really take any pictures of the desserts.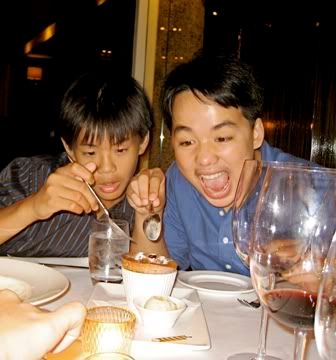 I'm certainly glad I wasn't born a soufflé.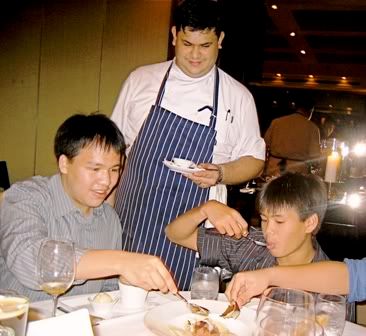 The evening wound down with double espressos for my wife and I, none for the kids. We spent a few minutes chatting with Carl and thanking him, of course, for such a wonderful dinner. We all enjoyed ourselves greatly, especially the children.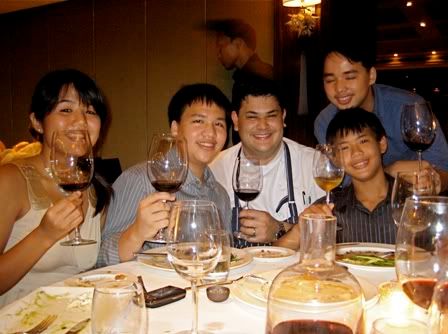 Thanks again, Carl, and, happy birthday again, M.