It was a quickly organized lunch that the Stockbroker called for yesterday at Sala, 6th July 2009. He wanted to open a bottle aged Bordeaux blanc. The Doc was supposed to join us, but wound up not being able to make it, so it was just the Stockbroker, J-Lab and myself.

Yesterday was a tragedy of errors on my part, I forgot to bring my wine bag and so had no bottle to share. Then I forgot to bring my raincoat from the car and then realized that I forgot to charge the battery of my camera (good thing it didn't conk out on me). The worst part was I forgot to take a picture of the 1983 Domaine de Chevalier Blanc that the Stockbroker opened for us.

In any event, we had it with the Twice Baked Prawn and Feta Cheese Soufflé with Dill. The wine had a good, somewhat tropical nose of ripe grapefruit, baked pear, citrus, mild gooseberry, whispers of asparagus, white minerality, small white flowers and a toasty/leesy topnote. In the mouth, it was just shy of medium-bodied (which is proper for a Bdx blanc in my estimation), its fruit soft, ripe and, again, somewhat tropical. The Stockbroker and J-Lab opined that the mildly tropical character was from the sémillon component in the blend (mainly sauvignon blanc and a smaller proportion of sémillon) - this is likely on point, though I pointed out that I've had some 100% sauv blancs from the eastern Loire Valley (e.g., Sancerre and Pouilly-Fumé) that have been tropical as well.

The acidity was still very correct, the sauv blanc character shining through the years, and I noted again the slight toasty/leesy notes towards the back. I'd say that there was little new oak used in ageing (a good thing for me) with a studied hand at batonnage. I think I liked it more than the others, though I agree that it would have been better consumed earlier for more freshness. Still, I enjoyed it, and the soufflé helped materially in emphasizing its middle and underscoring its fruit and precise acidic cut.

We all went for the day's special main course of Roasted Lamb Cutlets with Risotto and Young French Beans for the reds.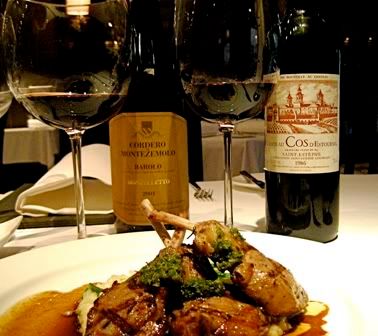 The cork of Stockbroker's bottle, again from the '80s, was already quite soft and the first attempts at removing it caused some crumbling...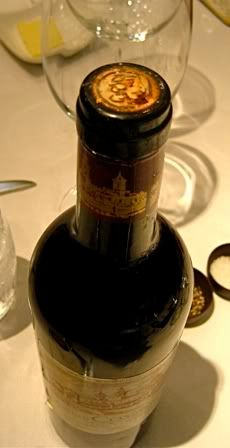 ...but the waitstaff were eventually able to extract it in one piece.
1986 Château Cos d'Estournel
- The Stockbroker's bottle. I've had this twice before, the first time blind back on 2nd November 2006 at the Grand Crew's
Blind Bordeaux Challenge IV
, so those notes, though brief, are the most unbiased:
Wine # 1: Aged left bank, feminine, best nose, medium-bodied, deeply extracted ripe sweetish dark fruit, cassis, plum, sweet cedar, best balance.
I'll not ever forget this wine, not only because it was excellent, but also because it was one of the few times in our Challenges that I voted with the majority in choosing the winning wine, and, it was when my '99 Palmer wound up dead last due to my imprudent over-decanting.

In any event, though yesterday's bottle was notably more advanced (it was almost 3 years older at the time, after all) with very faint sherry notes at the fringes, it was a wonderful testament to aged Cos nonetheless. The exotic bouquet was perfumed with sweetish tobacco, spice box (with the lightest whisper of cumin), slight camphor, cedar, cassis, ripe plum, violets and warm asphalt nuances. In the mouth, there was great depth, intricate layering, incredible complexity and a comforting warmth. Excellent crescendo. Generous, expansive yet dignified performance. Elegant, yet with a commanding presence. The term "patrician" comes to mind. What a treat on a gloomy, rainy day.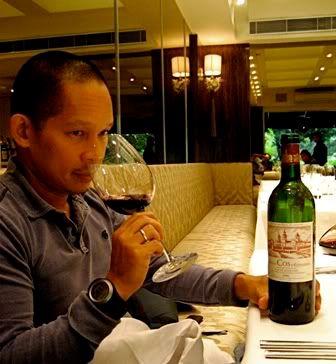 2001 Cordero di Montezemolo Barolo Monfaletto
- J-Lab's bottle. I was happy to see a Barolo from a good year on the table. I repeatedly stated that I love eating with good Piedmontese and Tuscan reds, especially with grilled or roasted meats, so I had this mainly with my meal, reserving my share of the Cos for after, to be taken alone.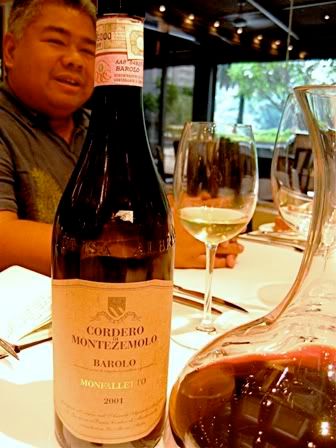 I'm actually relatively new to the wines of Piedmonte and don't know the many makers and vineyards, so I was quite lost in the conversation about this wine. I do know how it tasted to me, though. Not as hard or stern as the Barolos I've had in the past, this was comparatively very approachable even at barely 8 years from vintage (Barolos generally take many, many years to mature).
Typical, earthy, mildly spiced dark fruit, blackberry, somber black cherry, cedar, violets, with underlying kalamata olive and asphalt/tar nuances. Notably firmly structured, but, as stated, not overly imposing or tannic. Not as big as many Barolos I've had, quite streamlined as well. Very food-friendly, and a most proper and enjoyable pairing with the lamb and earthy risotto.
We finished the wines off with a cheese platter (I recall telling J-Lab that I wished for some aged parmesan to go with the last of the Barolo); and, with some espressos, ended the lunch at a little past 3pm. I still had time to go back to the office.
The Stockbroker mentioned that he chose his vintages ('83 and '86) because of their significance in recent Philippine political history, a tip of the hat to the late ex-president who was buried the day before. Great lunch, guys, and with a touch of history as well. Many, many thanks.