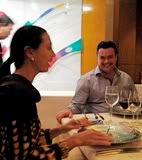 The Grand Cru (i.e., the Doc, Stockbroker, Vigneron and myself), together with our respective wives, met yet again for this year's 2nd Blind Bordeaux Challenge on Thursday night, 20 August 2009, at
Old Manila
. For those unfamiliar, our group holds this event for fun 3-4 times a year, blind tasting 4 competing reds, one from each of us . Since everyone in the group is pretty much Bordeaux-centric when it comes to red wine, the idea is to "compete" who brings the best wine of the night, the winner and his wife getting treated to dinner by the non-winners.
Rules are simple:
No restrictions on vintage or price.


While most everyone brings Bordeaux all the time, bringing a non-Bordeaux red to compete is encouraged to challenge the group's preferences. Since this event began, only 3 non-Bordeaux wines were ever entered and none ever won.


A vote for 1st Place carries 4 points, 2nd Place 3 points, 3rd Place 2 points, 4th Place 1 point.


In the case of a tie in points, the less expensive wine prevails, the value to be the lowest in-stock, non-auction price of the bottle in the USA as appears in http://www.wine-searcher.com/.


Absolutely no expression of observations or opinions about any of the competing reds is allowed until after the last ballot is submitted for tallying.


Once a ballot is submitted, no changing of ranking is allowed.


Aside from the winner and his wife getting treated to dinner, the former reigns as "king" over the others until unseated by subsequent vinous battle.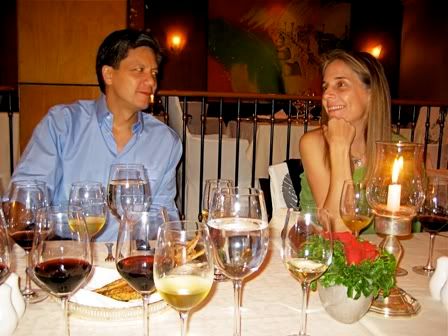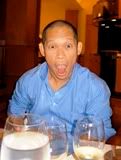 Having won
Blind Bordeaux Challenge XII
by a small margin with a 1998 Château L'Evangile, I was the reigning "king", and the others were hot after my crown. Everyone was a threat. Everyone, in varying degrees, has a deep bench of potential winners, and everyone always wants to win. More than any of us, the one who has a collection that includes top-notch
non-Bordeaux
wines that could legitimately compete at this level is, undoubtedly, the Stockbroker.
By 7:45, we were complete and we began with some whites with our amuse bouche and appetizers: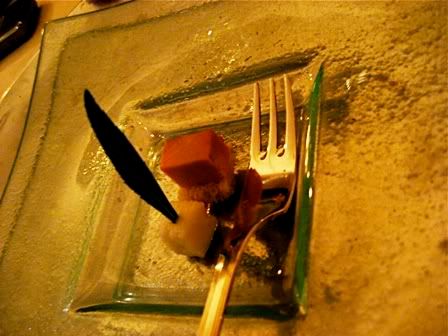 2004 Leewin Chardonnay Art Series
- The Stockbroker's bottle. I've had this at least twice before, the last time I think was on the
17th February 2009
, at a serious wine dinner at Ciçou with the usual suspects. My notes then are as follows: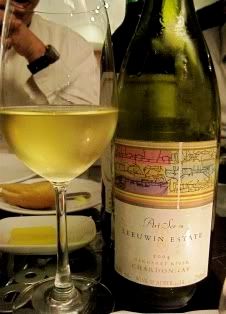 Johnny R's bottle. I remember this wine showed quite well in the International Wine & Food Society's Blind Chardonnay tasting a little over a year ago (24th January 2008).

This hefty, generous and very fruit-forward Aussie chard has nice balancing acidic and mineral lift to its nicely rounded, ripely sweetish, softly-baked apple, pear and vanilla/oak dominant flavors. Nuance of butterscotch as well. Mild citrus notes emerge past mid-mouth and hug the background. I also liked this a lot with the pork rillette, its ripe fruit and vanilla/oak running hand-in-hand with the dish, adding a baked apple dimension to the pork (roast pork loin with applesauce came to mind), leaving the cut to the cornichons.
The bottle last night seemed to have notably better acidic lift and balance, focus and less oak/vanilla than I my last notes disclose. The Stockbroker's
Premium Wine Exchange
carries the Leewin lines, including the Art Series Chardonnay. The 2004 vintage is already all sold out, but they already have the 2005 vintage in stock.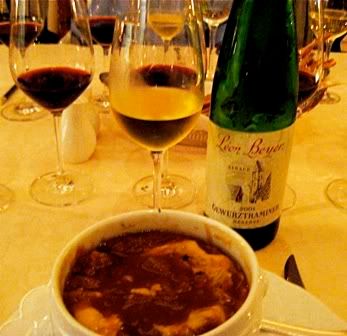 2001 Léon Beyer Gewürztraminer Réserve
- My bottle, which I enjoyed with a comforting bowl of
French Onion Soup
. This was an excellent gewürztraminer in the typically dry Beyer style - very nicely clean, lean (compared to the more modern gewürztraminers that are riper, fleshier and with more residual sugar), pure, well focused, and, consequently, much more food-friendly and versatile with savory dishes. The nose presents a honeyed note to the lychees, peach and roses, but, in the mouth, it is nicely and appetizingly dry. My wife, the Stockbroker and I really liked this a lot.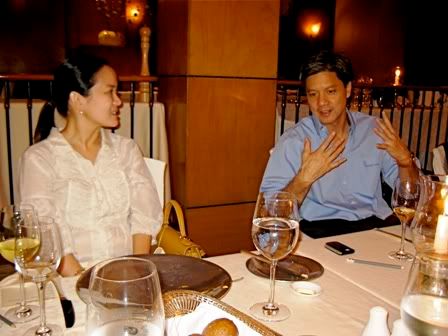 Very highly recommended for those who like traditional Alsace gewürz. Available at
Bacchus
.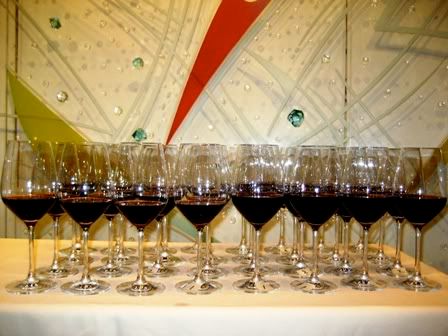 The competing reds were then brought to table...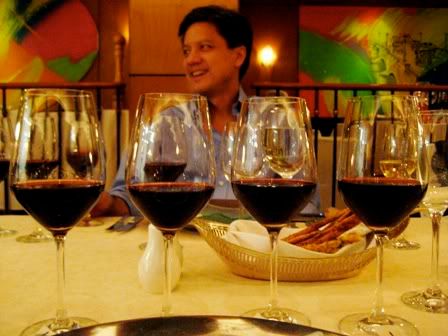 ...and tasting in earnest began.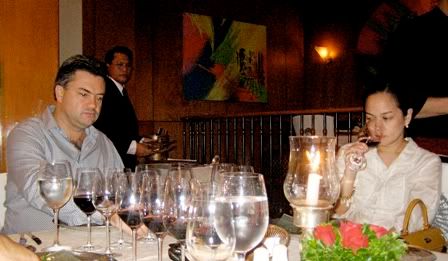 My own notes and ranking
(I tasted alone and with my
Rare Grilled Rib-Eye Steak
):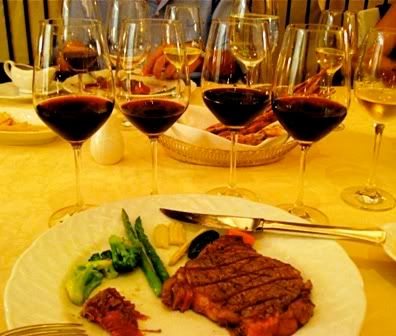 Wine #1
- Sweet tea, cranberry, bit of raspberry over black cherry over cassis. A bit of a sweaty topnote at first, but blew off a bit after a while. A touch of savage. Long tartish cherry finish. I ranked this
2nd Place
. It turned out to be the Vigneron's
1985 Château Léoville Barton
.
Wine #2
- Initial rusty topnotes in the nose gave way to dark minerals, herbaceous, touch of green pepper over dark fruit laced with asphalt. In the mouth, it was the most commanding, deeply fruited, lush and powerful. Notes of black coffee, dark chocolate and a bit of tar underpinned the blackcurrant, cassis, violets, cherry, dried tamarind, bit of cedar. Not a great nose, but, in the mouth, it was, to me, the best by far. I ranked it
1st Place
. It was my
1999 Château Latour
(double decanted: just under 3 hours at home and poured back into bottle for transport to the evening's venue).
Wine #3
- My notes are telegraphic: Comparatively thin after the immediately preceding wine, gravel, earthy, cassis, cedar and a bit of sour cherry and dried tamarind. I ranked this
4th Place
and it was later revealed to be the Doc's
1989 Château Lynch Bages
. I ordinarily love this wine and even ranked it my 2nd Place in the previous Challenge. I believe this bottle was very slightly off.
Wine #4
- I initially found this a bit strange in balance. However, by my 4th pass, it revealed its admirable structure, strong backbone, slight iodine touches to its cassis, cedar and violets. Very long finish. Confident wine, well put-together. I ranked this
3rd Place
. It was the Stockbroker's
1994 Dominus
, the Napa venture of Christian Moueix of Pétrus fame.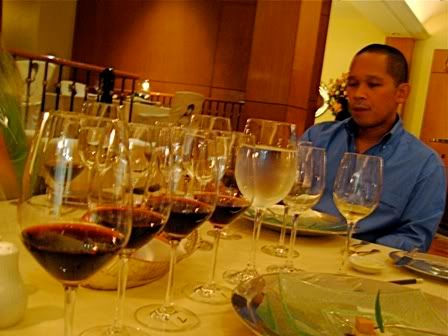 As always, the tallying and computation of points were accomplished by Mrs. Vigneron.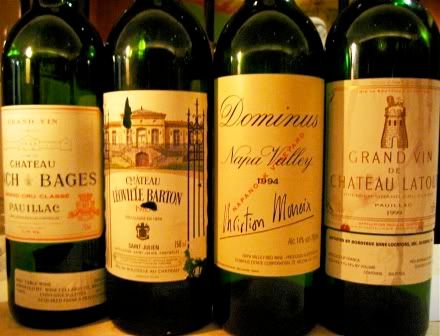 The Collective Results
:
There was a tie in points for 1st Place (i.e., two wines garnered a total of 24 points each), so, per our rules, the less expensive wine prevailed.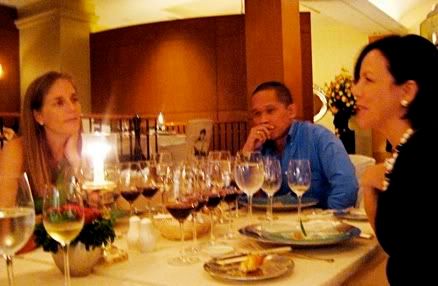 1st Place
- The Stockbroker's
1994 Dominus
with 24 points (two votes for 1st Place, four votes for 2nd Place and two votes for 3rd Place).
2nd Place
- My
1999 Château Latour
with 24 points (four votes for 1st Place, one vote for 2nd Place, two votes for 3rd Place and one vote for 4th Place).
3rd Place
- The Vigneron's
1985 Château Léoville Barton
with 17 points (one vote for 1st Place, two votes for 2nd Place, two votes for 3rd Place and three votes for 4th Place).
4th Place
- The Doc's
1989 Château Lynch Bages
with 15 points (one vote for 1st Place, one vote for 2nd Place, two votes for 3rd Place and four votes for 4th Place).
The Stockbroker offered to share the win with me as there was a tie in points. Our rules, however, would not permit me to accept his magnanimous gesture (not that I would have accepted in any event) - especially since I was the one who drew up the rules and the whole group passed the same unanimously.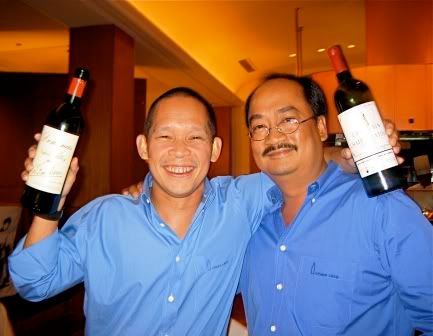 Thus, as it was in The Highlander, there could be only one. I must make special note that the Stockbroker did not vote his own wine 1st Place; on the contrary, he voted his own wine 3rd Place, the same as I. In fact, the Stockbroker voted my wine 1st Place (as did I, the Vigneron and Mrs. Doc). His win, therefore, is
pure and conclusive
.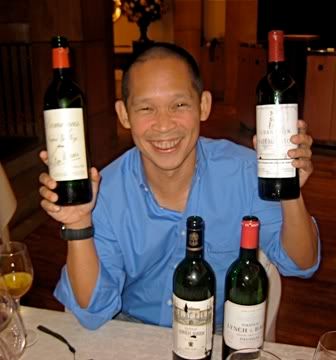 Moreover, the Stockbroker's win is a milestone in our little competition in that it was the very first time a non-Bordeaux wine won.
A fortiori
, congratulations are well in order.
Desserts were then ordered, and the Vigneron had served his bottle of...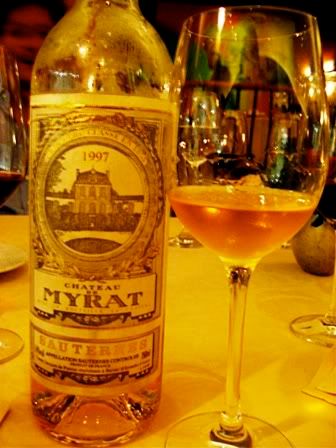 1997 Château de Myrat
- The Vigneron's bottle, as stated. Ranked a Sauternes 2nd Growth in the 1855 Classification, I've had this wine before, during
an all-Sauternes/Barsac pairing dinner at Yung Kee, Hong Kong (29th May 2008)
. My notes then are as follows:
The 1997 de Myrat's visage of beautifully deep, amber-gold with an orange blush made me expect more body/weight/complexity than it's light-side-of-medium body and dominant bittersweet orange marmalade back-end displayed. Fair enough of a wine (depending on its price), but I couldn't help thinking it didn't live up to its looks.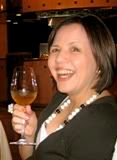 Over a year later and from a different bottle, I must say that this was heftier (just a few shades under legitimate full-bodiedness), fatter, more lush and generous. Good amount of botrytis in this. Good show. My wife, Mrs. Vigneron, the Stockbroker and I clearly enjoyed it and happily accepted second pours.
Good natured teasing and warm laughter ensued over some cups of coffee, espresso and plates of
petits fours
. It was really fun to get together again for one of our Challenges. It's been way too long.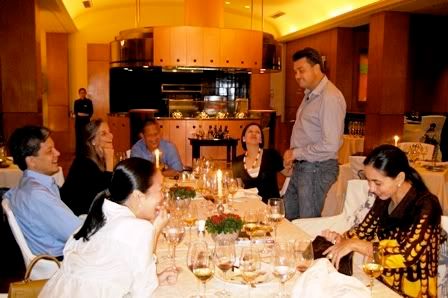 Hail to the new King. It was a battle hard-fought and a victory well-deserved. Until the next.