This past Monday, 10th August 2009, was a dinner at
La Tienda
during which Aaron Palileo presented many of Freixenet's wines which his family company, ADP Industries, distributes. Miguel took care of the reservations and menu with chef Javi Lecumberri. Of course, many of our old favorite dishes were on deck. We were 15 persons in all, 11 different wines, 2 bottles of each wine so everyone could have a proper taste of each.
We started off with some glasses of...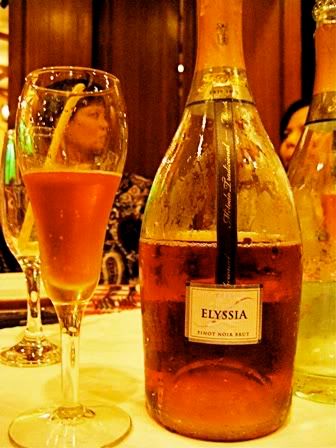 Freixenet Elyssia Pinot Noir Brut
- Per Aaron, this is a
méthode champenoise
bubbly made out of 85% pinot noir and 15% trepache. Light-footed but definitive fresh strawberries with cherry and mildly spiced black currant nuances underneath. Straightforward with light mousse, it is a fun bubbly and very easy to drink. With its openness and approachability, at a full retail price of P1200/bottle, this would be great for beach trips, big gatherings, wedding toasts or casual home enjoyment.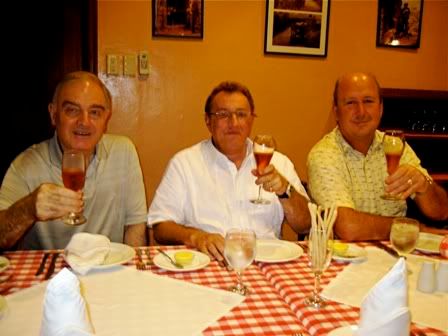 L-R: Brendan Egan, Robert Burroughes and Dave Stockdale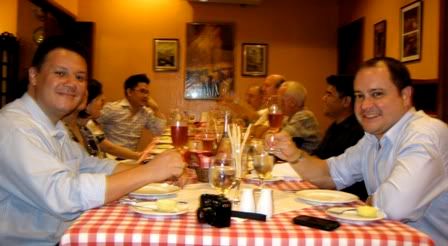 Dishes of chorizos (curados and boiled Pamplona) then made their way to the table, together with escalivadas and boquerónes, which we enjoyed with...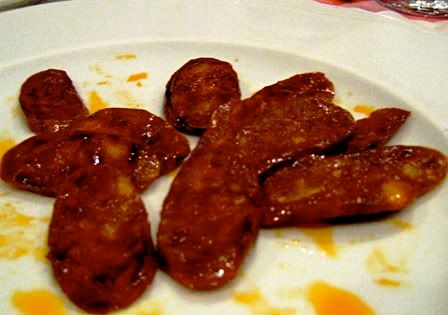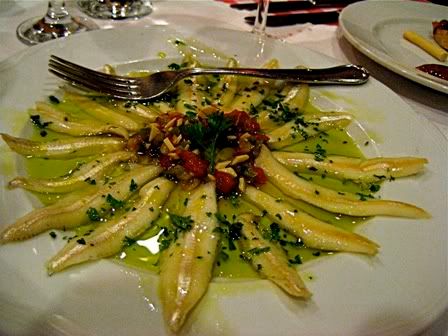 Escalivadas with...
René Barbier Cava Brut Reserva
- A blend of macabeo (a.k.a, viura, 50%), parellada (35%) and xarel-lo (a.k.a., pansà blanca, 15%), bright, crisp, medium weight, frothy middle, presenting clean, dry, green apple, citrus, hint of white peach with touches of almond and light bready/yeastiness towards the back. Nice middle, healthy/bracing acidity, correct balance and length. I liked it with the pulpo à la Gallega and even the curados and boiled Pamplona chorizos. At P1100/bottle full retail, it's a cava I'd have at home for pairing with chorizos, Spanish ham and seafood based tapas.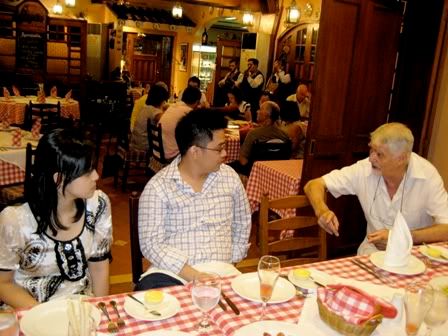 L-R: Jo & Aaron with Bill Stone
Next dish on the table was...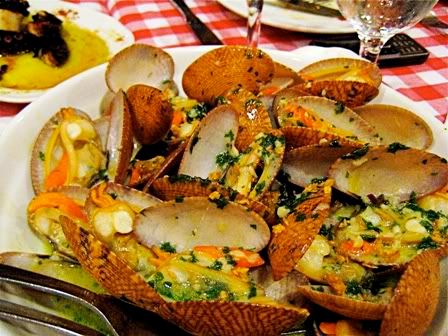 Almejas, just in time to be enjoyed with the...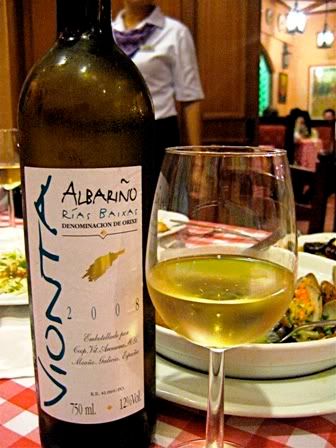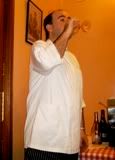 2008 Vionta Albariño
- a newly locally available albariño hailing from Rías Baixas, Galicia, perfectly paired with the almejas and boquerónes (Miguel deftly kept a plate of the latter aside for this wine). With clean flavors of green apple, ripe pear (in the middle), white peach, bit of ripe citrus and a hint of fennel, this was undoubtedly one of the wines of the evening. Paired with the seafood tapas (as well it should as this is the traditional/regional pairing in Galicia), it drew enthused comments from Aled Morris, Dave Stockdale, Brendan Egan and John Harvey. Chef Javi even took a quick break from the kitchen to savor a glass of this wine.
Full retail is P900/bottle. A good, somewhat riper rendition of albariño. Enjoy with fresh, simply prepared seafood/shellfish dishes.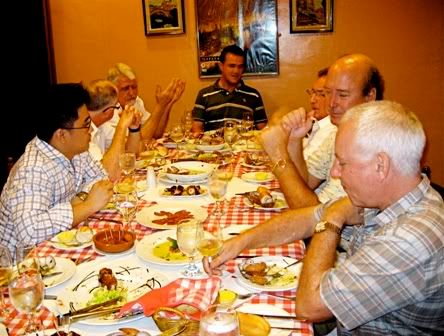 Clockwise from Left: Aaron, John, Bill, Aled, Robert, Dave and Lawrie.
Next was another white...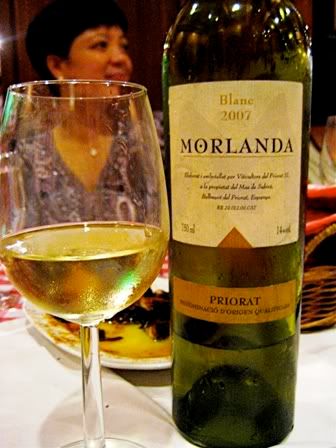 2007 Morlanda Blanc
- Probably the first white wine from Priorat I have ever tried, Aaron noted that this is composed of garnacha blanca and macabeo, made with 6 months ageing. The oak ageing is quite apparent in the wine's hefty, rounded, low acid, soft, ripe, fleshy, somewhat honeyed fruit, lemon cream, almond paste and oak/vanilla notes. My sister-in-law, Michelle, preferred this over the preceding white as it was more her type of white. At P1500/bottle full retail, this is priced higher than most locally available Spanish whites, but fans of Priorat's big, ripe, somewhat alcoholic style would most likely take to it easily.
Miguel and Aaron determining the progression of wines.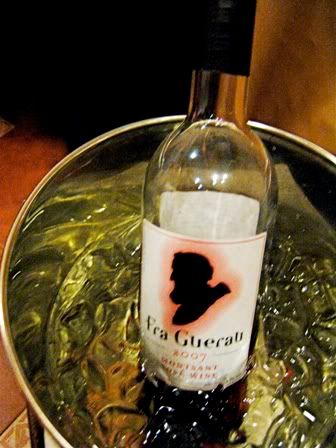 2007 Fra Guerau Montsant Rosé
- Since I was out smoking and talking with Miguel and Javi, I missed trying this wine that night, so my notes from
30 April 2009
will have to do for now:
Montsant is a Catalonian (northeastern Spain) DO wine region surrounding better known Priorat. Quite dark for a rosé, almost like a claret. Aaron has since informed me that this is made up of syrah, merlot and tempranillo.This is probably the darkest, fullest, heftiest and most intensely flavored rosé I have ever had, the only other coming close (in heft, but not color) is the 2005 La Rosée de Pavie.... At 13.5%abv, it has the same alcohol level as many traditional Bordeaux reds.

I have no idea what the proportions of the grapes are in this, but I sure did taste the strong influence of syrah. Lots of ripe, spicy, mildly black peppery raspberry and cherry in this. Slight cassis with Provençal-esque nuances underneath, with a pronounced minerality and a faintly medicinal character surfacing mid-mouth. Smooth enough, it is a heavy yet mellow rosé. Nice match for the pissaledière, particularly the black olives. I would imagine this heavyweight rosé would have no problems pairing with roast rack of lamb.
A mere P800/bottle at full retail.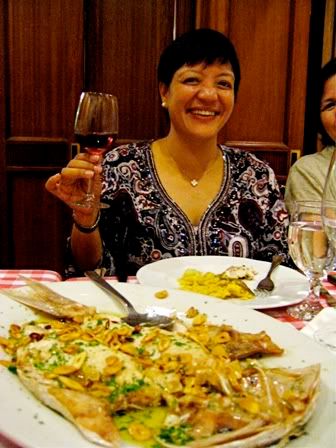 My sis-in-law, Mich, enjoying the Besugo al Horno and Paella de Verduras (below) made with Basmati with a glass of rosé.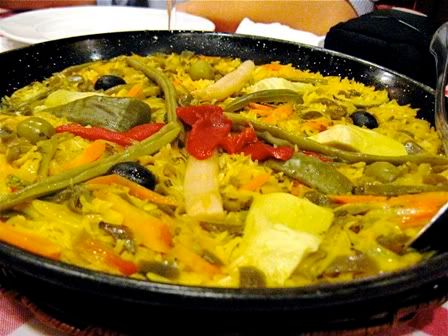 I also missed tasting the
2004 Valdubón Crianza
, pity because my wife told me she liked this one and I do like Ribera del Duero's tempranillos. Given how
both
bottles of this disappeared so quickly, however, it seems like a good deal at P1250/bottle full retail. I believe my wife and sis-in-law finished off the bottle on our side of the table while I was smoking outside. Anyway, I blame them for not leaving me any.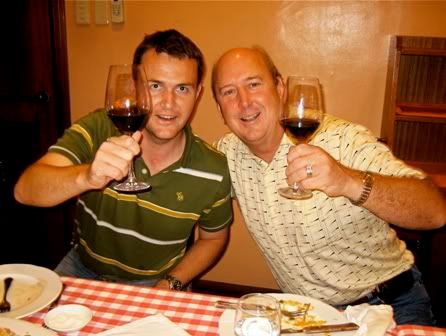 Aled and Dave, though, obviously enjoyed it.
With the
Chuletón
, the bigger reds made their entrance.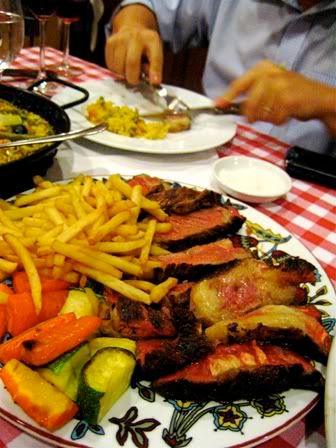 Chuletón, nice and rare, just the way I like it.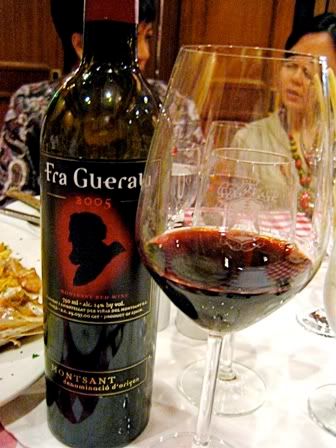 2005 Fra Guerau Crianza
- A blend, per Aaron, of syrah, granacha, monastrell, tempranillo, cariñena, cabernet sauvignon and merlot. Young, smoky, toasty, woody, spicy, peppery deep red fruit (cherry, raspberry, strawberry) over dark (blackberry, cassis), cedar, oak. Quite modern. P1250/bottle full retail.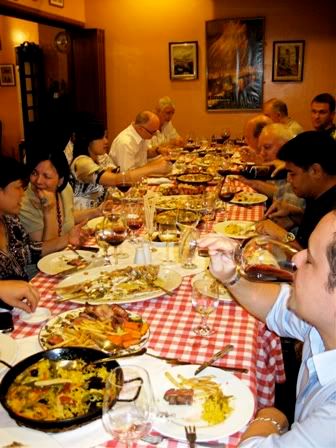 After a bit of decanting...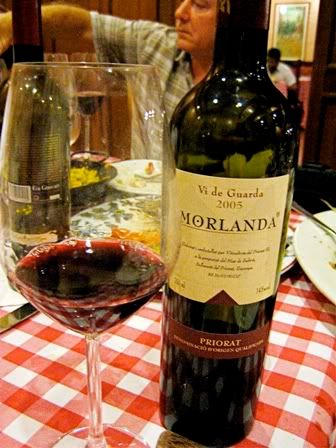 2005 Morlanda Tinto Vi de Guarda
- This should really have been decanted at least a couple of hours before serving opined Javi. Typical of Priorat in terms of ripeness to me. Quite a bit of alcohol (14.5% abv) and wood on the nose that toned down after time in the decanter and in the glass. Just a shade over medium-bodied, this is an intense wine with warm, ripe dark fruit, faint pepper and just a whisper of animal gaminess. At P3800/bottle full retail, fans of Priorat should check this one out.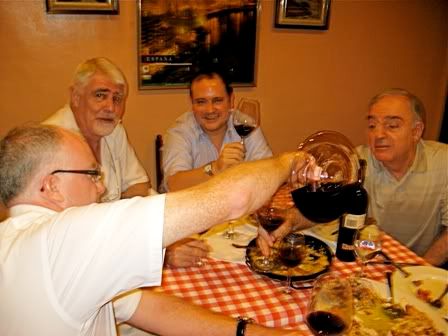 John pours Brendan more of the Morlanda Tinto, as Bill and Rene look on.
2005 Honoris de Valdubón
- I found this one of the better reds of the evening, although, understandably, quite young at this point. Definitive, bright, ripe, slightly spicy and notably deeply-veined red berry/fruit (cherry, strawberry, raspberry), bit of plum with slight, underlying cassis and black coffee. There is quite a bit of oak, but I think it may integrate well enough in time. Smoothly confident, with a long finish. Liked this one. At P4750/bottle, it's one for the cellar.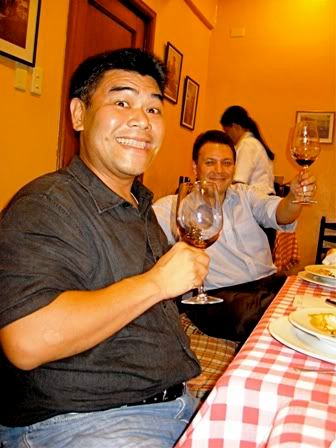 ¡Salud! from Edwin and Miguel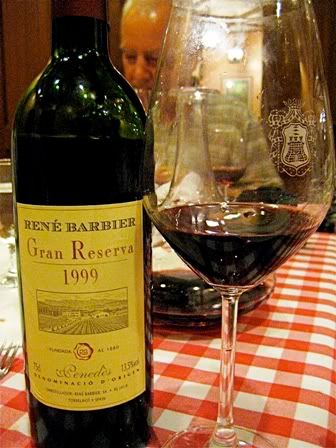 1999 René Barbier Gran Reserva
- already quite mature, I've tried this before from Aaron not too long ago. My notes then were as follows:
This was a suave, confident, more complex wine with violets on the nose and chocolate, leather and slight kirsch to the mellowed, well-knit, softly mature fruit. Warm and somber. I would buy this wine and could definitely drink this on rainy evenings at home.

At a mere P1100/bottle for a mature Penedès Gran Reserva, it's a no-brainer to buy.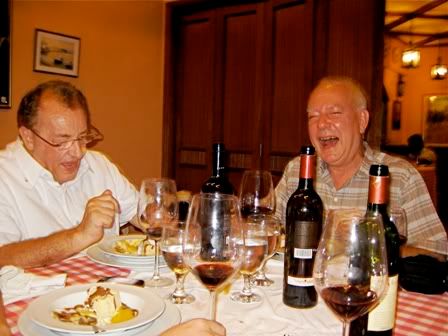 Robert and Lawrie having a good laugh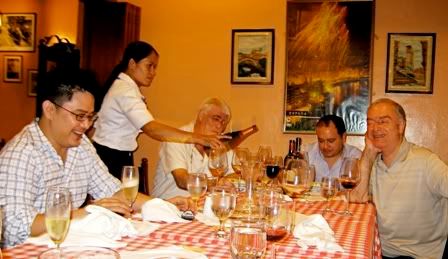 There were many more wines to try, but we were all getting a bit sloshed already. We, thus, went for a bit more bubbly to cleanse the palate and end on a bright note. Bottles of...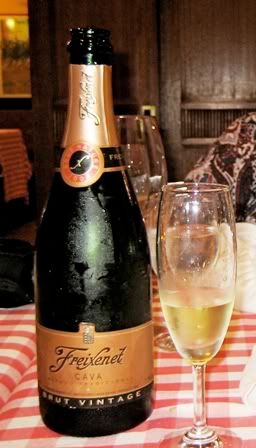 2004 Freixenet Cava Brut Nature
- probably the first vintage cava I've ever had. Notably deeper in fruit than the René Barbier Cava Brut Reserva above mentioned and creamier as well, if not quite as focused or bright. This has hints of gingerbread in its apple and citrus flavors, as well as a mild, underlying coffee nuance towards the back. I liked this quite a bit and it was a most refreshing and welcome palate cleanser after an almost 5-hour long tasting-dinner. At a mere P1000/bottle full retail, one can certainly back up the truck on this one.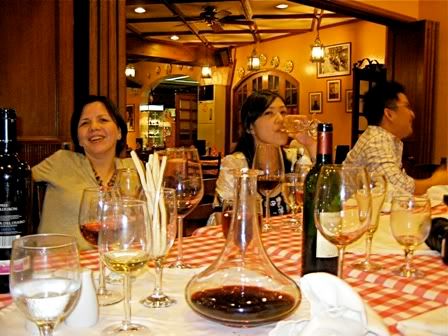 Jo, on the right, enjoying the bubbly, while Catha looks like she's already enjoyed too much of it.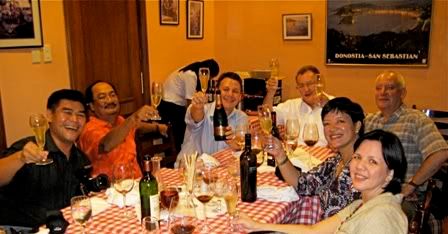 Thanks Aaron and Jo for all the wine, to Javi for all the food and to everyone else there for their company! It was a real fun evening. I slept like a baby for the first time in a week.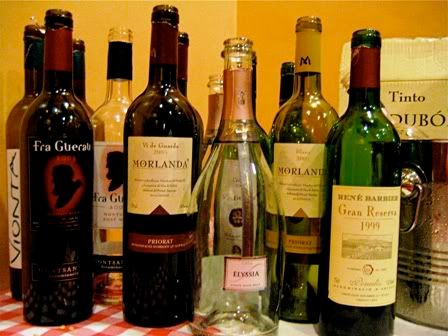 Those interested in any of the wines may contact
adp@adpic.org
Disclaimer/Disclosure: I am not connected with ADP Industries, or any other wine-seller or distributor, in any way, manner or form. Aaron is a friend of mine, as are several local wine distributors whose wines I write about.