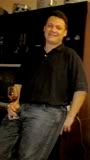 Miguel's week-long celebration (or should I say "debauchery"?) of his birthday culminated last night, 22 August 2009, with a dinner held at his in-laws' place. We were 15, more or less, to help him celebrate with a lot of food, wine and camaraderie. I was to be his sous-chef that night, had prepared some racks of lamb as a birthday gift, and, naturally, brought a couple of bottles as well (i.e., Leyenda Amontillado Jerez for the tapas and a 1999 Michel Chiarlo Barbera d'Asti Nizze La Court for the grilled steaks and herbed, roasted lamb racks).
Assorted tapas and some cheese to start, the
sobrasada
was sinfully good, and...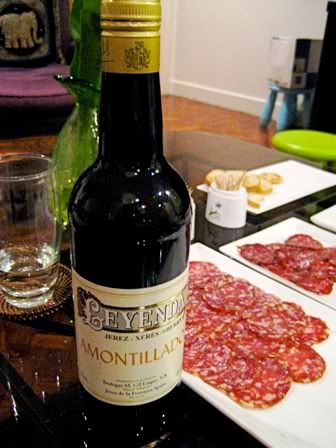 ...some appetizingly dry
Bodegas M. Gil Luque Leyenda Amontillado Jerez
to go along with them. I first learned to appreciate having dry sherry with tapas at a lunch at La Tienda with Miguel and J-Lab. J-lab brought a bottle of nice
manzanilla pasada
and it was a revelation for me as an apéritif with tapas. Miguel later on told me that this is a typical apéritif in Spain to go with some olives and
curados
. This particular sherry is dry, a little nutty with nuances of black coffee to its savory dried fruit and very slight, well-integrated wood. Nicely clean, straightforward, good value-for-money, it seems like a natural pairing to me.
My only regret is that I didn't learn about this pairing sooner.
Available at Terry Selections for just P700+/bottle, it's a definite repeat buy for me
. I drank this all the way until dinner proper, uncharacteristically eschewing the several bottles of rosado Miguel had on deck. Many of the others enjoyed and finished off the rosados though.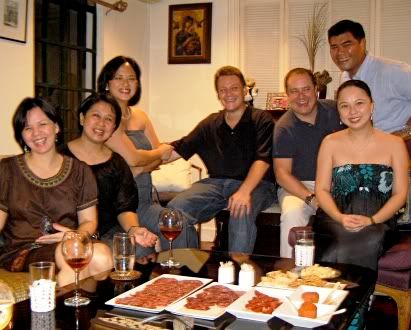 After a while, Miguel and I got to work in the kitchen, and dinner was thereafter served.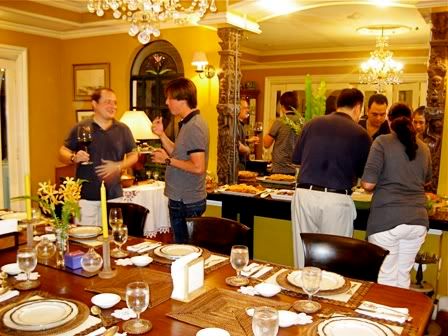 Well, at least everyone moved over to the main dining room, anyway...
...but, eventually, everyone sat themselves down to dinner proper.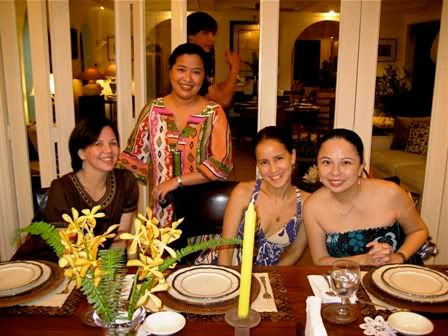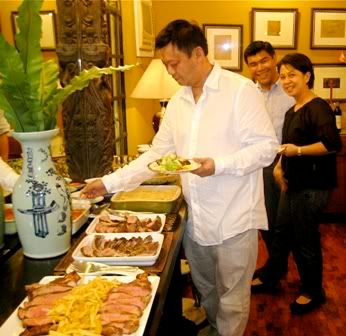 The Food: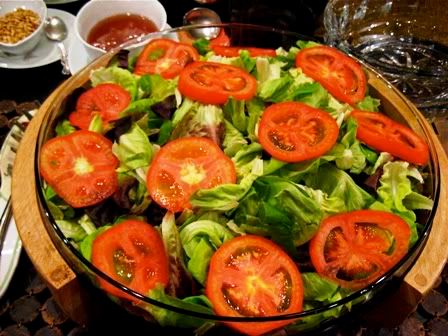 A fresh, crisp, guilt-suppressing Garden Salad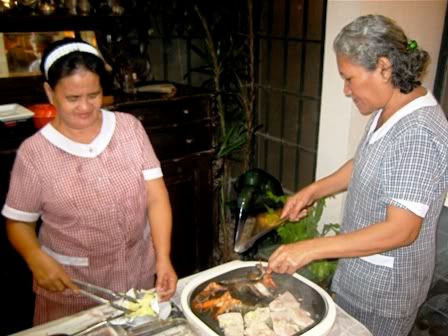 Prawns and Blue Marlin quickly grilled and immediately served
Roasted Herbed Racks of Lamb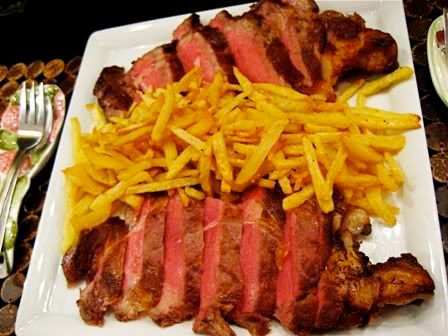 One of the 2 platters of Grilled US Prime Grade Rib-Eye Steaks with Twice-Fried French Fries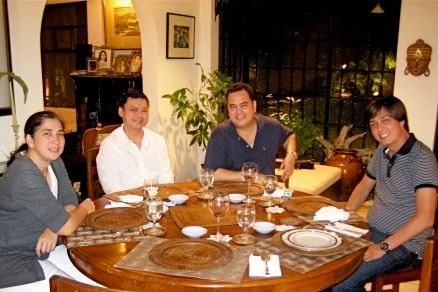 The Wines: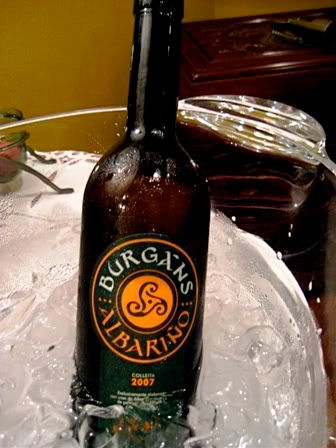 2007 Burgáns Albariño
- From Rias Baixas, for the
Grilled Blue Marlin and Prawns
, naturally. This somewhat riper and rounder style of albariño is very easy to like and drink. More fruit-forward and a shade less edgy, tense and minerally than its cousin, the '07 Martín Códax Albariño, it, I imagine, would be a lot more approachable to those new to albariños. Good lift to the fruit though. Still a very good accompaniment to the seafood. This wine placed 3rd in our relatively recent
Locally-Available Albariño Challenge
. Available at Barcino.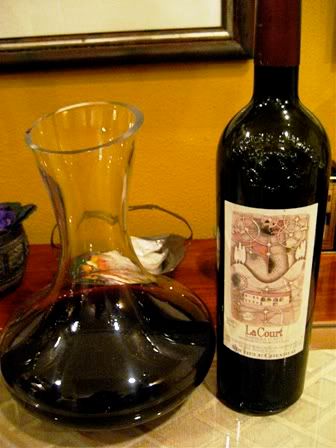 1999 Michel Chiarlo Barbera d'Asti Nizze La Court
- I've enjoyed this wine many times. It pairs well with roast chicken, lamb, and even grilled steak. My most recent notes are as follows:
I first tried this upon the recommendation of Alex Lichaytoo with a simple, rustic
Italian lunch at PWX on the 9th June 2009
. I liked it and promptly bought a few bottles from Bacchus for myself. My notes then are as follows:
From Piedmont's Barbera region of Asti, this wine is made up wholly of barbera grapes from the same-named, 6 hectare, south-west exposure single vineyard "La Court". Largely over-shadowed by the more famous Piedmontese nebbiolo-based wines, Barolo and Barbaresco, Barberas receive comparatively little press. Considering the subject wine, however, this lack of attention is undeserved and, perforce, lamentable.
The complex bouquet recalls dark fruit compote, dried cherry, kirsch, violets and cedar. Its medium body presents mature, soft, velvety dark cherry, violets, a light touch of dried herbs (lavender? thyme?) and hints of balsamico and leather in the underlying black fruit. The finish was moderate and precise; the tannins soft and smooth. It paired very well with the roast chicken. With the first sniff and sip, I decided I must have more bottles of this.
Available at Bacchus at P2250/bottle full retail.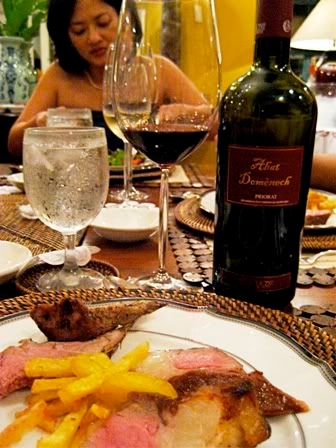 2000 Cesca Vicent Abat Domènech Priorat
- As I understand, this is made by a family friend of Miguel at their winery in Gratallops, Priorat - a small production, higher bottling (single vineyard) than the Lo Piot, the 2002 vintage of which we enjoyed with steaks at my place this past
17th June 2009 dinner
. Research shows that only 500 cases were produced of this predominantly grenache blend and that Robert Parker bestowed upon it a 93-point rating (for whatever the latter is worth).
This is a (typically to me) big, thick, full-bodied, ripe, tannic, alcoholic bruiser of a Priorat, displaying lots of juicy, spicy dark berry, some raspberry, licorice, wood and touches of sweetish tea and violets. It stood well with the steak but clearly over-powered the lamb. Good concentration, a long finish. Not really my style, personally, but those who like Priorat will probably like this. Not available locally.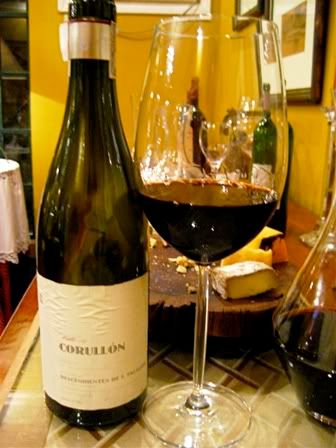 2003 Descendientes de José Palacios Corullón
- From Bierzo, yet another masterpiece of mencia by the Alvaro Palacios Team. I'd previously enjoyed bottles of their rose-scented entry-level
2006 Pétalos
and their fresh, pure, graceful and very food-friendly
2003 Moncerbal
. As I understand it, the Corullón is from older vines (60-100 years old) of the steepest vineyards. Again, for whatever it is worth, Parker's Wine Advocate gave this a rating of 93 points.
This is, personally, more my style than the immediately above-discussed wine. Leaner, much more focused, refined and complex, not super-ripe, overly tannic or alcoholic - discreetly floral, a fine minerality laces blackberry, cherry and raspberry with nuances of thyme and rosemary (or was that the same herbs I used in the lamb playing along with the wine?). Very nice. Notably deeper and more concentrated than the lighter-footed, graceful moncerbal, it is a wine I will buy.
Available at Terry Selections at P2450/bottle full retail.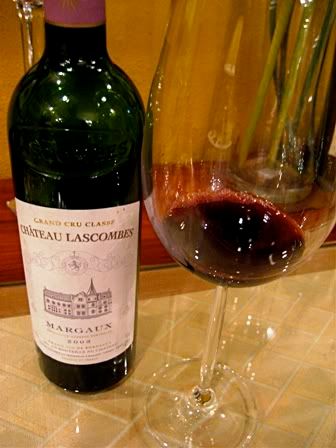 2003 Château Lascombes
- The sole Bordeaux for the evening, an 1855 Classification 2nd Growth, no less, from Margaux. I used to buy a lot of Lascombes and even their sister property Segonnes in the mid-to-late 90s, but now have Lascombes rarely and far between. This is the first Lascombes I have had since I enjoyed their
'97 vintage
at my dad's house (very good considering it is an off vintage) late December 2008.
Lascombes' 2003 is quite unlike the much earlier vintages I have had. In a word, it is now modern, in the sense that fruit is much riper and there is much obvious new oak to it. That said, a good Margaux is always welcome to me. Smoky, cedar, plum and raspberry/cherry over cassis, gravelly nuance underneath, toasty wood, slight violets, merest whisper of pencil lead - mirrored on the palate on a slightly above-medium body. Nice enough, but very difficult to appreciate fully after all the foregoing wines.
After such a huge meal, many of us guys skipped dessert (had I known though that it was Baba Ibazeta's Lemon Torte, I would have made sure to get a slice or two) and went out to the poolside area for some cigarettes...
...and some glasses of...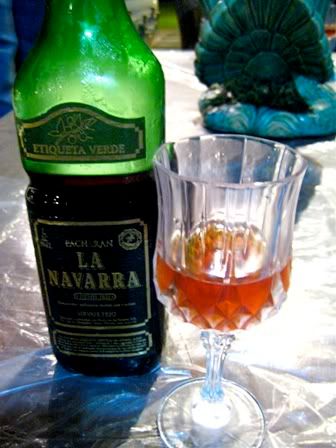 La Navarra Pachrán Etiqueta Verde
- A typical Spanish digestif per Santi. Moderately sweet, candied, dried plum, touch of apricot deftly infused with anise. Quite nice, I enjoyed this a lot and it did settle my stomach. I could get into this very easily. According to Miguel, this is available at Terry Selections at approximately P800/per bottle only. I'm getting some for sure.
A good double espresso and a lot of stories later, we took our leave at around midnight. It was a most enjoyable and relaxing dinner. Thanks, Miguel, and, again, happy birthday.