Time was, one couldn't get a glass of halfway decent wine to go with one's meal in this country. I'm referring to wine by the glass. Much as I would like to be able to have a bottle or two of wine every time I eat out, work, time constraints and health concerns conspire against me. Well, those factors as well as my view that a bottle of wine, once opened, has to be finished because it will never be as good later on. Thankfully, the local
vin au verre
situation has changed dramatically in the past 5 years.
7th August 2009, Lunch at Ciçou with the Vigneron
.
On the table for me were...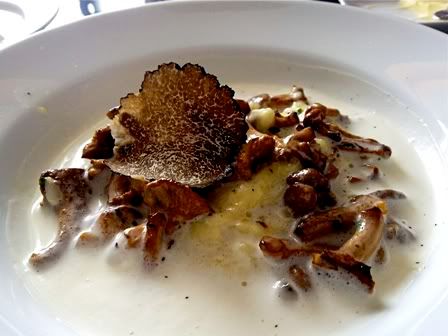 Chanterelle and Truffle Cappuccino, and,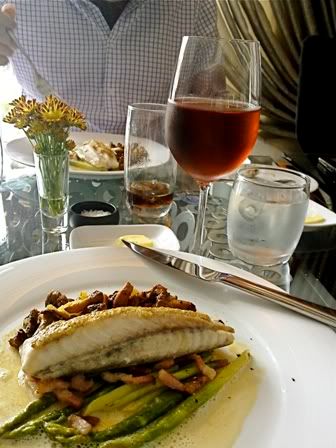 Roasted Sea Bass Crusted with Powder of Assorted Nuts, Chanterelle and Asparagus, Smoked Ham and Parmesan Sauce,
...with a glass of
2008 Château de Roquefort Côtes de Provence Corail Rosé
. I've mentioned
recently
that this is:
...a fresh and commandingly structured, red-fruited rosé with oh-so-slight, yet distinctive, pepper and dried herb nuances. Very accessible, charming and easy to drink a lot of. I've had this several times in Je Suis Gourmand with Marc's cassoulet, couscous with trio of lamb (a particularly good pairing), etc. I've also had it in Ciçou as well with Cyrille's version of cassoulet. My two teen-agers like this too with Marc's escargots. At a mere P910 per bottle full retail at Sommelier Selection, it's a very good deal.
Due to the ingredients of the two dishes involving delicately earthy chanterelles, truffles and a relatively commandingly flavored fish, a rosé was a fine match for both. It had enough structure not to get lost in the creamy cappuccino (and underlying truffled mashed potatoes) yet was light-handed enough to allow the fish to shine. Lovely.
11th August 2009, Lunch at Terry's 2º Piso with my wife
.
There to pick up some sobrasada, rosado, Pedro Ximénez and, eventually, some oloroso, we decided to have a light sandwich lunch, sharing an appetizer of...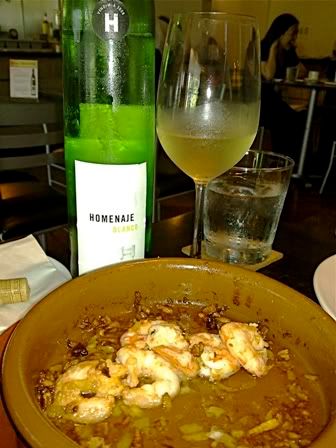 Gambas al Ajillo with...
2008 Bodegas Marco Real Homenaje Blanco
- Surely dominated by viura, presenting fresh, drily crisp, virtually snappy character with light, white floral notes in its green apple and appetite-enhancing slight almond-bitterness past mid-mouth. Though brightly edgy, it's not sharp at all as there is a distinct, though discreet, rounded weight in the middle that 100% viura's do not possess (none that I've tried anyway). Nice balance. Simple, good, and simply good. Terry's sells this for a song around P300/bottle or maybe even less. Excellent value for money house white to go with simply prepared or even slightly spicy seafood dishes.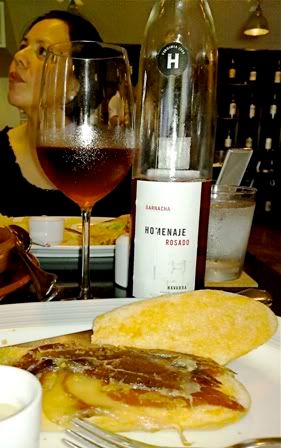 Bocadillo of Joselito "Gran Reserva" Iberico Bellota ham, extra-virgin olive oil and freshly marinated crushed tomatoes
Upon opening this indulgent sandwich, Miguel's post on
Paco Meralgo
in Barcelona, specifically, the pictures of the typical
pan con tomate
with
jamon Iberico
, came immediately to mind. I remember because he told me how to make it at home. With this, I had the latest vintage
2008 Bodegas Marco Real Homenaje Rosado
. I've written about the 2007 vintage of this grenache-based rosado so many times and have opened countless bottles of it myself, so there is no need to belabor the point that I consider it the very best value for money rosé locally available.
What I can say is, aside from it being a fresh, lively, and deeply fruited rosado, it seems more concentrated yet lighter in alcohol than the 2007 vintage (and that is a good thing). I bought some bottles of both the rosado and blanco for the house that day, and I shall certainly buy more.
As a pairing for my Iberico Bellota ham sandwich, the rosado's red fruit played with the ham's savory-sweetish-saltiness, both underscoring the latter's savory flavors and cutting it's delightful fattiness. Couldn't ask for more for a lunch. Simple, hearty, natural, excellent. That's the way I like it.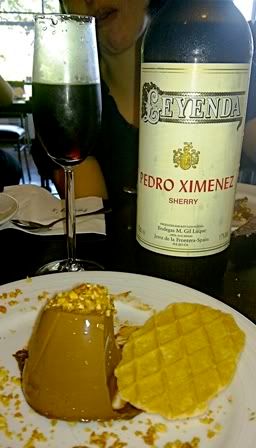 I was also in the market for a Pedro Ximénez based wine to go with a chocolate dessert for
a dinner by Ian Padilla last night
(which I wasn't able to attend due to a bad case of the flu) - specifically, I wanted to buy some Bodegas Gomara Lacrimae Christi PX Moscatel that I had at
JC's 2nd July 2009 dinner
. That being out of stock, however, I tried out some of the
Leyenda Pedro Ximénez Sherry
with the
Chocolate Marquis
.
Though the Leyenda PX was not quite as deep, complex or graceful as the Lacrimae Christi (JC emphasized that the former is not made or aged the same way as the latter after all), the Leyenda shared some of the Lacrimae Christi's hallmark PX flavors of raisins, dark molasses (Rene said more like
muscovado
to him), licorice, and dark chocolate. Still and all, I found it to be a good match with my rich chocolate dessert.
At a mere P700+/bottle, it's an absolute no-brainer pairing for similar chocolate desserts. I really can't understand why PX wines for dessert haven't caught on in Manila. Anyway, that just means more for me.