Introduction
:
When hosting large parties for, say, 40 people and up, serving good, or, at the very least, decent wine with dinner is always a problem. For mere mortals such as I, cost is, of course, a major consideration. If I were rich, hey, I'd serve 1855 classified growths to everyone; but, unless that happens (and I'm not holding my breath), more reasonably-priced fare is in order - but it has to be something I and my guests can drink and live to tell the tale. Thus, I am always on the look out for such wines.
The Setting
:
Friday night, the 31st July 2009, I encountered some at
Je Suis Gourmand
during Jen Burroughes' *cough*th birthday dinner. It was quite a big party, around 60 guests or so, by my estimation. Robert took the entire restaurant over for the occasion.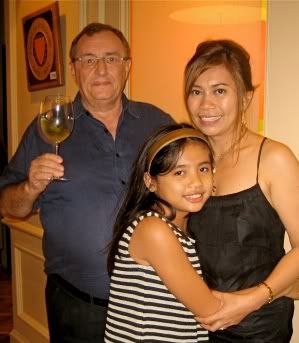 The evening's celebrant/hosts
The Food & Wine
(all wines available at Forth & Tay)
:
As I walked to the restaurant from the nearby parking lot, I saw a crowd of guests milling about the outdoor cocktail area, enjoying an endless stream of
Piper Heidsieck Champagne Brut NV
and canapés.
No wonder they were out of stock at
Forth & Tay's
Makati shop along Kalayaan when I sought to buy some last Tuesday (I've had this
several times courtesy of J-Lab
). Between Robert and J-Lab buying up the stocks, this very bright, lively and charming (and most reasonably-priced to boot) bubbly has seemingly become a rather scarce commodity. James du Vivier, however, reassured me later on that Forth & Tay still has a healthy stock of this great-QPR champagne in its warehouse.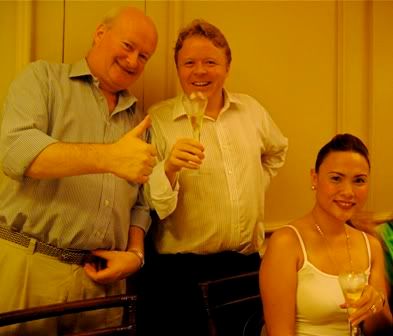 James du Vivier with Mike & Shiela Whiting
I also bumped into Charles and Anton Palanca and Charles helped me locate the night's celebrant in the sea of humanity. Jen seemed very busy entertaining and being greeted by well-wishers, so I went in to say hi to Robert first and got to greet Jen after chatting with some good friends and IWFS stalwarts.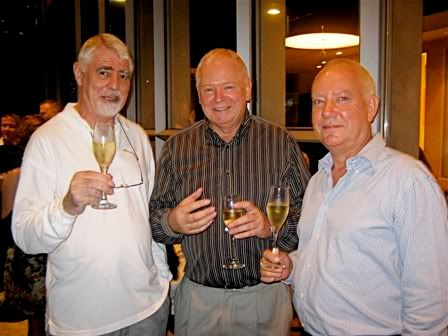 Bill Stone, David Beddow and Lawrie Martin
We were then eventually ushered in and seated for dinner.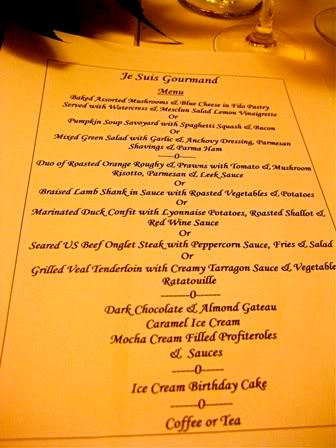 Recalling Jerome's 6-hour wine lunch at Je Suis Gourmand just the day before (see the post immediately below), I opted for the relatively healthier
Mixed Green Salad with Garlic and Anchovy Dressing, Parmesan Shavings and Parma Ham
for my first course, enjoyed with the evening's white.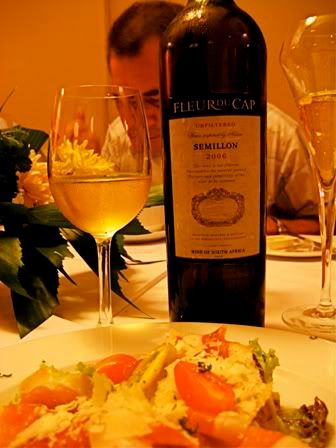 2006 Fleur du Cap Unfiltered Semillon
- This is a very approachable, charming, straightforward wine that presents well-rounded, lowish acid, soft tropical and citrus fruit flavors with an easily noticeable touch of toasty oak. Very easy to drink and I'd expect many new to wine will find this quite pleasing. At a mere P675/bottle at retail (only P575 if one spends P6500 in total), it is ideal for large parties or as an everyday quaffer.
For my main course of
Seared US Beef Onglet Steak with Peppercorn Sauce, Fries & Salad
(yes, I know, I just had this for my main course for lunch the day before, but I enjoyed it so much I simply had to choose it again), we were served...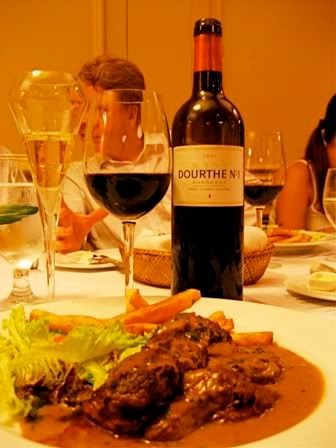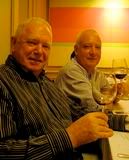 2005 Dourthe Nº1 Rouge
- A red Bordeaux by Dourthe, a large negociant outfit, from assorted wine critics' current "vintage of the century". I must admit that I'd never had any of Dourthe's wine before and didn't really know what to expect. However, I was quite pleasantly surprised by it. A clearly modern and straightforward wine, but easily approachable and casually enjoyable with its virtually full-bodied, well-rounded and low-acid, soft, sweetishly-roasted-ripe plum, cherry, cassis, bit of vanilla/toffee/cinnamon to its mildly toasty oak. It stood well with the succulent gaminess of the beef onglet.
It drew quite a number of compliments from the surrounding diners, Leslie Stokes recalling that it was well-received at one of the Beefsteak & Burgundy Club events. At an
astonishingly
low price of P750/bottle (only P595 if one spends a total of P6500), one could/should back up the truck on this for large parties/functions/weddings.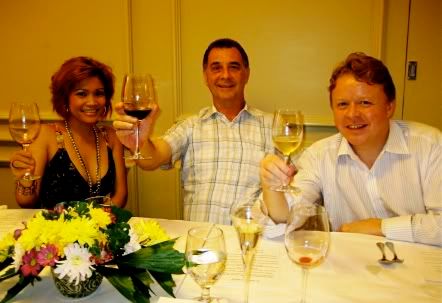 Thereafter, everyone sang Jen a happy birthday and she blew out the candles of her cake...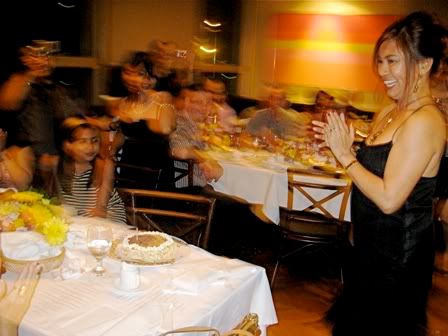 ...and we were served a dish of sinfully good
Dark Chocolate & Almond Gâteau, Caramel Ice Cream and Mocha-filled Profiteroles & Sauces
.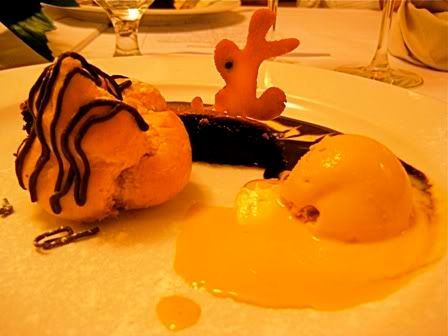 No dessert wine was served, but, I recalled the 2006 Nederburg Noble Late Harvest Robert had me try over
lunch at Je Suis Gourmand on the 25th July 2008
. My notes then were as follows:
2006 Nederburg Noble Late Harvest - Robert's bottle, the very first dessert wine from South Africa I have ever tried. Research shows that this is made up of chenin blanc (60%), riesling (27%) and muscat (13%). If there is one word I can use to sum up this dessert wine, it would have to be "racy".
Clean, fresh, floral and tangy/spicy lightly "botrytised" (as compared to the level of botrytis of dessert wines from Sauternes) and flavors of ripe (but not over-ripe) sweetened peach, white grape juice, apricot, melon. Crisp, palate- resuscitating acidic balance. The fruit is very pure and keen-edged.
With the conspicuous absence of the rich vanilla bean/oak notes of Sauternes and Barsac dessert wines I am familiar with, I was not surprised at all to read that this saw no oak-ageing.
I believe this wine, or a more recent vintage thereof, is available for a mere P550/bottle at Forth & Tay. This would be a candidate for pairing with - probably - a berry and cream dessert for a large party. At its price, it would be very easy on the pocket, and it is certainly charming.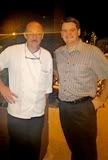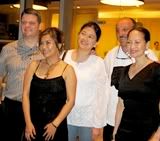 After lingering over a double espresso and some cigarettes, chatting with Marc (
finally
back from a few weeks' well-deserved vacation in France), I couldn't help but tease him about becoming a celebrity what with everyone wanting to have their photos taken with him and the evening's celebrant. Perhaps all the regulars were also just too happy for him to be back in JSG. I certainly am.