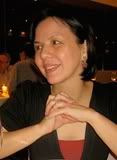 The night after the IWFS President's Dinner (Friday, 16th October 2009) was a nice, quiet dinner at
Sala
with my wife and Apple. Apple is only here for a week
sans
Rocky and the kids, so it is good she had time for a wine dinner with us.
I wasn't fully recovered from the night before, age has diminished my recuperative capabilities, so I decided to have some old reliable, familiar and comforting wines for dinner.
We arrived around 15-20 minutes before Apple, so I took the opportunity to open the bottles, keeping the white in an ice bucket and the red on the table (open but undecanted). Once we were complete and decided what to have, I poured some white to warm slightly and aerate in the glass.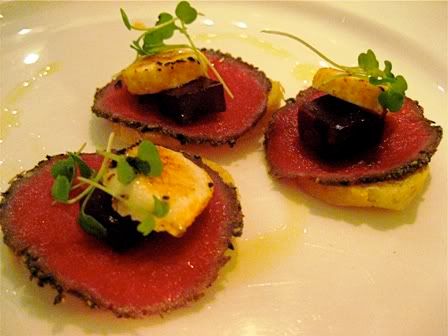 With appetizers of: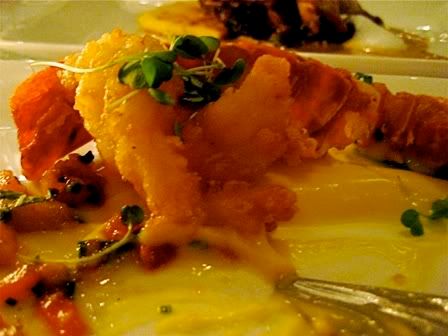 Salad of Crispy Lobster Tail with Corn Purée and Roasted Pepper Salsa (2 orders); and,...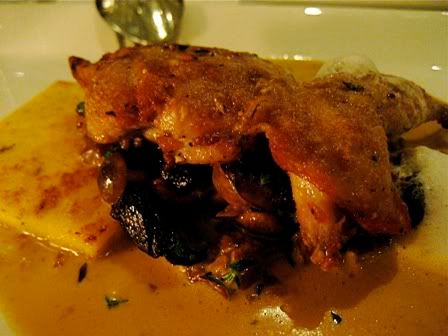 Grilled Marinated Quail with Parmesan Polenta Cake, Mushroom Fricassee and Truffle Foam...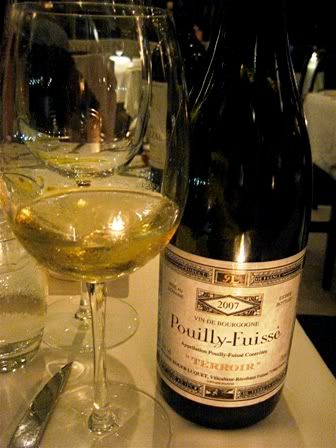 2007 Domaine Roger Luquet Pouilly-Fuissé Terroir
- From an old family of winemakers (5 generations and going strong) in Saône-et-Loire, Mâconnais region, that owns a totality of 24.25 hectares of vineyards in Pouilly-Fuissé (6.10 ha. in Fuissé and Solutré-Pouilly), St-Verán (7.15 ha. in Davayé, Leynes, Chasselas and Solutré-Pouilly), Mâcon-Villages Clos de Condemine (4.3 ha. in Charnay lés Mâcon), Mâcon-Villages Les Mulots (6.35 ha. in Cortevaix, village of Clunysois) and Mâcon Fuissé (0.35 ha. in Fuissé). The average age of the domaine's Pouilly-Fuissé vines (all chardonnay) is over 50 years. Harvest of the grapes is by hand, and, for the Terroir line, vinification is done in stainless steel tanks and the wine sees no oak ageing.
I've had a few vintages of Luquet's Pouilly-Fuissé in the past, very casually in my dad's house, but the only notes I ever took were very brief - on their 2004 vintage at
a Chinese wine lunch at the Taipan
with some friends back in mid-December 2007.
Though initially a bit tight, severe and austere upon opening (it was a bit over-chilled), with around 15 minutes in the glass, the wine unwound, fleshed out and opened up. Good purity and focus in its unmistakable chardonnay flavors. Moderately tense, precisely ripe (for my tastes), fresh fruit on a firm, steely backbone, good acidity, moderate crescendo, medium finish. Its fruit was just ripe, soft and rounded enough mid-palate to complement the lobster nicely without jostling for position; the finish just long enough to cleanse and prime the palate for the next bite.
This is my type of chardonnay. Not huge, not overly ripe, not oaky; it is honest albeit somewhat simple, but fresh, clean and very food friendly.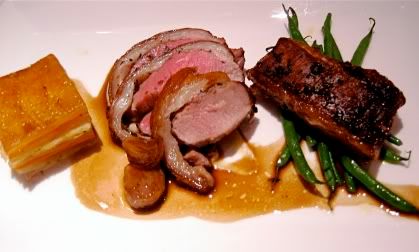 With my main course of
Roast Lamb Shortloin and Lamb Shortribs Confit with Root Vegetable Pâve and Shallot Jus
, my wife's
Sous-Vide Squab with Seared Foie Gras, Horseradish Potato Purée and Port Wine Jus
and Apple's evening's special fish dish (the name of which I cannot recall), we enjoyed a bottle of...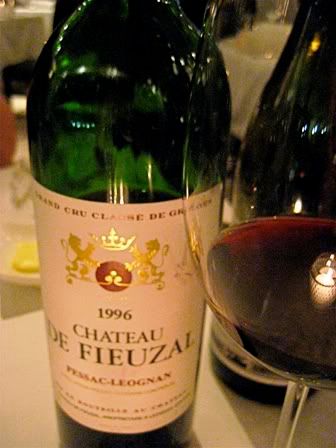 1996 Château de Fieuzal
- 1996 is definitely my favorite vintage thus far of this low-key Pessac-Léognan producer, better than the more touted 1995 in my opinion. I've not tried the 2000 yet though, having academically tasted only the 2004 and 2005 - the latter 2 seemingly a lot more modern in style than earlier vintages.
The last notes I have of this wine were from over a year ago - 27th September 2008 to be exact, during
Miguel A's birthday dinner at La Régalade
. I recall I, my wife, Doc and Mrs. Vigneron favored this wine that evening. My notes then were as follows:
Already a lot of bottle-age sweetness to this medium-bordering-on-full-bodied,ripe, red currant-and-kirsch-laced, cassis/tar/earth dominant wine with finely knit, with a vaguely smoky, sweetish roasted herbs and cedar surfacing mid-mouth and following through on the finish.
As earlier stated, this is not a particularly well-known, much less famous, maker, and I, for selfish reasons, am thankful for it. Its relative anonymity, especially in light of the international fame of riper/oakier/more modern-styled, Parker-anointed "stars" Smith-Haut-Lafitte and Pape-Clément, helps keep their wines under-valued and comparatively more affordable.
I recall the first time I made the Vigneron taste this, he enjoyed it greatly, and, after I told him how much it cost, he had only three words to say: "Buy them all."
Mrs. Vigneron came back for seconds of this wine and the Doc told me he liked this the most among the other reds that evening. I believe my wife felt the same way. I know I did.
The bottle last night was pristine, mature, showing more red berry (dark raspberry and a little cherry) on the palate than I recall from last year. The underlying dark fruit/cassis bear a slight leather, tobacco and "tar" nuance, the the dried herb and cedar notes are seamlessly woven in. Admirable balance and harmony. There is no need to wait on this wine as it is so enjoyable now. My wife loved it and so did I. I believe Apple did too.
~ oOo ~
Desserts were
Mocha Soufflé with Vanilla Seed Ice Cream
for Apple,
Caramelized Banana Tarte Tatin with Maple and Mascarpone Ice Cream
for my wife, and, my favorite
Mango & Passion Fruit Pavlova
for myself.
We lingered over a whole lot of stories, cups of coffee for the ladies (decaf for Apple) and a double espresso for me. Time flies when catching up with friends who live abroad and there always seems to be more tales to tell than time will allow. In this case, Apple had other friends waiting to see her at the nearby Shang so we reluctantly parted ways at past 11pm with plans for our regular Christmas dinner together with Rocky this coming December.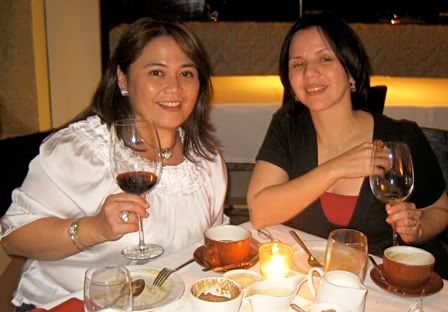 See you soon, Apple. Thanks for the bottle as always, and our best to Rocky and the girls.