Regular readers of my blog know that I frequently drink wines from Manila's resident wine crusader, Jerome Philippon. When it comes to locally/readily available wines from the Loire and relatively lesser-known French wine-producing regions, Jerome's Sommelier Selection is my go-to shop. Not many know that some of the wines that Jerome brings in are from amongst the best makers of their particular appellation. Off the top of my head, I can rattle off quite a few such as,
among others
:
Domaine Tempier - widely recognized as one of the best if not the very best producer of Bandol, Provence, not only for their rosé (which I and many others consider the very best in the world), but also for their reds from top to bottom;


Domaine Michel Redde et Fils - One of the stars of Pouilly-Fumé;


Domaine Bott-Geyl - I really like their wines and, for those who care, Robert Parker ranks Bott-Geyl as an "excellent" producer;


Domaine Champalou - a familiar name for those in the know as regards Vouvray, consistently named as one of the appellation's top producers;


Etc.
This past Tuesday, 20th October 2009, the Stockbroker, J-Lab and I were at Sommelier Selection tasting some whites for possible inclusion in the Stockbroker's soon-to-open wine bar. Naturally, Jerome was with us.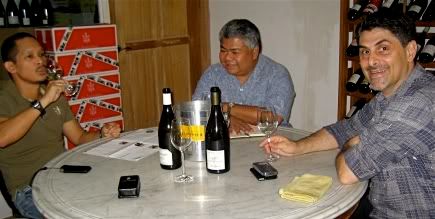 L-R: The Stockbroker, J-Lab and Jerome
These, in no particular order, are my notes on the wines tasted that day: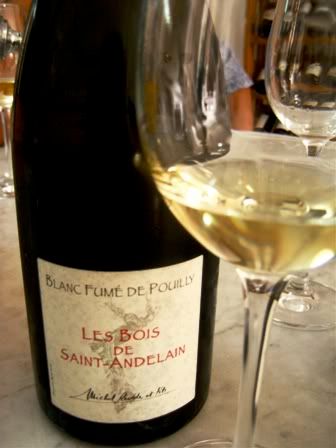 2005 Michel Redde et Fils Blanc Fumé de Pouilly Les Bois de St-Adeline
- J-Lab was already into this when we arrived and mentioned that this wine had an alluring nose. Good thing he did as this reminded me to put myself on tasting mode and get down to business at hand. J-Lab was right. I noted a cool, fresh, floral cologne reminiscent of freshly mown, dewy morning grass, ripe guava, peach and citrus limestone and flinty nuances. These were mirrored on the palate with admirable focus on a taut, firmly structured just-under-medium body. Good wine.
2007 Champalou Vouvray
- I recommended this to the Stockbroker, recalling that an earlier vintage was an absolute hit with my friends at Jerome's 1st France Wine Festival at the Tower Club - especially with the table of Los Golfos where repeated pours were requested. I also recall that this was the first wine to run out that evening and the late Tony Ortigas (God rest his soul) bought some to take home.
The 2007 is very similar to what I recall of the earlier vintage - memorable for its floral aromas of honeydew, quince, white peach and, to me, baby powder. Immediately charming, disarming and likable in its feminine, come-hither soft, curvy, off-dry, slightly honeyed fruit, discreet minerality and acidity. I like the way it playfully lolls mid-mouth and can easily imagine this as an apéritif, for sipping alone or with some mild chèvre.
2008 Château de Villeneuve Saumur Blanc
- Laser-focused, dry, comparatively rather severe and masculine in its minerally very fresh citrus, pomelo, peach pit and straw flavors with bracing acidity. Firmly structured and with commanding presence and strong push, I do not imagine sipping alone - but with the proper food, J-Lab and I agreed it should do well.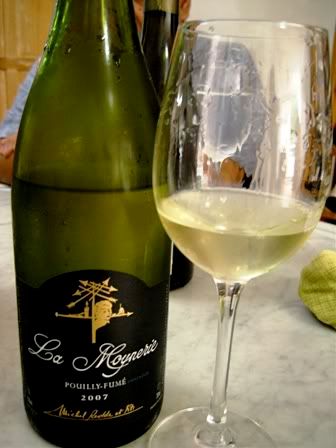 2007 Michel Redde et Fils Pouilly-Fumé La Moynerie
- Back to sauvignon blanc from the far eastern part of the Loire (the Vouvray and Saumur blanc are of chenin blanc, the former from the central Touraine region and the latter not far west of center). La Moynerie is the mid-range offering from this highly regarded producer, and a fine one at that. I've been a fan since I first tried this and their higher-end Cuvée Majorum around 2 years ago. The first time I brought some La Moynerie to my dad's house (an earlier vintage), we had it as an apéritif with some hot baguettes, moderately gamey chèvre and some chorizos - and my dad, brother and his wife (who are not really fond of white wine) went through the bottle really fast.
Fruity yet dry, well-focused/defined, limestone and flint infused white fruit, mild white grapefruit and gooseberry, hints of pear and guava - this displays its terroir cleanly, purely and proudly. Notable brightness, balance and cut. Pouilly-Fumé, along with Sancerre, are my hands-down favorite areas for sauvignon blanc based wines - and this rendition of Redde is a clear example of why.
2005 Domaine Plante d'Or Cour Cheverny Cuvée Salamandre
- J-Lab and I had this before over
lunch at Je Suis Gourmand with Jerome, Keiichi, my wife, her sis and brother-in-law on the 30th July 2009
. I recall J-Lab and I liked this a lot, I had it with the cheese course. My previous notes describe this wine with flavors/scents of
very lightly honeyed quince, citrus, some fresh herbs, limestone with a mouth-watering slight bitterness towards the rear
.
I add now that it has a sweetish florality, cold-stoniness in its pleasantly rounded middle, and an intriguing, faintly waxy feel (vaguely reminiscent of a Rhône blanc marsanne/roussanne blend) on either side of my tongue just past mid-mouth. In addition, it displays praiseworthy complexity and balance in its structure, ripe/rounded fruit, minerality and bright acidity. J-Lab, again, liked it a lot and so did I. Very nice indeed.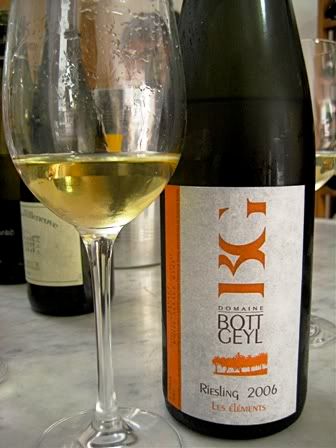 2006 Bott-Geyl Riesling Les Éléments
- The immediately above discussed Cuvée Salamandre was, in my estimation, a tough act to follow, but this wine was well up to the task. I last had this at the
21 August 2008 IWFS Alsace Dinner
I helped organize and noted that this wine was
a good entry-level riesling: lean, dry, straightforward, traditional and food-friendly - but needs more time, in my opinion, to flesh out and put on a bit of weight
.
Well, over a year later, this wine has, indeed, evidently blossomed. Straight from the bottle into glass, it proudly showed off alluring, complex aromas of white flowers (think ilang-ilang and honeysuckle) intricately intertwined with ripe white peach, orange blossom, minerals and goût de pétrole. Incredible improvement; this has turned into a wine I cannot wait to pair with many dishes. Very, very nice. Definitely a new buy for me.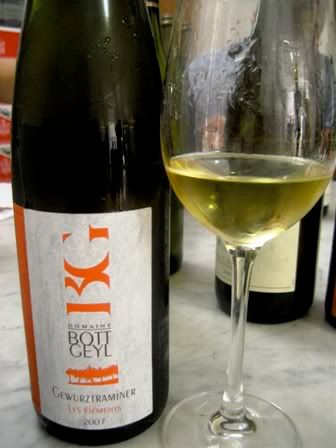 2007 Bott-Geyl Gewürztraminer Les Éléments
- I think this is the first time I have tried the 2007 vintage of this particular wine. Lord knows I loved the 2006 and have gone through quite a number of bottles of it,
my most recent notes on the 2006
being adopted from J-Lab's as:
Bott-Geyl Les Elements Gewurztraminer 2006 - I've enjoyed this wine quite a few times before. Lychee and roses. Quite sweet. Real easy to enjoy. Some people might be turned-off by the sweetness but I think this is excellent.


The 2007, obviously younger, presents the same roses and lychee notes typical of gewürz, but seems brighter, fresher, firmer, more focused and with a touch better acidic lift than its older sibling. It likewise has a nice viscosity and very friendly and pleasing nature. Clearly, this is a good follow up to their 2006 rendition.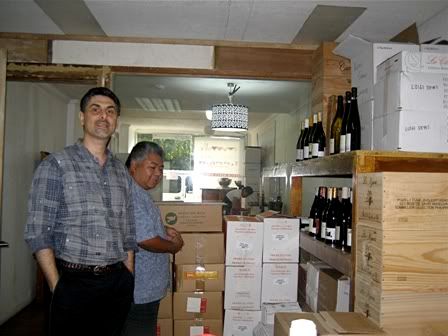 The Stockbroker then had to take his leave to attend to other business while J-Lab, Jerome and I lingered a while longer with some glasses of Château de Roquefort's Cuvée Momentum (the vintage of which now escapes me), a rustic, spicy grenache-dominant Provençal red. Per the Stockbroker, we were to taste the reds another day. Good call, as, after several whites and the nicely ripe and sweetish gewürz, I then found transitioning to reds quite difficult.
Thus, as always, until the next.