Yesterday, 26 October 2009, was a lunch meeting sponsored by
Bacchus International
's Alex Lichaytoo at their offices along Amorsolo. We were 11 in all to discuss the organization and inaugural dinner of the
Commanderie de Bordeaux Philippine Chapter
. I arrived just a little late, catching Alex hard at work with the pasta course while the others were having the salad.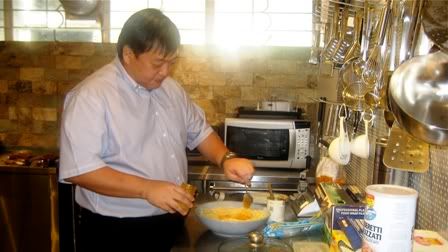 Alex actually made 2 tasty pastas (the sauces available at Bacchus), but, unfortunately, I was so preoccupied eating and tasting, I only got a photo of one of them: with
Salsa Tartufata
.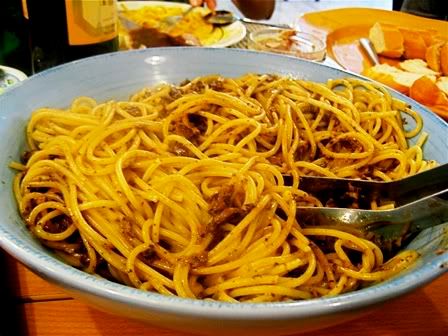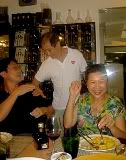 I was not the last to arrive. Bernie Sim made his entrance several minutes after I, toting his wine bag as is usually the case.
With the hot bread, good butter, olive oil, salad and pastas on the table, we were treated to excellently prepared (i.e., nicely crusted outside and rare inside) humongous bone-in rib steaks. The quality of the meat was impeccable: goodly amount of fat, juicy, tender but not mushy and no bothersome sinew or gristle...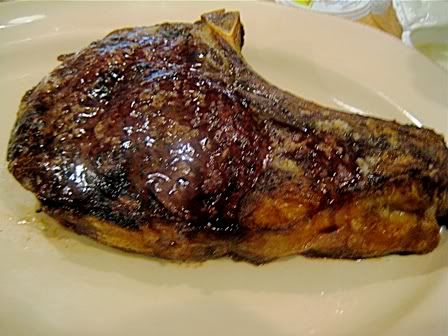 ...a natural accompaniment to the reds on deck: several
petits châteaux
- some currently available at Bacchus, some under consideration for sale.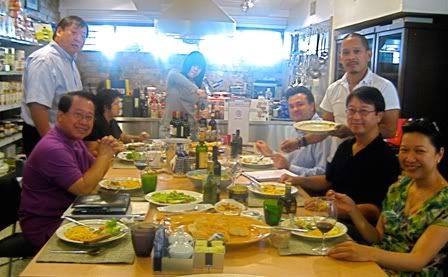 L-R: Dong Puno, Alex, Maja Olivares, Alex's daughter opening the wine (I don't mention the names of children unless expressly allowed by the parents), the Vigneron, the Stockbroker, Keiichi & Christine Miki.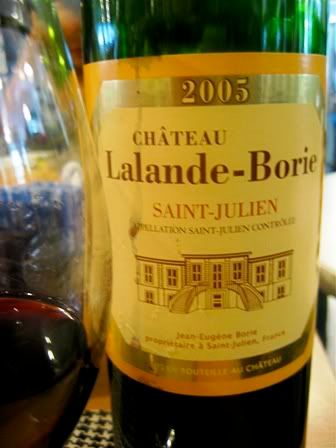 2005 Château Lalande-Borie
- from St-Julien, owned by the Borie family who count Ducru-Beaucaillou (St-Julien) Grand-Puy-Lacoste and Haut-Batailley (both Pauillac), among others, in their impressive roster of Bordeaux wineries. I can find notes of mine on this château's wines only
on their 2000 vintage from late September 2006
, though I'm sure I've had a handful of other vintages from them:
Ch. Lalande-Borie 2000 - Opened two bottles of this the past couple of weeks. A charming, typical, inexpensive (around US$25 excluding tax and shipping in CA) St. Julien, it has good balance, respectable depth of dark fruit and cedar and earthy dark spice profiles to its pleasantly rounded body which borders on the full side of medium. This is a very approachable, friendly wine; one I would recommend for those beginning to explore St. Julien's offerings. Good to go now, but should continue to drink well for another, say, 5-7 years.
The 2005 version is very expressive and open at this point, showing off good typicity in its earthy cassis, cedar, hints of leather/pencil shavings/subtle dried herbs/violets and warm asphalt. Well pronounced middle with a good crescendo. Nice harmony and balance on a body several notches over medium, this finishes with a flourish. Masculine, smooth, with notable stylishness yet food-friendly - I can sip this and eat with it was well. Of the
petits châteaux
served that lunch, I believe this was most everyone's favorite, myself included. I can easily recommend this wine.
Available at Bacchus at P2800 full retail
.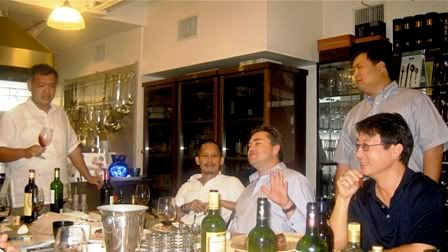 L-R: Clifford Lichaytoo, the Stockbroker, Vigneron, Alex and Keiichi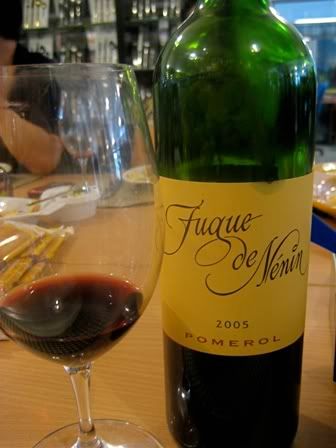 2005 Fugue de Nénin
- from Pomerol, a wine I can only assume because of its name ("fugue" in musical terms, not the befuddled state of consciousness) is the 2nd wine of Château Nénin, curently owned by the Delons of Léoville las Cases. The merlot dominance is very evident in the plummy, cedar, violet nose. Seemingly refined, but seems a bit closed now and needs to gain a bit of weight and drive on the palate. Pleasant, if not particularly distinctive at this point. Dong Puno shared my opinion on this. Would like to try this again before passing definitive judgment.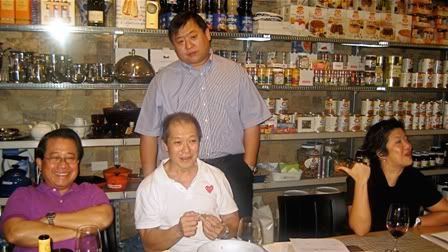 L-R: Dong, Bernie, Alex (standing) and Maja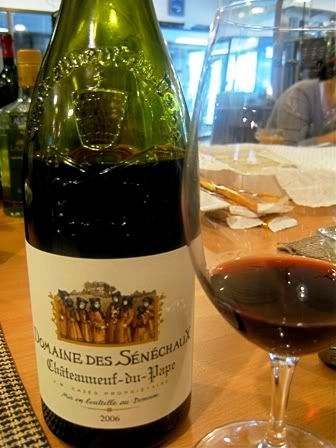 2006 Domaine des Sénéchaux Châteauneuf-du-Pape
- An old and respected name in CDP, now owned by J-M Cazes (known best for his Lynch Bages). I'm not very familiar with recent vintages of the Rhône in general, but quick research shows Jancis Robinson and other respected reviewers speak well of it.
This wine's dominant "grapey" scent shows the dominance of grenache (which, as far as I know, is pretty much the norm of CDP blends), with typical
garrigue
(with thyme and lavender particularly noted) and captivatingly subtle touches of animal (the mourvèdre more than likely) and truffle complexing the moderately spiced fruit. What made me really like this wine were its admirable harmony and balance - not overly hot/alcoholic, exceedingly-ripe and blatantly fruit-forward as many more modernly-styled ones are.
This is smoothly refined, proper and has a classic cut to it. Definitely this is a style I like and prefer. The first few sniffs and sips brought roast venison to mind.
Available at Bacchus at around P2600 more or less
.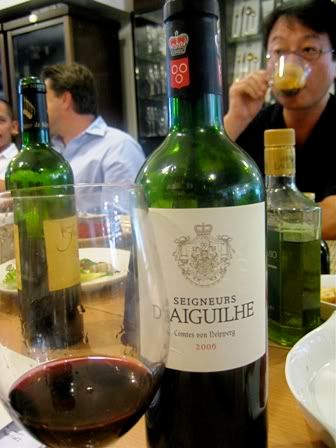 2006 Seigneurs d'Aiguilhe
- the second wine of Château d'Aiguilhe in the Côtes de Castillon. Honestly, though I am an admitted fan of Comte von Niepperg's wines in general (
especially
his Canon la Gaffelière), his d'Aiguille is not a favorite of mine, though some of the Usual Suspects (e.g., Johnny R.) deem it a very good QPR (quality-price-ratio) wine. This 2nd wine, to me, though easily quaffed and charming enough in its barely medium plummy, cherry/raspberry as a casual sip, is not of much interest. That said, it would be more than acceptable as a casual red for sipping and for large parties.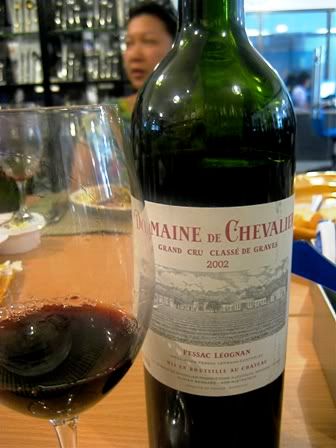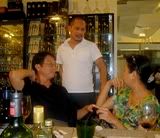 2002 Château Domaine de Chevalier
- Bernie's bottle, not a petit château, but a low-key yet, to my mind, excellent Pessac-Léognan producer in the classic style, their '96 vintage of which I have enjoyed many bottles of (the one I entered in an IWFS Blind Tasting of vintage '96 won 1st place). Though '02 is generally a cooly-regarded vintage, especially for those obsessed with sweeping vintage pronouncements of professional reviewers, this wine is, to me, very good in itself.
Typical Domaine de Chevalier, expressive of
terroir
in its over-medium body and dried herb infused (notably rosemary) in its gravelly, "tar" touched, cassis, cherry, cedar and violets. Not as refined as the much more mature '96, but time will likely make it come together (the rosemary and wood jut out a little bit) and smoothen out even more in a few years. Definite typicity in this. Good show. Even in an off-vintage, Domaine de Chevalier undoubtedly delivered.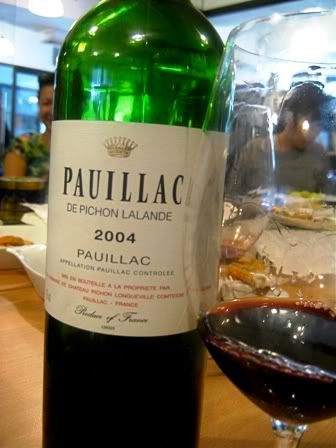 2004 Pauillac de Pichon Lalande
- Alex told me this is the 3rd wine of Pichon Lalande - their version of a basic Pauillac. It shows some of the characteristics of its
terroir
, granted (bit of pencil shavings, cedar, dark fruit, cassis), but on a relatively light frame, the fruit of which (as also noted by Alex) is somewhat submerged and thin, putting into question its ability to age for 3-5 years more. That said, when the wine is "worked' in the mouth with a bit of air sucked in, the fruit does emerge more and flesh out a bit. Not bad, but not very interesting. Alex opined, and I agree, that the 2005 would most likely be in better balance and could hold a better and longer plateau.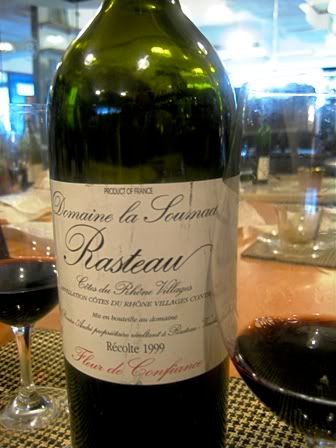 1999 Domaine la Soumade Rasteau Côtes du Rhône Villages Fleur de Confiance
- Bernie's bottle. Let me begin by saying that this is a wine highly rated by Parker (annointed with no less than 94 points, I understand). Let me add that I am a fan of Domaine la Soumade's
vin doux naturel
- a style they do very well. This is a wine high in alcohol and jammy in its ultra-ripe, forward, somewhat candied fruit, viscous/hefty mouthfeel. There is great depth to the fruit (very old vines likely) and a good level of complexity as well. Those who like this style of wine (I suspect those who like big, bold shiraz will take very easily to this wine) will surely enjoy it. It's not my type of wine, but that's just me.
We wound down with espressos expertly pulled by Alex out of his formidable machine...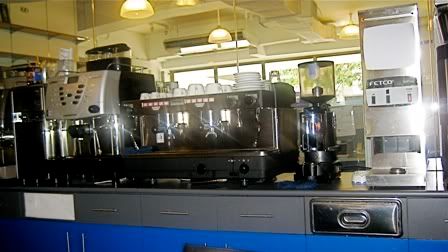 ...with bites of some sugary confections.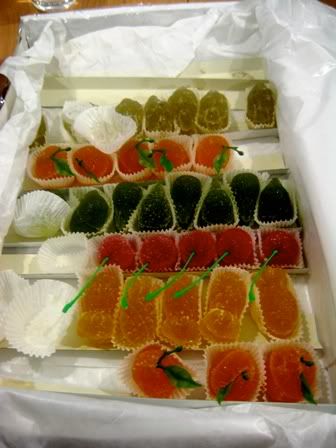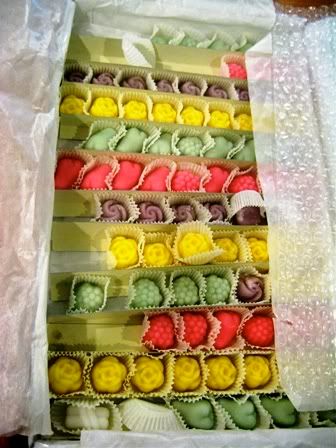 Great lunch and tasting - what a nice way to have a meeting (yes, work was actually accomplished between bites and sips). Thanks, Alex, for generously hosting.