Last night, 2nd October 2009, was the Manila Gentlemen's Club (MGC) Japanese dinner at
Toki
in the Fort. Being current MGC wine master and
de facto
food master, I wanted the fellows to get to try the menu I so enjoyed at
the Ordre Mondial des Gourmets Dégustateurs Kaiseki Dinner
last 28th July, and, so, requested ever-efficient Toki Manager, Kawasaki-san, to serve us the same menu and do the sake pairings for us - the only changes were that the Japanese wagyu steak portions were double-full orders (except mine which was only one full order) and two of the sakes were different. I also chose two wines for the meal.
Unfortunately, though 6 had confirmed attendance for the dinner, due to typhoon Parma (a.k.a., "Pepeng"), 3 backed out at the last minute, leaving the intrepid (or reckless) 3: John Harvey, Richard Everingham (who flew in from China for this dinner) and myself, to enjoy the evening's exemplary Japanese cuisine.
Rather than kick things off with the traditional bottles of champagne, we began with something different for a change.
Gekkeikan Zipang Junmai Sparkling Sake
- I had earlier reserved the last 2 bottles in stock of this slightly sweetish, 7% abv, naturally carbonated sake. The froth is very light, somewhat creamy and the flavors call to mind a light, discreetly-fruited ale with a rice-wine flavor.
Tough to describe the flavors more than that. It was very refreshing and easy to drink, and an interesting change, in the spirit of the evening's theme. A pleasant novelty, but nothing I'd take seriously in itself. Good to try out, though, since I was too smashed at the OMGD kaiseki dinner to drink this when served at the end of the meal.
The appetizer course was
Deep-fried Octopus and Shrimp, Braised Pork, Kiriboshi Daikon, Steamed Chicken with Sesame Sauce & Grilled Eel, Cucumber, Seaweed with Jelly Vinegar
which
we enjoyed with:
2007 Laxas Albariño
- I've written many times about this crisp, dry, peach, citrus and whitely floral albariño from Rías Baixas, Galicia, and how well it pairs with seafood. Because of its good fruit and middle, it also paired nicely enough with the braised pork and steamed chicken portions. Though a bit over-chilled initially, it warmed up soon enough in the glass and I kept the bottle out of the ice bucket thereafter. I mentioned to John and Richard that this wine won conclusively in our past
locally available Albariño Challenge
.
Next was one of my favorites at the OMGD Kaiseki Dinner:
Crab Chawanmushi Soup
which we had with a chilled, slightly sweetish sake as I recalled Arnie's pairing at the previous dinner.
Kikuhime Yamahai Junmai
- from the Ishikawa Prefecture, "Kikuhime" is the name of the brewer-producer, "Junmai", according to my brother, means "pure rice". I have seen this sake referred to in English as "Chrysanthemum Princess". I'm no sake expert, but this seemed a lot fuller and broader than most sakes I've had in the past, with a discreetly deeper flavor and distinct savory, raciness to it - which allowed it to stand up to the creamy tofu and crab soup well, and its cool, slight sweetish rice notes lent a nice contrast to the crab and sea-brine flavors.
Richard noted citrusy flavors while John identified an intriguing slight chocolate/cocoa flavor. After trying it again myself, I agreed with them both, the citrus notes come in at attack to mid-palate, where underlying unsweetened chocolate/cocoa quietly emerge, proceeds to the back and lingers at the finish.
The sashimi course followed,
Shimaaji, Hamachi, Shake, Maguro and Uni
, paired with a warm sake called...
Kenbishi Kuromatsu Junmai
- from Hyogo, another pure rice sake, totally hand-crafted, from an old, traditional and enigmatic (no tours or visitors allowed) producer, Kenbishi Sake Brewery, which, according to Kawasaki-san, is very famous in Japan.
Nicely complex, very entertaining and enjoyable. This was my favorite sake of the evening without a doubt. I switched back to the
2007 Laxas Albariño
for the Japanese fusion seafood course of
Prawn, Oyster, Squid, Toro Cutlet with Ikura Tartar & Tomato Sauce
.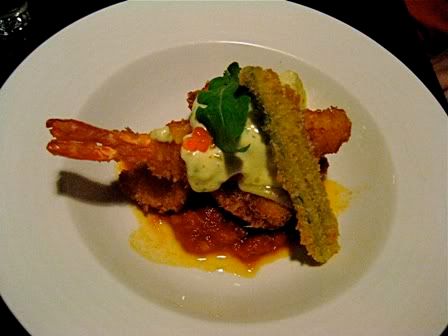 Richard thought the dish a bit too busy, though pleasant enough. I figured the creamy western Tartar and thickish tomato sauces underneath were a bit difficult to switch to after the clean, fresh flavors of the sashimi. Still and all, in itself, it is a good dish, one I wouldn't hesitate to order during lunch. The Laxas Albariño, which had warmed up by then, releasing more roundness and dry, fruity heft mid-mouth, was an excellent match, cutting the Tartar sauce and brightening the fried, breaded seafood flavors.
The main course of
Wagyu Rump Steak with Salad
then made its way to the table. The steak is the real deal wagyu - not from the US or a local version from down south - but imported from Japan, extremely tender, juicy, rich and with a nice savory-buttery-sweetness to its beef flavor. An
excellent
dish, which I paired with...
2005 Alvaro Palacios Priorat "Les Terrasses"
- Purchased from and well-recommended by the venerable JC de Terry and J-Lab as well. I chose this since I noted that some of the guys tend to favor Priorats with
chuletón
. I followed J-Labs advice and decanted this at least an hour before serving.
This, from attack to finish, to me, seemed a very precisely crafted and harmonious wine. At the cusp of full-bodiedness (I'd call it a trim, neatly packed light-heavyweight), everything is in its proper place: clean, well-ripened, dark fruit (blackberry, minor black cherry and raspberry) finely laced with dark minerality and faintest whispers of pepper and licorice. Its firm structure and confidence are noteworthy, its wood impeccably integrated with its 14.5% abv not at all intrusive.
Apparently, I was not the only one enjoying this wine so much, amongst the 3 of us, we easily polished off 3 bottles of this and wiped our plates clean of the wagyu beef. In Latin legalese, we call this
res ipsa loquitur
- the thing speaks for itself. The three empty bottles constituted proof positive of this wine's quality, and the empty plates (two of them double full orders, mind you) a ringing testament to the beef's goodness.
At the 2005 Alavaro Palacios Priorat Les Terrasses' price of approximately P1900/bottle at Terry Selection, it's a definite, no-brainer buy for me. Highly recommended.
So generous, rich and filling was the steak, we were
almost
dismayed to learn that there were yet two dishes coming, but we finished them off anyway. We were given a choice of hot or cold noodles, John and went for the cold udon, Richard wisely chose the hot ramen, while I opted for the
Cold Ramen
. On hindsight, I should have followed Richard's lead since it was a cool, rainy night. I liked my ramen though and finished my serving.
Dessert was probably the only
Green Tea Ice Cream
I have ever actually, genuinely liked. The cylindrical dark chocolate cookie and sliced strawberry added nice touches and kept the ice cream interesting.
An excellent meal as a whole: the food, sakes, wines and, of course, company, made for a great evening. Special mention must be made to the service - it was absolutely perfect, our waitresses were polite, efficient, very pleasant, friendly without being familiar and extremely attentive. They are a credit to Kawasaki-san and Toki itself. Many thanks.
We then moved over to Aubergine across the hall for nightcaps and a few Cohiba Minis (cigarritos) where we were joined by Jessica, Richard's significant other. I recall I had an Irish Coffee while John had some Jameson Irish Whiskey. I can't imagine a nicer way to spend a rainy night. Until the next.