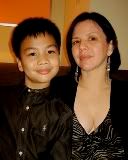 My youngest son's 10th birthday is coming up tomorrow, but, since it will be a school night, we took him out to dinner Saturday night, the 24th October 2009. He chose
Je Suis Gourmand
and requested chocolate lava cake for dessert. It's not on the menu, but Chef Marc Aubry assured us way beforehand that would be no problem. We were just six in all: my wife, our 3 boys, a nephew and I. As luck would have it, Marc also informed me ahead of time that he'd have available some
moules de bouchot
, a favorite of ours and the children's as well.
Moules de Bouchot
are small, particularly tender, juicy French mussels , the flavors of which are incredibly clean, pure, delicate and distinctive. They are raised by means of a centuries-old technique that includes the use of mostly old oak (and sometimes chestnut) poles to which the mussels cling, elevated and protected from predators (such as crabs) by a skirt below. Moules de Bouchot are unlike any other and are always a treat. The moules we had last night were prepared in the traditional manner - in a white wine sauce with bay leaves and some finely chopped celery, onions and a tiny bit of carrots - and served with frites.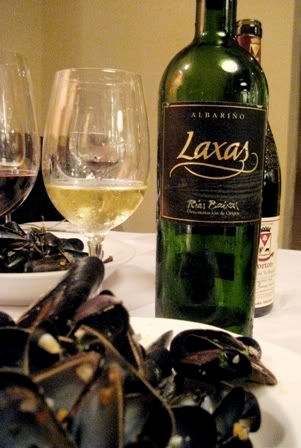 I had to have this with some
2007 Laxas Albariño
naturally - a wonderfuly crisp, dry, nervy, tense, minerally, yet still fruity wine from Rías Baixas (Galicia, Spain). I've written several times that albariños are traditionally and perfectly paired with shellfish and other seafood dishes. I've also written that the 2007 Laxas Albariño won hands-down in an
all-locally-available-albariño taste-off
that Miguel and I organized at La Tienda a few months ago. The pairing was, of course, excellent and natural.
Naturally, we also had for appetizers old favorites by Marc that the children simply cannot do without:
escargots à la bourguignonne
,
os à moelle
(roasted bone marrow),
terrine of foie gras
and
portobello mushrooms with oeuf cocotte
.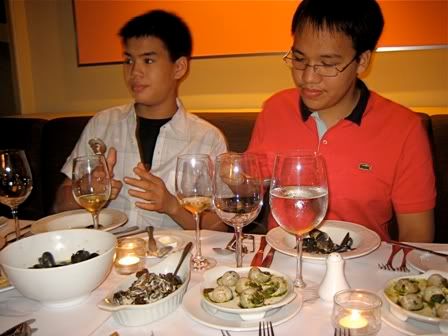 The celebrant dug a little too quickly into his escargots and was reminded the hard way that these are served very hot. I told him to drink some cold water but, intrepid little diner that he is, he refused claiming that would waste the flavors of his favorite snails.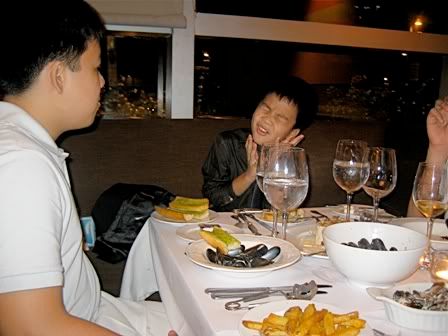 We had various main courses, mostly seafood as Marc has special seafood dishes out these days (but for a limited time).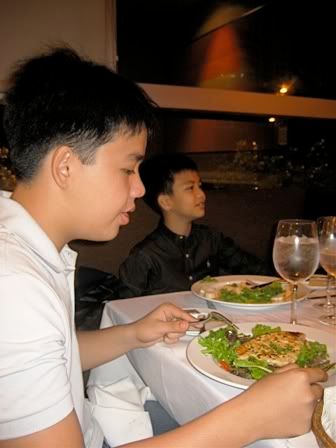 My 2nd son with his Grilled Swordfish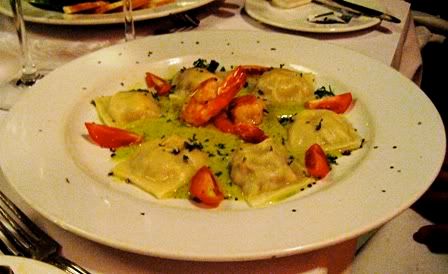 My nephew's dish of Ravioli with Prawns and Mushrooms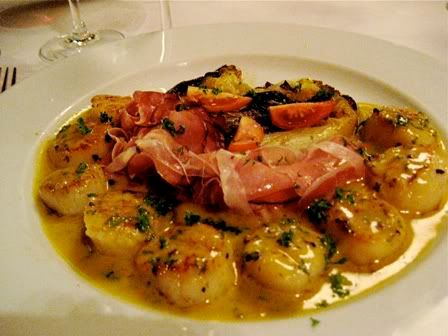 My wife's dish of Seared Scallops with Proscuitto
Me? Because I've been craving some steak ever since reading
Miguel's blog post on his most recent chuletón in Barcelona
, I had a traditional dish of
Steak Frites
- an excellent, tender and juicy rare rib-eye with thin, crispy fries - paired with...
2001 Domaine Bertrand Ambroise Corton Grand Cru "Le Rognet"
- A gift from Apple and Rocky, one recommended to her by her French wine consultant in Hillsborough, CA that she wants my honest opinion on. I didn't decant this, opting to leave the bottle open for over an hour and letting some air in my glass in the meantime until my main course arrived.
I made mental notes of this wine as I ate: Aromas were of mildly smoke, cigar ash and licorice infused dark fruit over deep raspberry, cherry, violets,
sous bois
, cedar, pine. A clearly rustic red Burg this, robust, bold on the palate, mirroring its aromas on a rigid structure. Balance was decent enough but could be better - there is a slight raggedness around the edges as well. Perhaps this will round off and come together more with added bottle age - the structure, tannins and depth of fruit of which can surely carry the wine through for many more years. Many thanks, Apple and Rocky, for the oportunity to test this wine out.
I have to mention, since it made me so proud, that when I handed my glass to my eldest son and asked him what he smells - after a few sniffs, he said "I can't really describe it well, but it smells like a forest". Loved it that he detected the
sous bois
notes. Note that I didn't express my analysis of the wine to anyone beforehand.
~ oOo ~
Some friends were there, Alex Tiu and significant other (I realize now I forgot to take a photo of them), the Vigneron family...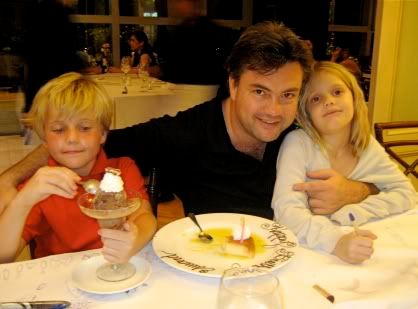 ...and Uncle David and family.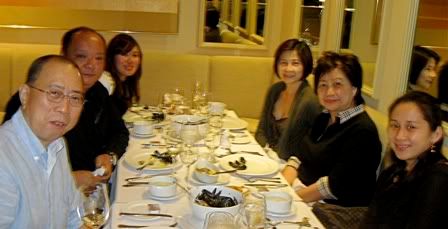 Uncle David, aside from enjoying a bottle of
2004 Château Siran
from the Vigneron's family estate in Margaux, sent my wife, Marc and I pours of...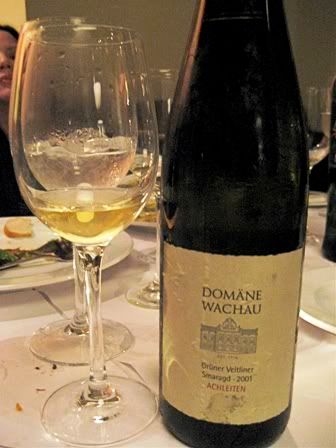 2001 Domäne Wachau Grüner Veltliner Smaragd Achleiten
- I've had minimal exposure to the whites of Austria, what little I know coming from brief conversations with fellow IWFS member, Othmar Ober, whom I look to for information about all Austrian wine and food matters. I also imported around a dozen different grüner veltliners a few years ago to try and get a little feel for the wines (from Wachau, Kamptal and Neusiedlersee-Hügelland).
Since Othmar is currently out of the country, I didn't want to bother him with my questions so I had to surf the web for information on this winery. It turns out that this is a relatively new producer, a cooperative of around 600 members formerly known as Freie Weingartner, currently run by Roman Horvath and enologist Heinz Frischengruber. The vineyard area of this cooperative is approximately 420 hectares. As far as I can tell, "Smaragd" is the highest quality category of late harvested grapes (before the onset of rot) in the
Vinea Wachau Nobilis Districtus
, the appellation protection association of the Wachau. The word "Achleiten" indicates a single vineyard wine from the Weißenkirchner Achleiten vineyards.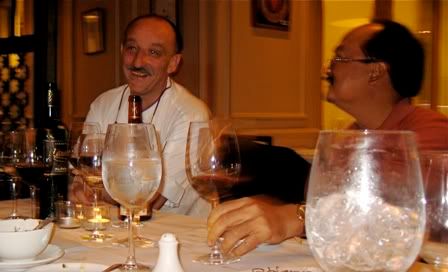 Marc noted scents of anise in what I see as a wine with discreetly honeyed and spiced Mexican mango, peach and pear. No overt green pea, slightly grassy or white pepper notes I've picked up in the drier grüner veltliners I've had in the past. Nicely rounded and plump mid-mouth. Interesting wine.
I believe Uncle David mentioned this is available at Kit Schroder's Lemuria
, but I was too polite to ask how much it cost. My wife liked this a lot.
2005 Domaine Ostertag Les Vieilles Vignes de Sylvaner
- Old vine sylvaner from an excellent Alsace producer heavily and long favored by Bernie Sim (he introduced me to Ostertag's wines several years ago). Interesting bit of trivia: the sylvaner of Alsace was originally brought in from Austria some 200 years ago.
I've always found sylvaner wines charming at best in their dry, low in acid, faintly floral, fruity (think a mixture of mildly tropical pear, apple and lemon/lime citrus). There is a submerged, subtle minerality as well, but this is clearly fruit driven. This, because, I suppose, it comes from older vines (the only V.V. sylvaner I've ever tried to my recollection), had comparatively more heft, ripeness, depth, concentration and length than all other sylvaners I've had. Nice, pleasing and approachable, albeit not particularly captivating.
~ oOo ~
Dessert was, naturally, the requested
Chocolate Lava Cake with a choice of Chocolate and Vanilla Sauce
which we all had an order of, as well as a complementary one from Marc . The children utterly destroyed them within seconds.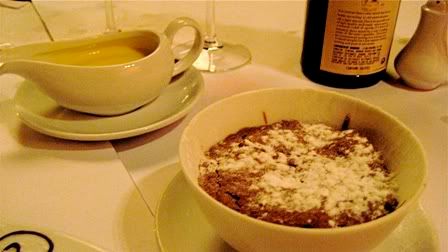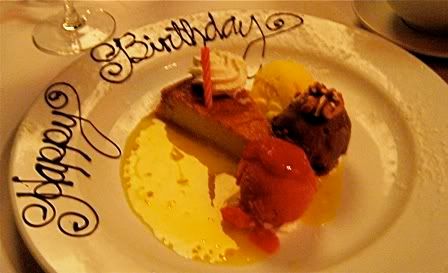 Many thanks, Marc, for yet again preparing such a wonderful and enjoyable dinner for us. And to the celebrant, happy birthday in advance!