Dinner on the 28th October 2009 was another
Wines & Spirits Club Philippines (WSCP)
event at Chef-Restaurateur-Educator Gene Gonzalez's
Café Ysabel
, downstairs, where the former "Lasap" used to be located (I miss their tapang usa, sizzling kwaket, etc.), and where Gene's new, brick, wood-fire oven is situated. This event, I believe, arose from a thread in the
WSCP website
about favorite pizza places. Some of us asked Arnie to convince Gene to hold a pizza and wine dinner for the club's next event using the latter's new "toy", and Gene graciously consented.
The Menu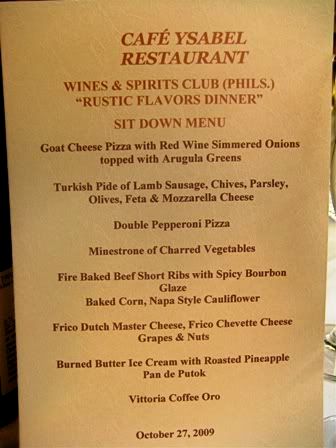 The Tables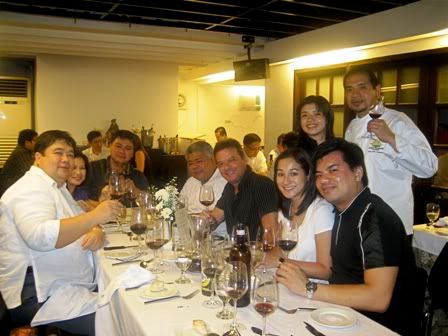 Clockwise from left: Arnie & Helen del Rosario, former batchmate Dr. Dicky Boncan, Usual Suspects J-Lab & Johnny R, China Cojuangco, Gino Gonzalez; Standing: Giannina and Gene Gonzalez.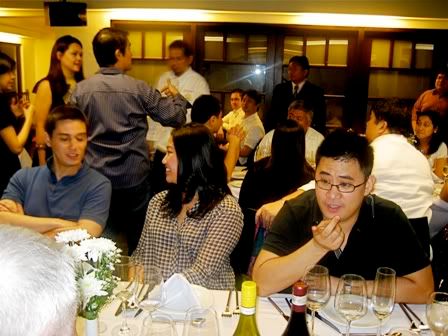 L-R: Newlyweds Matt & Chinkee Koppe with WSCP patron Aaron Palileo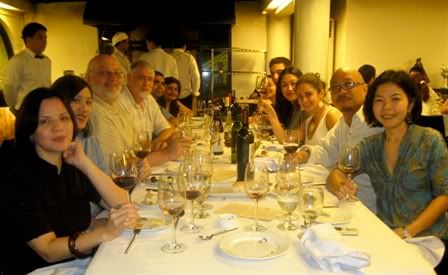 Clockwise from left: my wife Catha, Joan Palileo, Bob Houldsworth, Bill Stone, party of Matt & Chinkee, Ines Cabarrus, my brother Tad and my sis-in-law Hisako.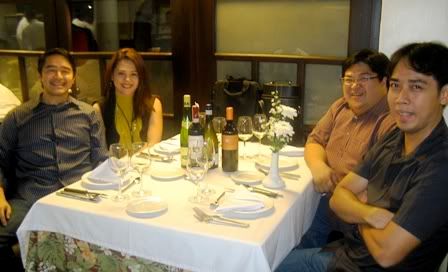 Clockwise from left: The spouses Clavano with Decanter partners, Bodjie and Jay-jay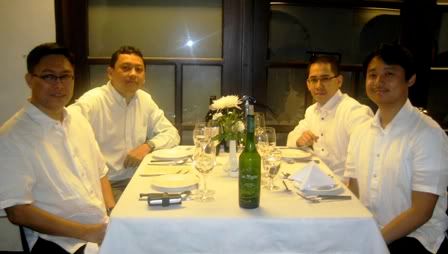 Fellow lawyer Nico Padilla (left, sans "kumander" this time), with his table of legal eagles.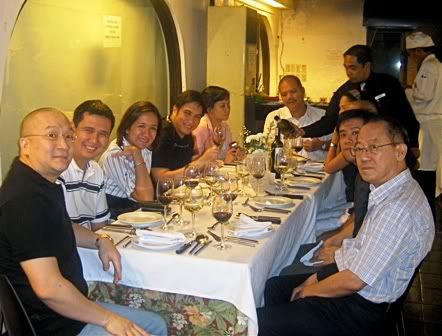 Nelson Uy (left) and party, with spouses-Drs. Dualan, my former batchmate/neighbor/fellow lawyer Perry Consunji, and the spouses Villarica (unfortunately hidden from view).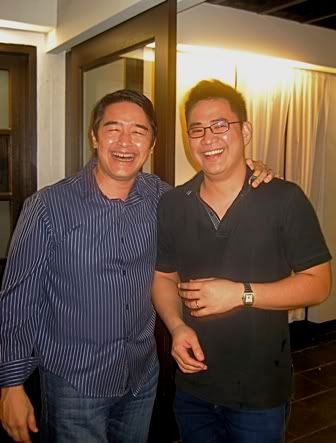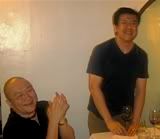 As regards wine, it was a bring-your-own-bottles event. This format I always enjoy, not only because I can control what wines I drink and pair with the food, but also because it is fun sharing with and tasting from everyone else. It just sets such a convivial mood to the whole evening. Gene also makes it a point to introduce new members and guests to everyone. The IWFS does this as well, a practise I think all clubs should follow to make everyone feel welcome.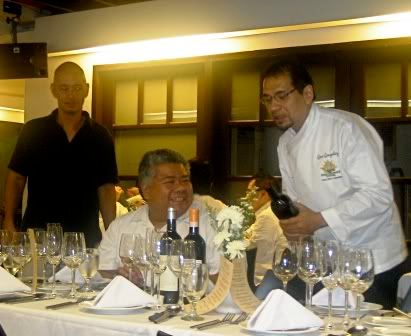 L-R: Marty, J-Lab and Gene
The Food & Wine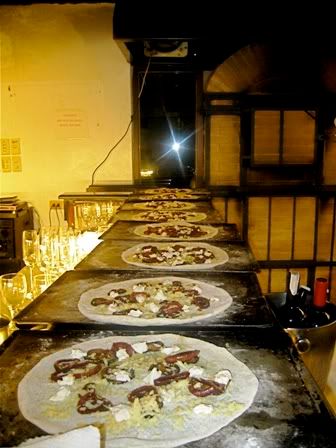 Goat Cheese Pizza with Red Wine Simmered Onions Topped with Arugula, lined up and ready for the wood-fired brick oven.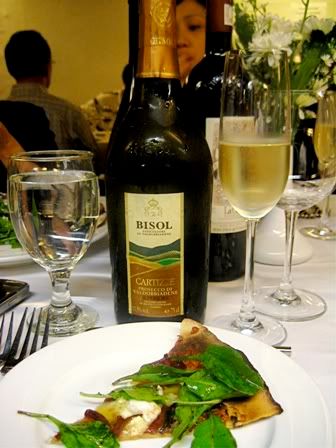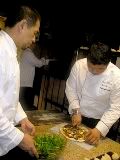 Bisol Prosecco Cartizze di Valdobbiadene NV - My bottle. As the name indicates, this is a non-vintage spumante made from 100% prosecco grapes grown in a particular hilly zone in the hamlet of Cartizze (wherein Bisol owns 3 hectares of vineyards) in the Valdobbiadene commune of Veneto's province of Treviso, northeastern Italy. Bisol is an ancient producer of the area, credited by many to have put prosecco on the world's map.

Fresh, pure nose of small white flowers, white fruit, apple, citrus, hints of peach and white grapefruit mirrored in the mouth softly/pillowy, somewhat creamy middle. There is just a whisper of sweetness in this prosecco, but, in the flowery finish, I could just get a slight hint of the appetizing bitterness of drier bottlings which went hand-in-hand with the arugula in particular; while the dryish, creamy fruitiness gave nice counterpoint to the gamey feta. Purchased at Bacchus for around P2300 full retail.


Turkish Pride of Lamb Sausage, Chives, Parsely, Olives, Feta and Mozarella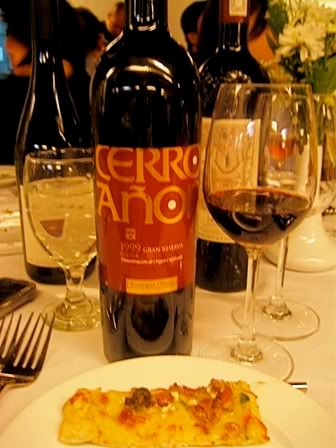 1999 Bodegas Olarra Cerro Añon Rioja Gran Reserva
- Hisako's bottle. I've had this at least twice in the past few months (
July
and
September
) and so unhesitatingly recommended it to Chako. My previous notes were:
1999 Olarra Cerro Anon Gran Reserva - Johnny's bottle. I had this on the
2nd July 2009
during another dinner by JC. My notes at the time, which I find pretty consistent, are as follows:

"Pure and clean, showing off its sturdy structure and well focused, mildly spicy, dominant cherry and strawberry notes with style and panache. Underneath, there is some dark fruit and the wine is highlighted by nuances of violets and a bit of cedar. This is much brighter in character than the 2001 Reserva and lighter as well, but with much nimbler feet, much better in purity and infinitely better integrated wood. It dances on the palate. Very nice indeed, with comforting typicity to boot. Though with undoubtedly firm structure, the wine's light touch did not overpower the scallops, the fricasée of spring vegetables lending a bit of earthiness and body to the shellfish which helped the pairing work as well with the next, slightly heftier seafood dish of Olive Oil Poached Bacalao with Vierge Sauce."

Comparatively leaner, edgier, more vibrant fruit and with good focus. I, personally, like this style. This projects itself very youthfully, but already very enjoyable. Available at Terry Selection at around P1800/bottle, more or less.
Last night, the wine was open, warming, comfortable, clean and most expressive of Rioja (there was notable, underlying leather to the pure fruit). I was exhaling cedar and violets at the finish. Excellent bottle. Aaron, Jo, Catha, Tad, Chako and I really enjoyed it. Again, very highly recommended, especially at its reasonable price. Great match with the lamb sausage flavors as any right and proper Rioja tinto should be. Excellent value for money.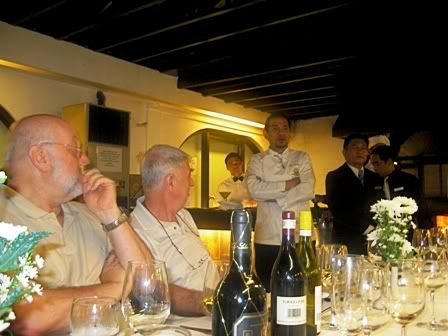 Bob and Bill listen intently to Gene's brief spiel.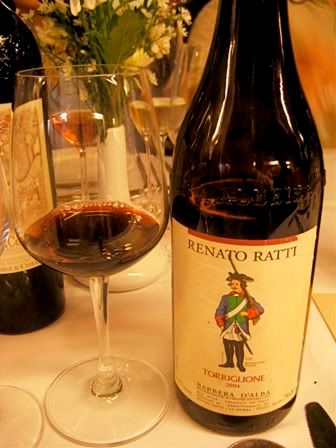 2004 Renato Ratti Torriglione Barbera d'Alba
- Bill's or Bob's bottle, 100% barbera grapes from the producer's south-eastern exposed Torriglione vineyards in La Morra, in the Barbera d'Alba DOC of Italy's Piedmonte wine region. A somewhat lighter, more easily approachable style of barbera (
nb
: Barbera d'Albas are generally viewed as lighter than Barbera d'Astis). Soft, earthy, ripe black cherry over slightly dried fruit/plum, a tiny bit of tar and violets and cedar thrown in, somber in character, medium-bodied, slight minerality underneath, apparent but rounded tannins, adequate acidity, fair enough balance. Bit of leather surfaces mid-mouth, cherries turn very slightly tartish at the finish. A bit rustic, very approachable and easy to drink. This is a food friendly wine.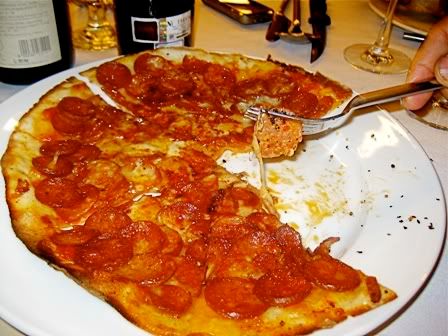 Double Pepperoni Pizza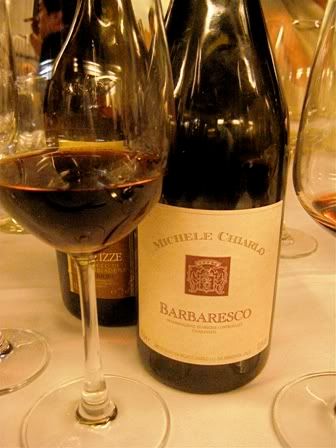 2001 Michele Chiarlo Barbaresco
- My bottle. This is Chiarlo's basic Barbaresco bottling (nebbiolo grapes from Barbaresco in Piedmont). Black cherry, black olives, bit of tar, tobacco, violets and some cedary, dry woodiness towards the back (but not bothersome). Barely over medium-bodied, somewhat linear in mouthfeel, decent complexity, firmly structured, good acidity. Finishes with a flourish of cherry, violets and cedar. Undoubtedly pleasing, if not particularly memorable. Another food friendly wine. I recall J-Lab, Johnny and Greg liked this too.
Available at Bacchus for a mere P2000 at full retail
.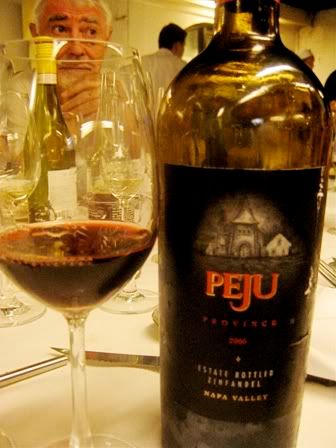 2005 Peju Province Estate Bottled Zinfandel
- Chinkee's bottle, from Napa Valley. At the outset, I must confess that I have very little experience with zinfandels. The wine was sitting in my glass for a few minutes, and, when I sniffed it (without swirling) there was a curious, gamey (but not unpleasant), somewhat animal smell over sweet, minerally dark fruit. Not knowing if this is natural or typical to zinfandels, I passed the glass to J-Lab who swirled and sniffed - and passed it to Johnny R who did the same, then to Arnie, then to Gene. Nobody detected the gamey/animal scent I picked up (most all detected cola, licorice, coffee, minerals, sarsaparilla, clove, etc.).
By the time my glass circled back to me, I sniffed and all the game/animal had disappeared (swirled away, most likely - I have a habit of not swirling or barely/gently swirling because of drinking older French wines) - what was left to me were the sweet, jammy, spicy, minerally, somewhat syrupy, viscous fruit, oak and licorice. Interesting and pleasant enough; I'm not really into zins, but this was ok.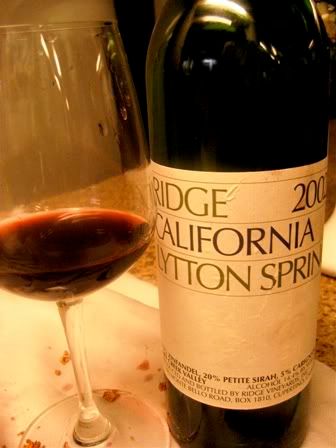 2002 Ridge California Lytton Spring
- Arnie's bottle, one he brought home from a wine trip in the US. Smooth, rounded, sleek on the palate,
slightly
jammy/spicy brambly blackberrries, raspberries, very soft dark fruit underbelly, sweetish. I noted a high 14+% abv on the label, but there didn't seem to be any heat in the nose or palate - in any event, the wine came off quite mature and carried its alcohol admirably well. Nice, I'm surprised I liked it as this is primarily zinfandel per Arnie. My wife liked it and asked for more. Arnie obliged. Thanks, Arnie.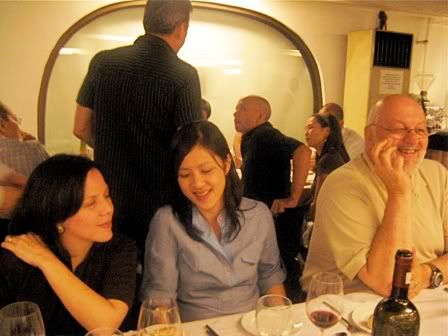 Catha, Jo and Bob awaiting the main course.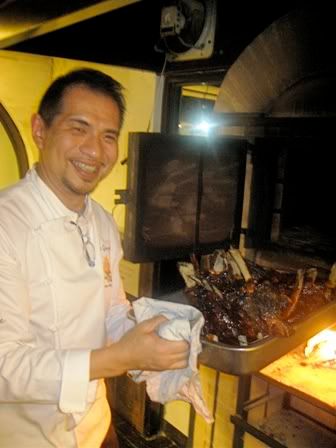 Shortly after the
Minestrone of Charred Vegetables
(I forgot to take a photo of it), Gene brought out the lip-smackingly juicy and delectably tender, dinosaur-sized
Fire-Baked Beef Shortribs with Spicy Bourbon Glaze with Baked Corn and Napa Style Cauliflower
. I specifically asked for a small but fatty portion and simply loved how it just melted in my mouth. With this hearty dish I enjoyed: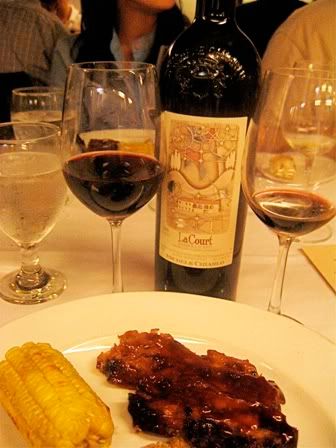 1999 Michele Chiarlo Barbera d'Asti Nizza La Court
- My bottle. I've gone through several bottles of this very good barbera d'Asti ever since Alex Lichaytoo recommended it to me and I first tried it at the
Stockbroker's impromptu Italian wine lunch at Premium Wine Exchange (9th June 2009)
. My notes then still hold true,
but
, with added mild underlying tar, chocolate and well-integrated oak/vanilla: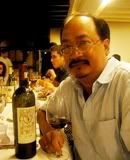 From Piedmont's Barbera region of Asti, this wine is made up wholly of barbera grapes from the same-named, 6 hectare, south-west exposure single vineyard "La Court". Largely over-shadowed by the more famous Piedmontese nebbiolo-based wines, Barolo and Barbaresco, Barberas receive comparatively little press. Considering the subject wine, however, this lack of attention is undeserved and, perforce, lamentable.The complex bouquet recalls dark fruit compote, dried cherry, kirsch, violets and cedar. Its medium body presents mature, soft, velvety dark cherry, violets, a light touch of dried herbs (lavender? thyme?) and hints of balsamico and leather in the underlying black fruit. The finish was moderate and precise; the tannins soft and smooth.
At only around P2250 full retail at Bacchus, I think this is a very good bargain
.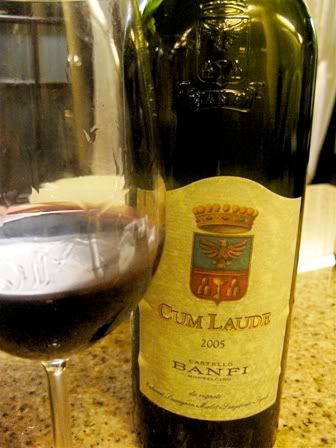 2005 Castello Banfi Cum Laude
- Ines' bottle. Like the 2000/2001 Banfi Chianti Classico Riserva, 1999 Castello Banfi Poggio Alle Mura Brunello di Montalcino and 2001 Summus I've had in the past, among other Banfi wines, this wine reflects a plushly, indulgently modern style of Italian wine.
There is a bit of heat in the aromas of green pepper, cassis, blackberries, some cherry, raspberry, plum, mocha, mildly toasty oak, bit of leather, anise and violets. The oak is quite apparent, extraction and concentration high, fruit very ripe and soft, acid low as with the other Banfi lines I've had. Though pleasing enough on the palate and easy to drink, this is a very curious, modern wine in that it is something that will surely stump me (as non-traditional blends tend to) if served blind as I cannot really get a sense of place from it. That said, it's still very young - perhaps a sense of place will emerge in years to come. In any event, I've been curious about this wine and welcomed a chance to try it out.
The
Cheese Course of Frico Dutch Master Cheese, Frico Chevette Cheese with Grapes, Dried Fruits and Nuts
was served which I had with...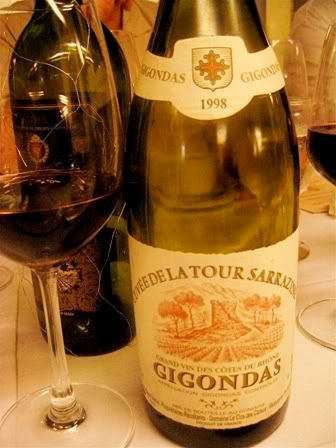 1998 Domaine Le Clos des Cazaux Gigondas Cuvée de La Tour Sarrazine
- Bill's bottle. Smells like it's primarily made of grenache. Deeply-veined fruit flavors suggest old vines. There are peppery notes in the red berry and cassis which make me think syrah. Faint suggestions of
garrigue
and whispers of leather and meatiness. A bit of separation of flavors and raggedness at the finish, but, to me, it adds to the amiable air of rusticity and tradition of this wine. Liked it. Mature. Nice.
Thereafter dessert of Burned Butter Ice Cream with Roasted Pineapple and Pan de Putok was served...


...and, thereafter, the kitchen staff came out to be acknowledged and thanked with a round of applause.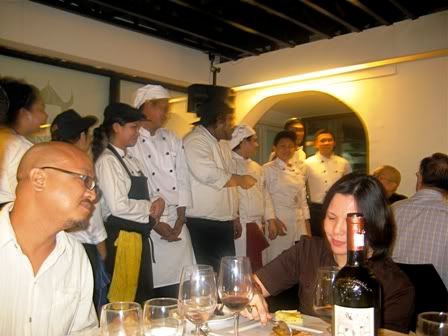 Cups of
Vittoria Coffee Oro
then followed, perking me up for the long drive home. It was a most enjoyable evening with family and friends, lots of laughs over good food and wine. Doesn't get much better than that. Congratulations to Gene, crew and WSCP, and, as always, I look forward to the next.