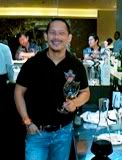 Monday, the 28th December 2009, was dinner with the Usual Suspects at
Masseto
- organized by the Stockbroker. Executive Chef Tippi Tambunting expertly executed the pairing menu that she and the Stockbroker designed. All we had to do was show up, eat, drink, enjoy and pay for our dinners - the Stockbroker, generous fellow that he is, provided
all
the the evening's wines.
We were joined by Rolly (Dapper D's wineguy) and Mon Cabrera, the latter a NY-based banker/wino who is in town for the holidays; so we were 11 in all.
This evening was really more for light-hearted fun and enjoyment, so my tasting notes will be relatively brief. I was too busy enjoying the wine, food and company to write down much.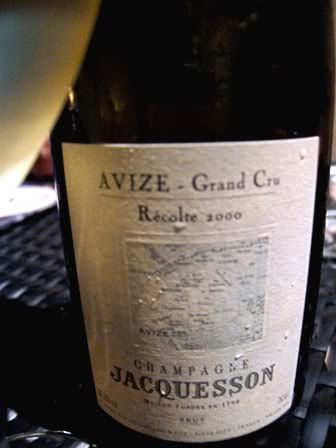 2000 Champagne Jacquesson Avize Grand Cru
- I believe this is the first time I've tried the '00 vintage of this bubbly (at any rate, I only remember the '96). At first sip, it was readily moderately more lushly fruited, more complex and rounder and moderately heftier on the palate than the non-vintage
Brut Cuvée No. 732
. The middle exhibited good, creamier froth, but one can still detect the cleanly focused lemon, citrus and white minerally notes that I've found in every single Jacquesson I've had. Very nice indeed. I believe this is available in Premium Wine Exchange, but I may be mistaken.
Aaron, Keiichi, J-Lab, Johnny and Mon.
The Menu
The Evening's Wine Host & Sommelier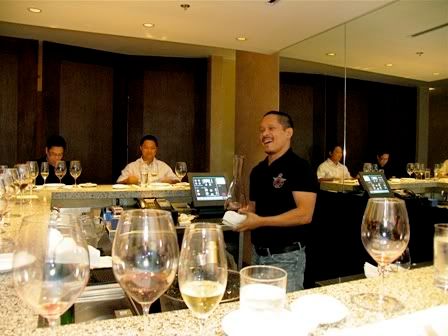 Though I continued the champagne with the tapas, we were served 2 reds blind - all the Stockbroker would say was they were from the same producer and from different vintages. At the first sniff and sip, Greg opined that they were obviously Bordeaux - and he was right.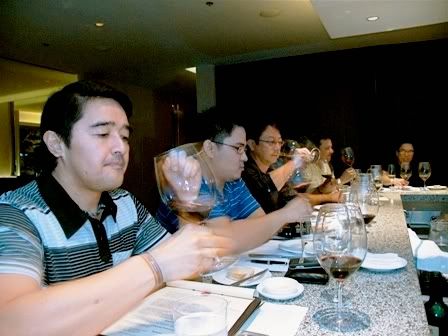 Mystery Red # 1
- Ripe, concentrated, extracted, fuller, riper and much younger (seen in the color which was still youthfully dark shade of ruby red) than Mystery Wine # 2. Right bank. Round, soft plum, cherry, kirsch, chocolate with notable push/power on the palate. This turned out to be a
1998 Château Le Bon Pasteur
, a wine I bought many bottles of sometime in early 2005 and finished off quickly by 2007.
Mystery Wine # 2
- Comparatively lighter red with a red-orange tinge lightening towards the rim showed its age. Initially, there was an obtrusive saline aroma that masked the bouquet. Some called it "metallic", a couple called it "fishy". This blew off around 30 minutes later and showed a somewhat reticent bouquet. In the mouth: medium-bodied, mature, plum, cherry, cedar, bottle-age sweetness funneling to tartish cherry and violets in the finish.
This turned out to be a
1982 Château Le Bon Pasteur
. I and J-Lab noted that the Stockbroker's previous/recent '82 Le Bon Pasteur (21 December 2009 at The Goose Station) was in much better shape than this one.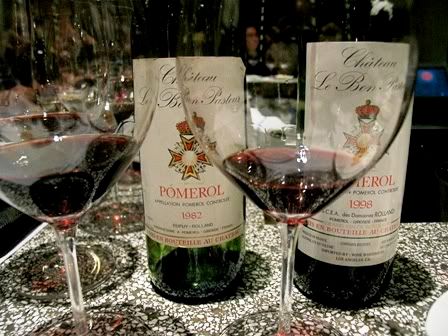 The tapas increased their pace:
Chorizo Scrambled Eggs
(sorry, no photo), and, with the
Shrimps with Garlic Chips
...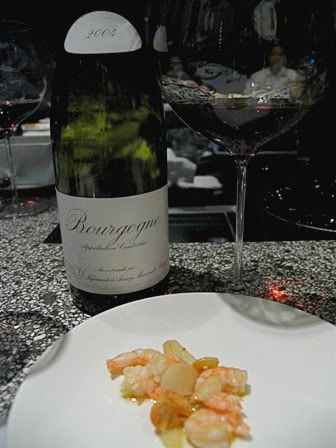 2004 Maison Leroy Bourgogne
- Had this a few times before and liked most of them well enough. This was, however, by far the best bottle of this particular wine I've had. Still relatively light, it was a delicately spun Thai silk of pure, cleanly-focused cherry, raspberry, underlying dark plum and violets with an intriguing/charming
sous bois
nuance. Very nice. To the best of my memory, this is the best basic bourgogne I've had (not that I have very much experience in basic bourgogne, but this was, indeed, very nice).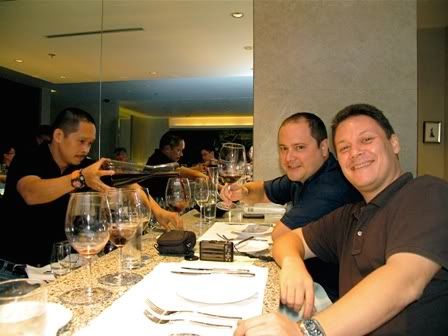 I note that the
Shrimp with Garlic Chips
was excellently done - fresh, precisely cooked (I detest over-cooked seafood of any sort) and flavored (I don't like overly garlicy and spicy gambas). Though a common dish, one rarely finds it done as well as Tippi did hers last night. With the rest of the tapas...
...once my champagne was gone, I switched to the 3 New World chardonnays served (not blind).
2000 Château Montelena Napa Chardonnay
- A blast from the past as I bought a few bottles of this from Premium Wine Exchange ("PWX") several years ago. I vividly recal that I served a couple of bottles of this with PWX's 2002 Darioush Chardonnay both to pair with the Miguel brothers' Lobster & Irish Scallop Risotto course during my birthday dinner at home in May 2005 - thus, it was great to be able to try this again (no more stock in PWX).
Though it does display a good deal of leesy vanilla/oak/butterscotch on the nose, in the mouth, those notes were much, much more subdued and exquisitely integrated - blending nicely with apple, pear, bit of butteriness, fine white minerality. Refined in texture, big, but very pure and focused flavors. Johnny noted that, with additional airing, notes of anise emerged in the nose.
2003 Ridge California Chardonnay Montebello
- A whole lot of vanilla/oak, buttered popcorn and baked apple/pear pastry. I couldn't get into this at all, though I did give it a chance. J-Lab and Johnny suggested I try it with the
Halibut & Clams w/ Clam Jus
course,...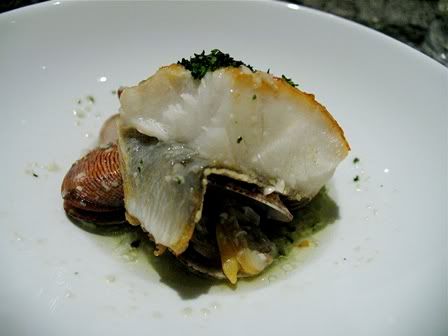 ...but, to my taste, the wine was no better with it. Too over-the-top.
Que horror,
but that's just me.
2006 Leewin Art Series Chardonnay
- Still obvious, but comparatively subdued oak notes in nicely pure somewhat minerally and well-focused fruit with lemon/citrus at the fore. Alcohol is relatively high, but I felt it more than I tasted it. Good, solid Aussie chard. I believe this is the new vintage of the Leewin Chard Art Series that PWX now has in stock.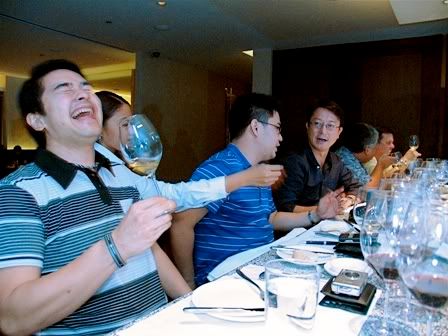 I think Greg liked this one.
The whites were done. It was red all the way from then on in with the
Fideo of Squid & Prawns
and the
Prime Rib-Eye Steaks
.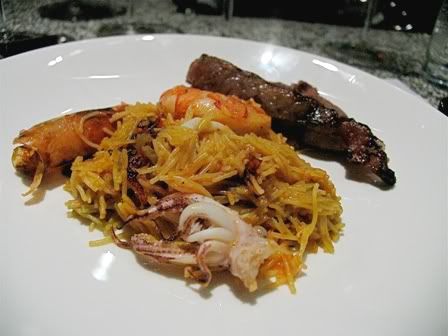 I loved the Fideo - done
en su punto
- not mushy at all, and the seafood was, again, very fresh, tender and precisely cooked. Top-notch, Tippi, I must say.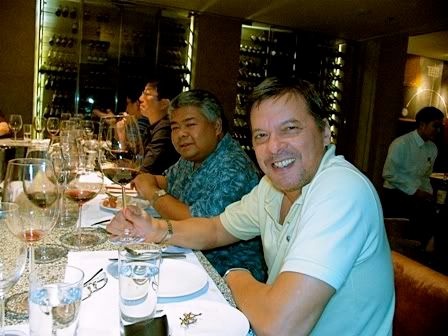 The Stockbroker was a pouring machine, just grabbing quick bites on his feet between bottles. What a guy.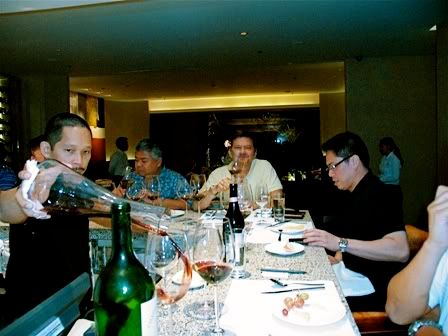 Rolly was obviously enjoying himself a lot, so I jokingly advised him to look busy for Dapper D to see - to which the former obliged with a serious shot.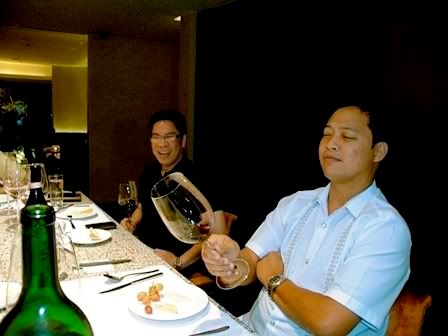 Rolly analyzes as an amused Mon looks on.
The Stockbroker served blind a magnum of notably open, forward, warm, very concentrated/extracted red that showed lushly dark plum, cherry, kirsch, coffee, dark chocolate, some violets and a hefty dose of creamy oak. I and some others guessed it to be a New World. We were wrong. Johnny nailed it as a Château d'Aiguilhe from the Côtes de Castillon - one of his favored wines. It was, in fact, a
2000 Château d'Aiguilhe
(
in magnum
; sorry, no photo again).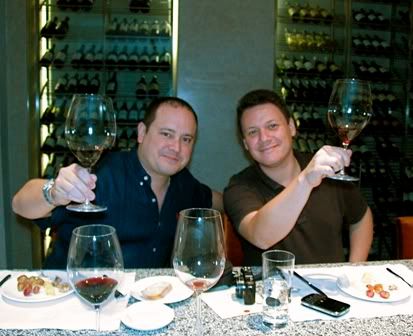 ¡Salud! from Rene & Miguel
Yet another pair of reds were served blind:
Mystery Red # 3
- Initially, its somewhat dense, concentrated modern, creamy oaken red fruit over black made me think it was a right bank. After a bit of aeration in glass, underlying crème de cassis, gravel and dried herbs emerged so I decided it was from the left bank. It was, in fact, a
1998 Château Pape Clément
. Yet another wine by Michel Rolland that shows nicely. Very readily pleasing. I actually was surprised how much I preferred this over the next wine.
Mystery Red # 4
- Definitely right bank. Smoldering/darkly brooding black fruit, dark plum, black cherry, violets, dark minerality, licorice, underlying black coffee. A couple of shades over medium-bodied. Nowhere near as open and ready-to-please as the previous wine. Right bank for sure. Comes off as a more serious character, if a little surly now. It was a
2000 Chapelle d'Ausone
, St-Emilion.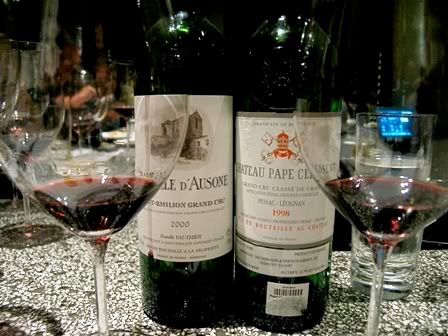 These were had with the
Cheese Platter with Grapes and Toasted Walnuts
. Aaron, Miguel and I took a cigarette break outside and chatted a bit. Consequently, I missed out on the
2000 La Chapelle de la Mission Haut Brion
that was opened next. No matter, I was very happy with a double espresso and dessert of...
Chocolate Hazelnut Tart
Meanwhile, PWX Finance Manager, Laraine Lim, also a Masetto part-owner, dropped by to join in the fun.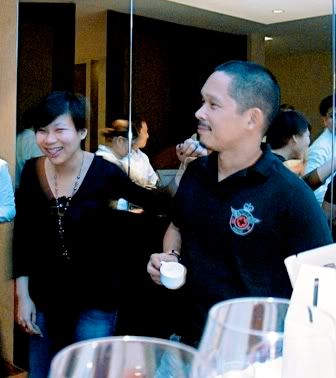 Several bottles were opened as the night wore on, but I no longer took note of them. Too much laughing and chatting going on.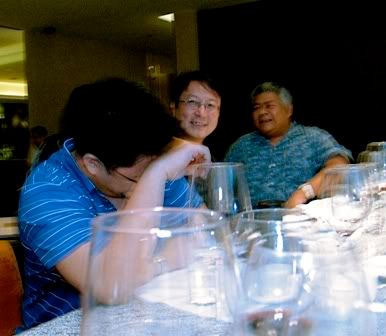 Near the evening's end, we thanked our generous wine host/sommelier with no less than a standing ovation - more than deserved to be sure.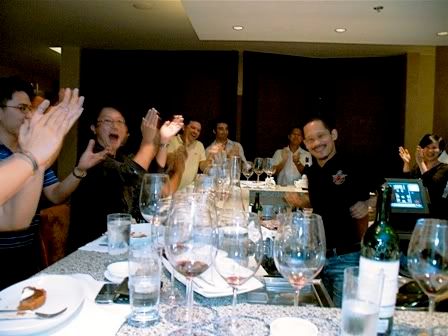 Thanks again, buddy! What a way to end the year. Advanced Happy New Year to all!