A little over a week ago, JC de Terry invited my wife and I for a small, intimate dinner for 8 at
Terry's 2º Piso
. I never say no to JC's invitations if I can help it; they are not to be missed.
We arrived a bit early, maybe around 7pm, coming straight from the office. JC, Mari and my highschool classmate/friend who works with the Terry's group, Mike Gayoso, welcomed us and we joined them at their table. JC then told me that he has a stash of the very first
pimientos del piquillo
grown in the Philippines.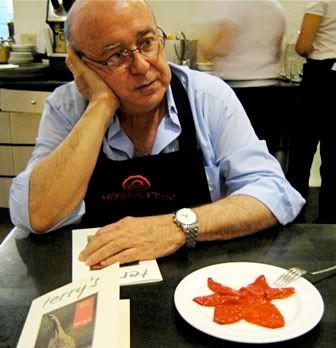 Pimientos del piquillo
are sweetish red peppers (somewhat smaller and more tapered at the bottom than those regular bell peppers we see in these parts) from Navarra, Spain. They have their own Denominación de Origen: D.O. Pimientos del Piquillo de Lodosa. JC brought some seeds thereof back from Spain as a gift to a friend who grew them in Tagytay.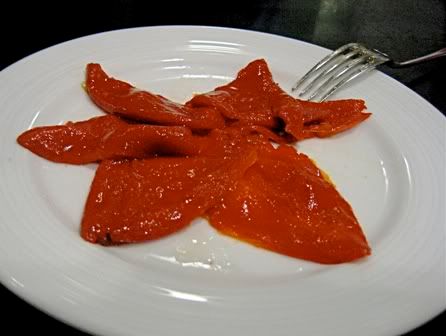 Simply prepared and simply delicious.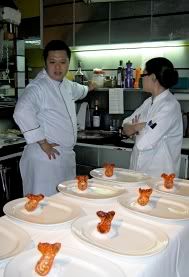 I understand that dinner was being prepared by young
Chef
Luis Chikiamco
, a relative of Henny Sison. I wandered over to the kitchen and saw him with Terry's Chef Jocelyn Glinoga (the latter the daughter of Senen "Syg" Y. Glinoga, one of my former bosses when I was starting out my legal career in ACCRA) over-seeing the beginnings of our first course. I noted immediately the bright red roasted lobster shells on the plates and knew I was in for something extra-special.
After a few minutes, with Gema's and Henny's arival, we moved to the dinner table to begin the meal.
Antonio wasn't there yet, most probably still busy as usual with his Mabolo Flowers, but JC said to sit, so sit we did. I recalled the absolutely hilarious evening we all had together last 21st November 2008 at
the Marquéz de Cáceres Dinner
.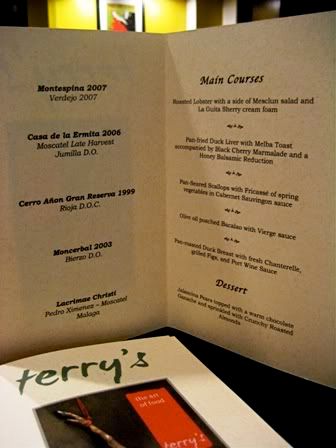 Antonio eventually caught up and we all enjoyed the excellent first course of
Roasted Lobster with a Side of Mesclun Salad and La Guita Sherry Cream Foam
paired with...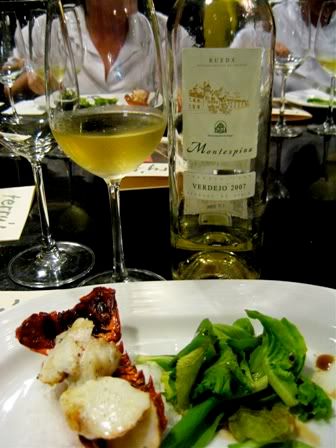 2007 Montespina Verdejo Rueda - From the same vineyards and makers of the old Doña Beatriz firm. I understand that the family that owns it had a falling apart, so those with the vineyards created this new label with the old winemaker - so the wine is of the same standards as before. Verdejo is the main white grape of Rueda in Castilla y Léon. This wine has a clean, crisp character to its fruit (some green apple, guava, pineapple, slight grapefruit) with nuances of fresh grass, chaume, fennel and appetizing citrus-rind bitterness. Nicely focused and balanced with acidity, the fruit is healthy and bright. Very nice with the lobster, and held well with the real balsamic-tinged dressing (no reduction here).

The next course was the Pan-Fried Duck Liver with Melba Toast with Black Cherry Marmalade and a Honey Vinegar Reduction with...


2006 Casa de la Ermita Blanco Dulce - From an increasingly appreciated (Jancis Robinson notes them for making bright, new alternatives to Sauternes) ten year old winery, this wine is made up of viognier grapes from the Jumilla D.O., late harvested, and, per JC, sunned on mats to concentrate the sugars. This brightly sweet, but not cloying, wine presented dominant floral, super-ripe, honeyed cling peach and a slight undertone of sweet kumquat. Well concentrated but fresh and light on its feet, it cut the foie's richness nicely and cleansed the palate between bites - the melba toast added needed textural contrast. Tastes like some of those sweet viogniers I tried in France last June 2007, but more concentrated and rounder on the palate.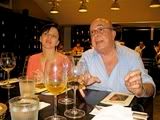 Antonio noted that the foie could have been better seared, and I agree. Still, the dish was quite enjoyable. JC mentioned this wine is a nice alternative to the usual and heavier foie pairing of Sauternes. To this I whole-heartedly agreed, telling him that I have long switched to pairing Alsace VT gewürztraminers or, more recently, lighter German rieslings (spätlese or auslese). We agreed that it is a bit difficult switching to reds after a foie course paired with Sauternes.
Next was excellent
Pan-Seared Scallop with Fricasée of Spring Vegetables in Cabernet Sauvignon Sauce
. With this was paired...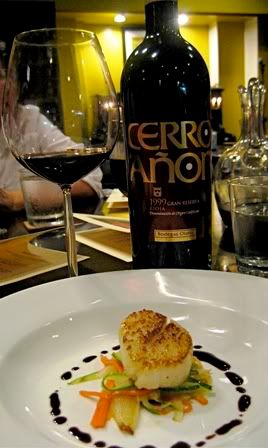 1999 Bodegas Olarra Cerro Añon Rioja Gran Reserva
- JC told me this was an old-style Rioja. I responded that I am familiar with the style of this maker as I bought several of the
2001 Cerro Añon Reserva
from Terry's since first trying it with the Vigneron at 2º Piso sometime in the middle of 2008.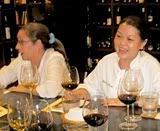 Pure and clean, showing off its sturdy structure and well focused, mildly spicy, dominant cherry and strawberry notes with style and panache. Underneath, there is some dark fruit and the wine is highlighted by nuances of violets and a bit of cedar. This is much brighter in character than the 2001 Reserva and lighter as well, but with much nimbler feet, much better in purity and infinitely better integrated wood. It dances on the palate. Very nice indeed, with comforting typicity to boot.
Though with undoubtedly firm structure, the wine's light touch did not overpower the scallops, the fricasée of spring vegetables lending a bit of earthiness and body to the shellfish which helped the pairing work as well with the next, slightly heftier seafood dish of Olive Oil Poached Bacalao with Vierge Sauce.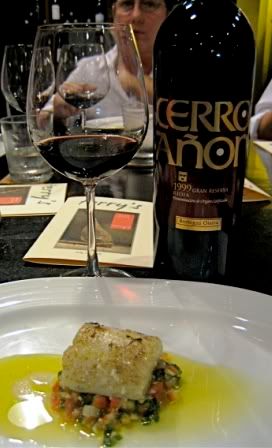 Gema then asked JC if the succeeding courses could be slowed down a bit since she was getting very full already. I took the opportunity to wander to the kitchen to watch the chef preparing the mouth-watering chantrelles, flown in fresh from France being quickly sautéed to a beautiful light golden brown...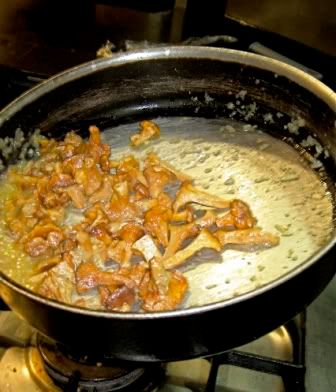 ...carefully arranged with the grilled fig base...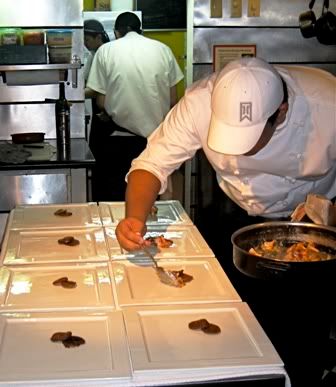 ...to come up with the next course of
Pan-Roasted Duck Breast with Fresh Chantrelles, Grilled Figs and Port Wine Sauce
, which delight was married to...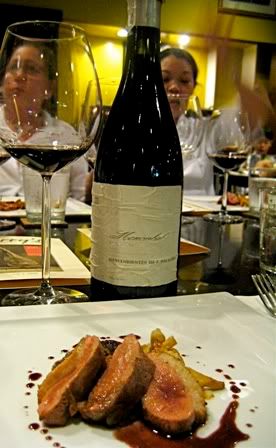 2003 Descendientes de José Palacios Moncerbal
- From the maker of Pétalos that I wrote about a few times last year, likewise from the steep, horse-powered vineyard slopes of northwestern Spain's Bierzo, made up of the mencía grape.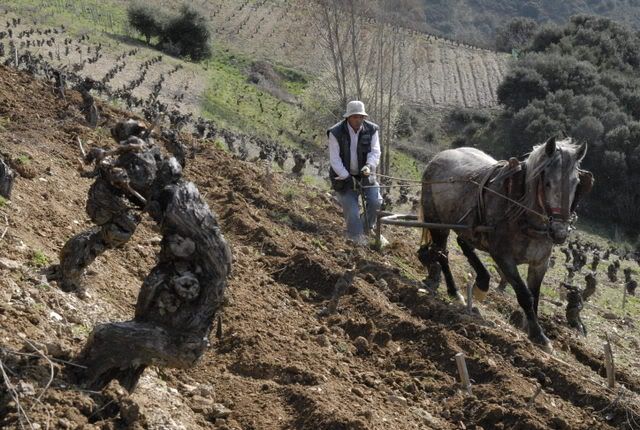 This wine presents silken, dominant dark cherry, strawberry and some raspberry, all propped up by firm acidity and infused with suave minerality. The fruit notes of this wine are fresh and most vibrant and also present nuances of anise and red spice. Graceful, lively, complex and with good finesse. Excellent pairing with the rich, earthy duck and chantrelles. The grilled fig served as a good, fruity/sweetish foil to the rich earthiness. I must make a mental note to buy some bottles of this. I recall this is around P6500/bottle, a fair price for quality of this level.
This wine, like the others served at this dinner, is readily available at Terry Selections
.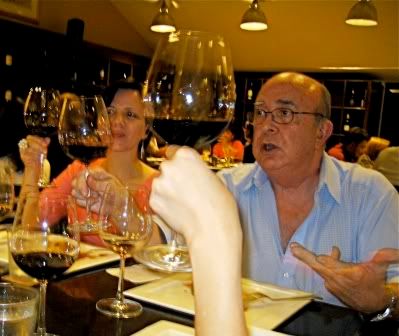 Dessert was a
Jalancina Pear topped with Warm Chocolate Ganache, Sprinkled with Crunchy Roasted Almonds
, paired with...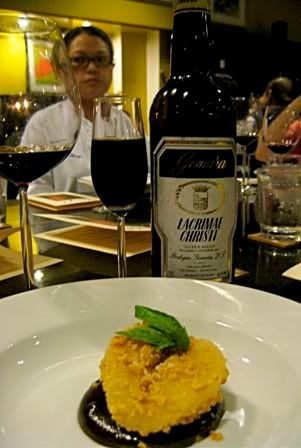 Bodegas Gomara Lacrimae Christi PX Moscatel
- From heavily Moorish Málaga in southern Andalucia, by Bodegas Gomara. Per JC, this is made of Pedro Ximénez (I could smell/taste that) and a bit of moscatel. This is a dulce, a sweet wine for which the area is known for. JC mused that I'd have a difficult time describing this wine. I do not know why he would think that, as I am, if nothing else, naturally verbose.
Dense, concentrated, viscous, the wine displayed scents (darkly floral as well as sweet) and flavors of raisins, dried fig, dark molasses, licorice, whisper of star anise, sweetish balsamico, discreet dark chocolate, cinnamon, toffee, underlying toasty oak/vanilla cream (surely long rearing in American oak). It picked up and ran with the dark chocolate ganache, adding richness and depth to the nutty-crunchy, juicy pear. Excellent.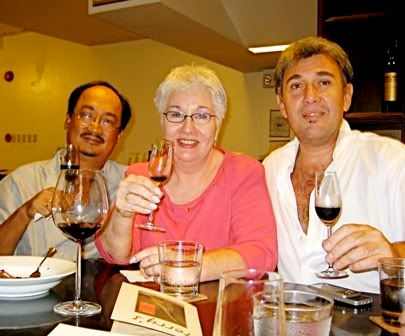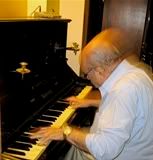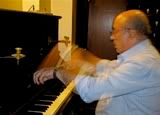 Henny and I were quietly trying to figure out a way to get JC to honor us with his stunning skills at the piano. Prompted by someone asking a question about the piano, we started making "parinig" that maybe it no longer worked. Success was ours as JC got up and played us some excellent contemporary pieces, and, with added prompting, a couple of old Spanish tunes as well.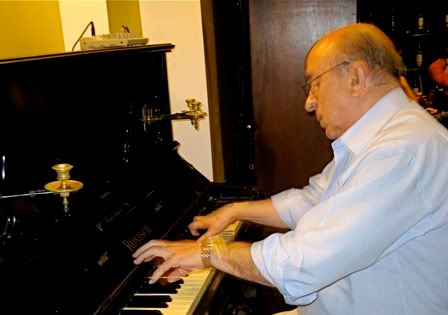 A million thanks to all for everything, the great meal, wine artfully paired, and the always amazing company. Until the next!