Dinner of the 16th July 2010 was at
Terry's 2º Piso
with the Manila Gentlemen's Club (MGC), a small group dedicated to the appreciation of wine, food and cigars. Though some members are currently out of the country, we still had 5 present (which constitutes a quorum): John Harvey, Richard Everingham, Michael Whiting, Aled Morris and myself.
I had reserved a table and requested a special menu from good friend Juan Carlos "JC" de Terry over a week before. Unlike all other special dinners I, as current/re-elected MGC Wine Master and formerly
de facto
Food Master, helped organize in the past few years, I had absolutely no participation in designing, pre-approving the menu and selecting the pairing wines for this dinner. This time, I left it all in JC's most capable hands - after all, in the entire country, there is nobody more knowledgeable, passionate or artistic as regards fine Spanish cuisine, Spanish wine and pairing the two than JC.
Nobody, including myself, knew what was in store for us that evening. Having had countless meals by JC, however, there was no doubt in my mind that it would be memorable, and, a cursory glance at the above depicted 5-course pairing menu proved me right. After a few minutes of exchanging pleasantries and getting down to the agenda, our feast began with pica-picas of almonds and...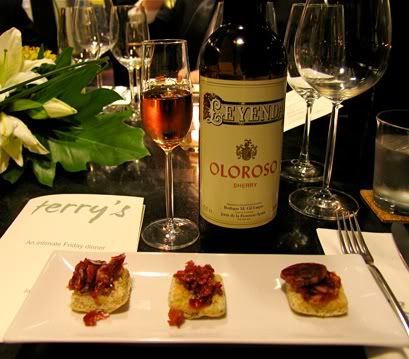 ... a
Trio de Josélito
including
Jamón Ibérico Calidad Bellota, Salchichon and Chorizo Gran Reserva
. This luxurious
amuse bouche
was, as is typical in Spain (I learned this from Miguel during one our Spanish lunches), accompanied with sherry - but, instead of the usual fino or manzanilla, we started off with a bottle of
Bodegas M. Gil Luque Leyenda Oloroso Sherry
- From the town of Jerez de la Frontera in Andalusia's Marco de Jerez, this is a moderately complex, just a shade off-dry, nutty, sherry that I could drink all night. Very proper, very smooth. If I am not mistaken, this is goes for just under P1000/bottle at Terry's.
As earlier stated, having sherry as an
apéritif
, especially with almonds and good jamón is very typical in Spain and a habit I could all too easily develop. It's very affordable price certainly helps.
~ First Course ~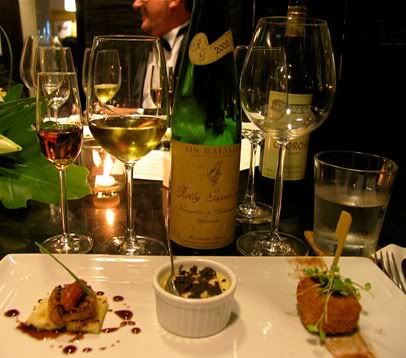 This first course was a
Trio of Foie Gras
made up of (1)
Pan-fried Duck Liver on Crostini, topped with Membrillo
(a Spanish quince paste - I think this is the one from Jumilla)
,
scented with a Truffle-Honey-Balsamic Reduction
; (2)
Flan de Foie Gras with Truffle Shavings
; and (3)
Foie Gras Croquette with Black Cherry Marmalade
.
The trio was absolutely delightful- complex, harmonious, indulgent but not overly rich or heavy on the palate - especially when paired with the
2003 Domaine Rolly-Gasmann Weingarten de Rorschwihr Sylvaner
- this is the ripest, roundest, fruitiest and comparatively heftiest Alsace sylvaner I've had. It's probably the vintage speaking. Off-dry, actually a bit sweet and vaguely tropical, very moderate acidity, slight white florality, notes of plump, ripe, creamy lemon, citrus - hard to describe, actually. It went perfectly with the foie gras trio though - not too sweet - just enough to be a good counterpoint to the foie's richness, and, just enough acidity to refresh the palate. Very nice.
~ Second Course ~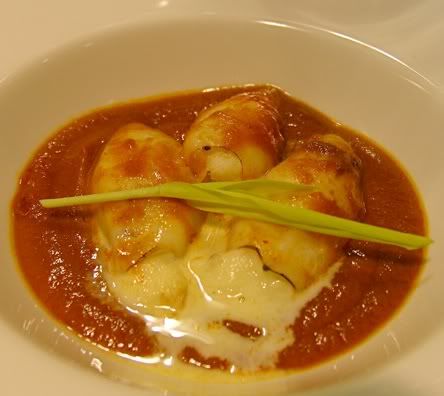 Chipirones Stuffed with Brandade, Simmered in a Vizcaina de Piquillo Sauce
The chipirones (i.e., baby squid) were so soft and fresh, the brandade (a mixture - an emulsion really - of, traditionally, bacalao, olive oil and garlic) was creamy and very flavorful, and, the sauce was absolutely delightful - simultaneously tying everything together and, with the piquillo, adding precise contrast. Excellent. This was paired with...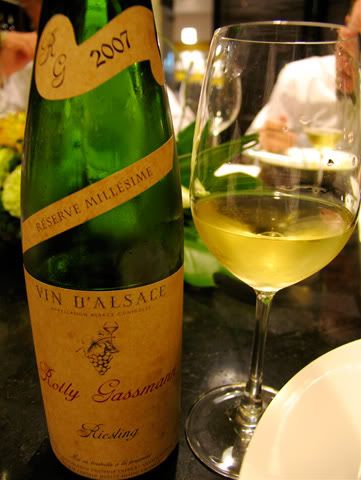 2007 Domaine Rolly-Gassmann Réserve Millésime Riesling
- Bright, nervy, svelte, clean, honeyed, ripe white grapefruit with a hint of peach, just the barest whisper of underlying petrol. Lots of honest, straightforward charm in this and it is dangerously drinkable. As a pairing, its purity, clean lines and brightness refreshed the palate well as the brandade has a pronounced flavor. This was a precise foil, and yet another of countless examples of how very versatile rieslings are.
~ Third Course ~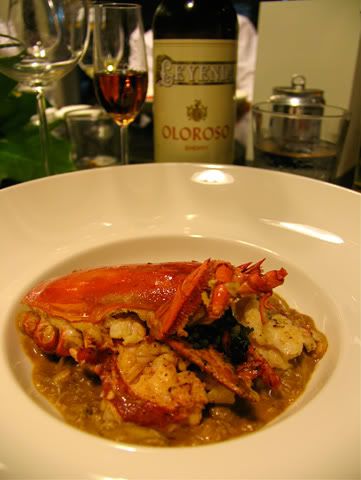 This is a dish I remember from when I was much, much younger - sometime in my mid-elementary school days if I recall properly. I haven't had anything à la Newburg in decades I think - so this was a nice bit of nostalgia for me. In this rendition, JC used vintage port instead of the usual sherry. Rich, complex, the flavors were seamless, the lobster precisely cooked. Delicious. Richard's, I noted, lasted barely 2 minutes in his bowl.
Res ipsa loquitur
.
I had mine with some more of the above discussed
Leyenda Oloroso Jerez
which I thought brought a nice bit of added indulgent depth and complexity with its savory nuttiness and inherent, discreet oxidation.
~ Fourth Course ~
This was an extra special treat - some real
Chuletón Vasco
(i.e., Basque beef prime rib) that JC had brought in from Spain. I was very happy to see this on our evening's menu though I had it in 2º Piso with my Catha and the children not a week before.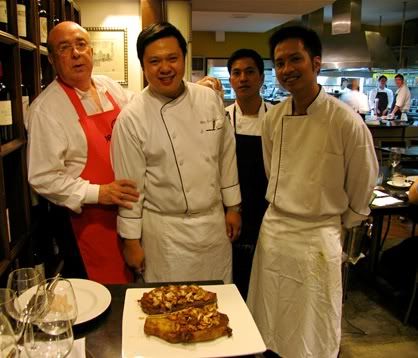 JC with Team de Terry's Chef Luis Chikiamco and Crew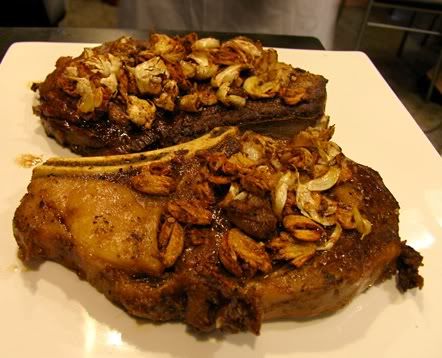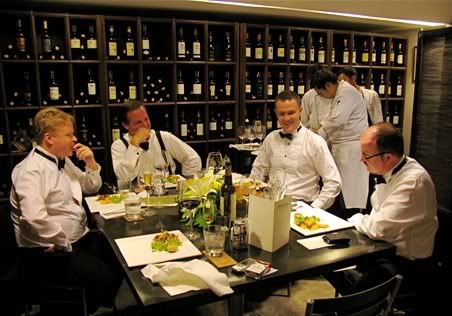 The fellows chat as Luis carves the chuletón in the background.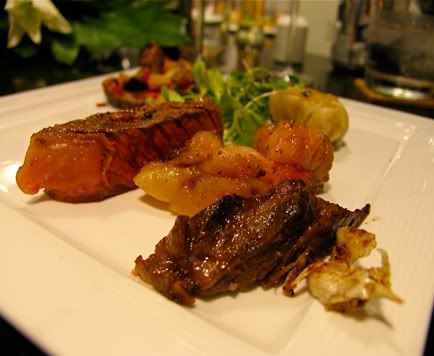 Be still, my heart. This was topped with shaved Pink Tibetan Crystal Salt.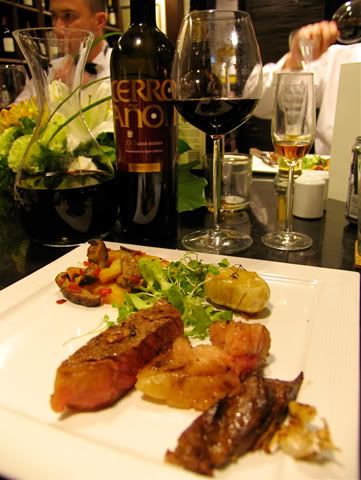 This was served with
Mushrooms, Piquillo Salardaise Potatoes and Garlic Confit
, and paired with bottles of decanted
2001 Bodegas Olarra Cerro Añon Gran Reserva
- I've had a few of these before and wrote about this last
in mid-March 2010
, but this is the first time I'd had it decanted for a few hours. From my linked notes, after 2-3 hours of decanting, the oak-related notes are more subdued and the delicate cedar notes lace the light-footed, slightly over a medium-bodied dark fruit and underlying discreet licorice, wood spice and hints of leather and violets.
JC said he expected it to be "more open", but we liked it fine. The two bottles didn't last very long, continuing with a light cheese course with a bit of
membrillo
.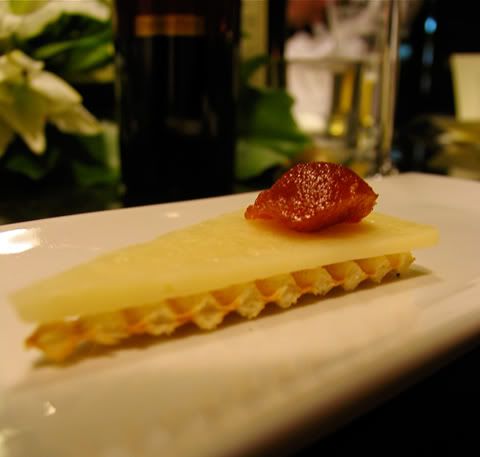 In the meantime, JC joined the pianist in a bit of jazz...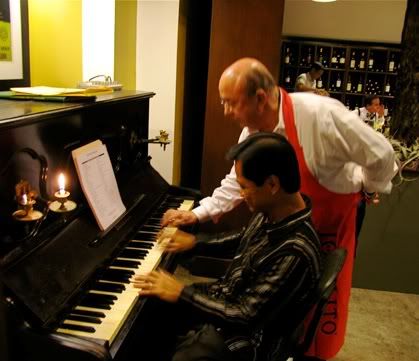 ~ Fifth Course (Dessert) ~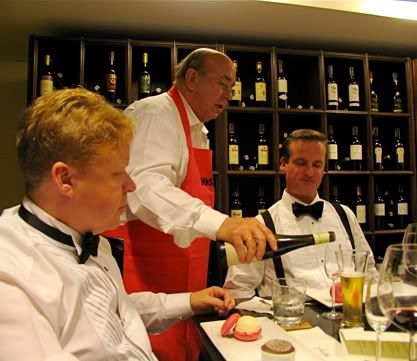 JC pours for Mike & Richard
Unfortunately, I dove into my dish of
Valor Chocolate Velvet with Honey-Scented Vanilla Ice Cream
before I could take a close-up shot of it. We noted that the honey used was not from bees, but from honey ants and the vanilla was real deal vanilla bean. Honey ants' honey...that blew us away - it was a very delicate and discreet honeyed flavor. Only JC would be so creative to use such ingredient - I don't know of any other restaurant here that uses this.
With this, JC poured us a bottle of
1999 Les Vins de Vienne Condrieu Cépées Caties
- This is the darkest gold Condrieu I've had...probably the oldest too. Honeyed apricot, peach, orange blossoms and discreet, underlying nutty-creaminess. Just enough acidity to keep things interesting. Notable complexity and balance. Gracefully feminine wine. Nice treat.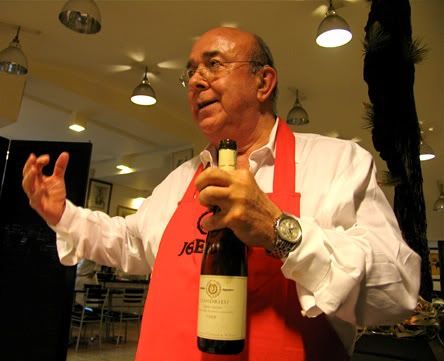 JC told us that viognier-based wines are normally consumed within 2 years from bottling. He'd been keeping bottles of this wine as an "experiment" and it was only in the last few minutes before our dinner that he decided to serve it because it was very closed when he tested it earlier. After breathing, however, (I no longer recall for how long) it blossomed and displayed its fragrance and charm to his satisfaction. Thus, we got to enjoy it.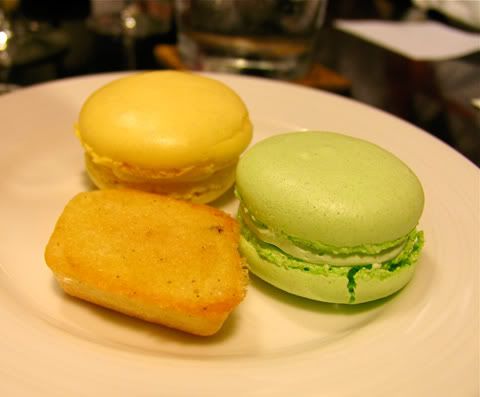 Mignardises
which we had with more of the Condrieu
.
JC then joined us for the Condrieu, answering our many questions about the menu, the preparation of the various dishes and regaled us with the history of some the recipes as well. He is really a treasure trove of culinary knowledge.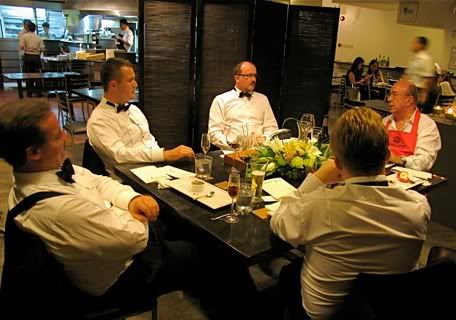 Some smooth, vaguely chalky moderately creamy, medium-bodied, cocoa powder-touched Cuban
Raphael Gonzalez Coronas Extras
(or at least they looked like coronas extras to me) and espressos brought the evening to a close.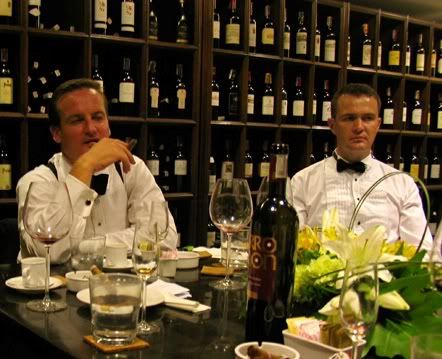 It was yet another memorable meal for me at Terry's 2º Piso. Everything was great as usual.
Un millón de gracias, JC. Hasta la proxima.