Dinner last night, 22 July 2010, was with longtime friends Tonji & Sylvia, Maricel & Maxie, Kenny and Catha. Unfortunately, Lisa, Boozze & Margarita were unable to join us. The venue was
La Tienda
for some of Chef Javi Lecumberri's authentic pintxos and chuletón. Most of the pintxos I write about in La Tienda are not on the menu, but, given a few days' advance notice, Javi is happy to accommodate customers' requests such as these.
Ken was already there nursing a beer when Catha and I arrived at around quarter to 7. I promptly ordered a platter each of...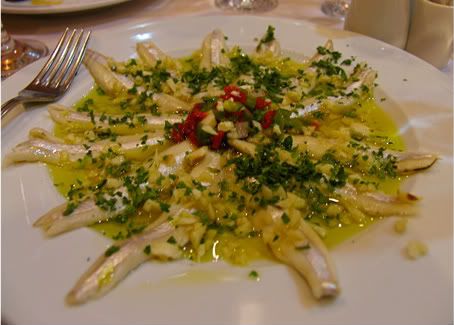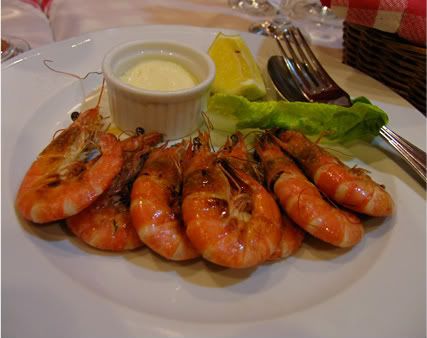 Gambas à la Plancha
and...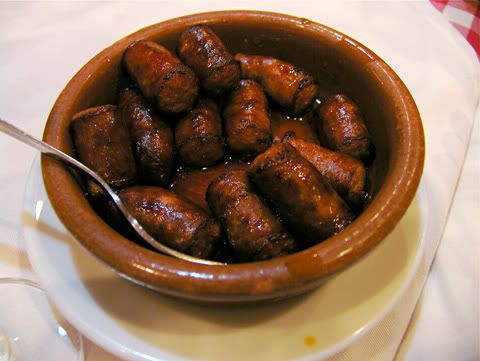 With these, I popped our first of 2 bottles of
Josep Masachs Gran Reserva Cava Brut Nature
- Bright, light yellow gold, impressive clarity,
very
tiny/fine but persistent bubbles, nicely fresh, dry, crisp, bright, clean and pure. Nicely complex. Very good cava, and it should be as it is one of the pricier locally available cavas at P1700+/bottle (Terry Selection).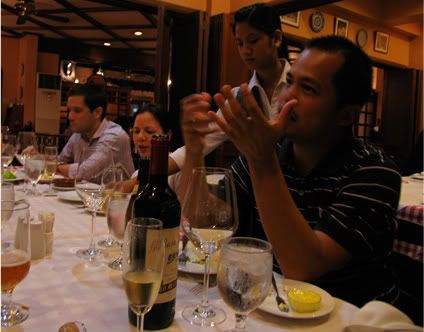 With the above pica-picas and the seafood-based pintxos, we 7 went through 2 bottles of the cava rather quickly. I should have brought 3. I know better now.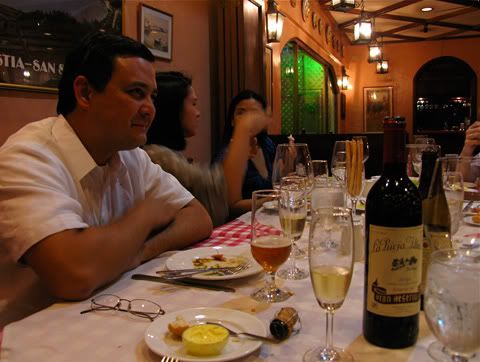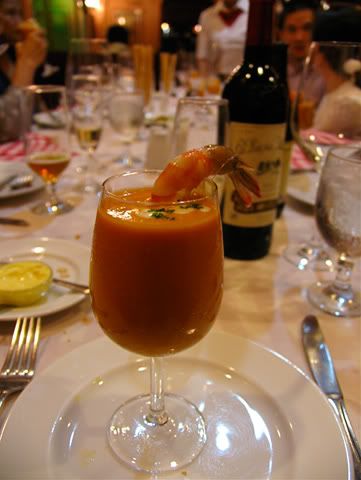 This is one of my favorites in La Tienda:
Salmorejo
- an Andalusian (particularly from Córdoba) version of gazpacho. The difference is that this is made only with tomatoes, vinegar, olive oil, salt and pepper; no cucumbers, etc. that normally go into gazpacho. Javi's version is always adorned by a just-barely vinegar-cooked prawn, always incredibly sweetly-fresh. Love it.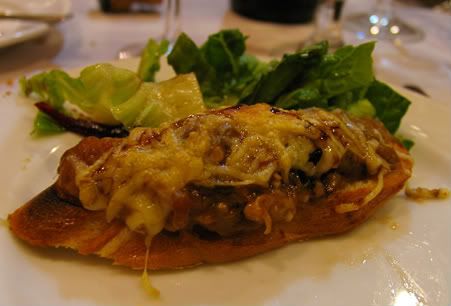 Next was one of the Usual Suspects' favorites:
Escalivadas con Anchoas
. Miguel, when he is in town, always organizes our meals at La Tienda, and I can't recall a single one that didn't include this - mainly because I and several others always request it to be included. Fortunately, this is on La Tienda's regular menu. Kenny was very vocal in his appreciation of this, and, had 2 servings as I recall.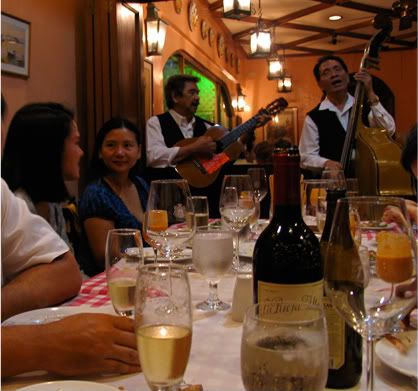 A Spanish serenade by La Tienda's own "Trio los Panchos".
Bacalao al Ajoarriero con Gambas, "ajoarriero" generally involves cod, olive oil, eggs and garlic.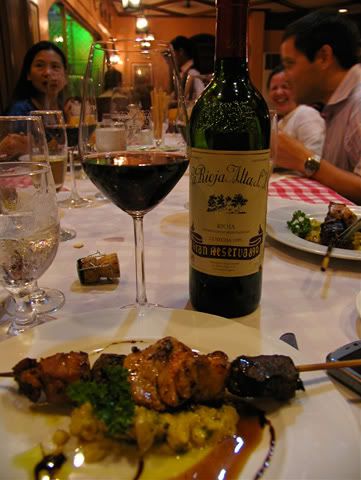 The next course of
Brocheta de Solomillo y Bacon con Arroz Cremoso, Foie Gras y Salsa de Oporto
was as big a hit as it was
when I first had it last 24th June 2010
(fellow foodie, Chinkee, said she was
dreaming about it for days after
). With this I poured my bottle of
1995 Bodegas La Rioja Alta Gran Reserva 890
- One of the bottles of this I brought home from Spain. This is the 2nd I've opened in the past couple of months and it was every bit as wonderful as the last one I opened during
dinner at Rene and Aimee's on the 12th June 2010
. My notes then, consistent with last night's bottle, are as follows:
My bottle. No decanting, just popped, poured and aired in the glass. Incredible nose of sweetish balsamico, cedar, rose petal, cherry, raspberry, licorice, vanilla bean and violets. In the mouth, it mirrors its aromas in a slightly over medium body; pure, clean, precisely structured, elegantly focused and balanced with underlying notes of clean leather and a whisper of ceps. Has a notable slightly feminine Bordeaux slant to it. Excellent wine. Absolutely enthralling wine. Incredible elegance, complexity and balance. My red of the night, if I do say so myself.
The bottle last night was opened and let breathe for around 1-1½ hours before service. No decanting. Tonji, Ken and Max (not to mention myself and the ladies) were very impressed with its expressiveness. I'm glad I still have one bottle left of those I brought home from Spain (being safely kept for me by JC at 2º Piso). For those interested in enjoying this fine, fine Riojan gran reserva, it is now locally available at Premium Wine Exchange for P6500/bottle.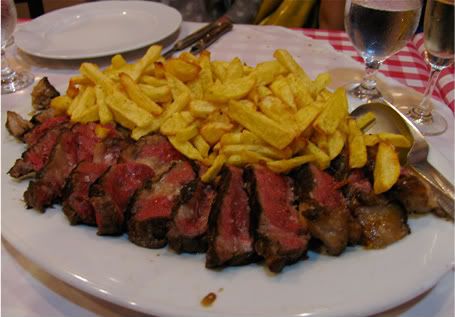 Chuletón
Javi's
chuletón
was good as always and enjoyed as always (I made sure to choose the extra-fatty slices). The bottle of '95 LRA gran reserva 890 was quickly drained; so we ordered a bottle of the only mature tinto from the restaurant's wine list: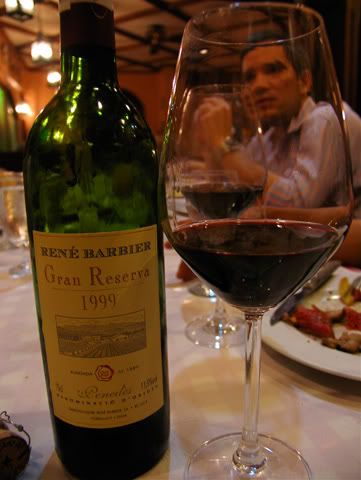 1999 René Barbier Gran Reserva
- I've written about this good QPR tinto a few times before, most recently from
John Harvey's 40th birthday dinner on 29th January 2010
:
Distributed by Aaron's ADP Industries. Though I've had this at least thrice in the past year, each time was always with many other wines. This time, it being the sole red of the evening, I was able to liesurely enjoy and delve a little deeper into it.

Penedès is a wine region in Catalunya, not far south-west of Barcelona. Though it is better known for producing cava, Penedès also produces a lot of red wines from the likes of tempranillo, grenache, cariñena, monastrell (a.k.a., mourvèdre and mataró), cabernet sauvignon, merlot and others. The subject wine is mainly tempranillo. I do not know exactly the percentages, but I would say there is probably a small percentage of a weightier grape in this, probably cabernet sauvignon. Per Hugh Johnson, 1999 in Penedès was marked by mild winter and spring, with a dry, warm summer which led to a very good, abundant harvest.

Dry, very smooth, comforting and very easily approachable, this medium-bodied wine shows a mellow personality in its soft black cherry, minor wild strawberry, bit of underlying blackcurrant, cedar with hints of tobacco leaf, licorice, whispers of violets and leather. After sitting in the glass, slight notes of vanilla and cinammon emerged. Acidity is adequate, balance is good. This is mature at a little over 10 years from vintage.
At around P1800+/bottle on La Tienda's wine list and
around P1200/bottle from ADP Industries
, it's quality-price-ratio is hard to beat for a mature, readily/locally available gran reserva.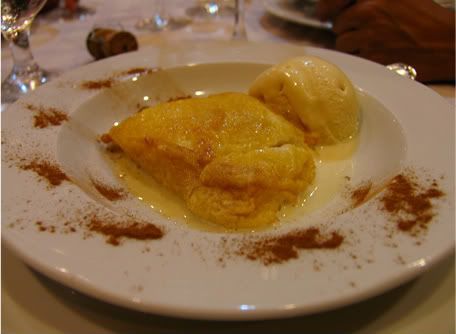 Javi's version of the Spanish take on the French
pain perdu
(a.k.a., French toast) always pleases me to no end. Not only is it a moderately sweet, cooling - I'd even say "refreshing" - dessert, it actually belies its rich appearance in that it is quite light on both the palate and in the stomach. Like most of the subject meal, this is not on the menu and has to be pre-ordered a few days ahead.
Another great meal with close, longtime friends. With good cava and reds, one cannot reasonably ask for much more.
Muchisimas gracias, Javi
.
Hasta la proxima
.