Dinner at home, 10th July 2010
: Many wines served with several dishes for Hisako's belated birthday celebration. Aside from my immediate family, Tad & Chako's longtime friends, Horace & Karuna, attended. No photos as I was tired from golf and didn't feel up to taking any (I also wasn't sure if Karuna and Horace would be comfortable with my clicking away incessantly). I've written about the wines we had several times already so will not repeat myself so soon. A couple of noteworthy ones, though, were:
1996 Pagodes de Cos
- 2nd wine of Château Cos d'Estournel from an excellent Médoc vintage. I used to order a lot of this some years back for casual drinking (I'd get it by the case at only US$32/bottle; now it is around US$45-$60/bottle). I entered this in 2 IWFS blind tastings of 1996 2nd wines of top châteaux and some well-respected cru bourgeois; the events were respectively held at Tower Club's Pinot Room and Bianca's, both in late 2006.
At the event in Tower Club, '96 Pagodes came out 4th as follows
*
:
1st Place - Poujeaux (44 pts)
2nd Place - Reserve de la Comtesse (29 pts)
3rd Place - Haut Marbuzet (25 pts)
4th Place - Pagodes de Cos (22 pts)
5th Place - Sociando Mallet (16 pts)
6th Place - Bahans Haut Brion (10 pts)
7th Place - Tie - Les Forts de Latour (9 pts)
7th Place - Tie - Pavillon Rouge (9pts)
8th Place - Potensac (7 pts)
9th Place - Carruades de Lafite (5 pts)
10th Place - Clos du Marquis (4 pts)
*
My own top 5 at the time were:

1st - Poujeaux
2nd - Sociando Mallet
3rd - Pagodes de Cos
4th - Clos du Marquis
5th - Reserve de la Comtesse
At the Bianca's event, I lost my notes, but I distinctly recall that 1st place went to the '96 Les Forts de Latour, a very close 2nd place was the '96 Pagodes de Cos and last place was the former 1st place winner '96 Poujeaux (I noted that, in my opinion, that bottle of '96 Poujeaux was flawed and, perforce, should have been excluded from the line-up or replaced with a fresh bottle).
Point is, the '96 Pagodes was a very good wine...then. I'd long since run out of it, but, a few months ago, I was able to order some (45€/bottle) from France through one of Aaron's negociant principals. The subject bottle was one of those.
Slightly over medium-bodied, light-footed, cedar, blackcurrant, raspberry/cherry highlights, underlying plum, bit of jasmine tea leaves, vanilla, whispers of Indian spice. Not as concentrated, deep or hefty as the '96 grand vin, but it definitely does credit to its "big brother". Very easy to drink, this was - and continues to be - one of my favorite 2nd wines.
2004 Bodegas Ondarre Graciano
- I've had only a few 100% graciano wines before, and all of them have been those of CVNE's Viñedos del Contino (i.e.,
their 2006, 2007 and, from barrel, the 2009
).
The subject wine is a big bruiser (JC de Terry recommended that I decant it for aeration "for at least 2 hours", so I decanted it for 3½). Lush, plush, very full-bodied, very rich, concentrated and extracted, extremely ripe. Very mouth-filling, very dense, viscous, deeply fruited showing off flavors of a mixed compote of blackberry, blueberry and black cherry with notes of kirsch, café Americain, anise, slight balsamico, dark flowers and good doses of oak-related (obviously a lot of new oak used) vanilla, toffee and cinnamon. There's a touch of discreet, underlying minerality as well. Tannins are soft and rounded. Lots of power, but doesn't shout it out.
Notable freshness despite its density, formidable concentration and extraction. Notable complexity too. My over-all impressions were of richness, concentration and smoothness. Acidity is a bit low for my taste, but I imagine this will be very pleasing to those who enjoy the big, rich, oaky Napa-style. My wife liked this a lot.
This received 5 stars from Decanter (for whatever that's worth). Available at Terry Selections at a mere P1170/bottle.
Lunch at Je Suis Gourmand, 14th July 2010
: A work-related lunch with Aaron. He said he'd bring a red. Since it was a working lunch, I wanted to minimize drinking so brought no white and just started off with a glass of rosé.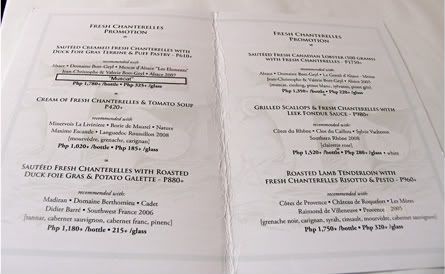 Marc Aubry has an on-going fresh chanterelles promo at
Je Suis Gourmand
. We skipped our usual appetizers (since we had no white anyway) and both ordered the
Roasted Lamb Tenderloin with Fresh Chanterelles Risotto & Pesto
, but replaced the lamb tenderloins with lamb chops (which I personally prefer anyway). With this generously sized and excellent dish, we had...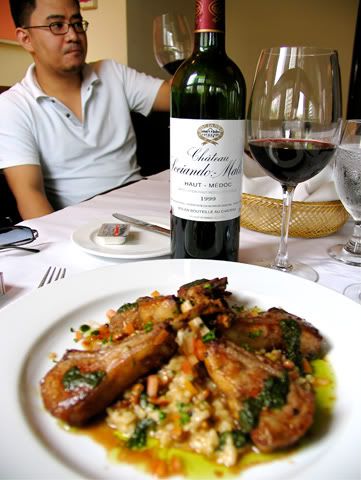 1999 Château Sociando-Mallet
- Aaron's bottle; from an under-appreciated vintage and one of the best
cru bourgeoise
châteaux in my opinion (and in those of many others). It also happens to be a favored producer of 6-term IWFS President and Wine Master Bernie Sim.
Slightly over medium-bodied, nicely concentrated, notably ripe for a '99 St-Estèphe, properly earthy cassis/blackcurrant, black cherry, cedar, bit of violets, subtle minerality and licorice, nicely integrated vanilla/oak notes. I liked the balance and the understated serious personality of this wine. It just proves even more that this producer punches a notch or few above its classification. Excellent for a lunch of roasted lamb chops and earthy chanterelle risotto.
I note that the size of the dish was quite substantial but I managed to finish it all. I would not have been able to if I had our usual appetizers of
escargots à la bourguignonne
and/or
terrine of foie gras
. At P960/order, it's a steal in terms of both quality and quantity.