During the event at Ciçou subject of my last post, JC de Terry mentioned that he still has some chuleton Vasco from Spain, so I told him I'd come over Saturday night to try it out together with some of the new pintxos. Thus, last night, 3rd July 2010, Catha, the kids and I trooped to
Terry's 2º Piso
where we were met and well-attended to by young and very capable chef Luis.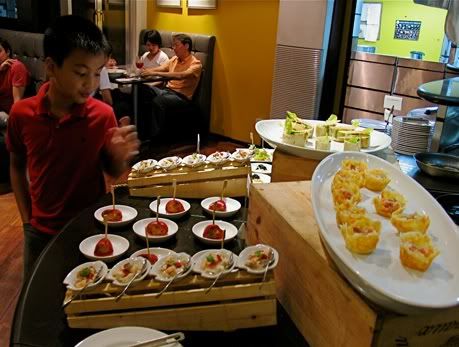 An array of pintxos on the bar, as is typical in Spain...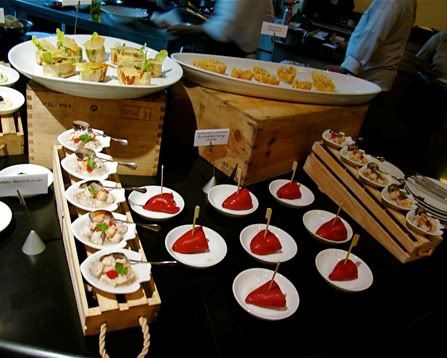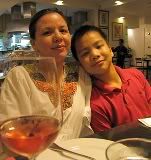 ...where one is just supposed to get what one wants. Luis, though, offered to prepare us a set of 6 each to be sent to our table. Since the kids also wanted some of their usual tapas, I told Luis we'd better just have a set of 4-5 each. However, my boys started picking extra pintxos straight from the bar as well, so we wound up with much, much more.
I warned them not to overdo it since we also had a large chuleton coming.
The kids and even Catha couldn't resist the
Piquillos Rellenos
from bar.
Extra thick Salmorejo garnished with what I am pretty sure are Jamón de Teruel "Sticks".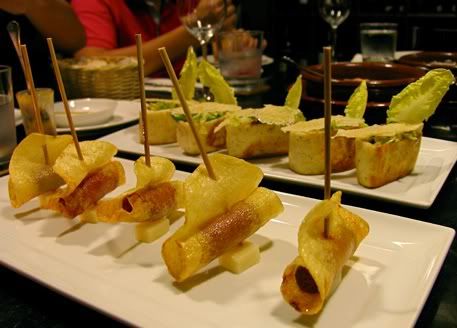 Then came
Chistorra in Potato Crisp atop Manchego
, and,
Caesar Salad Pockets
. We all loved the chistorra, potato, manchego combination so much, I ordered a second round which disappeared just as quickly.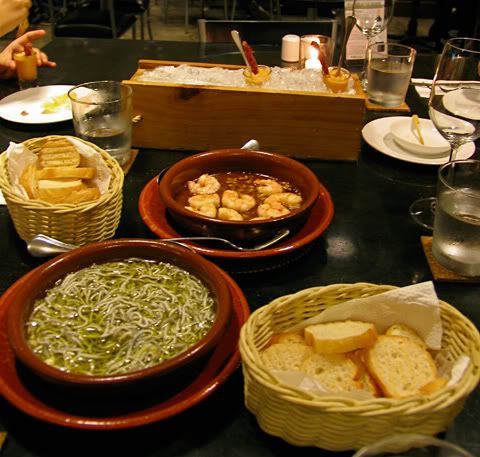 Old favorites
Spicy Gulas
and
Gambas al Ajillo
which my kids can't do without. We also had an order of
Croquetas de Tres Quesos
, the youngest's favorite, but the photo thereof came out too blurred to post here.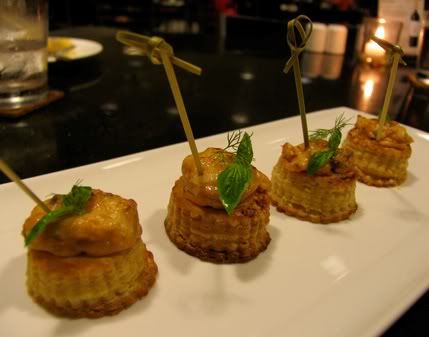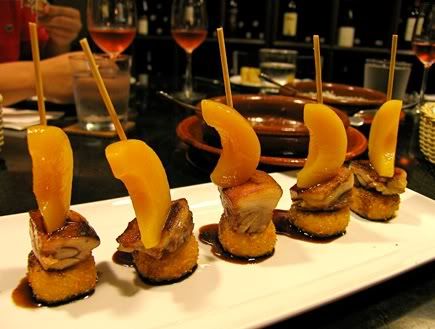 This was an absolute hit:
Peaches & Pork Belly Perched on a Cheesy Ball
. The
Balsamic- Truffle Oil Puddle
was heavenly.
Seared Foie Gras on Toast with Membrillo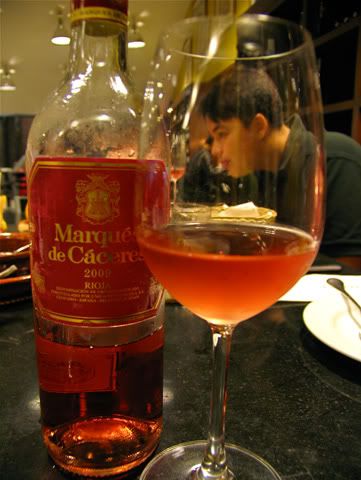 With all the pintxos and tapas, we had a couple of bottles of
2009 Bodegas Marqués de Cáceres Rosado
- Very fresh, fruity, nicely dry and crisp strawberry, cherry and raspberry. Straightforward, very approachable and easily pleasing style. Dangerously easy to drink a lot of and great with the parade of tapas and pintxos. At a mere P470/bottle, one can back up the truck on this one.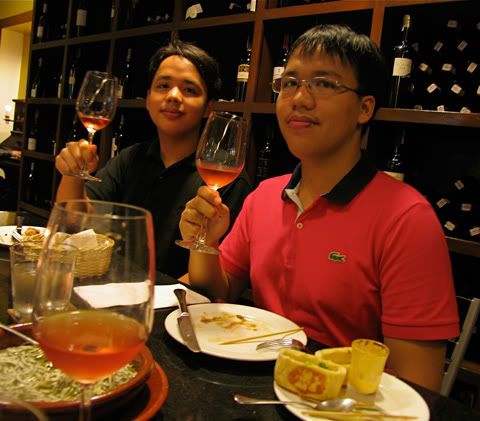 ¡Salud!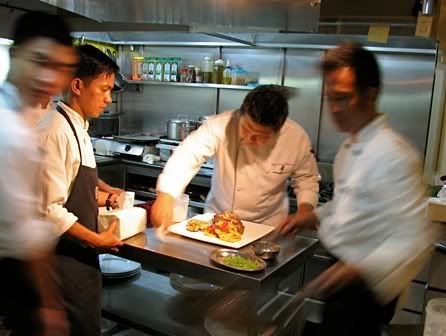 Luis & the rest of Team de Terry prepare the Chuleton...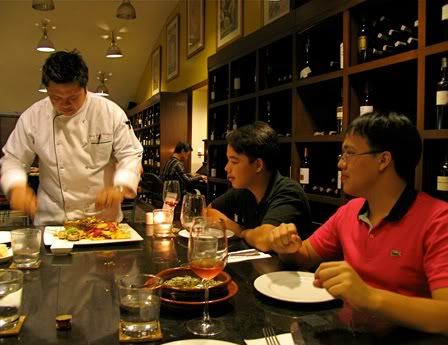 ...which Luis carved at the table.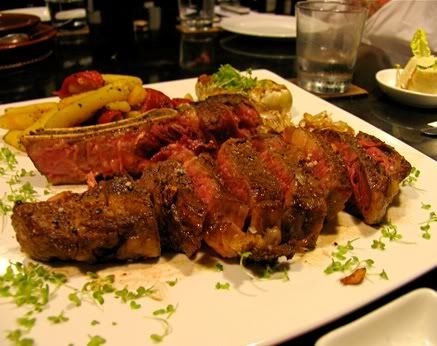 Voila. With excellent fries and sweetish Pimientos del Piquillo to boot.
During the pianist's breaks, the boys took intermittent turns playing the piano when there were not too many people left.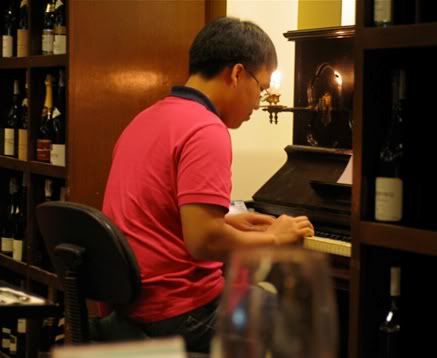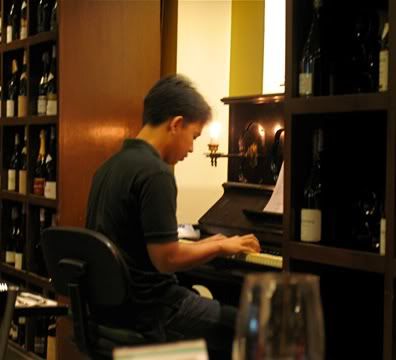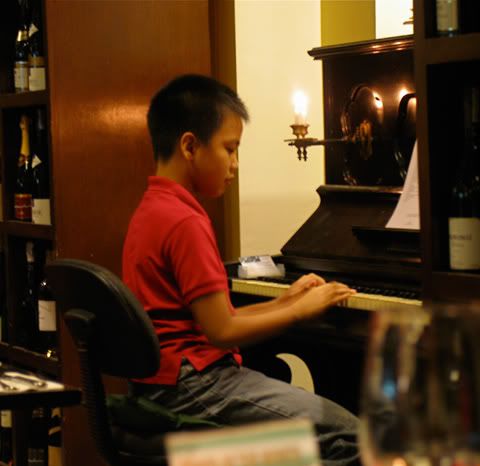 We were all pretty stuffed after the chuleton, but the youngest wanted dessert. He ordered some
Picatostes con Chocolate
, which came in a set of 5, one small serving for each of us (which was fortunate as I really couldn't handle anything bigger).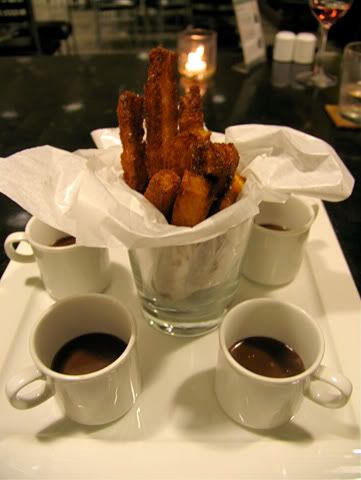 In the meantime, I had noticed the youngest chatting with Luis.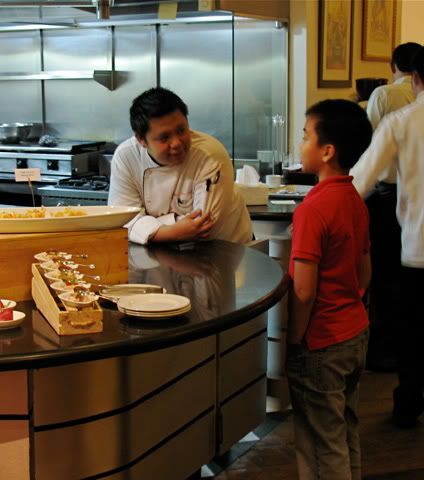 I don't really know what they were chatting about, but Luis sent the youngest a complimentary plate of
Chocolate Marquis
. I inquired if he had asked Luis for it, but the youngest said he did not - which Luis confirmed later on. Must have been an interesting conversation they had.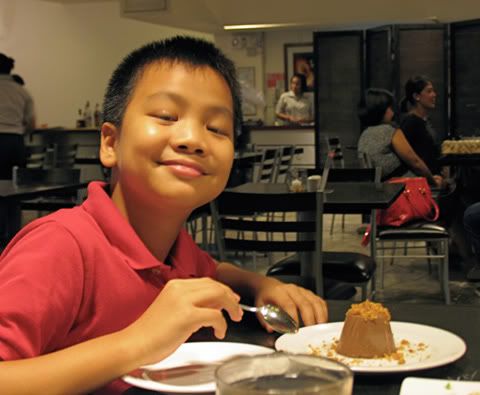 It never ceases to amaze me how children can eat and enjoy so much dessert after such a large meal....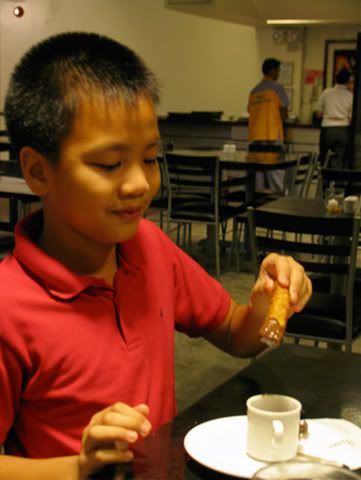 It was yet another fine meal at Terry's 2º Piso - one of countless ones we've had here. The children always look forward to eating here, and with good reason. Thanks to Luis for attending to our needs so graciously.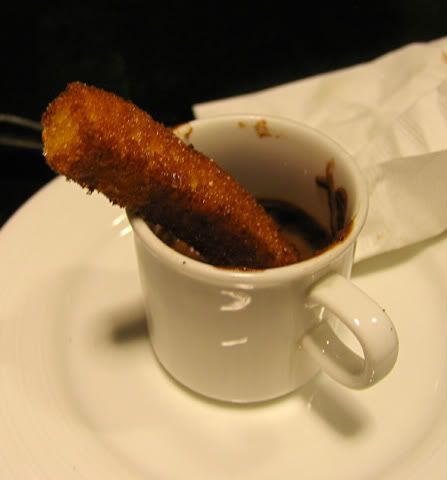 This close-up of the
picatostes
was taken by my youngest. I promised him I'd include it in my blogpost. Not bad, actually.