Having enjoyed Marc Aubry's dish of
Lamb Chops with Fresh Chanterelles Risotto & Pesto
so much
during a lunch meeting with Aaron 4 days ago
, I was back in
Je Suis Gourmand
last night, the 17th July 2010 - this time with Catha and our 2 older boys. We started off with a couple of our old favorite appetizers (unfortunately, the Roasted Bone Marrow was unavailable)...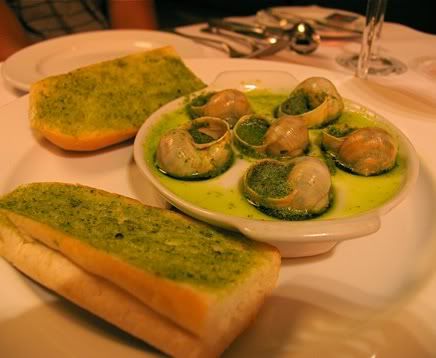 Escargots à la Bourguignonne
, and...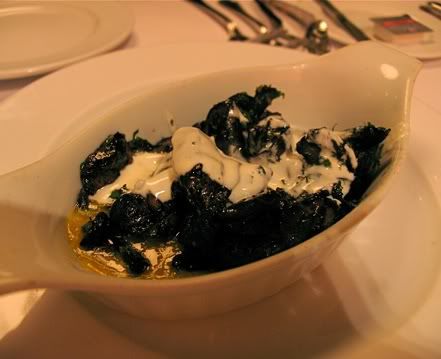 Roasted Portobello Mushrooms with Egg

,
as well as something from the on-going Fresh Chanterelles Promotion
:
Fresh Chanterelles with Foie Gras & Puff Pastry
All the appetizers were delicious. It was difficult not to gorge on them, but I had only a couple of bites of each since I had to save my appetite for the main course. No worries about wasting anything, though, my 2 sons made short work of everything.
For our main courses, we all went for the
Lamb Chops with Fresh Chanterelles Risotto & Pesto
. The lamb component of the dish on the menu is actually lamb tenderloin, but I prefer chops. Apparently, so do Catha and the boys as they ordered the same thing as I.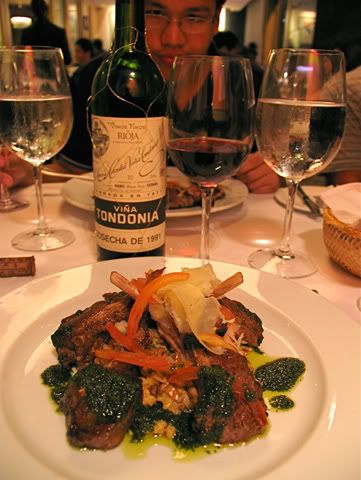 As may be seen from the above photos, to go with the main course, I opened a bottle of
1991 Bodegas R. López de Heredia Viña Tondonia Gran Reserva
*
- This particular bottle was one of a few Miguel got for me last time he was in Barcelona, purchased from one of the retail shops there (I don't recall exactly which, but I think it was at the Corte Ingles near his house). I've written about this wine twice before, i.e.,
during a lunch at Echaurren
and
at a dinner in La Tienda
.
At 19 years from vintage, this wine needs aeration to open up. I opened it, poured off a couple of glasses to air and let the rest sit in the bottle for around 35-45 minutes. Its bouquet is of balsamico, cedar, red spiciness, dark red berries and cherries over somber blackcurrant, hints of leather and violets. Notably light-footed, it mirrors its bouquet on the palate, gliding rather than sitting.
Though medium in frame and heft (12% abv), it has notable drive and persistence. Acidity is quite firm, making it truly food-friendly. Deep, complex and elegant, this is about tertiary traits. It is no "wine for the bar" to coin a phrase from Jancis Robinson - rather, it is a wine meant for eating with and pondering over. I, personally, like it with lamb chops,
chuleton de vaca
and
chuletillas de corderito
. This is an Old World connoisseur's wine. I would not recommend it to those who look for or like only over-ripe, high-alcohol, sweetly/openly fruit-forward, low acid, heavily vanilla-oaky New World/modern reds.
Marc then joined us at the table for a glass of wine and a chat...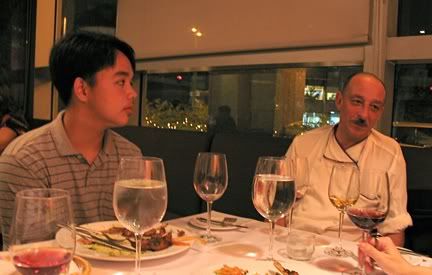 ...leading into dessert.
Our eldest and I had identical orders of the above-depicted
Coffee Ice Cream with Coffee Beans and Sauce
, Catha had the
Pears Poached in Red Wine
and our second had
Rum Raisin Ice Cream
. Coffees and Armagnacs courtesy of Marc capped off a nice, relaxed evening. I'm happy to be back in Je Suis Gourmand. It always feels like home.
*
Briefly, Bodegas R. López de Heredia ("LdH") is one of the 3 oldest wineries in Rioja and is the oldest (built in 1877) one in Haro, the town in Rioja Alta which is recognized as the capital of the well-known wine-producing Rioja region. The winery is known as the most traditional producer of La Rioja, adhering to the old, austere, elegant and food-friendly style.
According to María Jose López de Heredia (who now runs the winery with her siblings Mercedes and Julio Cèsar), in reference to their adherence to the traditional style: "We will die with our boots on." I, personally, do not think there is any great danger in the winery's demise any time soon - though they refuse to change their style to suit certain critics' tastes, I am aware that Josh Raynolds of Tanzer's International Wine Cellar recently (July/August 2009) gave this wine a score of 94 (for whatever that is worth).

LdH's Viña Tondonia comes from a single, large vineyard of the same name and the gran reserva is produced only in the better vintages. For the 1991 vintage, only 1250 cases were made; it spent 9 years in barrel and many more ageing in bottle before release. LdH is known for releasing its gran reservas many years after bottling; for example, its 1994 Tondonia Gran Reserva was released only around March 2010 - virtually 16 years from harvest.