Last night's dinner at
Ciçou
was a two-fold event: a weekend celebration of our 2nd son's birthday, and, finally, with Aaron & Jo, meeting Víctor Quinson, Bodegas R. López de Heredia's ambassador for Asia. We had a dinner for immediate family at home for the birthday boy earlier in the week; and Aaron and I had been corresponding regularly via e-mail with Víctor from Spain (he is based in Barcelona and, incidentally, has family roots in Alsace - both places which I love).
Still on antibiotics due to a bad case of tonsillitis which brought with it a high fever, I actually was advised not to have any alcohol. For this dinner, however, I allowed myself a few glasses.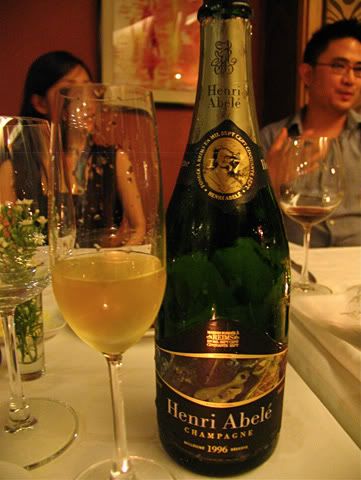 1996 Henri Abelé Champagne
- Aaron's bottle, a champagne from Reims from an excellent champagne vintage. I've had this same bubbly from him on the 19th June 2010
at his birthday lunch for the Usual Suspects.
My notes then were as follows:
1996 Henri Abelé Champagne - Aaron's bottle. Rounded, ripe, slightly creamy flavors of pear, yellow apricot, Japanese plum, bit of lemon, brioche with slight cinnamon and vanilla notes. Vibrant, fresh, quite pleasant and nice with the pork rillette and cheese portions of the salad.
This bottle was consistent with the above notes, but, with added time in glass, opened up more, yielding added coffee and slight oxidation nuances, thereby showing more depth and complexity. Aaron said he and Jo didn't get these traits, but I note that I, amongst us, spent the longest time with the champagne. I liked this very much: light on the palate, good freshness, depth and complexity.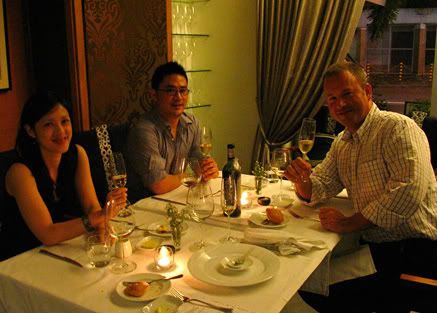 Jo, Aaron & Víctor
Being quite busy chatting and seated at a separate, albeit nearby, table from Catha and the boys (Aaron, Víctor and I had a bit of business to discuss), I wasn't able to photograph their appetizers of Cyrille's
Home-Made Pork Rillettes
;
Marbled Terrine of Foie Gras & Unagi with Teriyaki Sauce, Lemon Confit and Red Cabbage Salad
, and, their first course of
Fresh Maine Lobster à la Nage with Cheese Ravioli & Parsley Sauce
.
Aaron had graciously sent glasses of champagne to Catha and the 2 older boys.
For my main course, to pair with the wines, I again had the
Australian Lamb Rack Coated with Fresh Herbs and Citrus, Served with Lamb Stew Raviolis Gratinated with Parmesan with Eggplant Caviar
.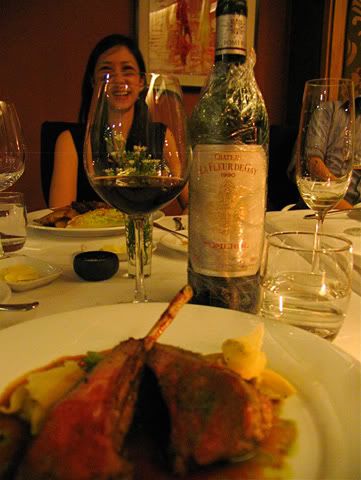 1990 Château La Fleur de Gay
- Aaron's bottle. I've also had this from him before
at the Usual Suspects' Christmas lunch 2009
, my notes from the time being:
1990 Château La Fleur de Gay - Aaron's bottle, a generous treat for us all. Notably ripe, velveteen dark plum, black cherry, hint of kirsch, raspberry, mocha, smokey camphor, cedar, subtle dark minerals, underlying leather, violets. Nice concentration and extraction, but not over-done. The fruit is deeply-veined, indicating older vines. Admirable harmony, a bit low in acid but that, I find, is a vintage trait. Over-all balance superior. I enjoyed this wine a lot. Thanks, Aaron.
My impression from last night's bottle mirror the above from almost exactly 9 months ago, save for the added, entertaining, underlying dark chocolate and some creamy vanilla notes. It never fails to amaze me how many flavors can result from a single grape (100% merlot). Suavely masculine Pomerol power in this. Very nice.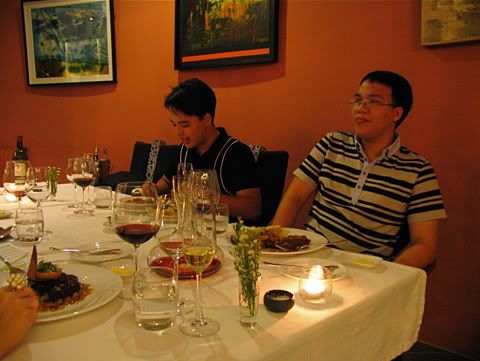 For mains, Renzo had Cyrille's special
Couscous Royale
, Mauro the
Boeuf Onglet
(which Jo also had), Joaqi some
Oeuf Cocotte
and, Catha, the
Boudin Noir
.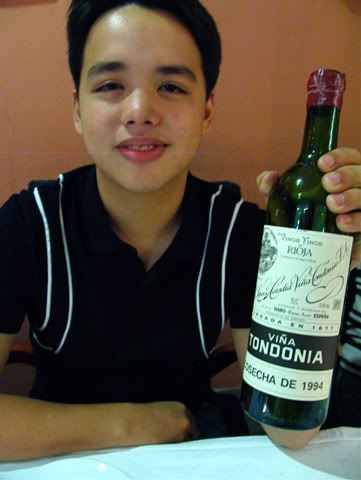 In honor of the night's birthday celebrant, I opened a bottle from his birthyear:
1994 Bodegas R. López de Heredia Viña Tondonia Gran Reserva
- I've mentioned before that R. López de Heredia releases its gran reservas only when they deem them ready to drink. This was released only in the first quarter of 2010 - and is yet only available at the wine shops of El Corte Inglés in Spain. It was through Víctor's intercession with the producer that Aaron and I were able to acquire limited stocks of these for ourselves and to make available to fellow aficionados of fine Riojan tintos.
I had tried this twice before - bottles I purchased in Barcelona this past April at the Corte Inglés near Miguel's house - the last bottle I opened was during
a dinner at Boozze & Margarita's place on the 31st May 2010.
Last night, after being decanted for aeration for around 45 minutes or so, the bouquet was as entrancing and complex as ever with sweetish balsamico, cedar, violets, dark cherry, raspberry, slight strawberry, with mere hints of licorice and leather. A few notches over medium-bodied, very neat, refined, elegant and remarkably balanced. Notably more open than the last time I had this, it is, indeed, a pleasure to drink now, especially with good lamb rack, though this has many, many more years ahead of it. Loved it. I am very proud of this wine.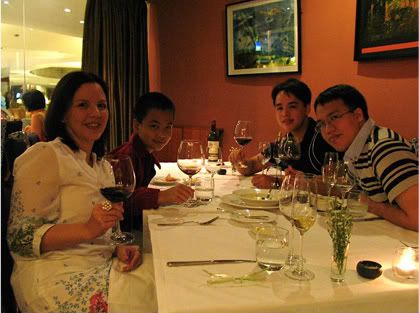 My family being quite full already, they just ordered the
Kouing Aman Cake
and a
Maracaibo Dark Chocolate Ganache with a Macaron-Ice Cream "Sandwich"
(the latter my youngest was too full to eat so Jo kindly helped him out with it). Of course, Catha and the kids had to have their petits fours of Cyrille's
Cannelés
and
Macarons
as well. Cyrille, however, wasn't through feeding the boys yet...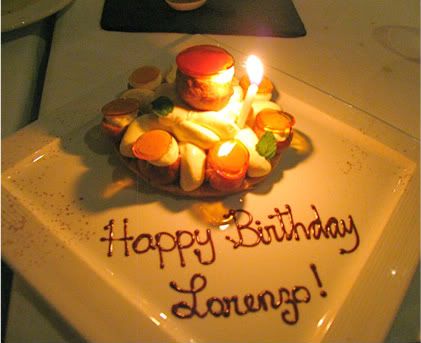 ...as he sent the celebrant a surprise birthday dessert.
A double espresso (decaf for me) and several stories later, we all got up to leave. Víctor had, after all, just flown in to Manila that day from late night meetings in South Korea and, surely, needed a good night's sleep. From the photo on the right, it looks like he wasn't the only one.
Many thanks again to Cyrille for yet another excellent meal. I hope to try his Couscous Royale very soon. Until the next!