Last night, the 20th September 2010, was back at
Je Suis Gourmand
with the Usual Suspects and special guest, Víctor Quinson. I've mentioned in my previous post that Víctor is the ambassador of Bodegas R. López de Heredia in Asia. Well, in addition to representing Rioja's bastion of tradition, he represents other highly-acclaimed Riojan producers, one of which is Bodegas Remírez de Ganuza. We were 9 in all: the Stockbroker (freshly back from running the Médoc Marathon), Víctor, Aaron, Arnie, Greg, J-Lab, Miguel, Rene and myself. Keiichi was supposed to join us, but, unfortunately, got stuck in Tokyo with office matters.
As with any civilized gathering, the evening started off with some bubblies...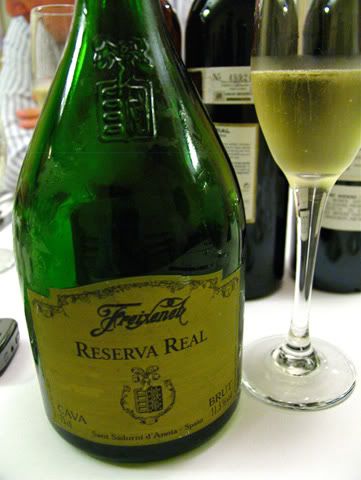 Freixenet Reserva Real Cava Brut
- Aaron's bottle. This line was created to commemorate the visit of King Juan Carlos and Queen Sofia to the Freixenet winery in 1987. A blend of Macabeo, Xarel-lo and Parellada, this fine cava is typically blended with a small percentage of reserve wines and aged at least 30 months before release. Quite champagne-esque in its fresh apple with slight white grapefruit, citrus and preserved fruit base flavors, it is complexed with notes of pastry, bit of brioche, white flowers, discreet fine minerality and a whisper of vanilla. Barely medium-bodied with a nice, slightly biscuity-creamy from the middle, its over-all depth and freshness definitely make it one of the more serious cavas I've had. Very nice indeed.
Available at Aaron's ADP Industries
.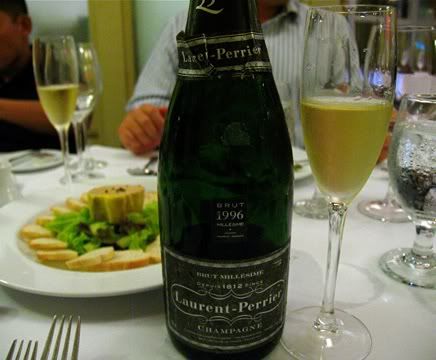 1996 Laurent-Perrier Brut Millésimé
- J-Lab's bottle, from an excellent champagne vintage. I immediately noted its heft, pronounced middle, depth of fruit and nice complexity. The fruit (apple, bit of apricot and lemon custard) had a general ripe, confited and slightly honeyed character to it. Alluring white flower, biscuit, brioche, candied ginger notes and a whisper of underlying coffee added to the complexity. Definitive strike, properly reserved crescendo and a medium-long, quietly confident finish. A joy to drink alone; it also went well with Marc's signature
Terrine of Foie Gras
and the
Pork Rillettes
.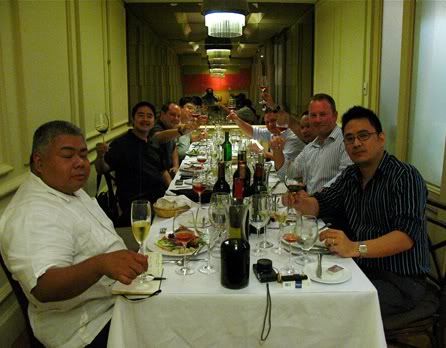 There were so many bottles open, I didn't get to take photos of them all. Some of those were:
The Stockbroker's Mystery Wine
- Served totally blind, we were to guess what it was as closely as possible. J-Lab to my right almost immediately said it was a Napa from the early '90s. The wine's initial pronounced minty topnote and very ripe, dark fruit and crème de cassis made me immediately agree that it wasn't Bordeaux. The mouth confirmed my initial guess because the fruit was way too soft, virtually no acidity and structure to speak of - the wine seemed to just fall off my tongue. However, the minty notes disappeared shortly, leaving, to me, an aged St-Estèphe bouquet with earthy-sweetish truffles, crème de cassis, bit of kirsch, leather and vanilla bean. The ripeness of the fruit made me think it was from 1990.
J-Lab then astutely noted to me that a St-Estèphe would have much firmer structure and I definitely agreed. However, from the nose and seeming weakness of the palate, I figured it couldn't be from Napa - and guessed that it was probably a less-than-pristine 1990 from St-Estèphe. It turned out to be a
1991 Dominus
. Again, Dominus had me stumped. I've never been able to identify Dominus as a Napa when served blind. Perhaps I never will. I noted though that I've had this same wine from different bottles twice or thrice before - and that this subject bottle was nowhere near as good as the previous ones. Still, it was very generous, as usual, of the Stockbroker to share a wine such as this, and, of course, it was much appreciated.
2007 La Rosée de Pavie
- Arnie's bottle. I asked if I could open it as I intended to order Marc's
Trio of Lamb
(Rack, Merguez and Loin with Couscous). Unfortunately, it is no longer on the menu, so I had this rosé with some
Escargot à la Bourguignonne
. This is probably the heaviest, most concentrated rosé I have ever had from anywhere. Red cherry, plum, bit of raspberry with a faint underlying blackcurrant nuance. I would have liked more freshness and brightness in the fruit. Still, I was thankful to have a rosé with this old JSG favorite appetizer.
2002 Château Lynch Bages
- Greg's bottle; he doesn't really like drinking anything but Bordeaux, though he claims otherwise. Bordeaux's 2002 vintage is not really notable, generally viewed as one more for casual and early drinking. I've had a few, but never thought much of them. J-Lab liked this well enough for what it was, but I really couldn't get interested in it. Sure, the Pauillac traits of gravel, pencil lead shavings, bit of leather (as well as cedar and hints of charcoal) laced the dark fruit, but its middle was virtually non-existent - no crescendo at all. The finish was barely moderate, the structure was fair. Pleasant enough, but not interesting to me.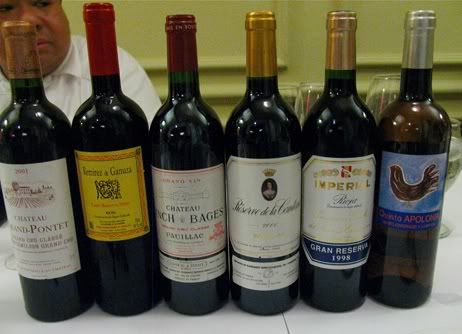 From the outset, I had my eye on one red in particular.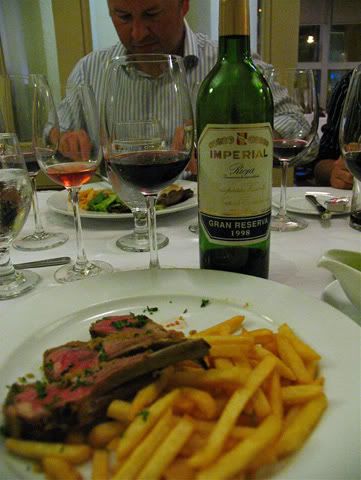 1998 C.V.N.E. Imperial Gran Reserva
- Miguel's bottle. Easily my favorite red of the night. This, though not old by Imperial Gran Reserva standards, seems to be transitioning to the Burgundy side (probably the vintage as I perceived the same in a 1998 Bodegas Riojana Monte Real Gran Reserva I had in early April this year). It possesses very good structure and acid balance in its gently balsamico-touched, deep, dark black cherry, ripe raspberry, hint of kirsch, underlying blackcurrant and leather, cedar, licorice, mere hints of cinnamon and vanilla. Good, smooth, moderately meaty texture. Notable complexity, harmony and balance in this. Lovely wine and a natural match with my
Grilled Lamb Chops with Frites
.
I also tried some of Arnie's
2001 Château Grand-Pontet
- like the '02 Lynch Bages, this seemed to have a weak middle, virtually no crescendo to speak of, but the '02 Lynch Bages' structure was better. Dark plum, black cherry, underlying cassis, bit of loam, leather and cedar.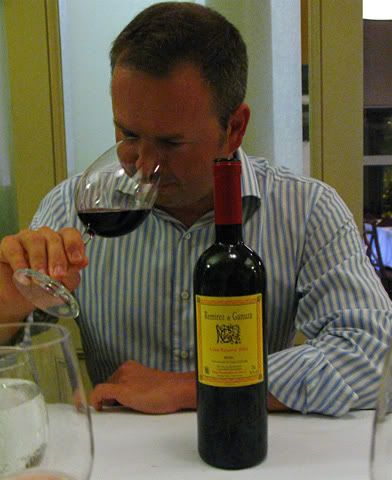 Víctor noses the next Riojan tinto.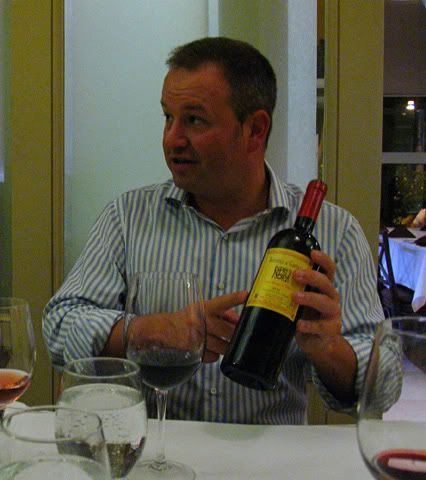 2001 Bodegas Remírez de Ganuza Gran Reserva
- Víctor's bottle. This was the last red I had that night, with some
Tomme de Savoie
and walnuts from the
Cheese Platter
. It had been in a decanter for around 2 hours by then if I recall correctly. Made of tempranillo and graciano from 60 year-old vines, picked after extended hang time. This wine was aged, as I understand, for 27 months in all new French barriques. I've only ever had one other wine from this producer:
Doc's 2001 Remírez de Ganuza Reserva during Valentine's dinner 2009 at his place
which I liked quite a bit. my notes of the 2001 Reserva were as follows:
2001 Remírez de Ganuza Rioja - The Doc had texted me that he was serving this late that afternoon, saying that it was a powerful wine. I knew nothing of the wine or winery and told him I'd never even heard of them. He told me to read up on it in Jay McInerney's "A Hedonist in the Cellar", but I neglected to. I actually expected a huge, super-ripe and sweetly over-extracted Parker gobful fruit bomb and was quite surprised at what it turned out to be.

Calm, self-assured, vaguely smoky, cedary dark cherry, very ripe strawberry over a thin stream of discreetly licorice-tobacco-and-leather-laced black fruit and dark plum. The red fruit/berry leads the strike, allows for a savory dark fruit dominated crescendo, and re-takes its position past mid-mouth and sees fit to ride the surface in the finish.

There is a woodiness, yes, but not in the ubiquitous, heavy creamy toffee - cinammon - toasty knockout combination I expected from old-style Riojas. Rather, it appeared more cedary, with the oak notes calm, relatively quiet and well integrated - just giving a nod of recognition in passing. Admirable balance and depth of fruit without shouting it out - a quiet intensity. It was more my type than I thought it would be. I'd guess this was made along the lines of the so-called "modern" (i.e., Bordeaux influenced wine-making style) that Marqués de Riscal began in Rioja in the late 1800s.
The subject gran reserva version was evidently denser, heavier, more viscous and more powerful than the immediately above-described reserva from the same vintage. The oak notes were more pronounced as well. Miguel, Greg and J-Lab noted that it struck them as quite modern, and I agreed. I think I liked it more than some of the others, but, honestly, I prefer the reserva version of this wine.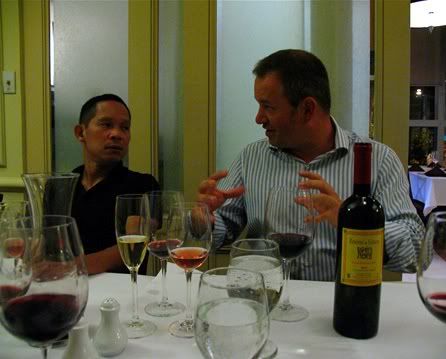 Víctor elaborates on the wine's
elevage
as the Stockbroker listens intently...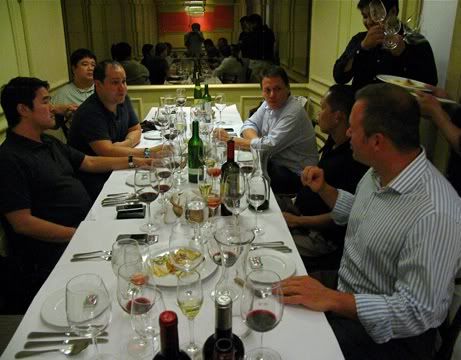 ...as does the rest of the table. With dessert...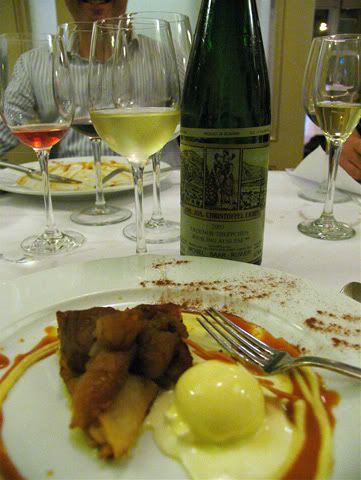 2003 Joh Jos. Christoffel Erben Erdenerer Treppchen Riesling Auslese
- My bottle, a gift from fellow Wineberserker Clem Nieto. Moderate
goutte de pétrole
lines honey, peach, tangerine, ripe lemon, slight candied ginger, traces of white minerals and honeysuckle. Light, bright, clean enough with good focus. I expected more heft and concentration from an auslese, but J-Lab (the group's resident German wine expert) explained that it was typical enough a Mosel riesling auslese. Reminded me a bit of the 2006/2007 Sonnenuhr spätleses of Dr. Loosen, though not quite as pure or bright. I had this with my dessert of
Tarte Tatin
. A double espresso (decaf - I know, but with my sleep issues and all....) capped the evening for me.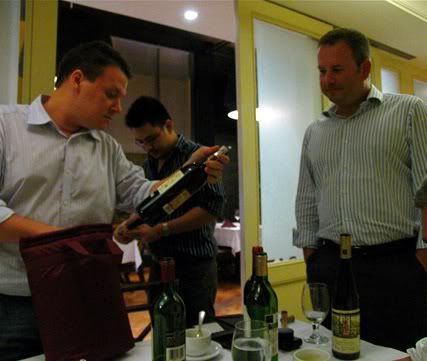 The Barcelona boys pack up before calling it a night.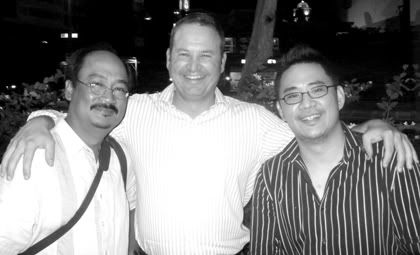 We said our goodbyes outside, promising to see each other again soon, whether in Manila, Spain or at the next Vinexpo in Bordeaux. Greg took a quick snapshot of Aaron, Víctor and myself with Aaron's camera - "Team López de Heredia Philippines" quipped Aaron. Great dinner. Thanks to everyone for sharing their wines and company. ¡Hasta la proxima!