Today's lunch, the 2nd December 2010, was at
Mamou
with Miguel, Rene & Santi. A pre-Christmas lunch, as it were. I was a bit delayed by unusually heavy noontime Makati traffic, so Mig & Rene were there ahead of me. Santi followed shortly. In the meantime, we ordered our food and popped open a bottle of bubbly to start.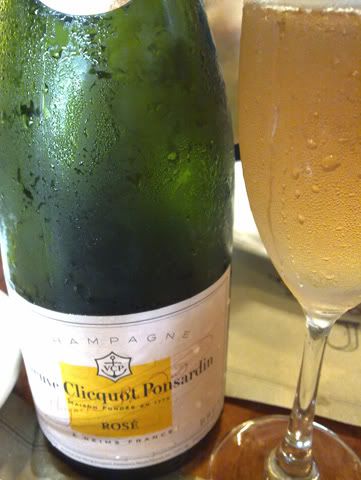 Champagne Veuve Clicquot Ponsardin Rosé NV
- My bottle, one I picked up at CAV (at a good price - just P2800/bottle) on the way to Mamou (a bit stressed from the traffic, running late, difficulty in finding parking and a sudden work-related call during the latter, I felt the need for some bubbly to ease me into the meal). Notably fresh, straightforwardly exuberant, vibrant and lively strawberry, slight redcurrant, bit of orange, citrus over ripe pear with perky yeast and fresh bread highlights. I've had this many times, but this bottle was exceptionally good (or, maybe, I just really needed it). Either way, I really enjoyed this one. It definitely hit the spot. At it's price, it's a no brainer.
Halfway through our first glasses, Santi arrived and our 2 orders of
Spaghetti Bottarga
hit the table.
This, like at
the last wine lunch here a little over a month ago
, was perfect. Before that,
when I first tried Mamou's version of this
, the bottarga was a bit too subtle. The past 2 times, though, were excellent. I now join Catha and the Doc in naming this my favorite spaghetti bottarga in Manila.
Just as we were finishing off our pasta, our 2 orders of
Dry-Aged US Prime Grade Bone-In Rib-Eye
were served.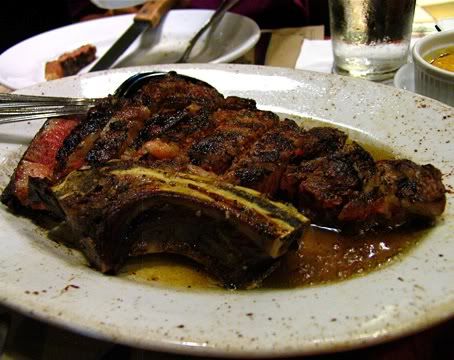 With these, we had orders of
Red Steak Rice
(one each for Santi & Miguel) and
White Steak Rice
(one each for Rene and I),
Mamou's Bacon
and a platter of
Asian Duck with Chinese Chorizo Red Rice
(all of which I neglected to take photos of).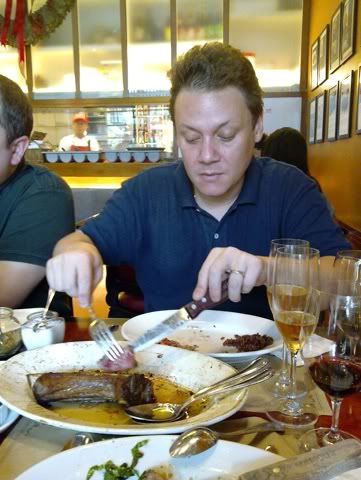 With the steaks, we enjoyed a 12 year old Napa.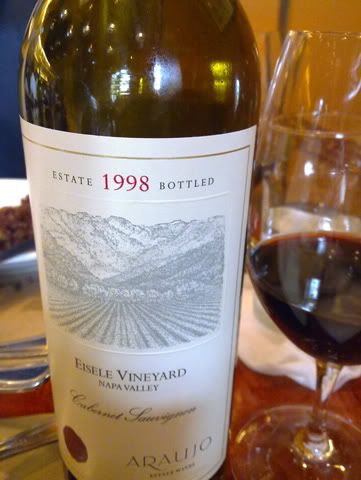 1998 Araujo Estate Cabernet Sauvignon Eisele Vineyard
- Rene's bottle. I first tried Araujo wine from him during
a dinner at Santi's place back in June 2008
- the 2000 vintage of their 2nd wine called "Altagracia". Back then, I already noted that the style:
...does not appear to be from the "the bigger, the better" school of wine-making. Though I would certainly not mistake it for Bordeaux or Old World, it does not display the over-bearing, syrupy consistency, tons of oak or telltale coconut-creamy/sweet butterscotch smell of a typical, big napa cab. Rather, it shows comparative restraint (a good thing for me) without sacrificing the straightforward honesty and rich flavors of its its kind.

Big (but not blocky), rich (but not ostentatious), this wine shows off its comparatively viscous, sweetishly ripe molten black fruit, mere hint of pruniness, crème de cassis, licorice, touch of toffee and sweet tobacco with some refinement.
A little over a month later, I got to try another of Araujo's wines
during a dinner featuring California cult cabernets
, specifically, the 1993 Araujo Estate Cabernet Sauvignon Eisele Vineyard. I had similar perceptions of Araujo's style:
Much less dense and brooding than the previous red, this had mild leather nuances to its dark fruit, cassis and violets. There was some minerality, but very, very subtle compared to the Grace. The wine itself was much more focused, purer in fruit and lighter on its feet as well.

This was one of the wines I was most curious to try, having recently had the second wine (the 2000 Altagracia from Rene Fuentes II) which I found to be much more elegant and understated in style than most Napa cabs I've tried. My assessment holds true to this 15-year-old first wine - it was as elegant as its bretheren go, and was my third favorite wine of the evening.
The subject wine re-confirmed my preference for the Araujo style of Napa cabs: mellow, deep, markedly good depth, balance and harmony. Not at all in-your-face. This is a few shades under legitimate Napa cab full body, notably smooth, warmly supple mid-mouth, soft-fruited, precise ripeness, with grace and poise. Faint minty topnote, cedar, violets, mildly earthy dark fruit, sweetish red berries, just a pinch of underlying tobacco and wood spice with slight red spice in the finish. Lovely wine, probably the most poised and elegant Napa cab I have had. Very different in character compared to the darkly serious, masculine Montelena and the Bordeaux-esque Dominus (two of my favored Napa cab producers). A great treat indeed - and it was fantastic with the steaks.
Our combined efforts made short work of the hunks of meat, the last few minutes spent shaving off the delectably rich last bits from the bone.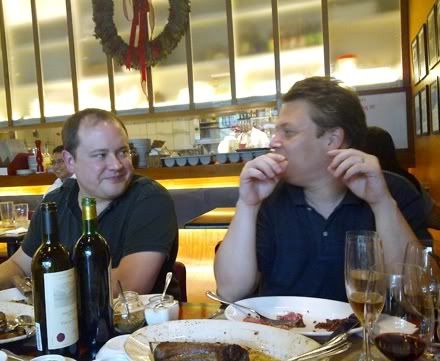 In the meantime, an older red had been opened to gently breath. The main courses done, we settled at a table outside for the next bottle with a platter of
Fuet & Cheese with Honey
.
1979 Château Pichon Longueville Comtesse de Lalande
- My bottle, but I'm not sure if this one came from my batch from KL Wines or Cellaraiders (I've opened many of these over the past 4 years). This one had a very good fill, but the cork was damp past halfway up (no signs of going past the cork though). Not the best '79 Pichon Lalande I've had - actually the most advanced one I've ever opened. Santi initially noted it seemed slightly flat. After around 25-35 minutes of breathing in glass, it did show nice enough age-sweetened, cassis, underlying and discreet dark gravel and pencil-lead notes, bit of dark plum, black cherry, raspberry and violets. Just a notch or two over medium-bodied. Graceful and feminine, yes, but the fruit was pretty tired. Oh, well, not all can be gems, can they? Still, not a bad wine. Certainly acceptable, if not much more than that.
Miguel and I got the last two pours of the bubbly to wash our palates, we all got some coffee and double espressos and headed off to our respective homes. The Pichon's less-than-stellar performance was more than made up by the bubbly and Rene's Araujo. The excellent steaks and company certainly didn't hurt. Thanks, guys.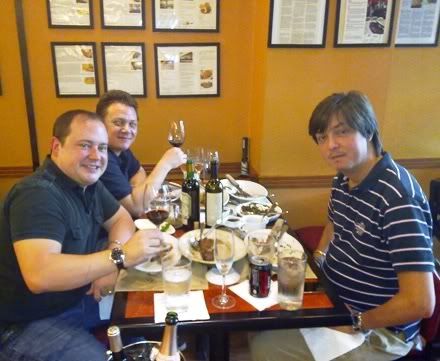 ¡Salud y hasta la proxima!