This past Sunday, the 19th June 2011, was dinner at home for my dad to celebrate Fathers' Day. I, unfortunately, missed my father-in-law's lunch at his place since I was stuck at the dentist's office having a root canal procedure. Dinner was simple, but good. Catha had the maids prepare a few pica-picas of, among others,
Olives
,
Hummus & Pita Bread
,
Eggplant Pizza
and
Sobresada w/ Baguettes
, which we had with...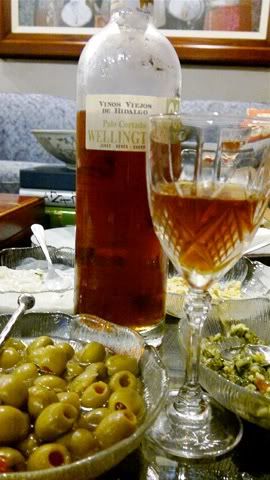 Bodegas Hidalgo Palo Cortado Wellington 30 Años Sherry
- I was (and actually still am) on painkillers, so I had but a small glass of this late in the evening. Alluring bouquet, with gliding, walnut, rancio notes to its dry, preserved fruit flavors. Very, very nice. Catha and Chako really liked this.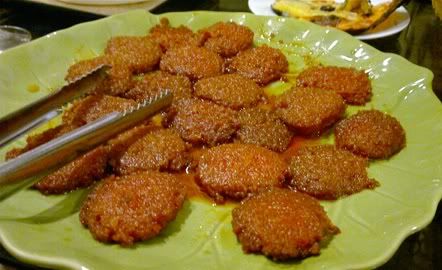 My sons with my only direct, blood niece, Anne Suyin, who is in town for vacation.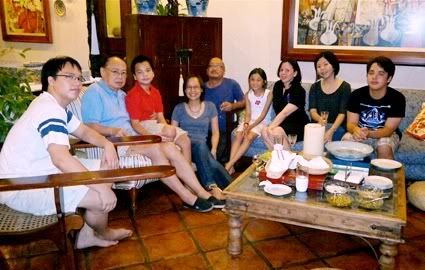 All of us with my dad.
My sister, Pia, Yin's mom, was, and is still in Indianapolis as she had to stay and attend to her recently-opened allergy clinic; while, Harry, my brother-in-law, was out of town for a few days on a diving trip with his old friends. Pia called, though, to greet dad and chat with Yin.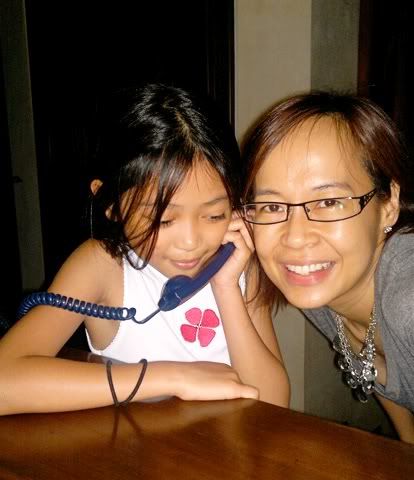 Yin with my other sis, Reena.
Dinner proper started with some
Salad Greens with Candied Pili Nuts, Craisins, etc
. prepared by Catha. N
o photo though as I was still in the kitchen at the time cooking the main course.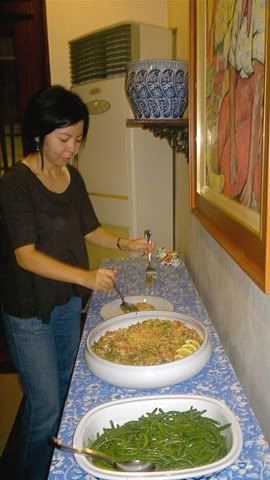 After the salad, Chako goes for some of the...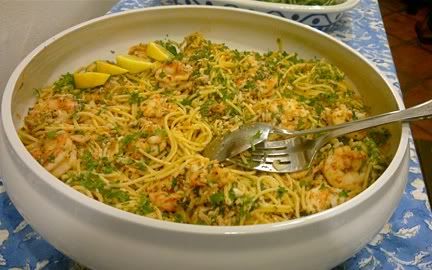 Prawn Pasta
made by my dad's cook. This was pretty good and timely since I could chew it
despite my aching teeth.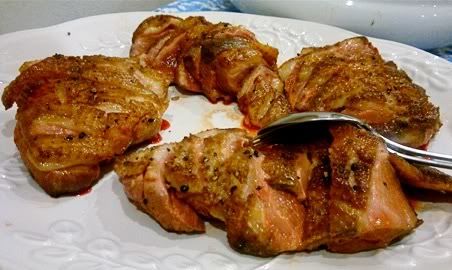 Above is the platter of
Pan-Seared Magret de Canard
by me (mostly rare, some medium rare). I also made a quick pan sauce with the duck fond, bit of duck fat, balsamic vinegar (reduced) and honey. The others seemed to like it a lot. I recall Yin liked it especially with the sauce and Tad's specialty
Rosemary Potatoes
.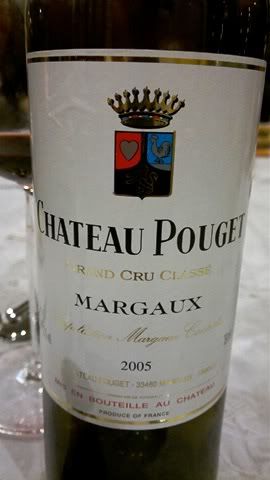 Because of the duck's rich sauce, I decided to open a bold, young Bdx from a big, ripe vintage, namely a bottle of
2005 Château Pouget
, a 4th Growth from Margaux given to me by Aaron. I decanted this for only about an hour before service. I couldn't really drink because of my meds, but I did have a tiny bit that showed big, bold rich aromas and flavors of crème de cassis, kirsch, licorice, vanilla/oak, bit of cedar, violets and some underlying warm asphalt. Big, concentrated, dense, viscous, mouth-filling, modern and still quite primary. It definitely had the stuffing for the duck and its sauce though. Desserts were...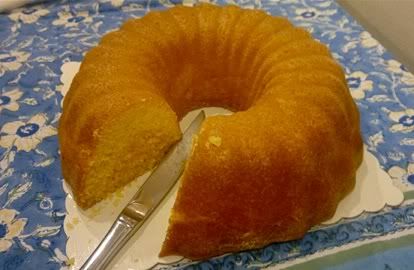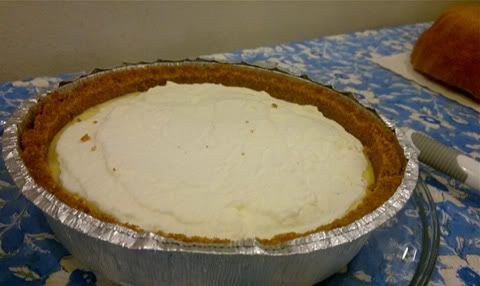 Key Lime Pie
(from the Blue Kitchen), and...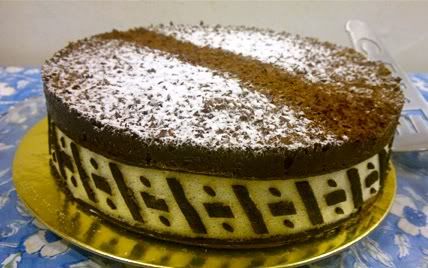 Chocolate Cake
from the Diamond Hotel
.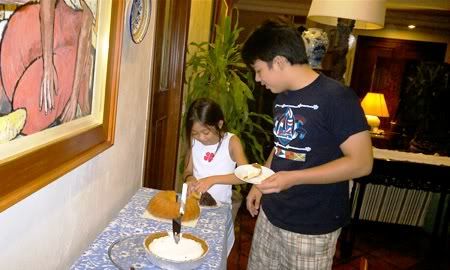 Renzo & Yinny at the dessert table.
Dad, Reena, Yinny, Mauro & Renzo.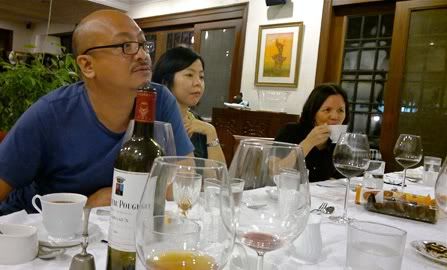 Tad, Chako & Catha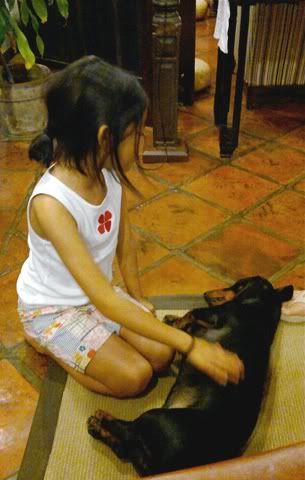 Yinny really likes Sparky, and the feeling is apparently mutual.
Here, Yin gives Sparky a tummy rub.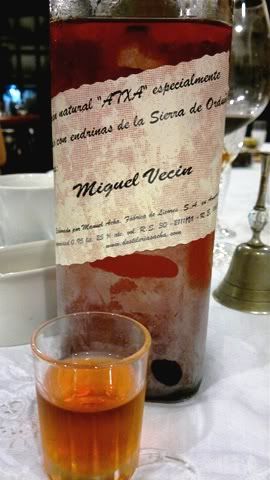 After dinner, we all had some shots of
Pacharán
. This bottle was a gift from Miguel - a personalized bottle no less. Tad and Dad had seconds, so I'm pretty sure they liked it. I didn't have any, though, as I was afraid that my stomach would react badly to a digestif with all the meds. I still have a lot of it, so no worries - as I've often said, it's not really all about wine and food, but the company one shares them with.
The kids wound up the night playing Wii Sport Tennis after Dad, Reena, Tad & Chako left. They would have played way past midnight, I expect, but I told them to continue the next day as I wasn't sure if Yin was used to staying up so late. They obviously had a lot of fun though. Until the next!