Friday lunch, the 17th June 2011, was at
Mamou
hosted by Aaron for his birthday. Miguel and I were the first to arrive; Aaron followed within 15 minutes. We were 5 in all for lunch (Aaron, Greg, J-Lab, Miguel & myself) and were complete before half past noon. Rene was at a working lunch but would follow afterwards; while the Stockbroker, unfortunately, was stuck in a day-long seminar on corporate good governance. Unless otherwise stated, the bottles were from Aaron.
As usual, the meal kicked off with a bottle of bubbly - in this instance, we had...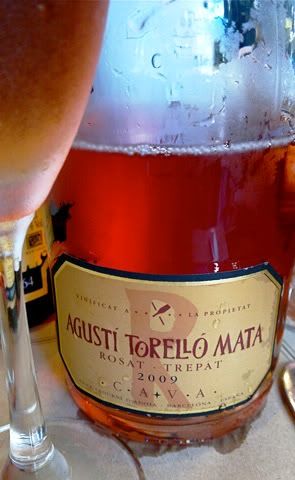 2009 Agustí Torreló Mata
- This rosado cava ("rosat" in the dialect of Catalunya) is quite dry, with decent frothiness, dominated by strawberry, cherry and some hints of red currant. Pleasant enough as an apéritif albeit rather straightforward and not really very distinctive. Still and all, it made for a perfectly acceptable welcome drink and birthday toast - and Aaron thought it went pretty well with the...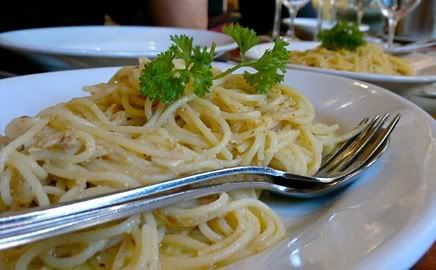 ...Spaghetti Bottarga, of which we quickly wiped out no less than 3 orders.
With this favorite dish, we had one of our usual pairings in a bottle of Piedmontese white.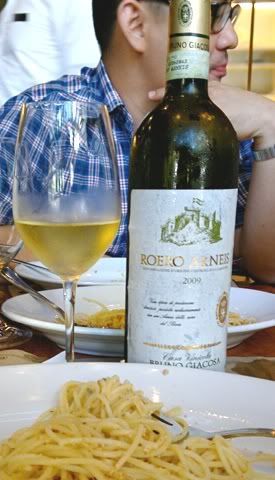 A few days before the lunch, Miguel and I were discussing what to bring for the bottarga pasta. After a few minutes, we decided not to fix what isn't broke, so I brought along yet another bottle of the
2009 Bruno Giacosa Roero Arneis
to pair with the dish. I've written about this wine so many times, I need not now repeat myself. It is such a pity that this particular Giacosa wine is not available locally. It's through Miguel that I have these bottles and my stock thereof is quickly dwindling.
I brought an aged, traditional Riojan gran reserva as Aaron's birthday gift - it wasn't opened since we had more than enough bottles as it was.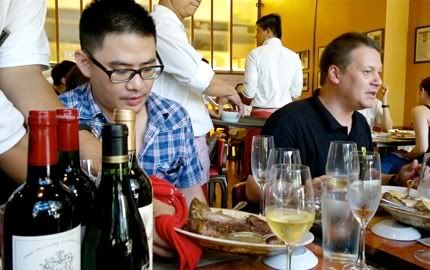 The steaks are served.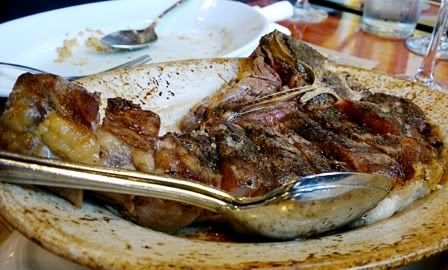 We had slabs of
28-Day Dry-Aged US Prime T-Bones
. Tragically, I had a terrible toothache since early that morning and could manage only a few small bites. I had a decent helping of the spaghetti bottarga, but chewing even that was very painful.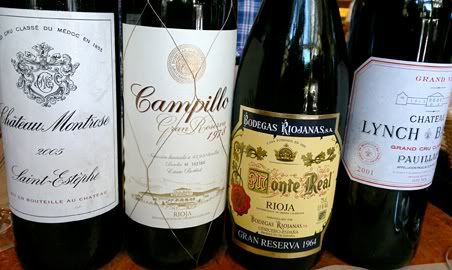 The Reds.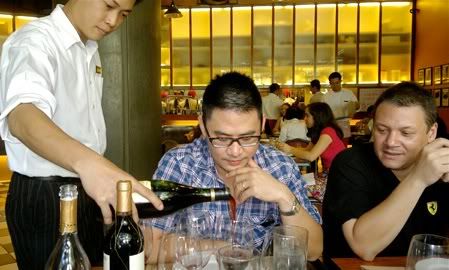 1964 Bodegas Riojanas Monte Real Gran Reserva
- Aaron got this direct from the producer's cellars, flown in by Miguel during his most recent trip. Typical bouquet of an old tinto Riojano, with cedar, violets, red fruit, slight orange peel, slight balsamico with suggestions of ceps and lavender. Mirorred on the palate on a medium body, discreet old, clean leather and wood spice in attendance. The wine is in very good shape and was a real treat by its own merit, by any account.
It was impossible for Aaron and I, though, to keep from mentally comparing it to the 1964 Faustino I Gran Reserva. The '64 Monte real GR had marginally more heft in the middle than the '64 Faustino I GR, but, to me, the latter has more definitive presence in both nose and mouth, plus, is more giving and complex. I recall Aaron shared my view. As neither of these aged beauties could stand up to Mamou's opulent steaks, I had my share after the main course.
2001 Château Lynch Bages
- Greg's bottle. This stood up to the steaks well. 2001 is, in my opinion, generally under-appreciated as it was overshadowed by all the hype of the increasingly hotly ripe/roasted 2000, 2003 and 2005. Very confident, nicely ripe dark fruit, kirsch, crème de cassis laced with nuances of mint, new leather, bit of vanilla & dark chocolate, underlying asphalt and some cedar. At this young stage, it has a rather modern, dense, roundedly full Napa-esque slant to it - but this, to me, just helped it go wit the steaks. Quite enjoyable as a pairing.
As I had taken a good dose of pain suppressants due to a very bad toothache and had an afternoon dental appointment (I anticipated either a root canal or extraction procedure), I reluctantly gave Aaron's
2005 Château Montrose
and
1978 Bodegas Campillo Gran Reserva
as pass.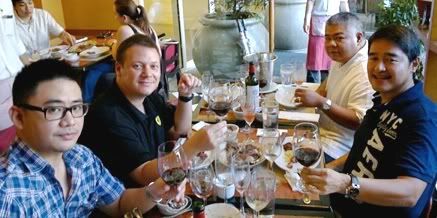 Though in great pain (chewing even the pasta was very difficult for me), I simply couldn't pass up the dessert and pairing wine.
1971 Bodegas Toro Albalá Don PX Gran Reserva
- Miguel's bottle, one he picked up at the Lavinia wine shop near his place in Barcelona. I happened to be with him at the time and also picked up
a bottle that we immediately drank in his sala
after a great seafood lunch at Ribera Manero together with Tita Rose (Mig's mom) and Catha.
Then, as now, the wine displays "(t)ypical pedro ximenez scents and flavors of molasses, dates, raisins, toffee, cinnamon, vanilla with a hint of licorice. Incredibly fresh and young at almost (now) 40 years from vintage." I noted that it seems fresher and even more youthful than the 1982 version of the same wine that the Stockbroker opened
at the Usual Suspects' Pre-Christmas Lunch 2009 at La Tienda
.
With Mamou's excellent
Pecan Pie
, this was a perfect example of a run-with-the-ball pairing. Decadent, extravagant, over-the-top even; but a damned good pairing.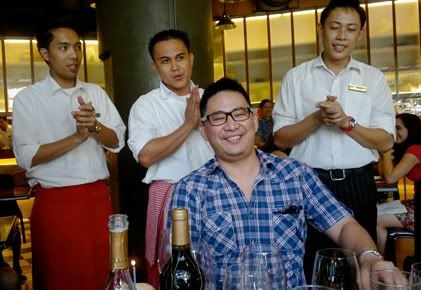 Both Malou and Annie were there that day. Greg had mentioned to Malou that it was Aaron's birthday, so he was given a little Red Velvet Cake and a rousing chorus of the Happy Birthday Song by the waiters, complete with a closing round of applause.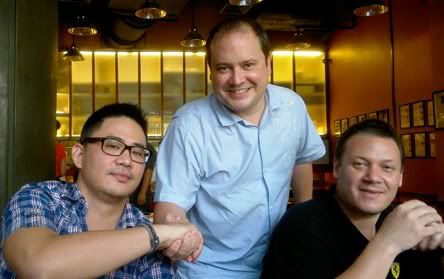 Rene had finally arrived by then, just in time to share in the
1978 Campillo Gran Reserva
with the platters of
Grana Padano & Fuet
and the dessert pairing.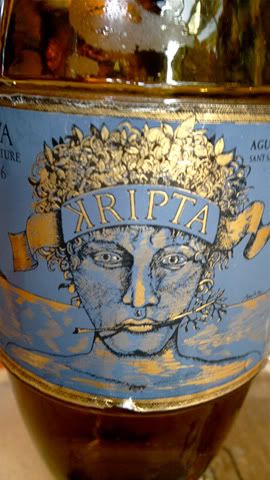 In the Spanish style, cava was served again at the end of the meal (JC told me before that this is done for the after dinner toasts and speeches). This time it was a bottle of
Bodegas Agustí Torelló Kripta Cava
- the high-end cava bottling of Agustí Torelló. The bottle is shaped like ancient Greek/Roman amorphae, i.e., vessels in which certain goods, including wine, were transported. Moderate mousse, mellow flavors of mild lime, young
haricots verts
and underlying calamansi bitterness (not the sourness). Nice enough, but I'd personally have Freixenet's Reserva Real over this any day of the week.
Time was not on my side, however, and, by then, I had to rush off back south for my much-needed dental appointment. The guys, Greg told me, lingered for an hour and a half more. Toothache aside, it was an excellent and generous birthday treat.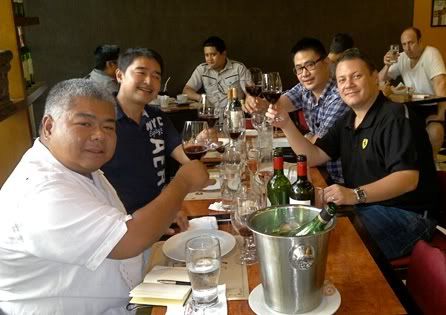 Happy Birthday & many thanks again, Aaron! As always, until the next!