Dinner Friday before last, the 10th June 2011, was
Pizza & Beer Night @ Kenny & Lisa's
with some of the Alabang group. Boozze, Ken and Tonji host these dinners every so often and it's been quite a while since I've been to one. Ken & Lisa live just a couple of blocks away and I can easily walk to their place, but, due to the recent rainy nights, I took a car there.
Aside from our hosts, Boozze & Margarita, Sylvia
sans
Tonji (who was at a highschool class reunion), Toñico
sans
Yvonne, and Manish & Anna were already making headway into the pica-picas of assorted hams, cheeses and nuts. Catha followed shortly thereafter. Ken quickly handed me a large frozen margarita as a welcome drink. It must have been at least 25 years since I even tasted a margarita, frozen or otherwise, but it was pretty refreshing and, it having been a long week, I finished it in a few minutes. Refreshing and perky enough, but mixed drinks have never really been my style.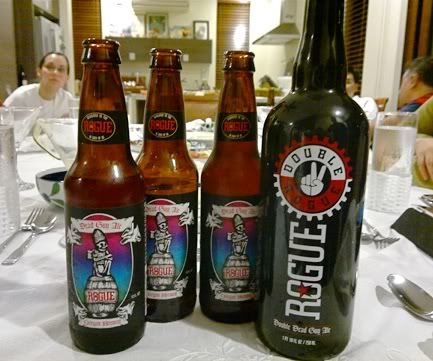 Rogue Dead Guys from Ken and
my very last bomber of Rogue Double Dead Guy.
Happily, I found that Ken's large coolers were well-stocked with various craft beers distributed by Jimmyton's
Global Beer Exchange
. Regular readers know that I and my teenagers drink a lot of his ales and that Jim is a friend with whom I've been drinking pretty regularly for the past year - but that's not why I stock a lot of his ales at home. The simple truth is that, aside from some trappist ales that Tonji introduced me to several years ago, I've only really ever known the beers of San Miguel, which, though refreshing enough after a golf game and quite nice with sisig and buffalo wings, have, through the years, become to me, well, one dimensional. Two at best.
The above-depicted
Rogue Dead Guys
and
Double Dead Guy
are among my very favorites. Very flavorful, dry, full, deep, complex, powerful yet smooth, fresh and eminently gulpable (I downed my first bottle of Dead Guy in four quick draws), there is really no comparison with SMB's stuff. Ok, so they cost a bit more; but, believe me, they are well worth it.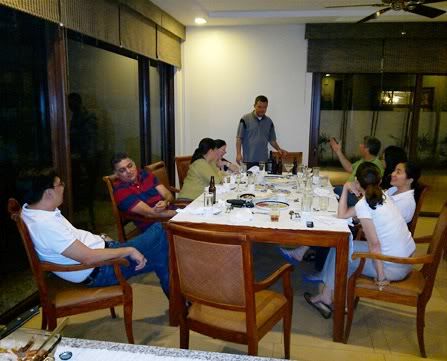 Ken and Manish showed off their respective pizza prowess by making us various tasty pies. I was quite impressed. In addition, Ken had out a huge bowl of salad and some juicy roast chicken for whoever cared. I stuck mainly to the pizzas, salad and hams though - they made drinking the ales so much more enjoyable...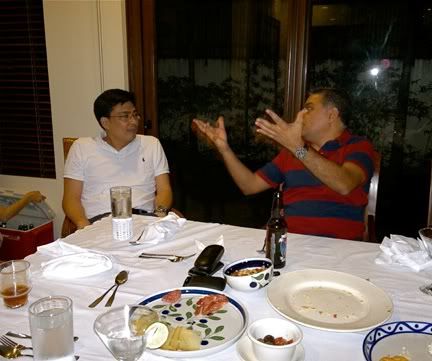 ...and, apparently, more effective as well.
The main meal over, I started opening some heftier ales I brought along to lead into and, possibly, pair with the desserts - among which were...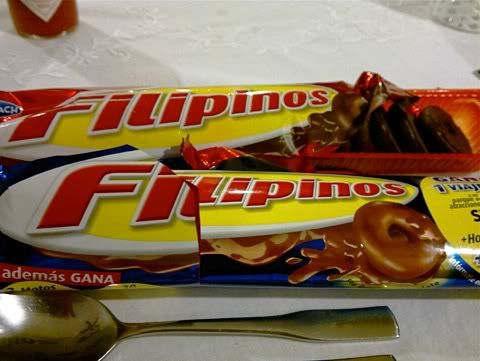 ...Filipinos chocolate biscuits that Toñico brought home from Spain, and...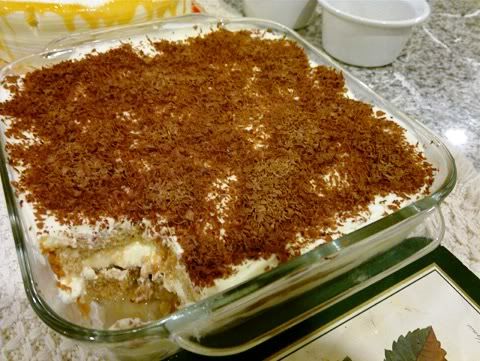 ...Margarita's excellent homemade
Tiramisu
which someone took a slice of before I could photograph.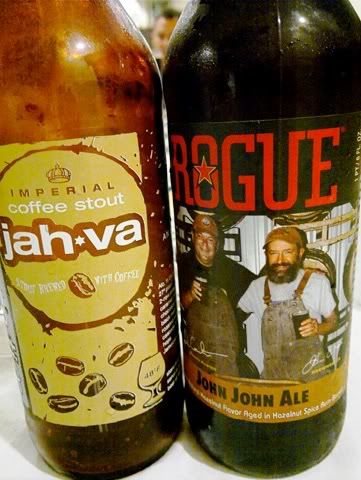 The
Rogue John John Hazelnut Brown Nectar Ale
is a slightly over medium-bodied, off-dry ale aged in hazelnut spice rum barrels which shows moderately malty, slight hoppiness, very mild caramel, bit of milk chocolate and underlying toasted hazelnuts. Yummy stuff.
The following ale was a stout, inherently bigger, heftier and robustly rounded. The
Southern Tier "Jahva" Imperial Coffee Stout
is rich, opulent, mouth-filling with deep, bombastic flavors of roasted coffee beans, bit of semi-sweet cocoa, just a hint of vanilla bean and moderate roasted malt. Expansive, broad and long. This is rich in hops which, as explained Jim, is a natural sedative - the reason it delivers to me such a mellow hit that precedes a long, deep night's sleep.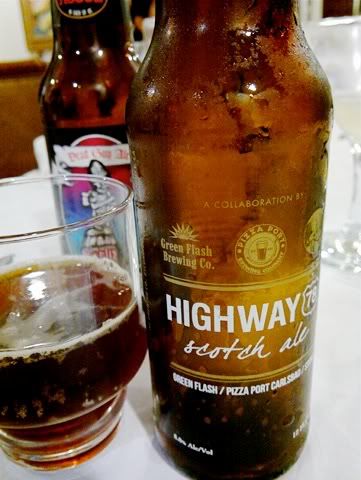 Last, but certainly by no means the least, I opened a couple of my treasured bottles of
Highway 78 Scotch Ale
. This is a very limited release/production ale as it is the product of a collaboration among three highly respected producers, namely, Stone, Green Flash and Pizza Port. Consistent with
my previous notes
, this is "complex with a sweetish, scotch lilt to its mildly roasted malt, bit of caramel, nuances of molasses, toffee, dried fig, nuts, slight chocolate - all very well-knit." Serious stuff indeed.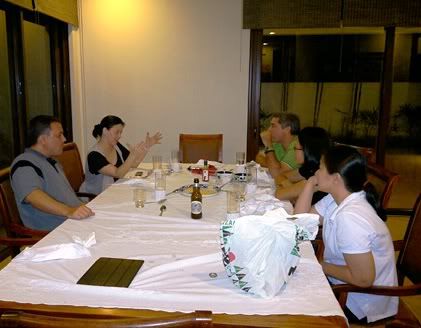 In the meantime, conversation had turned to village politics, a topic that always results in, say, vigorous discussion. Tonji eventually showed up around midnight, heavily lacquered, naturally. I left the others to their politically flavored, alcohol fueled debate and headed home. After all, I didn't want to waste the effect of all the hops. God knows I need my sleep.