Many things change as one progresses from being a young, single college student. Aside from working, getting married, raising children - all wonderful - a less-than-desirable, inherent side effect is that one tends to see less of old friends. I first met Johnson in June of 1983 - we were classmates in our (home) English classes under Prof. Eric Torres in freshman year college at Ateneo. We became fast and close friends, and, through him, I got to know Lance and Mike.
Though Lance and Mike studied college abroad, I'd see/hang around Lance in Manila during his breaks; Mike I'd see more often at parties and Johnson and Lance's get togethers. This has continued, albeit more and more sporadically, until now. I still see Johnson more often than I do the others, but not as often as I'd like to. A few days ago, during a brief wine-related e-mail exchange with Lance, we decided to organize a little get-together with the wives for this Saturday, the 4th June 2011, at Marc Aubry's
Champêtre
. Had Danny (based in HK) and DG (LA based), been around, it would have completed all my favorite Xavier boys in one shot.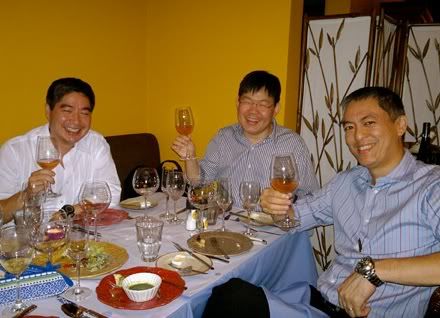 The Guys: Lance, Johnson & Mike.
As misfortune would have it, I suffered a severe, though, thankfully, relatively brief, bout of food poisoning Friday morning (which I attribute to some bad unagi that I had for dinner Thursday night). Feeling weak and slightly feverish, I ate virtually nothing Friday and most all of Saturday so that I could make the subject dinner. Our get-togethers are few and far between, so I didn't want to have to cancel at the last minute if it could be at all helped.
The Ladies: Candy, Ann, Catha & Jay.
We ordered many of my old reliable/favorites by Marc: the signature
Terrine of Foie Gras
,
Escargots a la Bourguignonne
(Jay loves this stuff as much as I)
,
Brie in Filo Salad
(a night's special which Ann evidently liked a lot),
Steak Frites
(which Lance & Mike enjoyed)
, Marc's signature
Pasta Trio
(Candy's, Ann's & my main courses)
,
Boeuf Onglet
(for Catha)
, etc.
I was so relaxed and enjoying the company, I hardly took any photos of the food. Lots of catching up, many funny stories both old and new, lots of laughter. The wines helped a bit in that regard, I guess, but I'd have had fun in any event.
2005 Domaine Bott-Geyl Gewürztraminer Sonnenglanz Grand Cru
- I know I've had Bott-Geyl's 2005 vintage of this Alsace grand cru gewürz before, but I can't seem to find any notes of mine on it (just on the 2004 and 2006). In any event, I brought this along (sourced from Jerome's
Sommelier Selection
at just under P2900/bottle) for the foie gras terrine. A step up from the regular "Les Éléments" bottling, this shows marked residual sugar (noted by Mike as "sweet" - which he likes; and by Ann as "almost like a dessert wine" - Ann prefers her whites on the drier side), but, to me, with just enough balancing acidity to keep things interesting.
Nice enough freshness to its rich, indulgent, hefty, creamy, lusciously curved honeyed peach, lychee, rose, faint underlying musk and slight baking spice notes, this is a very forward and eager-to-please wine. Opulent. It is for sheer indulgence and enjoyment. I thought it was great with the foie gras and apt for the occasion. Candy said she liked this a lot too.
2009 Domaine Tempier Bandol Rosé
- I brought this for the Burgundy escargots; sourced as well from Sommelier Selection. Rene & I picked up the last of their 2009 stock. Those who want this will either have to import their own or wait until Jerome's stock of vintage 2010 arrives. I've written about this wine so often, most recently
a stellar bottle with the Usual Suspects during a lunch barely 2 weeks ago (also in Champêtre)
. Then as now, I maintain that Tempier makes the best rosés in the world. Many opine that it is too pricey for a rosé, but I don't care - in fact, I like it that way - that leaves more for me.
2006 Yarra Yering Pinot Noir
- Lance's bottle. This is their top-bottling pinot noir if I am not mistaken. It's New World origins are relatively evident in its hefty, few notches over medium body and concentrated darkly ripe plum, cherry, hint of kirsch, faint cola, bit of underlying chocolate, hints of baking spice and other well-integrated wood-related notes. All in pretty good form, though, this is not your ubiquitous New World Franken-Noir. I'm not by
any
stretch an expert on Aussie wines, but it seems to me that this came from cooler Aussie climes. Quite pleasant, and I'd imagine it went well enough with the steak frites and boeuf onglet.
Such a fun evening. Jay noted that last we saw each other all together was approximately 6 months ago at
her and Lance's 10th anniversary bash at Masseto
. How could I forget? I hadn't stayed out partying past 4am in decades. Great fun; and, hopefully, it won't be another 6 months...until the next!