Wednesday, the 1st June 2011, was back at
Gustavus Steak Lounge
for lunch with Miguel, Rene & Santi. Yes, I am obsessive when I "discover" a "new" place to eat that I like, in that I tend to go often and frequently. This was the 5th time I was in Gustavus within the past 4 weeks, and only the fear of raising my cholesterol count to unacceptable levels has kept me from visiting more often.
Mig and I got there ahead, immediately greeted by Mike and showed to our table by one of his staff. Mig had brought along a bottle of one of my favorite ales, a bomber of
Rogue Double Dead Guy
. Jimmyton's
Global Beer Exchange
(GBEX) distributes Rogue ales locally (among others). This manly, flavorful ale is a seasonal release - I've gone through my stash at home, so I'll have to wait until August for the new batch to be released and brought in by Jim. I can wait, albeit a bit impatiently.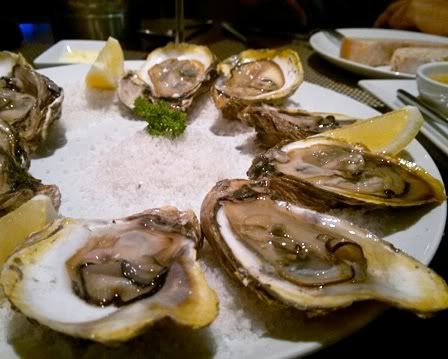 We had this with a platter of Fresh Oysters while waiting for the others.
Rene arrived a few minutes later, so we had another round of oysters. Santi arrived shortly after. With the second platter of shellfish, we popped open my bottle of
2009 Bruno Giacosa Roero Arneis
- a dry, mildly seashell-minerally, white grapefruit reminiscent, pear and slight almond-bitter flavored white from the Roero hills of Piedmont.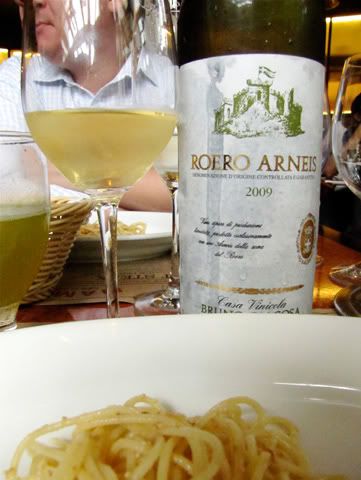 File photo
The T-Bone not being available at the time, we all went for the large
Gustavus Cut USDA Prime Rib-Eye
. One each, Santi & Rene had theirs medium-rare; Mig & I went for rare. These are the only proper ways to have these kinds of steaks. Anything more cooked than medium-rare,
to me
, is a virtual waste of good meat. Rene & I had sides of fries, Santi had the Gustavus
Steak Rice
, and Miguel went for the
Gnocchi
.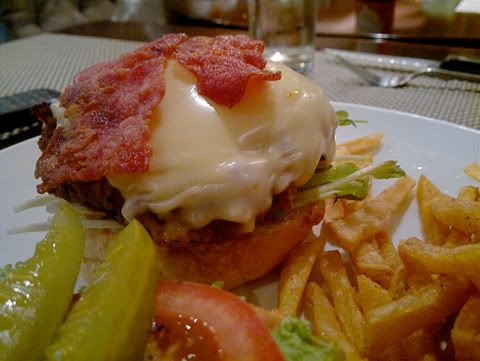 Just so the others could try it, we thirded a
Mr. D's Ultimate Beef Burger
and had it served in the middle - a carnivorously indulgent second appetizer of sorts.
Succulent.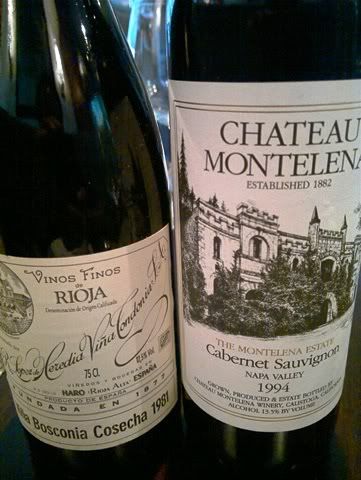 Our reds.
1981 Bodegas R. López de Heredia Viña Bosconia Gran Reserva
- My bottle, one of the ones I purchased from Watson's Wine Cellar in HK (the Pacific Place branch in Central). I've written about this recently, it was
my birthday bottle of red at Gaddi's last month
. I chose this as this lunch was actually a belated birthday treat for the guys. My notes at the Gaddi's dinner were as follows:
1981 Bodegas R. López de Heredia Viña Bosconia Gran Reserva - Fortunately, a few days before, during the Commanderie de Bordeaux Domaine de Cheval Blanc dinner back in Manila, Eric Recto glowingly recommended this wine to me and provided decanting advice as well (which I followed, of course). It was fantastic - so complex, deep, with an alluring, slight meaty/gamey lilt to its red fruit, slight leather, tar, balsamico, violets and anise notes. Beautiful wine, incredible balance, and perfect with the lamb. Under 420 cases produced. I brought a couple of bottles home since I loved it so much. Thanks for the heads-up, Eric.
During the subject lunch, this lovely was, unfortunately, over-powered by the thick, rich rib-eye. This wine should really be served with lamb. Oh, well,
mea culpa
...but it was still delicious on its own.
1994 Chateau Montelena Estate Cabernet Sauvignon
- Rene's bottle that he generously gave to me for my birthday gift. Naturally, I opened it right then and there. Compactly full-bodied, notable structure and roundness, but in good balance typical of Montelena (no over-ripe, over-the-top fruit bomb here). Black fruit base, hint of crème de cassis, cedar, violets, topnote of slight mint, flecks of licorice and a touch of dusty earth. Excellent with the steaks. This has the structure to age well many more years I'd expect.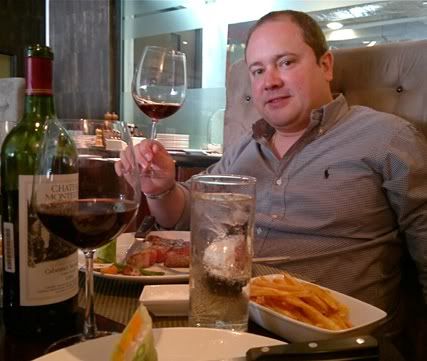 Thanks, Rene!
Mig & Santi have at it.
Mike kindly sent us some desserts on the house: an order of
Gustavus Torron
(no photo as it got eaten before I could take one) and my favorite
Choco-Nut Pinoy Buster Parfait
. I love the latter so much I simply had to order a second with a side order of extra Choco Nut. What the hell, it was a belated birthday celebration after all. I'd worry about the calories whenever.
Santi, Rene & Miguel.
We capped off the afternoon with a couple of rounds of craft beers at Jimmyton's nearby Tasting Room where Tinchu joined us. I just realize, as I write, that Mike, Tinchu and Jimmyton (out in California at the time "researching" new craft beers) are all cousins of Santi. His must be a large clan indeed.
Well, it was a filling and fun mid-week break. Thanks, guys for joining me, to Mike for another great meal at Gustavus; and, to Rene, many thanks again for such a nice gift. Until the next!