Wednesday, the 8th June 2011, was at The Country Club for Bob Paradies' Birthday Tournament - one of a series of Los Golfos-related birthday events that I've been invited to. I've attended
Henry's
birthday tournaments for quite a few years now, and, late last year,
Jos'
as well; but I missed the one of Mari a couple of months ago due to work.
Tee off was scheduled for 10:30am, but it started pouring at around 9am and kept on going, threatening a rain-out. By around 11am, though, it had cleared up enough, so 5 flights of us teed off. Unfortunately, it started pouring again later on, and, by the time my flight reached the 8th hole, we were all soaked to the bone.
A call was then made for all flights to return to the club house. Showered and dressed, we all then proceeded to partake of Bob's accelerated merienda-cena.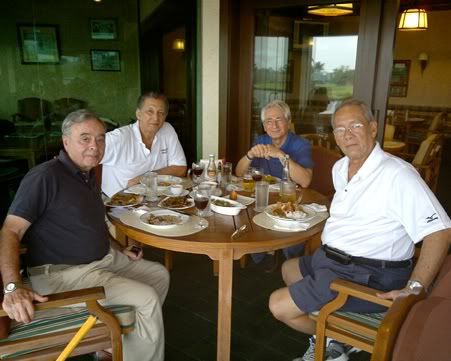 L-R: Celebrant/host Bob Paradies, Miguel Moras, Juan Miguel Llamas & Tito Chito Legarda.
Jos Moraza, Art Zuluaga (back to camera) and Tony Olbés.
L-R: Raffy Villarreal, Quito Moras, Mari Cacho & Henry Hagedorn.
We took our seats and several appetizers were served at the tables. With these, beer, rum-Cokes, wine, vodka & scotch flowed.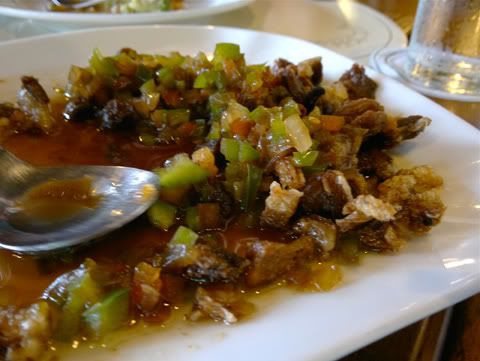 I'm not really sure what this was - some kind of a sisig I think. It was really good though, nice & spicy and great accompaniment for the ice-cold beers.
The broccoli pica-pica was particularly nice. I especially enjoy pica-picas that both taste good and are actually healthy - one can pig out on them without any guilt.
Above was one of my favorites of the pica-picas:
Button Mushrooms al Ajillo on Fried Laguna Cheese
. Nice blend of garlic, bit of heat with the earthiness of the mushrooms and creaminess of the cheese. Aside from the foregoing, there was a buffet table of, among others, a really good
P
ancit Luglug
and
Fried Chicken Breasts
.
Of course, Bob had a birthday cake, the candle of which he blew out as everyone sang him Happy Birthday. The camaraderie then continued on a consistent, convivial note.
Above, left to right: Sal Lacson, Jos Moraza & Mackie Cui. I don't remember what Sal was talking about, but Jos doesn't look like he's buying into it.
Bob then announced that his birthday tournament would continue on the following Tuesday. He thereafter proceeded to raffle off some prizes.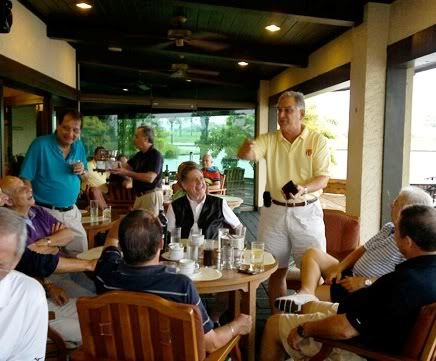 In the photo above, Jos, kidding around as usual, jokingly took exception to the one of the minor prizes and said he'd rather just pay for it. On the left, in blue, Vince Revilla enjoys his drink. I understand Vince volunteered (or was volunteered) to host the next tournament.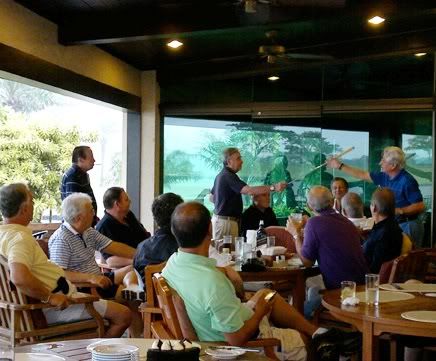 Johnny-Mike won the putter that I was hoping to win in the raffle.
The drinking just kept on going. Somehow, Mackie's bottle of vodka mysteriously wound up at Miguel's table across the veranda. The rain having let up a bit, I and a few others then took our leave to avoid traffic on the northbound SLEX.
The following Tuesday, the 14th June 2011, the weather cooperated and Bob's tournament continued without any hitches. 1st Place went to Tony Olbés. Not surprising, really, as he, Tito Chito, Jimmy Alba and Bob himself are some of the usual
llamados
in these tournaments.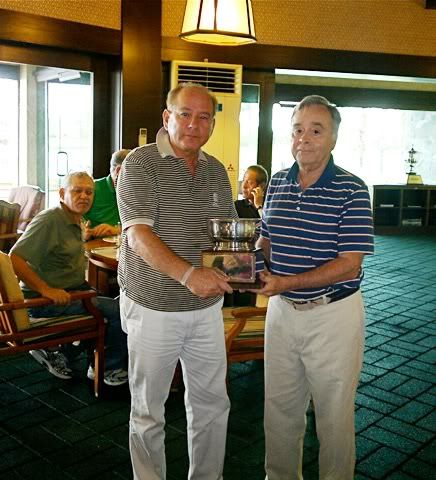 Tony receives his prize and congratulations from Bob.
I had thought all along that Tito Reynoso won 2nd Place, but it turns out he took 3rd.
Bob with the three winners: Tony (1st Place), Douglas (2nd Place) & Tito (3rd Place).
Above, left to right, are Jaime Ugarte and Miguel Moras. Jaime looks a bit perplexed. I suspect it's because his chilidog was taking long to be served. Everyone enjoys the hotdogs at the Country Club, and Jaime and I missed ours the last time.
Eating time.
I tried catching Henry in a compromising pose, but, unfortunately, he caught me at it.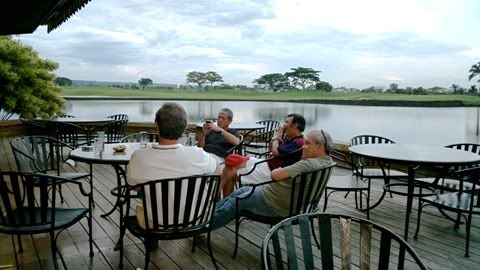 By around 5:30 to 6:00 pm. most everyone had already trickled off, leaving the few and persistent to enjoy the breeze, view, remaining bottles and company.
Mackie, Douglas, Art, Jaime, Bob & Miguel.
What a fun 2-day celebration! Many thanks and Happy birthday again, Bob! We all wish you many, many more to come!