In anticipation of the widely publicized, supposed end of the world, a bunch of us craft beer loving friends gathered at
The Bottle Shop
at the ground floor of the Tritan Ventures Building in Paseo de Magallanes, Makati on Thursday, the 20th December 2012. My intention was to thumb my nose at alleged armageddon with a glass of Unibroue's La Fin du Monde in my other hand, while enjoying some of my favorite bar chow. My second son, Lorenzo, and his craft beer buddy, Pato, already on Christmas break, came along for the festivities.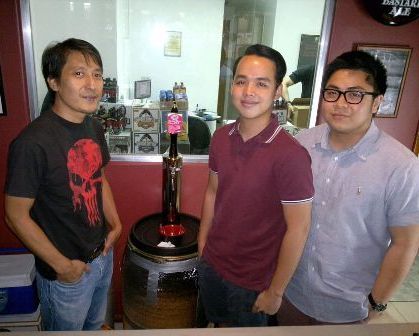 Renzo & Pato with local craft brewer Allan Baldis Agala (left).
At around 5:30pm, we were the first ones to arrive, aside from local craft brewer Allan Baldis Agala who was pouring his
Great Island Craft Beer Brewery
's seasonal release of Candied Ginger Honey India Pale Ale ("IPA") on tap.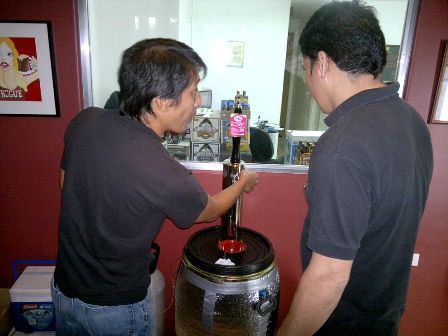 Allan gives final instructions on how to properly pull draughts.
Although pouring was supposed to start at 6pm, I started off a bit earlier with the first pint of...
...
Great Island Candied Ginger Honey IPA
- a dark (visually similar to a porter to me), medium-bodied, moderately hoppy IPA with flavors of moderate caramel, citrus, hint of pine, underlying citrus rind and black coffee. Later that night, Jim detected guava notes emerging. Smooth enough and accessible, the stock of 50 pints on tap were wiped out before the night's end.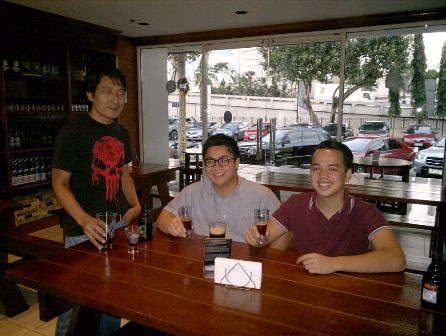 The boys got a taste first, and a pint each later on.
The college boys went for an immediate taste of
Global Beer Exchange
's new line of Slaapmutske craft beers from Belgium, Renzo with the
Slaapmutske Tripel
, which he let me try out - nicely rounded, somewhat floral tripel with moderate spice and a touch of pine to its off-dry maltiness and distinctively Belgian-style candied/dried fruit-and-bubble gum notes. Very nice. I had more of it later on as Sanju shared another bottle with me.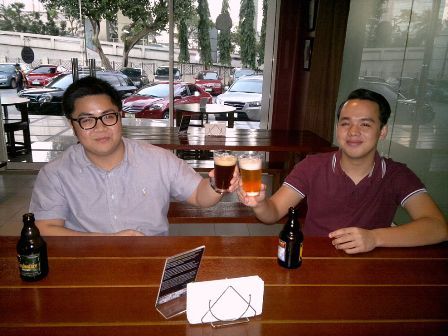 Slaapmutske cheers to the Christmas break!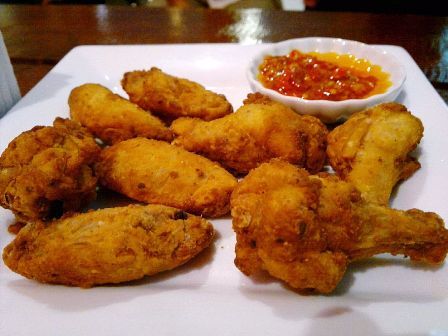 Kublai's superb Buffalo Chicken Wings, & Chorizo Sisig (no photo).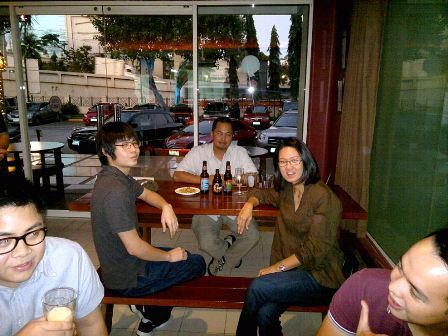 Tonji & Sylvia have a few with their son Franco.
While I had moved on to the last few bottles in stock of the highly in-demand and fast-moving
Ballast Point Sculpin IPA
(actually, these from Jim's personal stock - a new shipment on the way), Sanju had arrived, quickly ordered a pint, and some of The Tasting Room's in-house rich and spicy
Chorizo de Bellota
and creamy, nutty
Manchego
(supplied by Tierra de España).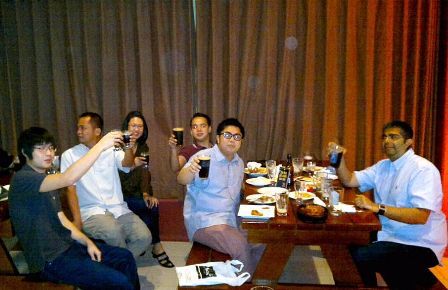 The end of the world? Really? Bring it on!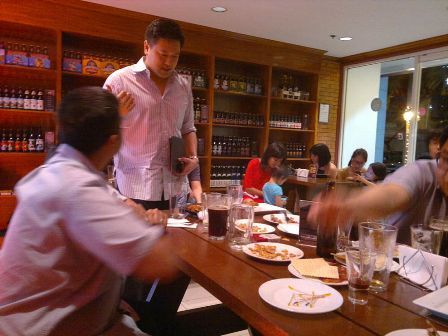 Alex, the group's resident Iki Master, finally arrives.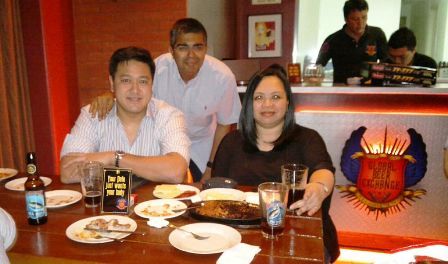 Alex, Sanju, & Cyrene.
Metro Manila Chowhound Cyrene also made it while I was on my first bottle of
Unibroue's La Fin du Monde
. She started on a pint of the seasonal ale on tap and enjoyed a bit of Kublai's
Chorizo Sisig
.
Tita Sylvia with college boys Renzo, Pato, Rafael, & Franco.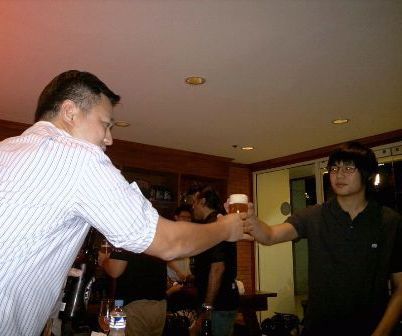 Aku Alex tests Franco's Iki skills.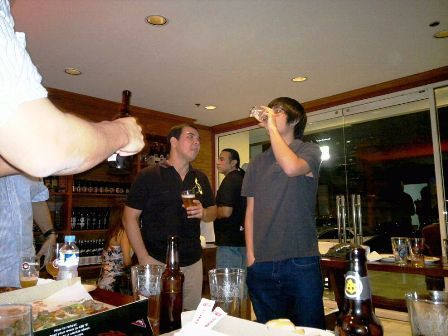 Franco slams it down easily as Tito Jim looks on with approval.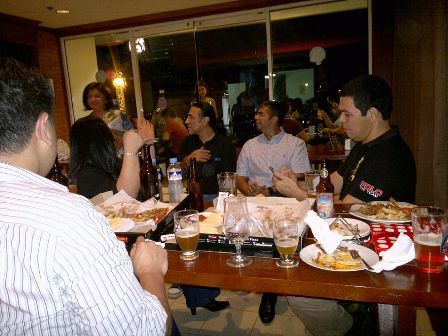 Cutie makes a belated entrance and joins in the fun.
Many, including Alex and myself, were happily chugging down the deliciously apt
La Fin du Monde
- Alex perhaps a bit too eagerly as he spilled some on his shirt. Cyrene opined that it would be fine though as the ale smells nice anyway.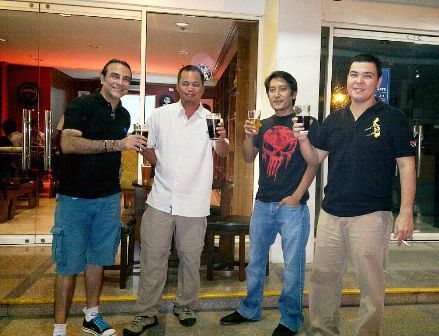 Cheers from Kailash, Tonji, Allan, & Jim.
Unfortunately, I had to leave by 9pm as the event started heating up even more because of a morning meeting in Makati the next day. Other regulars, such as Eli, Nicole,
et al
., were already on their way though, ensuring the fully-packed revelry would last until the wee hours of the morning. Merry Christmas again to all! Until the next!