Dinner this past Saturday, the 22nd December 2012, was with Enki & Mayette Rey at
Impressions
. Unfortunately, Catha couldn't join us since she had a previous dinner commitment - the birthday of a former highschool classmate. I had made reservations with Cyrille several days ahead, choosing a date he would have fresh oysters from France.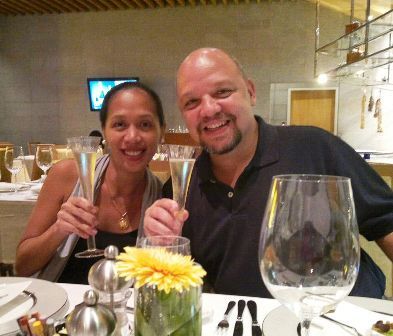 Mayette & Enki.
I arrived ahead, was immediately shown to my table, and started discussing the evening's menu with Cyrille. Enki & Mayette arrived shortly, the menu was finalized, and we started off with a bottle of straightforwardly refreshing, lively, white-and-citrus-fruited, and brightly acid balanced...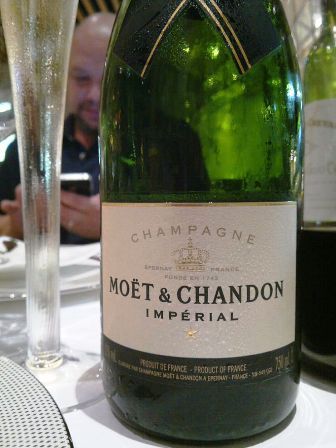 Champagne Moët & Chandon Impérial.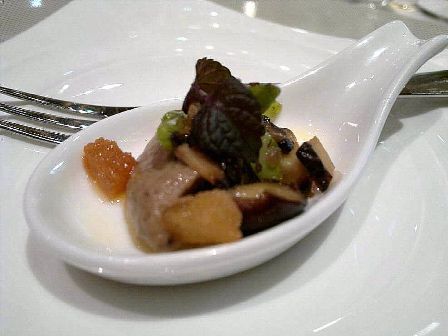 Mushroom-based amuse bouche.
Specifically to pair with the champagne, Enki & I split six
Fine de Claire
(left) and six
Gillardeau
(right) oysters flown in from France just the day before.
I'm sure pretty much anyone who likes oysters is familiar with
Fine de Claire
.
Gillardeau
oysters are "designer" ("branded") oysters produced by the Gillardeau family's private company (since 1898) in Normandy, France, and Cork, Ireland (these came from Normandy) - reputedly the very best in oysters that France has to offer.
Mayette, not fond of oysters, had Cyrille's signature
Marbled Terrine of Duck Foie Gras & Unagi with Teriyaki Glaze
for her first course.
Next, we all had
Seared Scallops
on a velvety, luxuriously butter-enriched, orange-laced creamy sauce. Fantastic. While we enjoyed all the dishes that night, we agreed that this was the best dish of the dinner.
For our main course, we all had the
Pithiviers of French Wild Pigeon & Duck Foie Gras with Asparagus, French Morels & Truffle Jus
*
- a masterpiece of earthy comfort. Superb. To pair with this, I opened a bottle of
1998 Le Petit Cheval
- 1998, as most every wino knows, was a very good vintage for the right bank; while Le Petit Cheval is the well-respected second wine of St-
Émilion
premier grand cru "A" Château Cheval Blanc. This wine is to enjoy while waiting for its big brother to mature.
I opened a bottle of this recently, during
Sunday lunch at home with the Joye family on the 21st October 2012
. My notes at the time were as follows:
I served the above

1998 Le Petit Cheval

to Richard semi-blind (I just told him it was from St-Emilion). After a few of quick sniffs and sips, Richard guessed it to be a 2003 Cheval Blanc - a pretty impressive guess given he got the producer correctly (albeit this is the second wine) and 2003 & 1998 are both notably ripe years (the former more than the latter).
The subject wine possesses a remarkably enjoyable rounded, velvety mouthfeel with precise heft. The tannins molten and softly rounded. Curvaceous and pliant on the palate, especially mid-mouth. The fruit is rich, concentrated, and moderately dense (but not as dense/heavy as that of the 2000 Le Petit Cheval as I vaguely remember). Lush and loamy dark plum, very ripe black cherry, good dose of licorice, slight truffle, bit of vanilla. This is still relatively young, but already entertaining if one cannot/will not wait.
The above notes are still applicable, save that the subject bottle seemed more advanced than the last one, the rich fruit showing a slight prune character and wild cherry towards the back and in the finish, as well as a pronounced underpinning of black coffee in the middle.
*
This is not on Impressions' regular menu, but Cyrille mentioned he is thinking of putting it in. I certainly hope he does.
Desserts were shared amongst us three: the above
Lemon Soufflé with Vanilla-Coconut Sauce
,...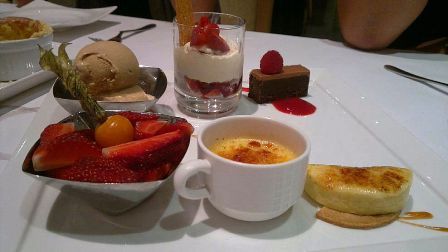 ...and a Sampler of Impressions' Signature Desserts.
Cyrille then joined us for a glass of red and a chat, and, before he left, arranged for us to have our double espressos and relaxed after-dinner smokes and conversation at
The Genting Club
next door. Many thanks to Enki & Mayette for the excellent company; and to Cyrille for yet another memorable meal! Merry Christmas to all! Until the next!