The night of Saturday, the 15th December 2012, was a bit busier than usual for me. Dinner was at
Lance & Jay's place
for Lance's belated birthday dinner - a relatively small group of six couples: Lance & Jay, Johnson & Candy, Miguel & Barbara, Madeline & Ted (I hadn't seen Mads in ages), Lisa & Anton, and Catha & I.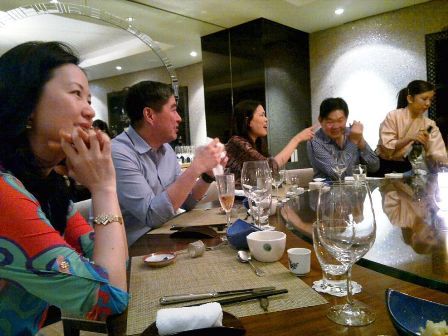 Candy, Lance, Mads, & Johnson in the dining room.
We were the last couple to arrive, joining everyone else at the chic, recently renovated living room (this used to be the family's billiard/rec room where we'd drink during parties when we were still students in the early '80s). It was most pleasant catching up with everyone over flutes of chilled
Champagne Laurent Perrier Grand Siècle NV
- a prestige cuvée, (generally) a blend of three vintages, named in honor of the reign of
Le Roi Soleil
, King Louis XIV.
This made much more of a statement than when I had it in the company of Laurent Perrier's other lines
on the 21st September 2012
. This time, it showed immediate appeal, especially in its fleshier, creamier texture (especially in the middle) with indulgent pastry and nougat notes and fresh, lively acid balance. Very nice, but I purposely stopped at two glasses before dinner as I knew I had a long night and many more drinks ahead of me.
We eventually seated ourselves in the French style at the modern
chinoise
themed dining room - alternating men and ladies, with no one seated beside his or her spouse. The meal was catered by the
Tanabe Japanese Restaurant located along Remedios Street in Malate, Manila
.
Anton & Jay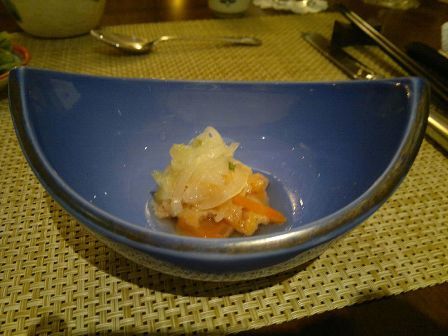 Marinated Salmon & Pickled Daikon Amuse Bouche.
The Sashimi Course consisted of, if I recall properly,
Toro
,
Hamachi
(I think), &
Ama Ebi
- all delightfully fresh, especially the
ama ebi
. With this was served the bottle of
Kinryo Kirameki Junmai Daiginjo Saké
which I gave the hosting couple for Christmas a year ago. Kinryo is an ancient saké producer (its history can be traced back 600 years) based in Shikoku, and the Kirameki Junmai Daiginjo is their top of the line saké with the rice grains polished down to 35% (per now Tokyo-based drinking buddy Keiichi Miki). Aside from brewing saké, Kinryo also runs a famous saké museum (Kinryo no Sato).
This saké is one of my favorites. Not available locally, I always ask Tad to pick up a couple of bottles for me whenever he and Chako visit the latter's family in Tokyo. Typically, it is a discreetly complex, elegant saké with slightly off-dry notes of rice, carob and cool rain. This bottle, aged for a year, had the typical, slightly musty smell of aged saké, and a sweetly feminine lilt to it.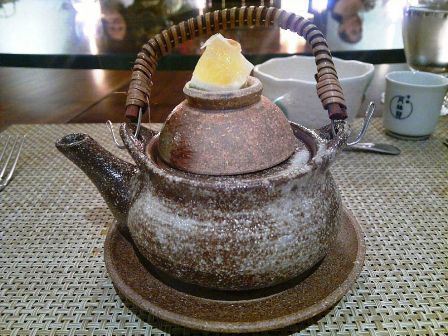 Next was the Emperor's Soup.
This is a light, pure and flavorful, complex soup of clear broth of assorted seafood and mushroom. The old Sugi of decades ago used to serve a wonderful version of this as well. Loved it.
Subtly sweet and smoky Grilled Gindara.
Johnson (far right), this group's source of ever amusingly controversial conversation, was in fine form that night...
...so much so that Candy (far left), I'm sure, wished that she was seated close enough to kick him from under the table.
The next saké served was an aged one, packaged, as can be seen above, in an ornate ceramic bottle. I did not get it's name, but Lance mentioned it was an aged one. The slightly musty note on the nose was also there, and it had a deep, more robust, masculine structure to it - reminding me of the Ibaraki Gekkakow Junmai Daiginjo Ultra Premium Aged Saké that Jim's
Global Beer Exchange
distributes locally (which happens to be my favorite locally available saké).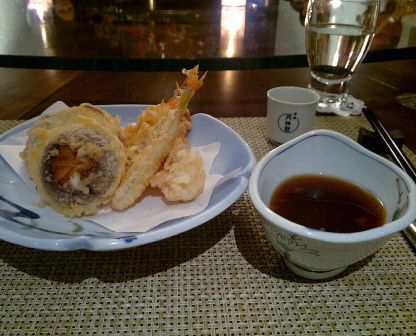 Tempura Moriawase
The meat course was a generous portion of luxuriously rich, indulgently fatty
Wagyu Teppanyaki
. No obviously visible fringes of toasted fat on the pieces, but, in the mouth, it was obviously all inside. Must have been great marbling in there, for sure.
With the meat course was served Anton's bottle of
Monte del Frá Amarone della Valpolicella Classico Tenuta Lena di Mezzo
- Sorry, I forgot to note the vintage of this, but I'm guessing it the most current release available at Straits Wine Philippines. Served over-chilled, it presented sweetly ripe cherry and whispers of cola on a light-footed, medium body. It gained a material amount of heft, creaminess/spiciness, fruit-forwardness, punch, density, and alcohol viscosity as it warmed up (I hastened the process by cupping the glass in my palms).
As more traditional amarones go (not that I've had a whole lot), this is atypical in that, though the fruit showed more definitive candied-ness (underlying plum and slight cassis emerged as it warmed), it was not that heavy, thick, raisin-like, sweet or alcoholic like amarone as I know it. That is not necessarily a bad thing for me as I prefer moderately bodied, drier, less alcoholic, and comparatively less fruit-forward styles of wine. If I were to buy an amarone locally, this would likely be it.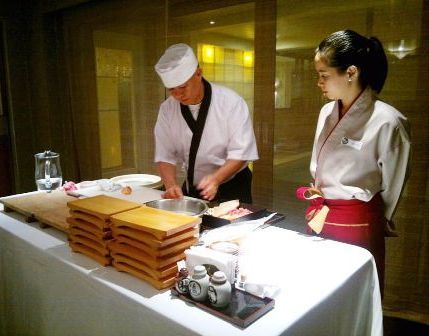 The sushi was prepared tableside.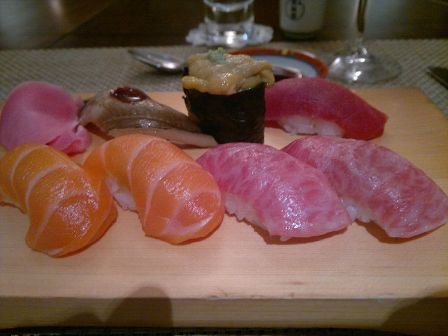 Shake, Toro, Anago, Uni & Maguro Sushi.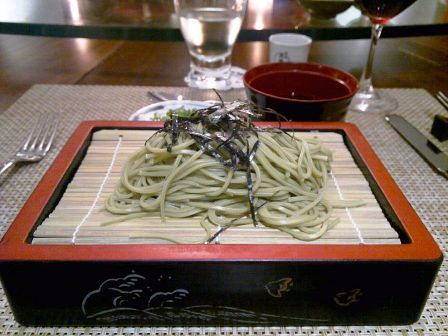 Noodles rounded off the feast.
Thoroughly enjoyed the dinner, conversation, and company. Thanks again, Lance & Jay! I was the first one to leave (at 10:45pm), though, as I was to catch up with the LBC Express Christmas party at the PICC Reception Hall that same night. The party had a "Rock On!" theme and, having started at around 7:30pm, was in full swing when I arrived at around 11:30pm (thanks to Christmas season traffic in the area).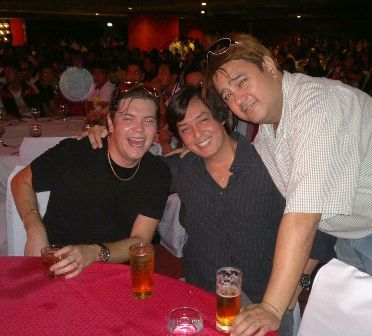 Dino & Santi with Carlos.
Ver, Joel, Enki, & Juan Carlos.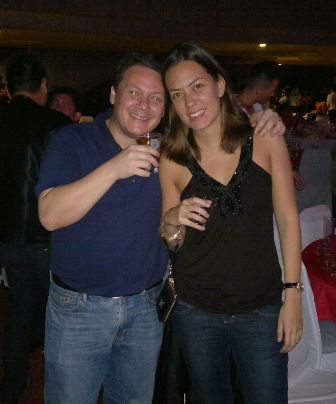 Miguel & Monica.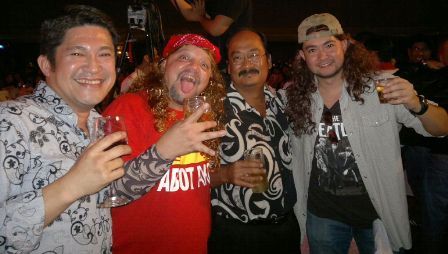 Taka-san, Enki, yours truly, & Paolo.
One of several rock bands that night was onstage when I arrived, most everyone in various stages of "happy". I, obviously, had a lot of catching up to do, so I got right to it with tall glasses of scotch on the rocks.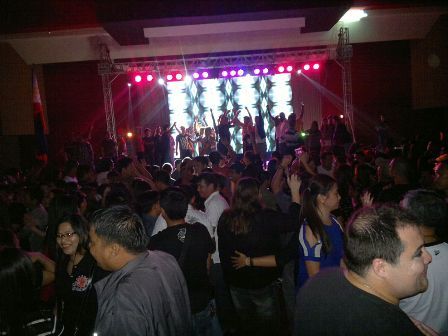 The bands were hot, the drinks flowing, getting everyone dancing...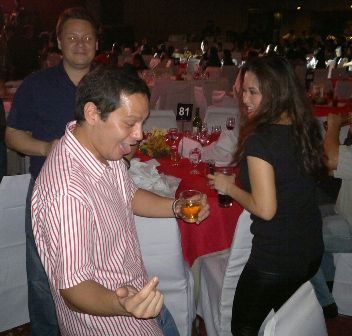 ...Ramon, Kay,...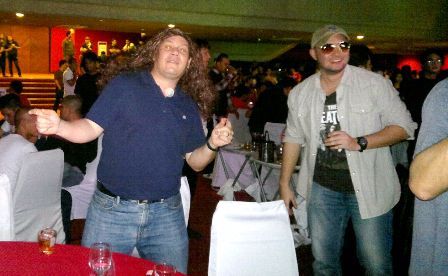 ...suddenly long-haired Miguel...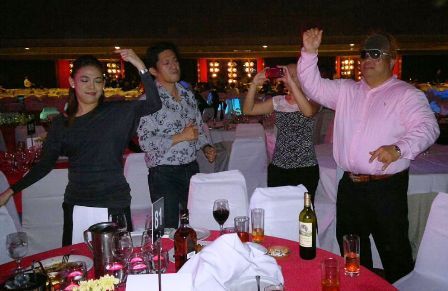 ...and the LBC Remittance Japan contingent as well.
Whew!
Dino on stage.
Rene, Trixie, & Santi.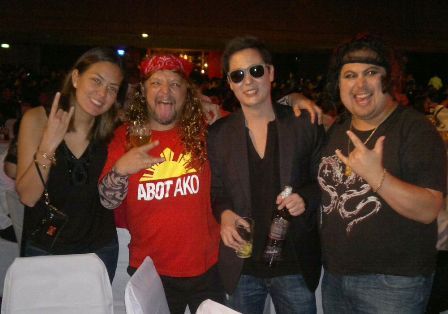 Rock On, LBC! Merry Christmas! Until the next!