Last Tuesday, 11th December 2012, lunch was hosted by Bert for Edwin at
Hanakazu
; and Miguel, Jim, & I were lucky guests at the celebration. I brought along a bottle of special saké for my contribution, picked Migs up at ATC, and, while I was there, did an errand and got a bottle of bubbly as well. After all, what's a birthday meal without a champagne toast?
We were first to arrive, followed shortly by Edwin, with Bert showing up a few minutes later.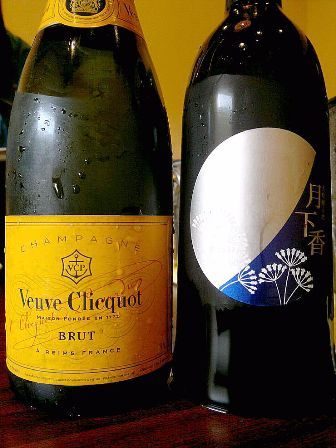 We then started with my bottle of (by then) chilled, fresh, lively, citrusy
Champagne Veuve Clicquot Brut
, offering a toast to the celebrant's continued well-being.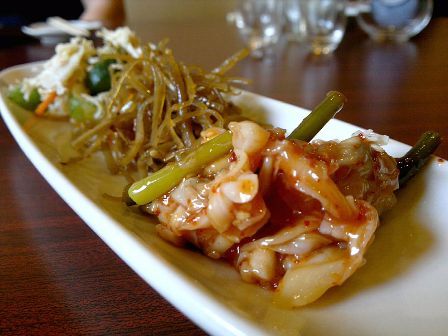 A couple of plates of appetizers then made it to the table.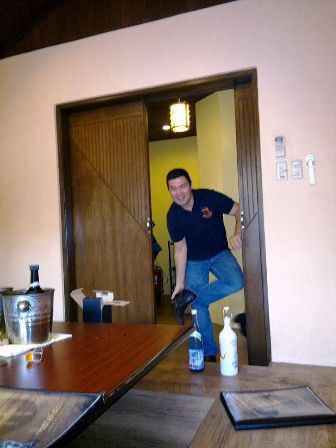 Jim finally makes it to the lunch, completing our little group.
Delicious, fresh, lightly marinated Baby Squid.
Live-Fried Crispy Crablets, fantastic with Macha Salt.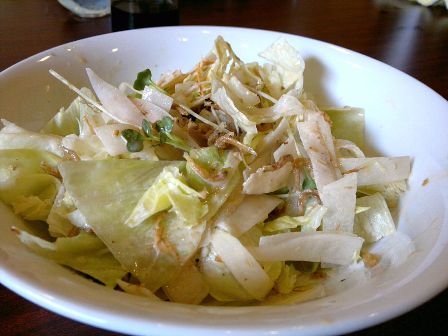 A couple of orders of Daikon Salad w/ Goma Dressing (para healthy).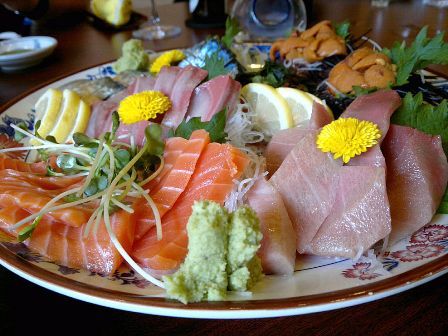 Toro, Shake, Japanese Uni, Saba, & Hamachi Sashimi (1 of 2 orders).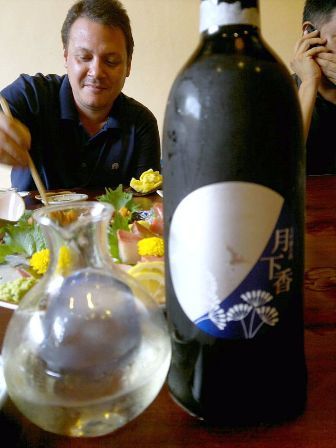 With the excellent sashimi platters, we moved on to my bottle of
Kikusakari Gekkakow Junmai Daiginjo Ultra Premium Vintage Saké
- produced by the Kiuchi Brewery (also known for their fine line of Hitachino Nest craft beers). This masculine, deep, complex, sturdily structured saké is made from pure Yamada Nishiki rice polished down to 35%-40% and cold aged for 3 years. Excellent stuff, one of my favorite sakés, and definitely my most favored locally available one.
Jim's
Global Beer Exchange
distributes various lines of Kiuchi Brewery's sakés, including this top-of-the-line one. It isn't cheap at P4000/bottle, but it somehow manages to get sold out pretty quickly - so much so that it is prudent to reserve one's bottles even before they arrive in Manila as Jim brings in only a couple of cases of it at a time. Like the fast-moving, albeit relatively pricey, Hitachino Nest White Ale, the Gekkakow Junmai Daiginjo shows that more discerning Metro Manila palates are, indeed, ready, willing, and able to shell out more for the good stuff.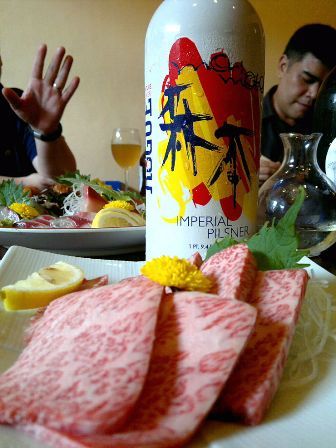 With the orders indulgently marbled
Wagyu Sashimi
, we moved on to bottles of
Hitachino Nest White Ales
and the above-depicted
Rogue Morimoto Imperial Pilsner
that Jim brought - Very refreshing, robust, macho pilsner, this was, to me, an excellent match for the luxuriously fatty raw beef. Along with the White Ale, this particular imperial pilsner is a must for me with Japanese meals.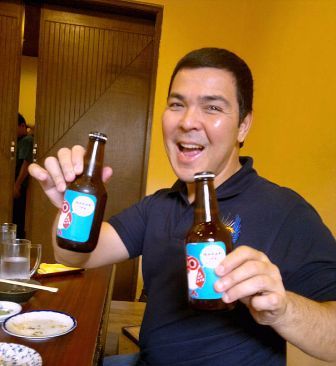 As an added treat for everyone, Bert brought along several bottles of Jim's personal brew
Ibaraki IPA
which he formulated during one of his trips to Kiuchi Brewery in Ibaraki. Above, Jim poses with two of his "babies".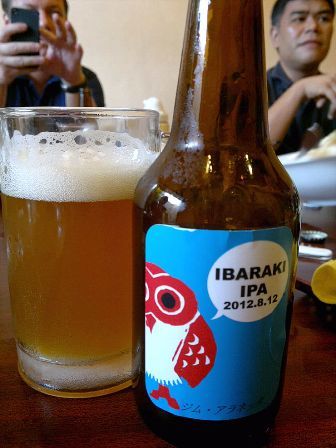 A somewhat lighter-handed IPA, its hoppiness is toned down a couple of notches yet presents good freshness, definitive flavor, making it also a good match for the wagyu sashimi and the ebi tempura that followed. The Ibaraki IPA was brought in by Jim in limited quantities, and was so much in demand that I had to "make arrangements" to secure even just 6 bottles of it for my stash at home (which my teenagers killed anyway). Bert brought along 7 bottles of this to share. Thanks again, Bert!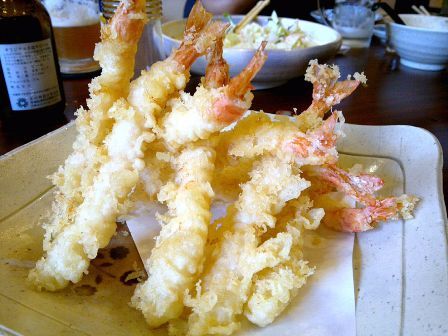 Ebi Tempura. Hanakazu does this very well.
There were more dishes ordered, such as
Japanese Fried Rice
, more
Daikon Salad
, platters of
sashimi
. etc., but I was too far gone and having too much fun to remember taking photos of them.
Desserts were fresh Honeydew Melon...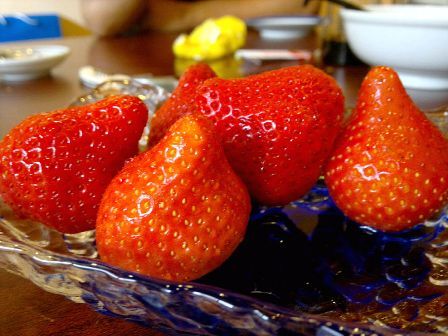 ...and fresh
Japanese Strawberries
. Well, the guys all ordered
Mochi Ice Cream
as well, but I stuck to the fresh fruits.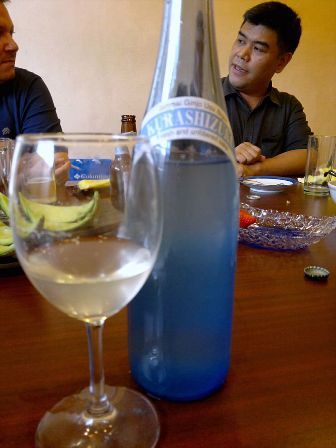 Our group, more often than not, has another bubbly (champagne or cava usually) at the end of a meal to "wash our palates". This time, because we were having Japanese cuisine, Jim popped open a somewhat off-dry, sparkling saké, namely, the
Kikusakari Kurashizuku Junmai Ginjo Nigori Saké
. This didn't last long since we offered a couple of iki (bottoms-up) toasts to the celebrant and the lunch's host.
More bottles were opened, stories swapped, jokes shared, and, into the evening, even more sashimi and tempura ordered and consumed. Lunch lasted until around 8pm, encroaching into the restaurant's dinner service. It's a good thing we're good customers here, else they surely would've booted us out long before.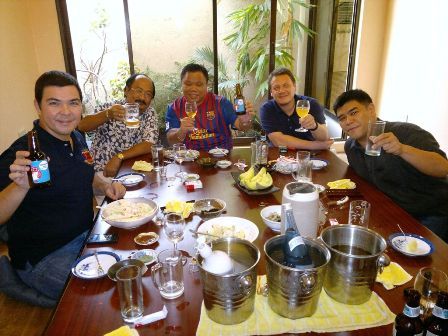 "Kampai!" from (L_R) Jim, yours truly, Bert, Migs & Edwin.
Great lunch - certainly a most welcome break from a more-hectic-than-expected week leading into the holiday season.
Domo arigato
, Bert! Happy birthday again, Edwin! Until the next!