Last night's dinner, 30th November 2012, was the first of this year's Christmas parties - that of EO Philippines Forum H (nb: EO is an organization of young and young-ish entrepreneurs). I withdrew from EO back in in 2008, but, happily, my former forum mates have still invited me to their Christmas parties the past 3 years. This year, the party was at
Boozze's & Margarita's place
, the meal by Hylton La Roux's
Pi Catering
.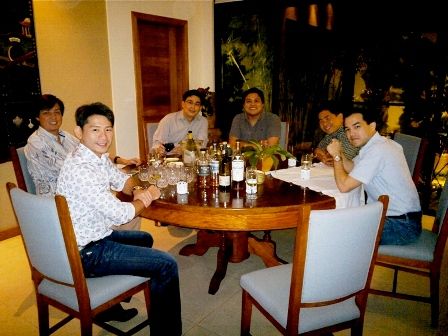 The Guys.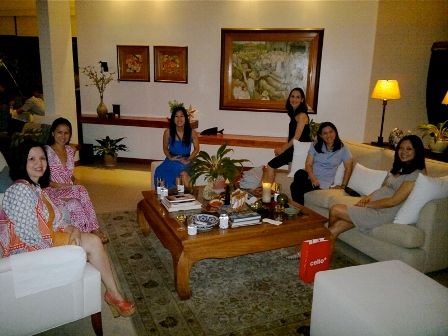 The Dolls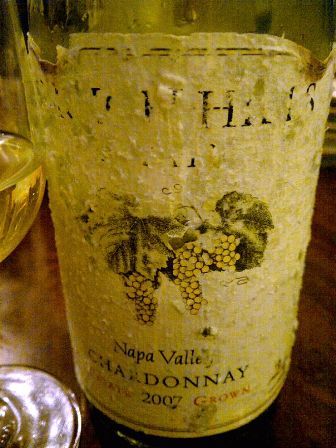 With some pan con tomate, Boozze served some of his 2007 Grgich Hills Estate Napa Valley Chardonnay - Nice that Boozze served this as we, together with our wives and Doc & Mrs. Doc, visited and tasted at the winery back in May 2006. Ripe apple, bit of soft pear, slightly tropical, good fruit purity, light on the oak influence for a Napa chardonnay. Decent acidity. I read later on that no malolactic fermentation was permitted and only 30% of the oak was new (60% neutral barrels). Although this sports a 14.3% abv, the alcohol is not obtrusive. Well crafted.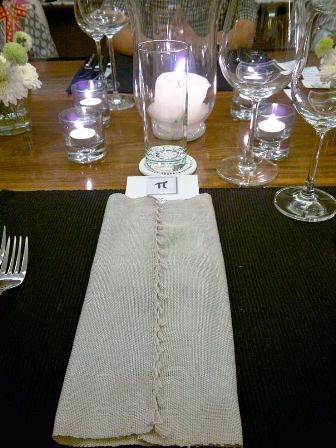 My place setting at table.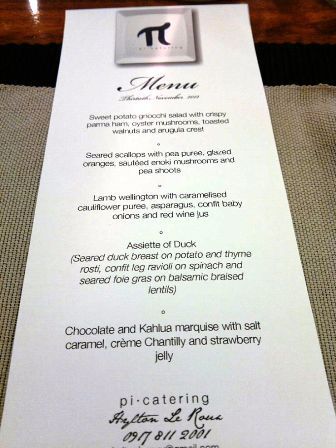 The Menu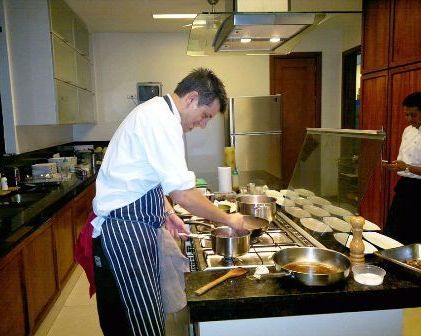 Hylton Le Roux in the kitchen.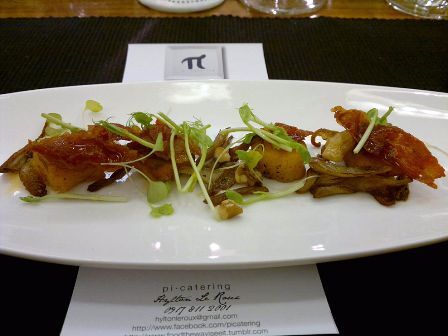 The 1st Course: Sweet Potato Gnocchi Salad with Crispy Parma Ham, Oyster Mushrooms, Toasted Walnuts & Arugula Crest. This was a pleasant enough starter.
The 2nd Course: Seared Scallops with Pea Purée, Glazed Oranges, Sautéed Enoki Mushrooms & Pea Shoots. Notable balance between sea and earth in this dish, given a bit of a citrusy, refreshing lift by the glazed orange wedges.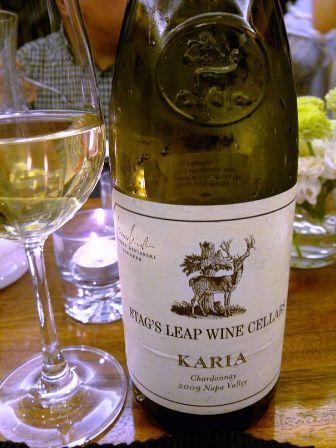 With the first two courses, Boozze served bottles of 2009 Stag's Leap Wine Cellars "Karia" Napa Valley Chardonnay - This is the first chardonnay from Stag's Leap Wine Cellars I've had. It's body slightly, yet notably lighter than the previous Napa chard, the acidity seems less cutting, and the fruit riper, rounder, creamier, with a pronounced butter, leesy, and vanilla/oak-influenced theme. More Catha's style of chardonnay than mine, but this did well enough with the sweet potato gnocchi.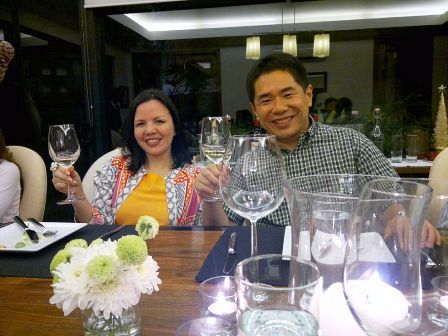 Cheers from Catha & Joey!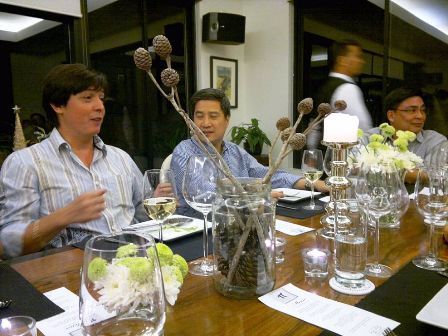 Santi, Berck, & Boozze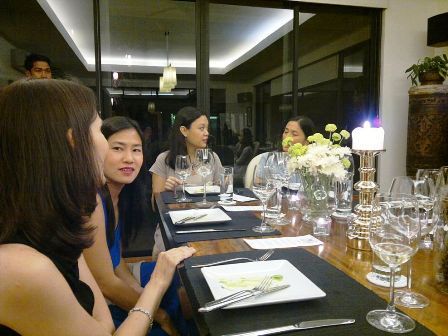 Margarita & Dorothy at the ladies' side of the table.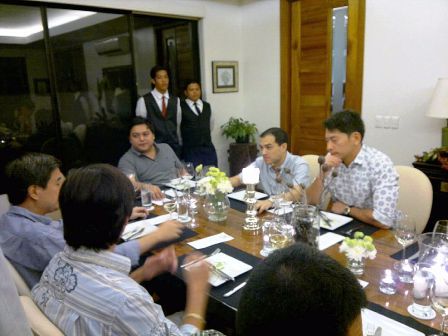 Ricks, JuanMi, & Don.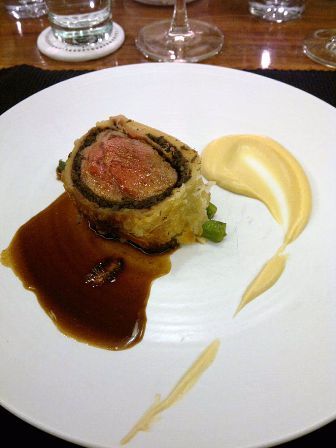 The 3rd Course: Lamb Wellington with Caramelized Cauliflower Purée, Confit of Baby Onions & Red Wine Jus. This was, by far, my and several others' favorite dish of the evening. The lamb was perfectly cooked, tender, juicy, the crust flaky, etc. Loved it. Later on, I (rhetorically) asked Hylton if this dish echoed his days under Gordon Ramsay, which Hylton gamely confirmed.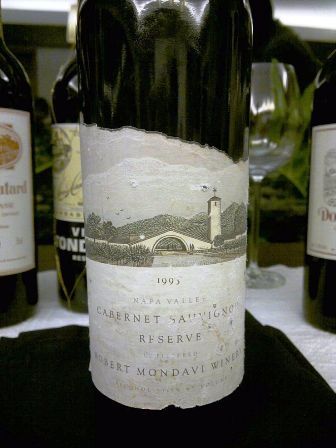 With the Lamb Wellington, Boozze served us a 1993 Robert Mondavi Cabernet Sauvignon Reserve - Dense, concentrated, extracted, viscous, full-bodied. Acidity is decent, helping buttress the otherwise ponderous crème de cassis, hint of kirsch, chocolate, vanilla, and licorice. Tartish wild cherry emerges in the back and continues in the finish. Big, softened tannins. Not strong on focus or purity, but quite good enough in itself and with the lamb. Drink up now and soon, I'd say.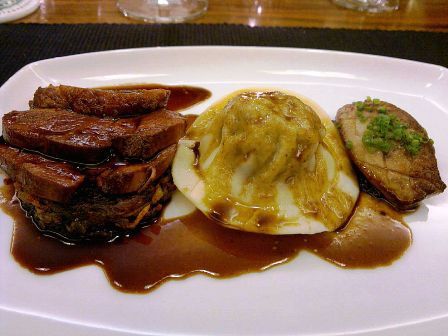 The 4th Course: Assiette of Duck - Seared Duck Breast on Potato and Thyme Rösti, Confit Leg Ravioli on Spinach, & Seared Foie Gras on Balsamic Braised Lentils.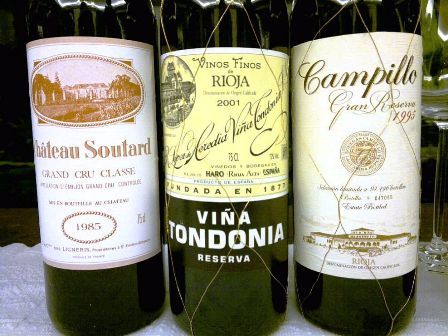 With the duck plate, I had some 1985 Château Soutard - My bottle, I got this just to try out as I'd not had it before. In 1985, I was in junior year college, the rallies against the Marcos government frequent and intense. It is also the year, I murmured to Boozze, that I started dating Catha, and the year our close friends, Tonji & Sylvia, got married.
It took a while, say a good 40 minutes opened plus 10 minutes in glass for the bottle-stink to blow off. Tobacco, loam, sanguine and meaty notes lace the dark red fruit. A few notches below full-body. The black cherry and plum have a vague candied sweetness at the end which, with the tobacco notes, reminded me of the box of (Cuban) Romeo y Julieta Exhibicion No. 4 I quickly ran through in July-August 2000. The longer it sat in glass, the cherry gradually became tartish in the finish, and I noted whispers of sherry vinegar emerging. Pleasant enough, but already past peak and on its decline. If this is a representative bottle, I'd drink up now and fast.
The other bottles in the photo, my 2001 R. López de Heredia Viña Tondonia Reserva, and Boozze's 1995 Bodegas Campillo Gran Reserva...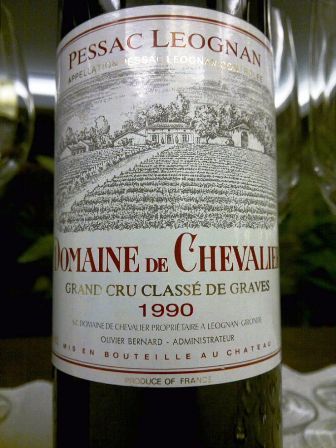 ...and Don's 1990 Domaine de Chevalier were spared that night, and will live to see another day.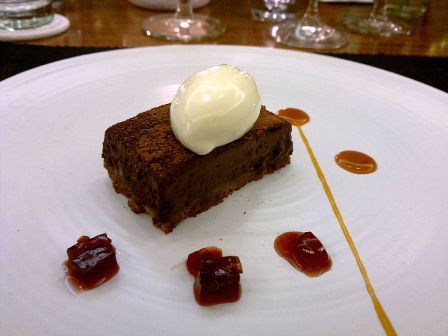 The 5th (Dessert) Course: Chocolate & Kahlua Marquise with Salt Caramel, Crème Chantilly & Strawberry Jelly. At first, it looked too big, rich and heavy after our meal; but, its graceful tread and light-feet, not to mention luscious flavors, made it all too easy to finish. I wound up scraping all the strawberry jelly and caramel off my plate (and I don't usually favor caramel). Lovely dessert.
Hylton then joined us, humbly received our thanks and appreciative words, and relaxed with a bottle of Anderson Valley Barney Flats Oatmeal Stout...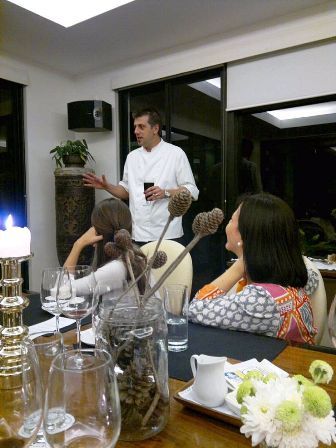 ...as he answered the ladies' questions as to what it was like working in the Michelin-starred restaurants of culinary icons Gordon Ramsay, and, later on, Heston Blumenthal (at Fat Duck, no less).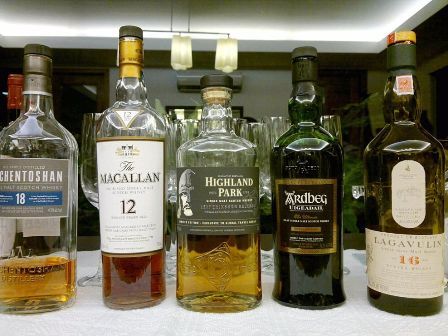 Some bottles of single malt from Boozze were up as digestifs.
Booze has a water-dropper specifically made for single malts.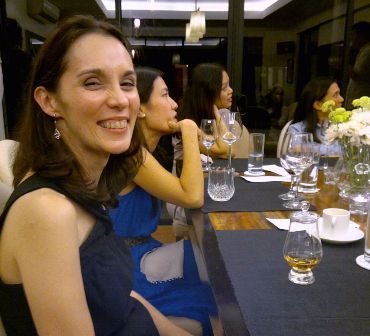 Margarita happily has some too.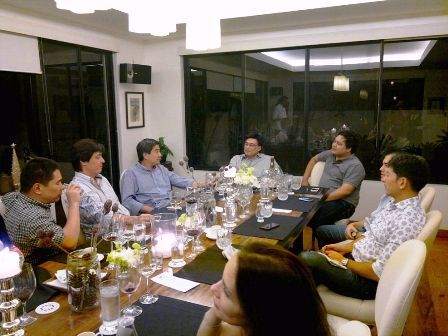 Great evening. Thanks again, guys, and advanced Merry Christmas! Until the next!