Lunch of the 19th October 2011 was at a small private room of the Intercontinental Hotel's
Prince Albert Rotisserie
for Jerome Philippon's private presentation of some personally select wines from Italy.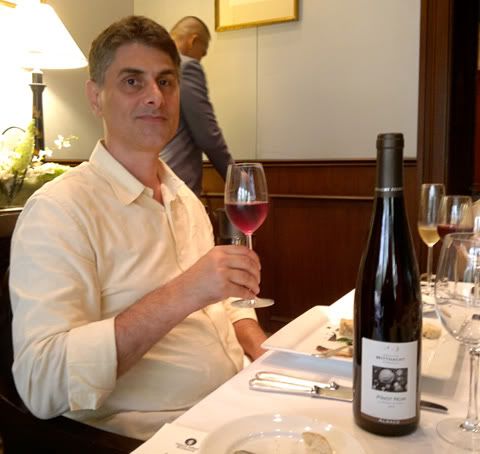 Yes, Manila's French Wine Crusader now also carries wine from Italy via his
Sommelier Selection
. I knew he was about this since we were communicating via SMS and e-mail while he was in Italy during his wine search. Until the subject lunch, however, I had not tried any of them. We were 5 in all including Richard Joye, Vicki Aldaba and her friend Tere.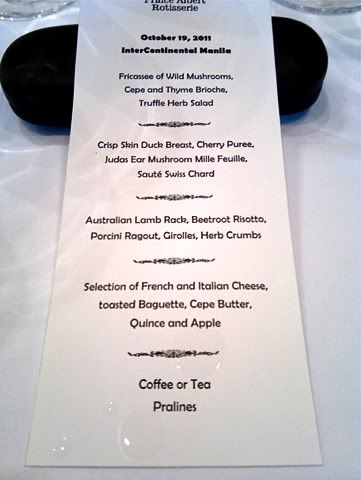 It just so happened that the Prince Albert had an on-going mushroom festival, so Jerome had the very capable young Chef Antony Page create a "relatively light" pairing lunch menu for us.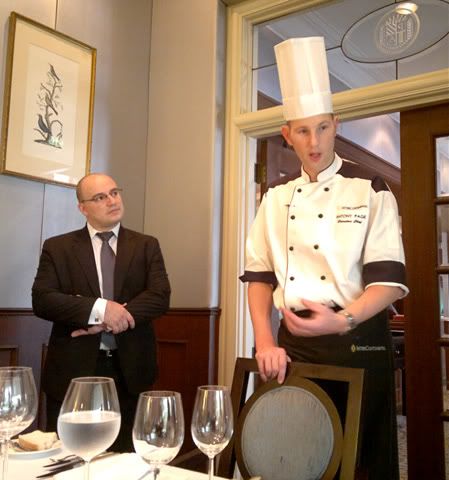 Antony Page with Intercontinental's F&B Manager Laurent Casteret.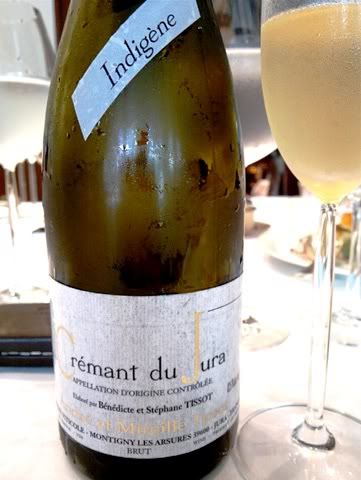 We started off with some bubbly of course, the
Domaine André et Mireille Tissot Indigène Crémant du Jura
. I first tried this back in late November 2010. My notes then were as follows:
Hmmm...probably my first bubbly from the Jura region that is not a predominantly poulsard-based Bugey Cerdon. Per Jérôme, this bio-dynamically produced bubbly is a champagnesque blend of chardonnay and pinot noir. Bright, vibrant and lively with well-focused, clean lines of soft, creamy apple, pear, white flowers, slight minerals and a whisper of caramel, this also presented an entertaining, underlying white chocolate- milkiness that I associate with pinot noir in young champagnes. Nice, entertaining and dangerously drinkable, this is a good and, at approximately P2500/bottle, more-or-less, full retail*, definitely affordably-priced alternative to champagne - perfect for Christmas get-togethers.
Now, almost a year later, this bubbly is as lively and charming as ever, its soft, pinot noir-milky, creamy fruit delightful to hold mid-mouth making it very easy to enjoy and drink a lot of. I actually had to hold myself back so as not to get quickly tipsy before lunch proper began. Fortunately, I did not have long to wait.
Fricasée of Wild Mushrooms, Cèpe & Thyme Brioche w/ Truffle Herb Salad
If I recall correctly, the deeply flavored glaze was made with porcini.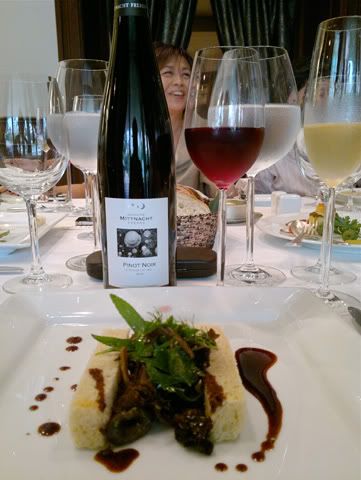 With this was paired a light, charming, nicely quaffable
2010 Domaine Mittnacht Frères Pinot Noir
(from Hunawihr, Alsace; biodynamic since 1999) - light-bodied but not definitively pinot noir flavored with amiable cherry, bit of raspberry and underlying dark plum. Vibrantly fresh, openly honest and bright, this is a very nice casual sipping lunch wine suited for our tropical clime. Jerome and Richard noted it would be very nice at the beach or during a late afternoon sip. I agreed. At only P1,075 at full retail, it's an easy buy.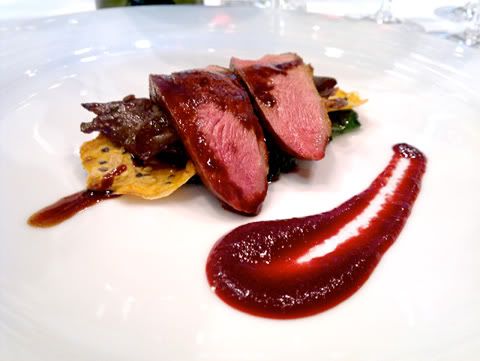 Next was a
Crisp Skin Duck Breast w/ Cherry Purée, Judas Ear Mushroom Mille Feuille & Sautéed Swuiss Chard
...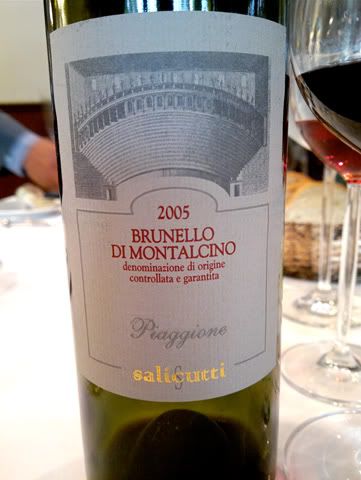 ...which we enjoyed with a
2005 Podere Salicutti Brunello di Montalcino Piaggone
- Moderately rich with deep, ripely sweetish concentrated cherry, raspberry and strawberry and touches of underlying dark minerals, pipe tobacco and vanilla. Softly fruited, smooth, almost chewy and aspiring to full-bodiedness. Slightly low on acid. Nicely layered. A confident wine with a moderately long finish. Easy to like. Not cheap at P4,070 full retail, but one will get one's money's worth in my opinion.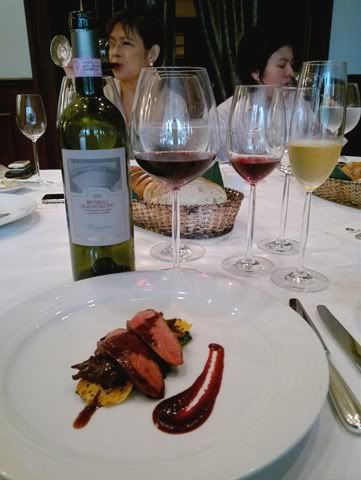 A fine pairing for the magret de canard.
With the
Australian Lamb Rack, Beetroot Risotto, Porcini Ragout, Girolles & Herb Crumbs
...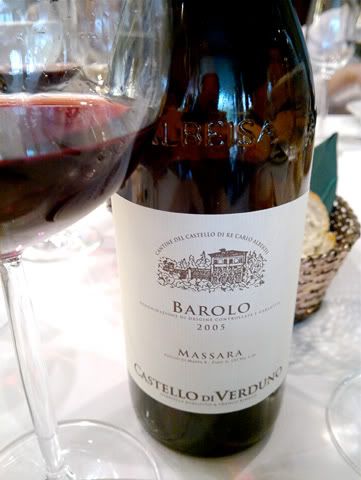 ...
2005 Castello di Verduno Barolo Vigna Massara
- Still very young, swirling encourages its youthful tightness to reveal roses, cedar and pine needle topnotes, clean dark red berries, underlying tar, leather and tobacco leaf. Notable over-all neatness and lean, clean lines. Admirable purity, firm structure and acid balance. Good balance and very good typicity. Very nice, especially with the earthy lamb dish. At P3,915 full retail, I recommend this either to age or enjoy with decanting paired with hearty roast or grilled meat courses.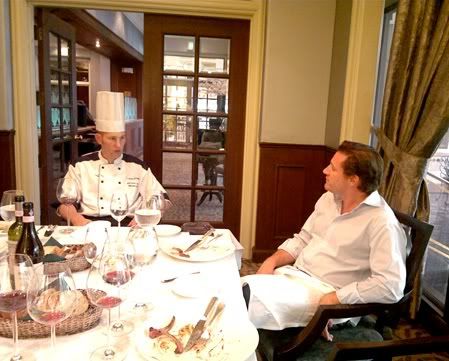 Richard chats with the chef.
A
Selection of French & Italian Cheeses w/ Baguette, Cepe Butter, Membrillo & Apples
helped finish my share of the Barolo, and, thereafter, Jerome opened a...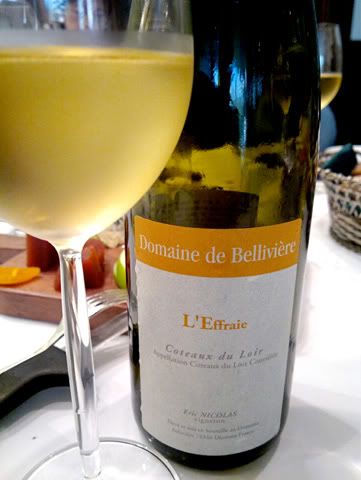 2007 Domaine Bellivière Coteaux du Loir L'Effraie (Sec Tendre)
- This is a pretty and racy slightly off-dry wine of pure chenin blanc from the Coteaux du Loir appellation (north of Tours in the Loire). Nicely bright fresh and tense peach, ripe apricot and lemon with suggestions of wild honey and herbs. Perfect with the blue cheese and a bit of the membrillo. An easy buy at P1420 full retail.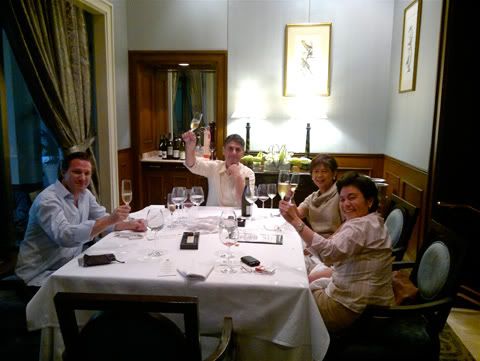 Jerome then opened up yet another bottle of the
Indigène Crémant du Jura
for us all to "wash" our palates. I've learned to love this post meal "washing off" with a good bubbly - something of a dining ritual I learned in Spain. Thanks again, Jerome! Until the next!