The Christmas season dinner rush has definitely started. Every day of this past week was filled with events, but, for work and health reasons, I couldn't attend most of them. This past Friday, though I looked forward to the back-to-back Alabang Group's Christmas and Rene's birthday dinners (both of which will be subject of separate posts). Said dinners necessitated bottles of riesling and Chablis, both of which I am out of stock - so, after work, I passed by the Stockbroker's Premium Wine Exchange (PWX) and Jérôme's Philippon's Sommelier Selection.
The idea was to make quick stops, pick up the wines on my list and head for home to avoid the traffic. It didn't turn out that way though.
At PWX
:
There was actually a lunch at Masseto that day as Keiichi was visiting from Tokyo. I was unable to attend due to work, but, as luck would have it, the Stockbroker and Keiichi rolled in after the lunch just as I arrived at PWX, so, at least, I got to see Keiichi.
As I was selecting some rieslings (Dönnhoff, of course, the best Nahe riesling producer which PWX exclusively distributes), the Stockbroker popped open a bottle of...
1990 Louis Jadot Ruchottes-Chambertin
- Popped and poured, I let my glass sit for several minutes as I pondered over the available vintages and lines of Dönnhoff rieslings and chatted with the guys and having a quick smoke outside with Keiichi. After probably 30 minutes or so, the wine opened up with a bouquet of vaguely smoky-and-cedary, sweetly ripe, confited plums, black cherry, notes of kirsch and a combination of old, book-pressed violets, ceps and slight blood and compost that make up, to me, the alluring and seductive Burgundy decay. A few notches over medium-bodied, this showed good concentration and restraint. Lovely wine.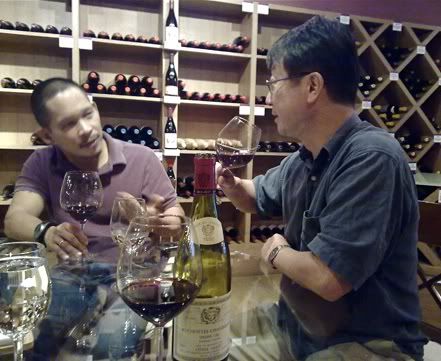 It was certainly a pleasure to see Keiichi on this short trip of his, and, of course, to catch up with the Stockbroker who I've not been seeing as often as I used to. We discussed the unfortunate, impending closure of old favorite Je Suis Gourmand and the Stockbroker thought up the idea of our group's closing down the place for a dinner in mid-December. Brilliant idea. We'll invite all the wives and our fellow wine-loving friends to send Je Suis Gourmand off with a bang.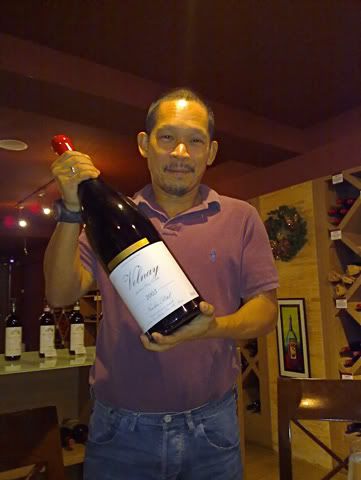 A double magnum of Potel's 2005 Volnay is just one of the bottles the Stockbroker intends to open at the coming event. The dinner promises to be legen...wait for it...dary. I wished I could linger more, but I had already stayed far longer than intended and had promises to keep.
At Sommelier Selection
:
I quickly climbed the stairs, rattled off the wines I wanted to the staff (some bottles of Domaine Laurent Tribut Chablis Premier Cru Côte de Léchet, among others) and was quite surprised when Jérôme - whom I thought was still abroad - popped out of his inner office to say hello. Apparently, he just arrived the evening before from one of his frequent trips. As the staff attended to my orders, Jérôme led me downstairs to his nearby temperature-controlled warehouse to show me some of his new goodies.
I did mention I was rushing back southward for a dinner during which I was to serve some of the wines I was there to pick up, and, so, was slightly perturbed when I heard a cork popping behind me as I was gazing at magnums of 2009 Domaine Tempier Bandol Rosé (of which I got some as well).
Domaine André et Mireille Tissot Indigène Crémant du Jura
- Hmmm...probably my first bubbly from the Jura region that is not a predominantly poulsard-based Bugey Cerdon. Per Jérôme, this bio-dynamically produced bubbly is a champagnesque blend of chardonnay and pinot noir. Bright, vibrant and lively with well-focused, clean lines of soft, creamy apple, pear, white flowers, slight minerals and a whisper of caramel, this also presented an entertaining, underlying white chocolate- milkiness that I associate with pinot noir in young champagnes. Nice, entertaining and dangerously drinkable, this is a good and, at approximately P2500/bottle, more-or-less, full retail
*
, definitely affordably-priced alternative to champagne - perfect for Christmas get-togethers.
*
With my IWFS discount, the price is the less than buying it at KL Wine Merchants and flying it in myself
.
Needless to state, it was already dark and I was already tipsy when I finally headed southward. Thanks, guys!