Mrs. Doc belatedly celebrated this past Saturday at Shang Palace her *UHURM*th birthday (I think the unusually cool weather these days is giving me a cold).
We were only 9 at the table since Mr. Powers was still out of town, but very ably represented by his better half. The Doc told us not to bring any wines as he would take care of everything. I couldn't help but bring one new one though that I got as a Christmas gift, just to try it out and see if I should buy more.
We started off with...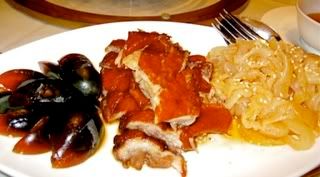 ...which we had with...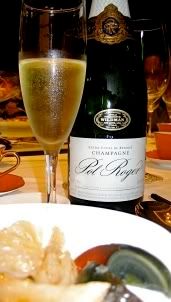 Pol Roger Champagne Extra Cuvée de Réserve NV
- Kicking any dinner off with champagne always sets a festive tone, most apt for a birthday celebration. I've long favored the wine of Paul Roger and lament that they are infrequently locally available (in my experience, anyway).
This particular bubbly was youthfully exuberant, fresh, very lively, with crisp apple, bit of citrus, slight
chaume
, bread, subtle hint of white minerals, all touched by a yeasty theme. Somewhat linear, bright acidity, well-focused. This may put on a little more roundness and weight mid-palate with more time in bottle. Very enjoyable, its exuberant personality and bright purity of fruit lend it a festive personality.
As regards the pairing, it was excellent with the sliced jellyfish (which just happens to be one of my favorite starters with Chinese meals).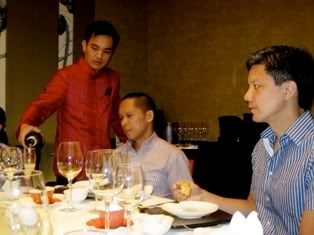 Then came the Peking Duck...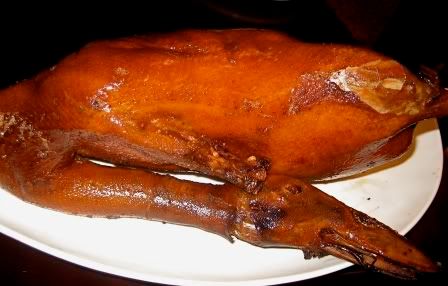 ...which was perfectly paired with: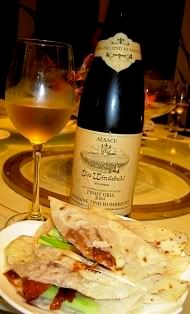 2004 Domaine Zind Humbrecht Pinot Gris Clos Windsbuhl
- The Doc reminded me that he brought this before, at our relatively recent
Blind Bordeaux Challenge XI
. Right he was, of course. my notes then were as follows:
A nicely reserved, comparatively lean (and that is a good thing for me),
minerally, well-focused, just slightly sweetish pinot gris from a world-famous
Alsace producer known for its rich, ultra-ripe-fruited wines with a lot of
residual sugar in the more modern style.

The dominant fruit flavors are those of clean apricot and Indian mango (as we know them here in Manila) with nuances of honeysuckle and white minerals. There is also a very slight whisper of spritziness mid-palate and towards the back. Of the hallmark vaguely almond/nutty notes of pinot gris, they become more apparent towards the back of the mouth and on the finish.

Well-crafted with good reserve, with a nice, steely backbone and acidity that gives this wine a bright, fresh and cleansing character.
This particular bottle presented itself very differently, and, to my mind, more typically the Zind Humbrecht style - richer, more luxurious, fuller, riper, rounder with gewürztraminer-reminiscent notes of lychee to its honeyed apricot, pear and mango. No spritziness this time. I am convinced this is because the Doc had this breathing for at least an hour by the time we got to it, whereas, at the last Challenge, I recall it was it was popped and poured.
As regards pairing Peking Duck with a good Alsace pinot gris, I first learned this around 4 or so years ago from Bernie Sim (Ostertag PGs I bought from him and greatly enjoyed). Interestingly, every single Alsace producer I've subsequently met and spoken at length with (no less than Weinbach's Catherine Faller, Léon Beyer's Marc Beyer, Hugel & Fils' Etienne Hugel and Bott-Geyl's Valerie Bott-Cartier) all recommended the same pairing.
~ oOo ~
Next was an excellent Japanese Teriyaki-esque special dish (not on the menu but usually available on request, as I understand) of
Cod in Light Soya Sauce
. With this I paired: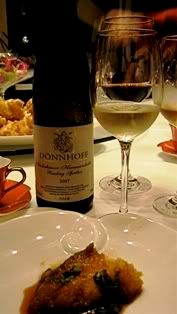 2007 Weingut Hermann Dönnhoff Niederhäuser Hermannshöhle Riesling Spätlese
- *Whew*, it's as hard to spell as pronounce. My bottle, a Christmas gift (among others) from Rocky & Apple Villadolid. Thanks to German wine buff, J-Lab, for suggesting pairings for me.
Apparently, Dönnhoff is widely recognized as one of the very top German wine producers and their Niederhäuser rieslings are of particular note (not surprising as Rocky, who chose this for me, is into German rieslings these days). Hugh Johnson and Jancis Robinson's book says so, and so did everyone I asked: J-Lab, the Doc and Stockbroker. They, as well as members of
http://www.westcoastwine.net/
, assured me that while this producer's riesling can easily age from 10-15 years, they are already
quite delicious young
. They were absolutely right.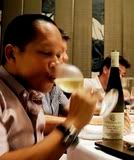 Spätlese, as I understand, are late harvest wines, somewhat equivalent, I suppose to the Alsace
vendanges tardives
. Thus, these wines are generally a bit sweet (a.k.a., "off-dry"). This particular wine was zippy, extremely well-focused and pure in fruit (lightly honeyed ripe grapefruit, peach, lime, melon, bit of ripe lemon) with pronounced minerality, fantastic definition and acidic lift, and, in its aroma, an alluring white florality.
Nice complexity all packed, as the Doc noted, in a taut 9% abv body. There was a faint, but noticeable bit of spritz in it, most likely due to its youth and/or lack of material breathing time.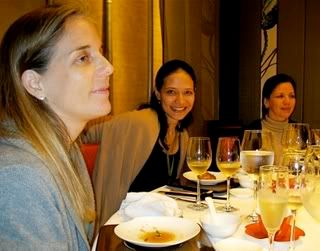 Wonderful wine, one you could drink all day and all night. With the excellent fish (crunchy skin, moist inside) dish, it was a great match - the wines crisp sweetness playing well with the sweetish, teriyaki-like light soy sauce.
~ oOo ~
The rest of the dishes came in rapid succession, much to our celebrant's obvious delight...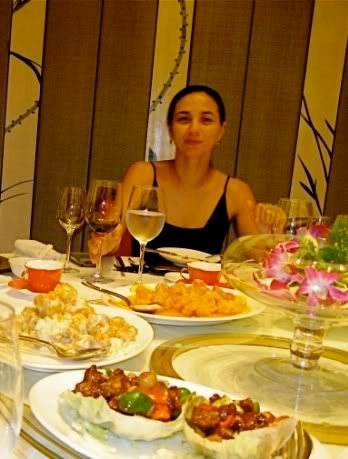 For our reds that night (the Doc and Stockbroker would never have a dinner without some red), the Doc had breathing a...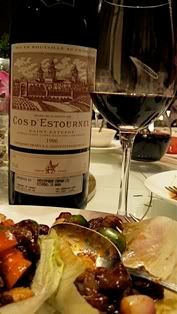 1996 Château Cos d'Estournel (Magnum)
- The Doc has obviously been loading up with and opening a lot of mags these days, I have half a mind to re-name him "Magnum MD". I think this is the 3rd I've had this wine from him since he won with it
by a landslide
in our Blind
Bordeaux Challenge VIII
a little over a year ago (I believe it still holds the record of the widest winning margin). My notes then were:
Wine # 1 - Best nose of the night, an exotically spiced, delicately sweet jasmine tea/plum/raspberry liqueur perfume. I immediately guessed it to be a Cos d'Estournel. In the mouth, it was definitive all the way from the confident attack to the long finish. Rich and generous in the mouth, leaving virtually nothing for analysis or the imagination.

In the Doc's and Sevrine's notes, they indicated that the mouth did not fulfill the bouquet's promise, commenting that it was even a bit short. Edouard liked it best and easily pegged it as a left bank. The Stockbroker commented that it tasted quite fresh. I identified it as a Cos...
The Doc had told me what he was bringing, but not the Stockbroker. With one whiff, however, of the rich, exotic spice laced (vaguely Asian/Indian) bouquet, he immediately nailed it as a Cos d'Estournel despite the Doc's attempts to mislead him.

I had just a few sips of this graceful red with the beef with peppers, but drank most of my share after dinner proper, before dessert. This '96 Cos had the most breathing time compared to the others I've had - at least a couple of hours worth. Tonight's performance was the most refined so far, with an almost ethereal display of its warm, dark spice and jasmine tea leaf notes intricately woven into its barely full-bodied cassis, cedar, dark plum, whisper of raspberry, slight mocha and barest hint of vanilla.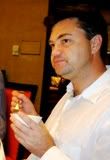 The hallmark Asian/Indian touches of this fine Médoc truly sets it apart. The only one I ever noted such touches in was the 1990 Montrose that the Stockbroker entered in our hilarious 7th Blind Bordeaux Challenge in the 2nd week of August 2007. Significantly, I've not noted the same similarity to Cos in two other bottles of the '90 Montrose I've had the pleasure of drinking. Be it as it may, the exotic blend of Asia (China in particular) in a Bordeaux is very distinctive, yet the wine holds true to its French roots - much like the Vigneron who eats his Salted Fish Fried Rice from a rice bowl, but with a fork.

Our feast was brought to an end with a lot of humorous (albeit mildly controversial) debate that got the Stockbroker roaring with laughter, and delicious bowls of Warm Almond Cream and the ubiquitous, but always welcome, Mango Sago.
Many thanks for the wonderful evening, spouses Doc; and, to Mrs. Doc, belated happy birthday yet again! I actually did know what it was we gave you as a gift, it's just that it slipped my mind when you asked. I swear it.