A group of long-time friends, my original (now s-l-o-w-l-y resurrecting) regular golf group, held its annual Christmas dinner at B & M's place this past Friday, the 5th December, before individual schedules get too hectic. Naturally, no celebration would be complete for us without our better halves.


The Ladies
B, our group's resident Beef Master, made his smoked US Prime Rib-Eye Roast, while M took care of the rest. My only contributions were a few jokes, bottles of wine, and, at B's request, my Chili-Garlic Prawns, a dish my family has enjoyed for decades.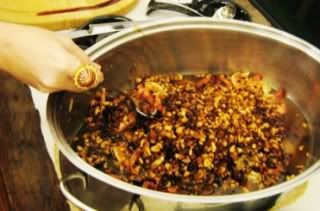 Since I hadn't made the chili-garlic prawns in quite a while, I took longer than expected in cooking them, so my wife and I were around 45 minutes late. Consequently, I missed out on the white wine. With the platters of manchego and Ñico's jamón Serrano, however, I opened a couple of rosés both subjects, among others, of
a previous recent post
: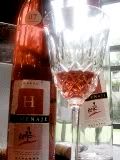 2007 Homenaje Rosado
- Always a hit, dangerously drinkable, I never tire of this fresh, attractive grenache-based wine. Extremely versatile in pairing too, with assorted tapas of
angulas
,
gambas al ajillo
, charred chorizo Pamplona, Joselito ham, etc., and even with adobo and crispy
tadyang ng baka
(beef ribs). I understand that even Singaporean food and wine authorities N.K. and Melina Yong enjoyed it when paired with Tita Glenda Barretto's Snipes Adobado when they were here several months ago. Incredibly good match with the glistening, fatty, life-enriching jamón Serrano as well.
2007 Le Rosé de Pavie Macquin
- From Château Pavie Macquin in St-Emilion, made up of merlot and cabernet franc according to J-Lab. Another consistent crowd-pleaser of a rosé, whatever it gives up to the Homenaje in terms of fresh, fun liveliness, it makes up in heft, roundness and length.
These are just my observations, though. They are entirely different animals and each well deserves its place on the table. I urge all kindred spirits to explore these and other good rosés as they are well suited for our cuisine and tropical clime.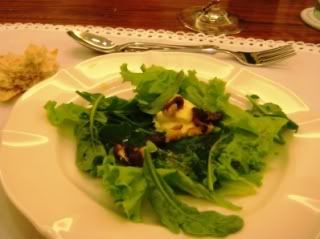 I finished of the last of my glass of rosé with
M
's own creation of Fresh Baby Arugula Salad in a delicate, lightly honeyed dressing, topped with dates, walnuts and gorgonzola. I happen to love arugula, and this salad was absolutely delightful. Without a doubt, this was the healthiest dish that passed our lips that entire evening, yet nonetheless flavorful for it.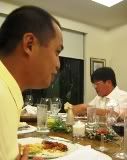 It isn't easy to get real baby arugula, apparently. The arugula used in many restaurants' salads, assuming they have any arugula to begin with, are oftentimes too old, the leaves too thick, and the taste a bit too bitter for me.
M, however, grows her own herbs and a few vegetables beside her house, and the baby arugula, of course, was picked fresh therefrom that day. French Laundry-esque, indeed.

The buffet table was, by then, heavily laden with our main courses and their various sidings: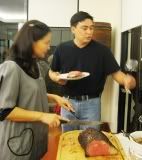 Lucky for us,
B
was able to tear himself away from his pet kois long enough to finish up our main course and even give 'Cel a quick left-handed wine-swirling demonstration. 'Cel, a fantastic cook in her own right, would, in the past, prepare our group's (usually 16-18 people) entire Christmas meals, from appetizers to desserts (yes, plural) virtually single-handed.
How she can do this in her enviably cool, calm, unflustered manner "is a wonderment". I start getting cranky in the kitchen when I cook meals for upwards of 6 people. For 10 people and above, I go Gordon Ramsey - in temperament, that is, not skill.

With these, we paired: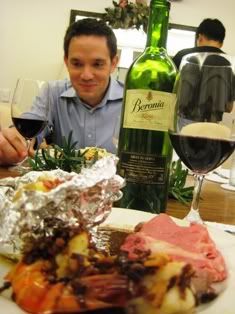 1996 Bodegas Beronia Gran Reserva
- from Rioja, yet another wine subject of
previous recent posts
. I seem to be on an unintended Spanish wine run these days, starting off with paella night at Terry's and Je Suis Gourmand around two weeks ago, continuing at Café Ysabel and La Tienda last week.
In any event, I have not too long ago become a staunch advocate of pairing big,rare, beefy main courses with good Spanish, Italian and Napa reds rather than aged Bordeaux - the latter which I nowadays prefer with roast goose, duck or lamb.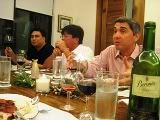 I must add, though, that several inherently powerful
and/or
more modern Bordeaux do quite well with steaks, such as Pontet-Canet (Pauillac), Lagrange (St-Julien) and Montrose (St-Estèphe), to name a few. Of course, refined powerhouses like Latour, Mouton-Rothschild (both Pauillac) and Léoville las Cases (St-Julien) easily can, as well, but I'd rather concentrate on the wines in cases like those.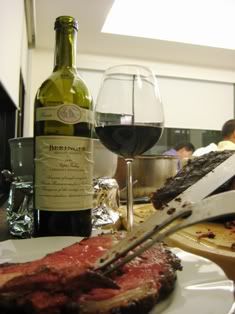 2002 Beringer Cabernet Sauvignon Private Reserve
-
B
's bottles, steadfast Napa-head that he is. Admittedly, however, I am rather fond of both Beringer's and Mondavi's private reserve cabs (particularly the 1995 Beringer Private Reserve and the 2001 Mondavi Reserve) as well as Dominus. Those curious about the California cult cabernets (e.g., Bryant, Dalle Valle Maya, Araujo, Screaming Eagle, etc.) can check out one of my older posts on them
here
.
This young wine is powerful, forward, lush, unabashed, packed with wide-open primary dark fruit, cassis, strong black coffee, pronounced cedar & toasty oak, hints of violets and definite minerality. A hefty dose of anise makes a strong statement especially towards the back of the mouth and throughout the long finish.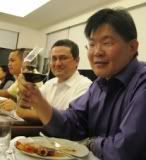 This packs a punch of youthful alcoholic heat as well. It certainly isn't one to fool around and easily stood up to the steak and chili-garlic olive-oiliness of the prawns, and then some.
In all, it manages to be in good balance and is quite typically California. I'd like to re-try this around 5 years from now to see how it ages. In particular, I'd like to see if it will eventually mellow and deepen into something like the 1995 version.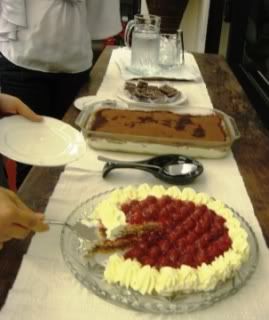 The desserts were then laid out, including Cuerva's Cherry Torte and
M
's own home-made Tiramisu and trademark Chocolate Brownies (which I can, and do, eat like peanuts - easily downing 8 or more at a time unless I restrain myself). Though I do like the cherry torte a lot, I simply had no more room for everything, so I stuck to
M
's creations with a much-needed cup of black coffee.
Though I do eat tiramisu occasionally, I never really got excited about it - that is, until I tried this one:
Firstly, the cheese/cream was really creamy and richly textured - not the usually thin, at times insipid, often forgettable, obviously "extended" cream in most commercial tiramisus (tiramisi?) I've had.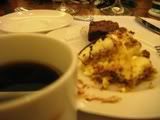 Secondly, I could actually savor the underlying cake in itself, without it getting entirely lost in the cream as it does in most other versions. The inner liqueur drizzle was deftly made, not at all overdone or undetectable. Superb. M did tell me how she made it, but, with due respect, I'll leave the divulging to her, if ever.
We all lingered way past W's and B's usual bedtimes - early birds that they are - over cigars, stories, jokes and gift-giving. Many thanks to our generous hosts, and an advanced Merry Christmas to all!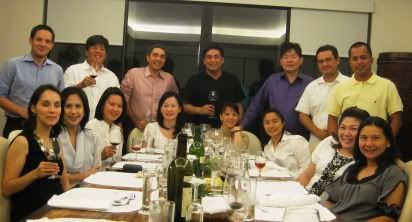 Thanks, Y, for the use of your camera!