Since
Miguel
couldn't make the recent
Paella Night at Gourmand
, he suggested a dinner at
La Tienda, Makati
. Apparently, on special order,
Chef Javi Lecumberri
makes paella using basmati rice which Miguel assured us makes the dish extra special. I readily agreed and, since our
impresario
knows how to cook and pretty much grew up in Spain, I asked him to design the night's menu for us - which he did with the chef.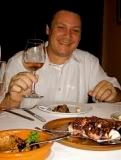 Thus, this past Wednesday, 3rd December 2008, he, myself, my wife and old college friend, Edwin, met at La Tienda at 7 pm for yet another Spanish dinner. We started off with appetizers of
Escalivadas
(i.e. food "cooked in ashes" - in this case, grilled eggplant, sweet red peppers and garlic in olive oil),
Boquerones
and
Pulpo
a la Gallega
(octopus).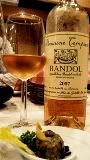 We had the
escalivadas
and
pulpo
with yet another bottle of
2007 Domaine Tempier Bandol Rosé
. Miguel obviously wanted to drink it again, and, of course, I was more than happy to oblige. I've raved about this jewel of a rosé so many times, I need not elaborate any further. Everybody loves this. It also went quite well with the
amuse bouche
of the chef's version of steak tartare pictured with the bottle on the right.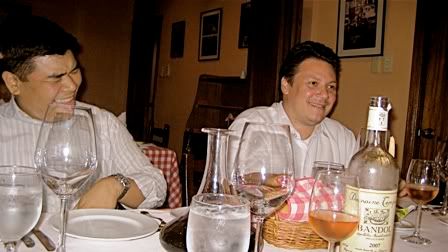 With the fresh
boquerones
we paired his
2006 Laxas Albariño
- from Rias Baixas, in the lower part of Galicia in the northwest of Spain, where millions of the faithful troop every year to St. James the Apostle's tomb beneath the altar of Catedral de Santiago de Campostela.
Albariño is a typical white wine of Spain, the most famous ones of which hail from Rias Baixas. Meant to be consumed young for freshness, it is ubiquitously paired with the seafood Galicia is known for. I understand that 2006 was an exceptional vintage for northern Spain with conditions allowing more ripening than usual - and it certainly showed in this wine.
Fresh, bright, crisp, vibrant mineral/flint touched, slightly grassy green apple, guava, grapefruit, gooseberry and a bit of ripe lemon. Healthy acidity lends good lift despite the apparent ripeness of the fruit. Lively and dryly refreshing wine.
As a match with the fresh
boquerones
, it was perfect - as well as with the next course of
Bisugo al Horno
(also heavily recommended by the Doc, who, unfortunately, couldn't join us that evening). Good albariños (well-chilled) with fresh seafood is a no-brainer and a must.
~ oOo ~
Then came the star of the evening,
Paella de Verduras
: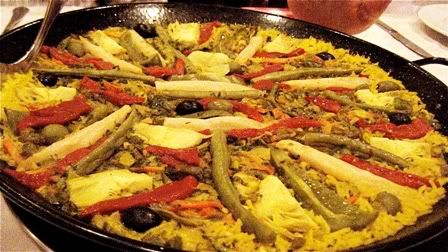 We had some
Chuleton
with it, of course....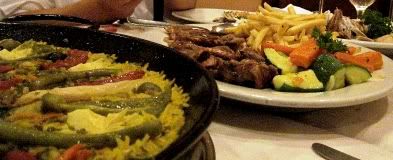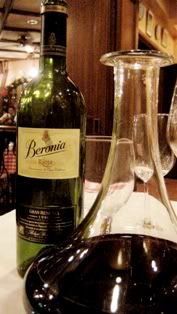 With the paella I paired my
1996 Bodegas Beronia Gran Reserva
, decanted for a little over an hour by the time we got to pouring it. I've written about this before, in the first above-mentioned Paella Night, and my notes then were as follows:
A blend of 87% tempranillo, 8% mazuelo and 5% graciano, made only in good
years, of which 1996 certainly was for Rioja. Aged 24 months in a blend of
French and American oak casks, and further aged for 3 years in bottle before
release. A "mere" 13% abv.

Refined, silken, complex and ethereal in character compared to the previous
3 youngsters. Even without material decanting time, it displayed beautifully a
bouquet of sweet Spanish cedar, dried cranberry, raspberry over a slim base of
silken blackcurrant. There are also subtle nuances of rancio, thyme, licorice,
spiced wood and violets.

Nice acid balance, elegant. Lovely wine. Astounding value for a mature,
classic Rioja Gran Reserva at approximately P1900 per bottle at Barcino's in
the Fort. The collective group results revealed this as the favorite red
wine of the night.

With the decanting for aeration, it released more of its darkly spiced, perfumed bouquet and gained a bit more lushness in texture and slightly more weight. I also noticed the pronounced chocolate flavor in the wine that J-Lab noted the week before at the Gourmand dinner. Again, a very lovely wine. The paella was perfection - en su punto - said Miguel - al dente. I could feel each and every just-yielding long grain with each mouthful. Superb.
~ oOo ~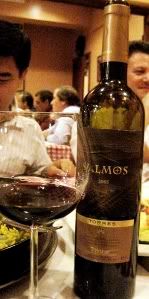 With the
chuleton
, we had Miguel's
2005
Torres Salmos
- from Priorat, a hip, "in", hyped and, consequently, increasingly pricey area (wine-wise, compared to the
relatively
recent past) in Catalonia.
Very ripe, well-extracted, concentrated, richly smooth, molten dark fruit/berry, cassis, dark raspberry, licorice, touches of leather and minerals. Lashings of new, toasty oak/vanilla. Dashes of black pepper in its fruit. Definitely modern and internationally-styled. Round, full-bodied, chewy and opulent in the mouth, with a long, strong finish. Very stylish, flirtatious, open and forward, this wine wears its heart on its sleeve. Low in acid and high in alcohol, but not obtrusive.
Because of its origin and taste profiles, I'd guess this is mostly grenache with a good dose of syrah, treated with new oak. Given all the foregoing, I'm sure Parker's Wine Advocate rated this above 90 points. This robust, sleekly muscled wine confidently stood up to and well with the chuleton. We certainly drained the bottle quick enough. Unfortunately, to the best of my knowledge, this wine is not available locally.
After such a huge meal and a bottle of wine each on the average, we had a round of double espressos. Only my wife went for dessert - not surprisingly,
Tocino del Cielo
. Thanks, Miguel, for organizing the dinner. It was also great to see Edwin again. Great fun indeed, and the food was excellent. ¡
Felicitaciones al jefe de cocina
!